If you are a landscape photographer, then you have seen images of Delicate Arch…probably hundreds of them. After all, this incredibly graceful 65 foot tall sculpture of entrada sandstone is a photographic icon. Majestic, colossal, dramatic, colorful…I mean, what more could any photographer ask for? So earlier this year when I was planning a photo shoot at Delicate Arch, I was pretty surprised when I googled "Delicate Arch Photo Tips" and got only a handful of hits. If you are like me, Delicate Arch is not a spot that you will get to visit often…so you don't have time to learn things the 'hard way'…you want to be prepared so that when you get there you are able to maximize your time. This article is intended to help you do just that.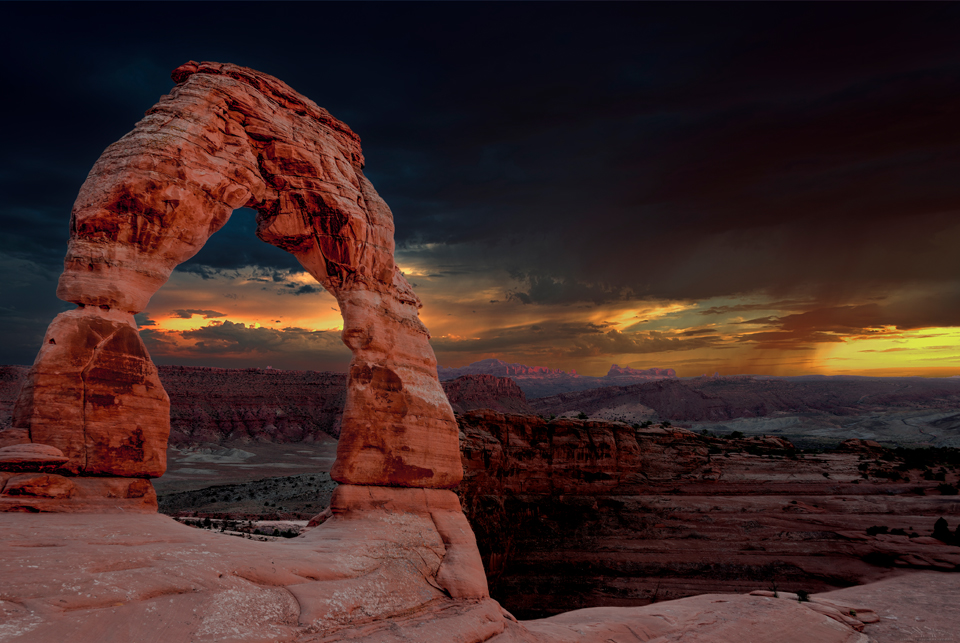 Summer Monsoons can result in wonderful sunset compositions…(Click on photo to see full resolution version)
The Basics:
Be Safe.
A lot of the folks that trek to Delicate Arch the first time clearly don't have any idea what to expect. This isn't the typical National Park 'scenic overview trail' where you drive up, walk ten minutes on a paved trail, take a look and walk back.
Listen to that voice in the back of your head.

This location isn't inherently dangerous, but there are cliffs and drop-offs. If you stick to the main trails, pay attention to where your feet are going (rather than looking out into the distance for your next shot) and listen to that little voice that asks you "Is this really a good idea?"…then you will be fine. Just use common sense.
With that said, it is a truism that when any photographer worth their salt visits an iconic location, they want to get a unique shot. Not the standard postcard view that has already been printed a million times (okay, we want to get the postcard shot too…but we really want to capture something NEW).

So…if that sounds like you, please keep in mind that at least two photographers have died at Delicate Arch. Both of them slipped and fell. One of them was climbing on the sheer cliff behind the Arch and the other guy was in the 'bowl' in front of it. My guess it they both didn't listen to that little voice and went a bit too far trying to get that unique shot.

This really is a HIKE. Yes, it is only 1.5 miles to the arch, but remember that you are at an altitude of 4,800'…if you are a flatlander like me, you will find the thinner air will sap some of your energy. There is also a 500′ elevation gain. The hike should take you about an hour depending on your pace.

There will likely be tons of folks on the trail…you certainly won't be alone, so there shouldn't be any chance of getting lost.
Dave and Ginger Rathbun have a detailed article about the hike that includes lots of photos, use this link to see more
Wear good hiking boots…you will appreciate the traction when you are trying to keep your balance on the slickrock that makes up much of the trail.
Summer temperatures in excess of 100F are common. No shade. There are no sources of water, except what you bring with you, so bring LOTS of water…at least a liter or two. A couple bottles of Aquafina stuffed in your pockets isn't going to cut it
A big hat with a wide brim, sunscreen and sunglasses will help
Bring rain-gear for you and your camera (unless the temperature is below freezing). The last time I photographed the Arch the forecast had "ZERO" percent of rain…and yes, it rained anyway. Raingear is lightweight and good insurance to have. Also, there is no shelter out at the arch and slickrock is called slickrock for good reason.
If you are going for a sunset shot, bring a good headlamp. In fact, bring a spare or two. If you leave right at sunset, you should have enough light to get back to the car lot. But if you get enraptured with the sunset and say a bit longer than you planned (it's happened to all of us) you really wouldn't want to find yourself on that trail in the pitch black.
The arch is in an exposed area and the temperature drops pretty quickly after the sun sets. In the summer, that is a wonderful thing. However, if you are visiting at another time of the year you might get chilly or downright frozen after dusk…bring something warm in your backpack for that hike back.
How to find it
Delicate Arch is located in Arches National Park (use this link to see their website) just north of Moab Utah.

If you are coming from Moab, take Main Street north out of town (main street becomes UT-191). After you cross the bridge over the Colorado river, drive 1.8 miles and turn right into the entrance for Arches National Park (Nice big sign).
If you're coming from I-70, take Exit 182 (Crescent Junction) and drive south on US 191S about 27 miles. Turn left into the entrance for Arches National Park.

After passing the fee station ($10 per vehicle per week) continue past the visitor center and then up the hill. At 11.7 miles, take the road on your right which will have a sign for Delicate Arch and Wolfe Ranch. After 1.2 miles you will reach the Delicate Arch/Wolfe Ranch parking area (here is a link on Google maps to this spot). Park here and look for the trailhead on the edge of the parking lot. The parking lot often fills up near sunset, if so, there is a bit more parking on the right side of the road just past the main parking lot.

It should take you about 30 minutes from downtown Moab to get to the Delicate Arch Parking lot.

For those of you that like to do it yourself: Here are the GPScoordinates
When to go
Season

Summer

Hot and the crowds can be frustrating
On the other hand, the summer monsoon season often results in some incredible cloud formations and aerial pyrotechnics.

Winter

The most impressive shots I've seen of the Arch have been winter shots with a layer of snow. The contrast of blue sky, red sandstone and white snow can be incredible. Check out this shot by Gleb Tarassenko.

Fall & Spring

Fewer tourists, not as hot, but often not as many clouds as summertime.

Time of Day

Sunrise and sunset are wonderful times to be at the Arch, but of the two, sunsets would be my first choice. The setting sun reflecting off of the Arch's sandstone makes it nearly glow and its colors become fully saturated.
Mid-Day

During the summer, mid-day isn't fit for mad dogs or Englishmen. Insanely hot and unless you have a storm with photogenic clouds, it's just not worth your while…go hit something else in the park instead!

Night

I had planned to photograph the Milky Way rising thru the Arch my last trip there. Unfortunately the summer monsoons resulted in cloud cover every night so I added that shot to my future 'bucket list."
Other photographers have done outstanding work of the Arch at night. Take a look at this link to see night images by Brad Goldpaint. His work is breathtaking and it gives you a goal to shoot for next time you visit here.
The walk back in the dark could be treacherous, so I wouldn't try it unless you've made the hike a couple times, you don't try to do it alone and you have good headlamps.
What to Expect/What to Shoot when you get there
First of all, don't expect to be alone..unless you are there during a blizzard or at night. More than likely there will be plenty of tourists there and EVERY SINGLE ONE OF THEM WILL GO AND STAND DIRECTLY BELOW THE ARCH TO HAVE THEIR PHOTO TAKEN. But in the interest of full disclosure, I did the same..and then I took photos of my son under the arch as well. Just expect it and be prepared to use some "Content Aware Fill" in Photoshop to clone them outta there. After the sunset, most of the tourists will bolt for the parking lot, so you can often get some nice people-free shots then. Keep in mind though, that a human silhouette can really help to give the arch a sense of scale.
Be prepared to feel like a foreigner because Americans are often a minority of the folks you will meet there! Seriously, it can be like being at a mini UN. I challenge you to ask everyone there where they are from…you will likely be shocked about the number of nationalities that are represented.
There is a photo op that you shouldn't miss about 50 yards before the end of the trail. This is Frame Arch…named because you can use this arch to 'frame' a shot of Delicate Arch. It is located up and to your right as you approach Delicate Arch. Just don't do what I did… I was so excited when I finally got to Delicate Arch that I totally forgot about Frame Arch. Here is a link to an impressive photo by Tom Horton showing you the shot I missed.
The classic shot of the Arch is from the edge of the 'bowl.' This is where you first see the arch as the trail comes out from behind a wall of sandstone. This perspective will allow you to frame the distant La Sal Mountains thru the Arch. Use this link to see this spot on Google maps (look for the placemark labeled "Perspective A"). The last time I was there, a storm bank positioned itself behind the Arch…it made for a dramatic shot, but the mountains were hidden:

This link will take you to a nice shot by Dan Hartford of this same view showing the La Sals thru the Arch.

If you move further to the left (east) along the rim of the 'punchbowl' in front of the arch (careful of your footing), the perspective changes. I was lucky that a break in the clouds opened up right at sunset and illuminated the distant mountains to the right of the Arch in this image. The maroon color was just incredible.
If you move even further to the left (where the tourists line up in a cue to have their photos taken under the arch), the perspective changes again. This link will show this location on Google maps (look for the placemark labeled "Perspective B"). I was blessed with an incredible sunset here back in July, and from this spot with a very wide angle lens, I was able to capture the full extent of the scene. See below.

16mm glass was able to catch the full sunset panorama…including the incredible 'punchbowl' in front of the Arch.

Panoramas beg to be taken here. Go ahead and take a number of overlapping shots which will allow you to create a high resolution, wide panorama in Photoshop when you get home.
HDR really helps for sunrises/sunsets. Otherwise, the dynamic range will likely be more than your sensor can handle . All of my shots on this blog were HDRs.
Tripod…of course.
Bring your widest lens. This is an incredibly expansive vista and wide glass will help you capture all of it.
Have a zoom with you as well, it will allow you to shoot the La Sal mountains thru the arch as well as arch close-ups. Here is a detail shot of Windows Arch by my Swiss friend Carlos Wunderlin. Most photographers (including myself) would never think of framing only part of an Arch because we are enraptured by the grand panorama and want to get it all in the shot.
A polarizer will likely come in handy. Of course, if you are photographing in the Southwest, you always have one of those with you…right?!
When you get to the arch, use your PhotoPills app ($9.99)on your cellphone to see exactly where the sun will set (This app only costs $8.99 and you will be surprised how often you will use it).
If you going to shoot at night, then PhotoPills will again be invaluable in allowing you to 'see' where the Milky Way will be. The cool thing about this app is that you can key in future dates so you can 'see' what the sky will look like at a particular date, time and place in the future.
So there you have it. Certainly not an exhaustive study of everything you can do at Delicate Arch, but enough to ensure that you are well prepared for your first trip! I'd love to hear your own insights and suggestions about this wonderful place…just pop me a comment and I'll update this article with additional info.
Have fun and keep shooting!
Jeff
PS: I've written another blog about some of the other fantastic photo ops at Arches National Park (and nearby Canyonlands NP). Check it out by clicking here.
Delicate Arch Photo Guide and Tips
Related Images: