Lake Tahoe is a wonderful location for landscape photographers. But while preparing for a recent visit there, I was frustrated by the lack of good internet articles detailing sunrise locations. This blog is intended to address that opportunity by serving as a guide to Lake Tahoe sunrise photography locations.
I've created a couple of detailed maps to help you find the best locations. These are Google interactive maps, so they have all the features you would expect. Feel free to zoom in on areas to get a better feel for the locations. I have detailed notes and pathways marked as well.
The first map is large scale and shows all of my suggested sunrise locations for the entire area (see below). Feel free to refer back to it while reading the location descriptions in the blog.
Emerald Bay
Emerald Bay is certainly Tahoe's most iconic location for sunrise shots. It is Incredibly dramatic at any time of the day and it is difficult to take a bad sunrise shot here. Picturesque Fannette Island pokes up thru the sheltered bay. The water is sometimes so calm it serves as a mirror reflecting the far shore and sunrise.
Hwy 89 curves around the bay, carved into the mountainside which provides a number of different perspectives of the bay. The parking areas fill up during the day, but I've never had much of a problem at sunrise. The road occasionally is closed when blocked by snow.
I've created a second map (below) solely for Emerald Bay since there are a lot of photo spots here in a relatively small area.
#1 on my map: Inspiration Point at Emerald Bay
If you are coming up 89 from the south, the first location is a large car park at Inspiration Point (#1 on my map). There is a fee to park here (unlike most of the other the locations I'll review next). It also has bathrooms. What it doesn't have is a particularly photogenic view of the bay. Much of it is obstructed by trees and most photographers don't spend much time here.
As you pull out of Inspiration Point and head north, you will start passing small locations ( #2, 3 on my map) where the shoulder has been widened to allow cars to pull off the road and park. Unfortunately, none of these pullouts have signage or names. These first two pullouts have obstructed views of the bay.
#4 Emerald Bay Hwy 89 Pullout
However 7/10th of a mile north of Inspiration Point is a pullout with a beautiful, unobstructed view of the Bay. It is larger than the first two and can accommodate about 10 cars. It is wide enough for your car but not much else. There is a waist tall granite wall at it's edge with a sheer drop on the other side. You won't have any foreground to work with here, but it is a great shot. See #4 on my map.
#5 Emerald Bay Hwy 89 Pullout
8/10 of a mile north of Inspiration Point is another larger pullout (#5 on map). This pullout will hold about 6 cars. If you go too far, you will pass by a sign for Eagle Falls (about 600 feet later). There is a rocky rise between the parking area and the bay. If you walk around it to the left (north), you will find a large area on the other side with clear views of the Bay. What I love about this spot is that it is filled with rocks, boulders and plant-life that you can use for foreground subjects. Spend some time here and look for different perspectives.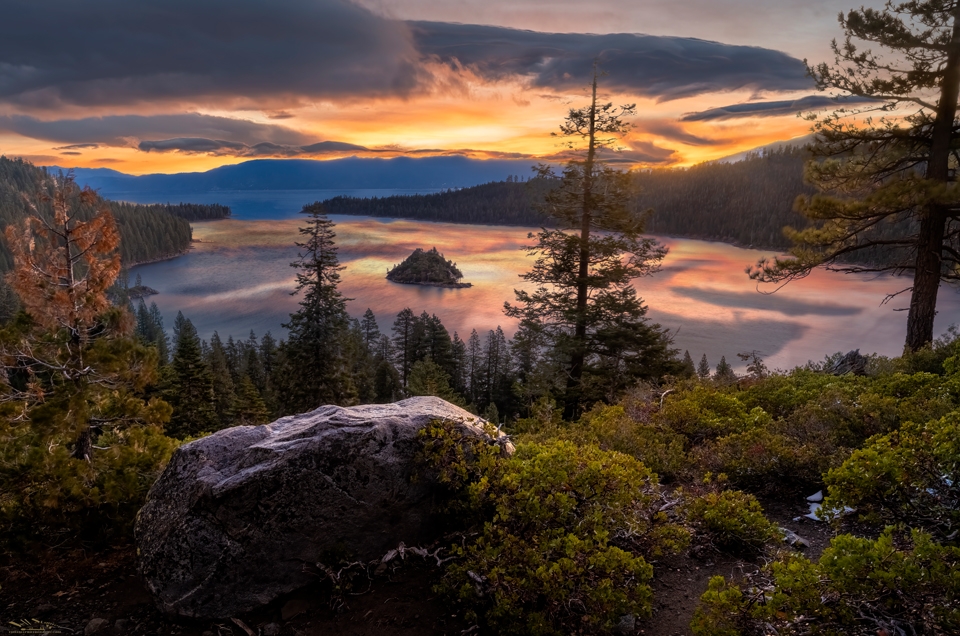 #7 Eagle Falls
Get back in your car and drive 500 feet north. You will cross a small bridge and then see a parking area on the left (west) of the road with "Eagle Falls" and/or "Eagle Falls Trailhead" signs. Park here (#8 on map) then walk across the road. Then turn right (facing south) and walk toward the bridge. Just before you reach the bridge, you will see stone steps on your left that lead you down to Eagle Falls as it tumbles over the rocky cliffs that lead down to the bay.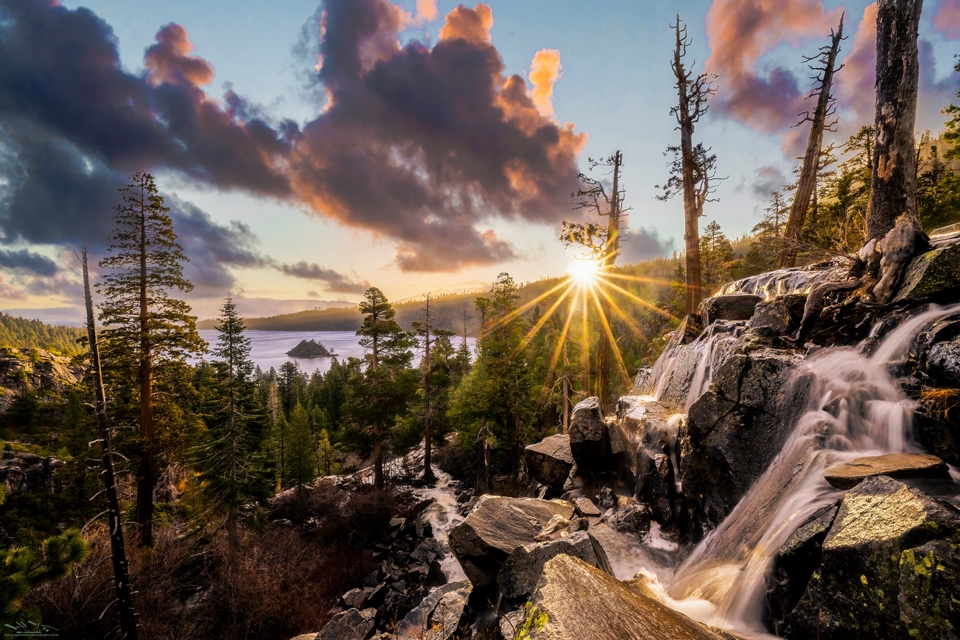 The water flow is best during the spring snowmelt and can become a mere trickle in the summer. The falls are pretty dark without direct sunlight, so I'd suggest you hit the other locations around Emerald Bay if you arrive before sunrise. Save the Falls until the sun is about to poke over the ridgeline. Then set your aperture at f22 and see if you can coax a starburst out of the sun when it shows over the trees.
There are some significant cliffs here and with the rocks wet from the spray, it can be slippery. Wear shoes with a non-slick tread and exercise caution.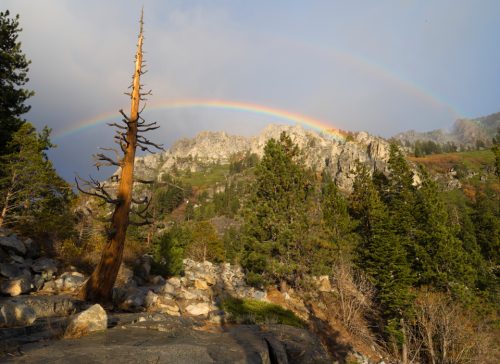 #9 Vikingsholm Parking area at Emerald Bay
About 1000 feet north from the parking area for Eagle Falls is a large fee carpark area on your right (#10 on map). Usually, there is a "Vikingsholm" sign here (there is a path down to Vikingsholm here) but during my last visit in Nov 2021 the carpark was being refurbished and it was unmarked. Between the parking area and the bay is a huge stone hill (#9 on map) that you can easily climb. This area is pretty large and has lots of nooks and crannies that will allow you to find an unique shot of Emerald Bay.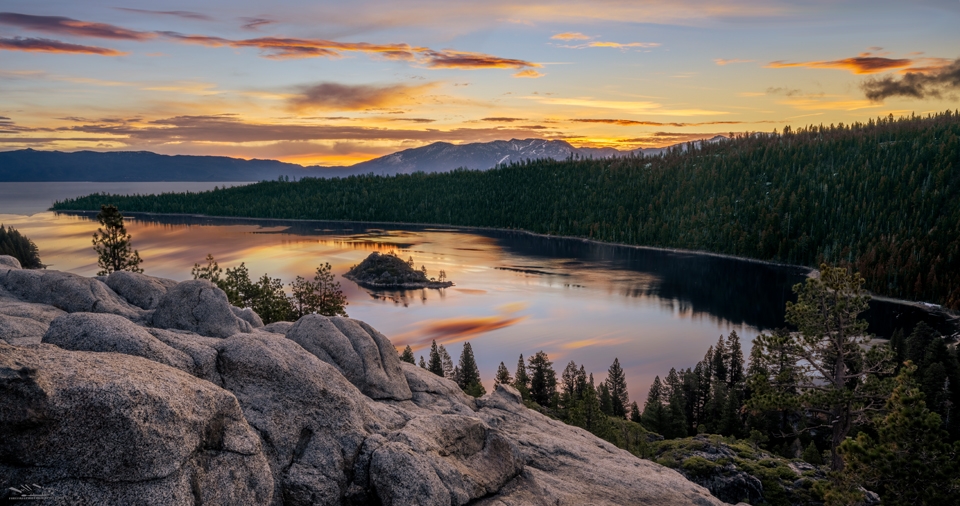 As you can see, Emerald Bay has a lot of potential and plenty of shooting locations. Try to visit during daylight your first time and do your scouting so you will be comfortable in the darkness when you go back for your sunrise shots.
As you head north away from Emerald Bay, keep an eye out for the following great sunrise opportunities:
#14 on Map: The Disappearing Railroad Tracks
This spot has been featured on social media a lot recently. And with good reason: the image of a set of railroad tracks running right into the crystal clear waters of Lake Tahoe is the kind of thing that gets your attention.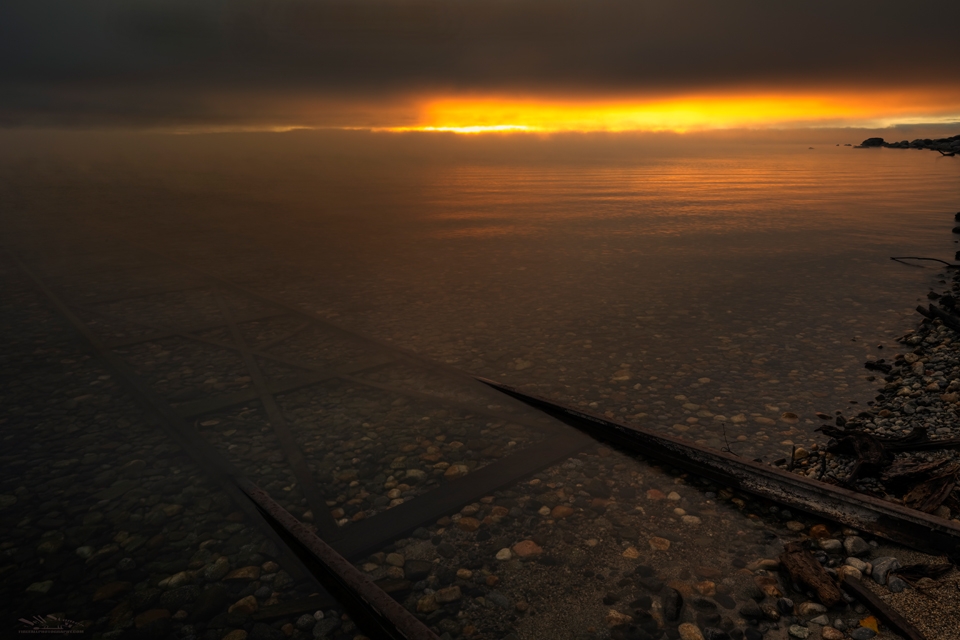 The explanation, unfortunately, does not involve sinkholes, or collapsed mines or aliens. As it turns out the tracks actually were for launching boats from a millionaire's boathouse into the lake.
To get here, drive 9.3 miles north from Emerald Bay and enter Sugar Pine Point State Park. You should be able to enter the park before sunrise. Just remember to leave payment at the guard house (which will be unattended early in the morning). Park as indicated on the map above and hike the 400 feet or so downhill to the Lake's edge. You should see the boathouse. The tracks run 20′ or so from the boathouse to the water.
Use a polarizer to cut reflections. Hopefully you will also be there on a calm day and there won't be any ripples to obscure your view of the tracks.
#15 on map: Eagle Rock
5 miles north of Sugar Pine Point State Park is Eagle Rock. Its a 200′ tall rock outcrop with wonderful and panoramic views of the Lake. There is a well marked car parking lot at the trailhead. The easy trail to the top is only a half mile.

#16 Dock Views
Sure, using a dock for its leading lines pointed directly at a sunrise isn't original. But it sure can be effective.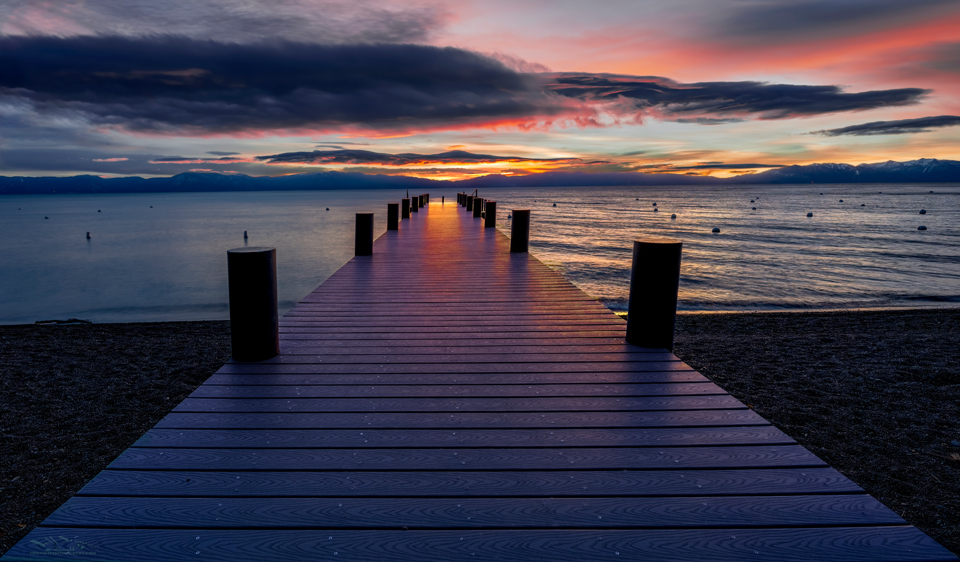 There are dozens, if not hundreds of docks on the shores of Lake Tahoe. Many of them are inaccessable and on private property but there are exceptions if you look around. The dock shown here was in a private park belonging to the HOA of the home we were renting.
Beaches on Public Parks
There are several beautiful public parks on Tahoe's western shore. You can get a nice beach shot of the sunrise at most of them. I'm a Florida boy and I see a lot of sunrises over sandy beaches. So it wasn't something I was going to seek out when I had views like Emerald Bay available. But, if it is something that interests you, check out the options described below and shown on the following map:
#17 on Map: Commons Beach
Located in Tahoe City, this park has a large beach that is easily accessible with lots of parking
#18 on Map: Lake Forest Beach
Lake Forest Beach is a free day-use park within the neighborhood of Lake Forest Glen. The beach is a secluded, sandy and pebbly shoreline. The view across the Lake includes Mount Tallac and other framing mountains.
#19 on Map: Speedboat Beach
Free public beach with some nice large boulders you could use as foregrounds. Parking is limited but you shouldn't have a problem at sunrise.
One Last Tip:
The clouds around Lake Tahoe usually show their most intense color long before the sunrise actually peeks over the ridges. My experience is that the best color is seen 40-50 minutes before sunrise. I've kicked myself more than a few times as I was driving to my shooting location 30 minutes before sunrise and saw the color fading past its peek.
If you have trip to Lake Tahoe in your future, I hope this blog helps you get that perfect sunrise shot you were dreaming of.
Cheers!
Jeff