Note: As you review my photos, please be aware that internet bandwidth limitations result in my photos being displayed with less than 25% of their full resolution. The actual print you will receive will be made from my original image which is far sharper than shown on my website.
---
So you are thinking of buying one of my prints? Well, first of all let me thank you for considering my work for your home or business. I consider it an honor that you would choose one of my images. Plus, I'd be a liar if I didn't admit to still getting a little thrill every time I sell a print…even after all these years!
Every image shown on this website (including the blogs) is available for purchase.
When I first started selling my prints on my website, I tried those "click & buy" screens where you just picked out the image you liked, the size you wanted and clicked the 'buy' button.
Unfortunately, those systems offered limited 'cookie-cutter' options and didn't allow my customers the flexibility to get exactly what they wanted. I'm I perfectionist…I like things to be exactly a particular way, so I totally understood that my customers had the same standards.
So a few years back I dumped the 'click & buy' system and began a much more collaborative approach. I personally work with you on each and every purchase. This allows us to review different options so you can get exactly what you want: premium quality work that you will cherish for a lifetime.
So, what do you do?
Just email (jeffstamer@aol.com) or call me (407-709-4685) and let me know which image you are interested in. We will work together to get you the perfect print!
Materials, Sizes & Pricing
I only sell my work on metal prints. Frankly, I wouldn't consider any other medium for my home. Images on metal feature stunning museum-quality detail and a vibrant range of colors and they are quite durable as well. My prints are made by the premier company in the business and I've never had a customer have anything but praise to say about their prints.
The chart below illustrates pricing for standard sizes as of Jan. 2021. If you don't see the exact size or aspect ratio you want, don't worry, I can probably get it. Seriously, I've sold prints over six feet wide, I can probably accommodate your request.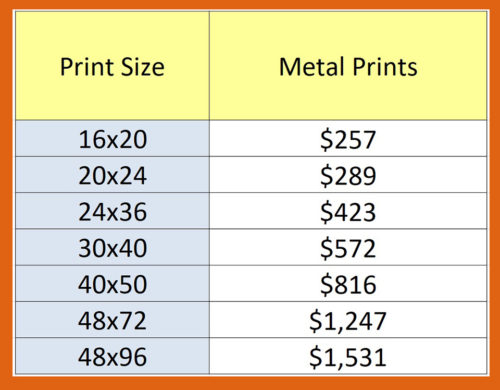 If you wish to use any of my work to promote a charitable or worthy cause, I would be happy to consider your request.
Metal Print Details:
My metal prints feature dyes infused directly into specially coated aluminum sheets. Image stability of metal prints is 2 to 4 times that of traditional silver-based photo papers.
My metal prints arrive with mounting hardware already installed on the back of the print. You just pop a nail into your wall and hang it up!
My metal prints are securely boxed for safe shipment
My metal prints do not have a traditional 'frame.' Since the mounting hardware is 1/2″ deep, the print will seem to 'float' off the wall when hung. Most people prefer this clean, modern look. However, a variety of other mounting options are available at an additional cost. These include:

Stainless Steel Mounting Posts Stainless Steel Posts come in a set of four pieces, one for each corner, and are available in small (5/8″) and large (1″) sizes. Optional 1/4″ or 1/2″ Acrylic can also be secured with the Stainless Posts to the face of the metal print.
Exhibit Mounts Metal prints are mounted on 2mm black Styrene and finished with a black Metal Inset Frame. Designed to look great while adding durability to prints that will be handled or transported frequently
Flush Mount Metal Frames Flush Mount Frames are metal frames available in a range of stunning color choices. These frames are 1-1/4″ deep (1-5/16″ including the metal print).
Inset Metal Frame Inset metal print frames are similar to my flush-mounted frames, but they are recessed further inside the metal print.

If you plan to hang your print outdoors, I have a premium-priced upgraded weather-resistant version available.
Your print can be customized in other ways as well, if there are any options that you don't see here, just let me know!
Jeff