Oct 11, 2019 UPDATE: For the first time in a couple years, the fields didn't flood and we have a Sunflower Bloom! I was out there today and the flowers are at peak bloom. It might not be the most profuse bloom we have ever had, but it is still impressive. My guess is that the flowers will start to fade from here on out so if you have time in your schedule, this weekend would be your best bet!
For years I had been envious of the wildflower fields out west. Ponce de Leon may have named my state "Florida" after being inspired by our wildflowers, but I had seen precious few of them in my three decades here. That is, until the day I stood behind my camera and saw this scene in my viewfinder:

I was simply amazed. It was absolutely incredible…beautiful yellow wildflowers as far as I could see. What really rocked my world is that I had lived less than 15 miles away from this vista for nearly thirty years and had no idea it existed! I probably still wouldn't if not for Ed Rosack. Ed is al local photographer who has a great blog called Central Florida Photo Ops http://edrosack.com/wordpress . Ed, if I ever meet you, I owe you a beer!
Although photos are great, sometimes a video tells the story even better. Take a look at this 90 second 'film' that might give you a greater appreciation of the Sunflower fields:
I've been back to this place every year since. Rarely do I see another soul. Usually a bald eagle or two will circle me probably wondering what the heck I am doing in the middle of nowhere. It is blissfully quiet, which is amazing considering how frantic and busy Central Florida can be. I think I would have a great time here even if I didn't have my camera.
Okay, so are you interested in getting in on the fun here?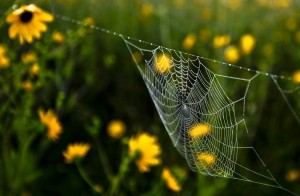 First of all, this incredible display only lasts for a couple of weeks from late September into early October. As a general rule, the flowers peak around Oct. 1st but obviously every year is a bit different.
Second, keep in mind that this isn't Disney. You can't just pull up, jump out of your car and snap some shots. You will need to hike for about 20 minutes out to the fields, it will likely be hot, the fields are muddy and you will help feed the local mosquito population. Also keep in mind that is is a wild area on the shores of the lake reputed to have the most dense alligator population in Florida (421 gators per mile of shoreline is the eye-opening stat I've read). If that doesn't scare you, then read on….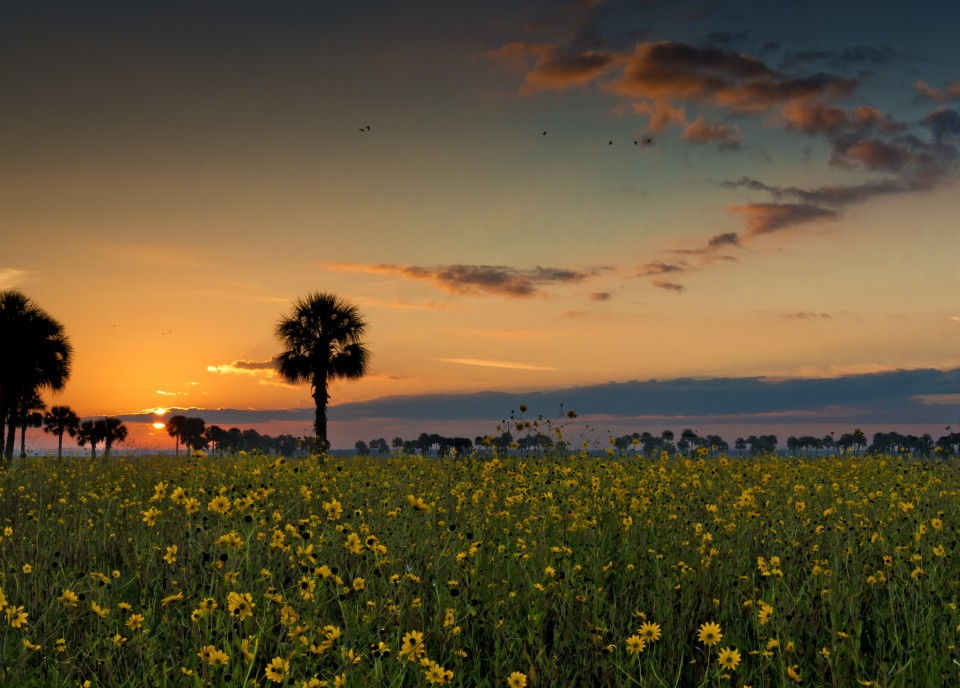 How do you find the spot?
First of all, once you are in the Orlando area, you want to get on SR 417 (AKA: The Greeneway Tollway/Expressway). The flats are on the shore of Lake Jesup, which you can see from the 417. Some folks actually take photos from the shoulder of the road…but that looks dangerous to me and State Troopers take a dim view of parking on the side of an expressway. Besides, you can take MUCH better photographs from the location I reveal below
Here is a link to a Google Map that you can print that will help you find the place.
If you don't like maps, here is a description: Drive north on the 417 and exit (east) on E Lake Mary Blvd (the first exit north of Lake Jesup) and head east. Then take a right (south) on South Sanford Ave. Take a left (east) on Pine Way (this will be just before you drive under the 417 again). Take a right (south) on S.Mellonville Ave. This will dead-end into Oakway…turn left (east). Oakway is a narrow two lane road with no shoulders so you may have to (carefully) pull off to the side if a vehicle is coming the other way


Parking Lot

Oakway Lane dead-ends at a small parking area that is open during daylight hours (see photo to the right). If the gate is closed, there is room for a couple of cars to park outside the gate on the shoulder of the road.
The trail starts at the gate (see below) located in the back south-eastern corner of the lot located next to the parking area. As you walk to the gate, you will likely see your first sunflowers in the fenced field to your right.


Gate at the trailhead.

Follow the trail on the other side of the gate (actually an old overgrown dirt road).
You will see trail markers with both red and yellow diamonds.
In less than five minutes, the trail will split. Either trail will get you to the fields (see map below).

Red Trail

. This is the shortest route to the fields. It is less than a half mile walk and should take you about 20 minutes

At the first split in the trail, continue straight (don't turn right). The trail markers will now have both

red and yellow diamonds

.


The hike thru the hammock is short but impressive.

After another five minutes the trail will split again…take the left trail. The trail markers will now be marked with

red diamonds

and the path will lead thru a nice old oak hammock with wonderful spanish moss.
In another ten minues or so the trail will end as you emerge from the trees with the open flats directly ahead (you can't miss it).
The best sunflower fields are usually to the right (southwest) as you exit the oak hammock.
You will be tempted to walk straight out into the flowers. Don't…unless it has been a really dry fall you will get bogged down in the marshy fields.

nstead stay on the drier ground near the the oak trees and keep walking to the right (west) on the edge of the field until you find a good view. Then walk straight out into the field, get your shot, then walk back to the oaks and continue your hike to the right.

I told you these sunflowers are TALL!

My best compositions are usually found when I walk well out into the fields, then turn around and shoot back toward the trees. If you are there in the morning or early afternoon, this also puts the sun at your back or to the side.

There are some areas in the flats that are a bit more elevated than others. If you see a palm tree out there, you know it is on higher ground (although it still might be under water). There aren't real trails thru the actual sunflower fields but usually you can find some paths that horses, cattle and other photographers have made. Be aware that the sunflowers can be over 6′ tall.

Yellow Trail

. This area is at a slightly higher elevation and it has a wonderfully photogenic line of palm trees that run in a straight line to the Southeast once you emerge from the oak hammock. If the fields are wet, walking along this line of palms could be your best/only option to actually get out into the sunflower fields.

This hike is a bit longer, but still shouldn't take more than 30 minutes to reach it from the parking area.
At the first split in the trail described above, take the trail to the right (it will be marked with

yellow diamonds

). This trail will take you thru an oak hammock and will soon curve to the left (south). Continue straight down on the trail (actually an old dirt road). As you reach the end of the tree canopy, you will notice that the trail/road is actually elevated and there is a narrow, nearly filled/overgrown canal to your right.
At the edge of the flats, the trail/road will take a sharp right. As you stand here looking out to the flats you will see a long, perfectly straight row of palm trees leading off south-east into the flats. Walk along that line of trees (no need to follow it to the end). As you do so, you should see a nice field of sunflowers to your left (south-east). This area is particularly nice in the afternoon with the sun to your back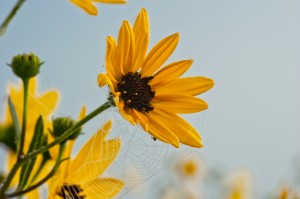 What should you bring with you?
These fields are marshy…

bring waterproof boots

and a spare pair of dry socks (just in case)

If it has been a rainy Fall, it will be more than 'marshy', the fields will be underwater (it was so wet in 2014, 2017 & 2018 that the fields flooded and killed the blooms.)
Also keep in mind that although I've only rarely seen snakes here, you'd probably rather be wearing boots than flip-flops if you were to surprise a moccasin.
Cattle often wander through this area and folks ride horses here as well. The cows and horses do leave their 'calling cards', so step carefully.

Some years the mosquitos can be intense, bring your industrial strength bug spray.
Temperatures in September/October can often hit 90º and there isn't much shade in the flats, so bring a hat, lots of water and use your sunscreen.
Wear long pants, a long sleeved shirt and quick drying fabric (not cotton). Many of the plants in the field are as tall as you are and they will scratch up any unprotected skin. Plus, the plants are often covered in dew in the morning…and you will get wet.
Tips for my fellow Photographers:
Bring a

tall

tripod. Many of these flowers are over 6′ in height so it helps to elevate your camera over them. Use a cable release/remote shutter.
A typical shot here often features a wide depth of field when capturing a field of flowers that stretches from the horizon to a few feet in front of you. In that case, use a small aperture (f/16 or higher) to get the maximum depth of field. A tripod will be critical since the exposure time might be long. Mornings are great since there is little wind.
Bring a selection of lenses.

Obviously you want your wide-angle lens…the landscape begs for them. The wider the better.
If you have a macro lens you can stay busy here all day. In addition to the flowers there are insects of every kind and first thing in the morning, sometimes you will find dew covered spider webs that make wonderful compositions.
There are often eagles circling in the sky over you…a long zoom can help you come home with some nice portraits. In addition to eagles, I've seen hawks, wood storks, and a plethora of other species…if you happen to be a birder, you will be photographing a lot more than sunflowers.

Sunrises and sunsets can be magical.


Who says that there aren't any landscape photography locations in Florida?

Try a Panorama. The fields can appear endless and this impression can be dramatically captured in a pano.


Endless Beauty

Don't forget your polarizer….it will make the blue skies absolutely breathtaking. The exception to this rule would be if you are making a pano..a polarizer will often result in 'blotchy' skies if you are stiching together multiple shots.
The flowers look great in direct sunlight. Fortunately, in Central Florida we don't have many overcast days. Ideally, visit on a day with

partially cloudy

skies: Nice big white clouds in a deep blue sky hanging over yellow field of flowers makes for wonderful images.
If it is windy, you will need a quick shutter speed (1/250 or so) to 'freeze' the flowers in your image.
Other sunflower locations :
Lake Jesup Area:
Although I consider the Marl Bed Flats to be the primo location, there are 3 other flats with sunflowers surrounding Lake Jesup that you can explore.
Caldwell Fields is very close to the Marl Bed Flats (basically just on the other side of the 417). You can get there from a trailhead located in Lake Jesup Park (see map below). This can be a wonderful spot since part of the trail is atop a berm…which allows you expansive views because of the height. Unfortunately, the trail you take to the berm is at a very low elevation and I've rarely seen it dry enough to hike during the sunflower bloom.
The North Cameron Tract is often dryer than the Marl Bed Flats but the flowers are not usually as profuse. Check out this link to see a map.
The East Lake Jesup Tract (also on this link) is on the southern side of the Lake and I've never had much luck there…but I honestly haven't spent much time exploring it either.
Cocoa (Tosohatchee):
Another location in Central Florida that usually has sunflower displays is the Tosohatchee Wildlife Management Area which is about a hour southwest of Lake Jessup (about 30 minutes west of Cocoa.) Although not as photogenic (in my opinion) as the Lake Jessup fields, it might be worth checking out if you live nearby. The best spots are in the flats near the St. John's River on Powerline Road. This link will take you to a helpful map.
Ft. Myers/Naples (Pepper Ranch):
For those of you in west and south Florida, I've seen photographs of fields of sunflowers at Pepper Ranch in the Ft. Myers/Naples area. I haven't visited myself, but if you live in that area you should check it out. Here is a link with directions and details.
I personally consider the sunflowers at Lake Jesup to be one of the best landscape photography locations in the state. If you happen to be within driving distance during early October, you really should see this extravaganza yourself!
Cheers,
Jeff
PS: I usually post updates with details about the bloom every year. Check my blogs during late September and October to see what is happening this year.
I've also published a couple other articles about the fields you might find interesting, check here and here.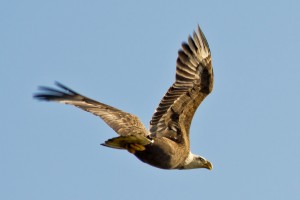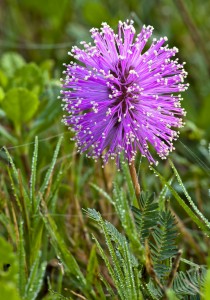 Related Images: