One of the things I love about living next to a State Park is that wildlife is right outside my door.  Yesterday for example, the family had a Easter celebration at a outdoor pavilion in my neighborhood.  I had been drafted to be the photographer for the event…you know how that goes:)  While the whole clan arrived and as my wife rushed off to kiss the latest bumper crop of babies, I noticed a Blue Heron patiently fishing in the stream next to us.
I kept my eye on the Heron while I filled my memory card with shots of the family…and then WHAM!  The Heron jammed its bill into the water like a spear and skewered a small brim (we called them blue-gills up north).
Fortunately, I had recognized that the Heron was about to strike and ripped off about 30 frames as he struck: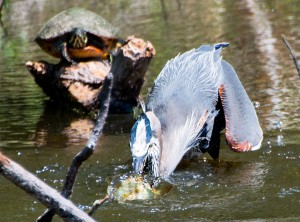 Even with a 300mm zoom at 200% crop, I was delighted with the detail my Nikon 800E was able to deliver. Check out this shot below: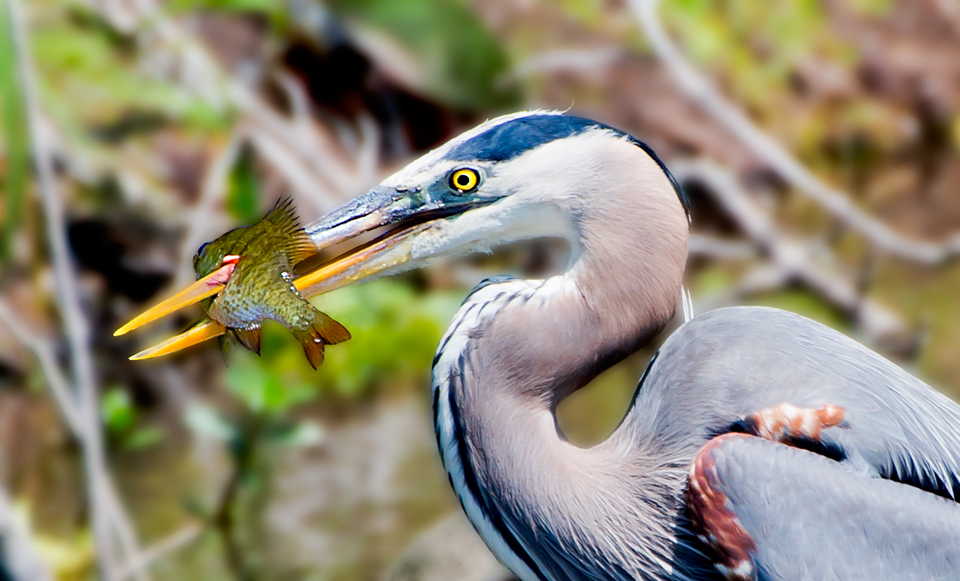 You know, I had concerns that my 800E might not work out well as a wildlife camera (due to the fact that the huge files fill up the buffer much quicker than my old D700)…but, the detail this camera delivers is really astounding.  I mean, sometimes I bring the shots up on Photoshop and I just start laughing in amazement.  Just incredible.
Anyway, I went back to the Easter egg hunt while the Heron enjoyed his Easter lunch.  Small moments like these truly are the spice of life!
Have a great Easter!
Jeff
If you enjoyed this article, Get email updates by subscribing (it's easy!)