Last week I returned from an 8 day photo trip to the American Southwest with my son Ryan.  He was on Spring Break from college and wanted to get more experience with his new camera and try some of the area's world-class hikes.  As for me, I never need an excuse to photograph the southwest and spending time with my son was just icing on the cake.
So now, after flying 4,000 miles, driving another 2,000 miles and hiking 40 miles…I've finally recovered enough to provide a quick trip report (with pictures of course)!
We flew into Vegas on a Saturday morning, got our rental jeep and were quickly on the road out of Sin City heading for Death Valley.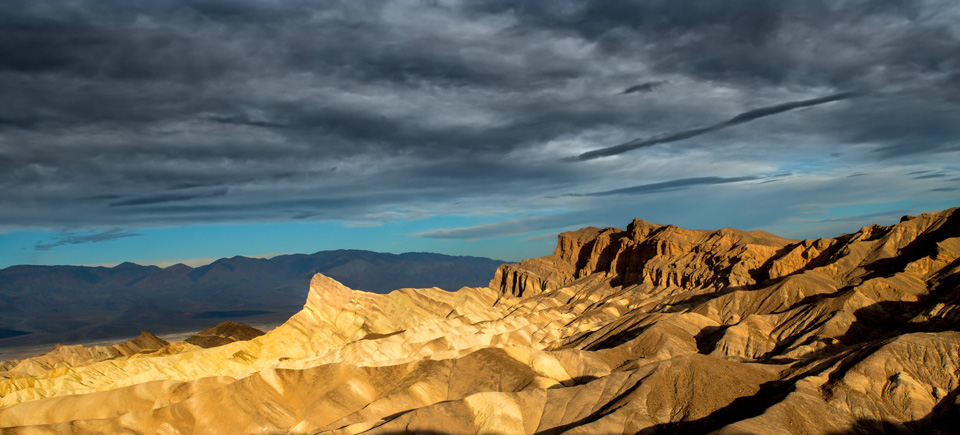 I was excited since I'd never visited Death Valley.  Even better, I was finally going to see one of the locations on my "Photographic Bucket List":  Racetrack Playa.  Years ago I first saw photos of the 'Sailing Rocks' and their long trails on the flat Playa.   I've been fascinated ever since and this was my chance to finally visit.  I'll be writing a full blog on this location in the near future, but I can tell you it is as strange, eerie  and alien as it looks in all those pictures you've seen.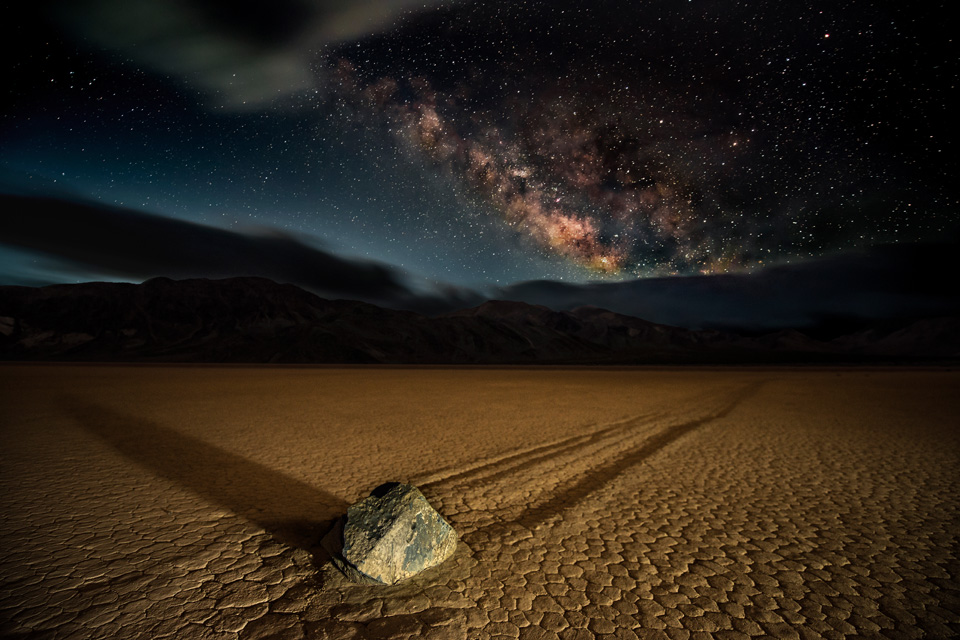 After a couple of days living off of granola bars, Ryan decided to treat his old man to a nice breakfast on the way out of the park.   There aren't a lot of dining choices in Death Valley, but the Inn at Furnace Creek looked nice.  They were serving brunch and we were so hungry that he didn't even ask the price.  The meal was excellent leaving him both contented and smiling.  But when they presented a bill for $70, they managed to wipe away that smile along with a large portion of his Spring Break budget;)
Our next stop was Valley of Fire State Park in Nevada about an hour northeast of Vegas.  We only had 90 minutes to devote to this park but could have easily spent days there.  I had two goals here:
1) Find the mysterious "Windstone Arch" made famous by photographer David Muensch, and
2) Hike out to the "Fire Wave" and catch a sunset.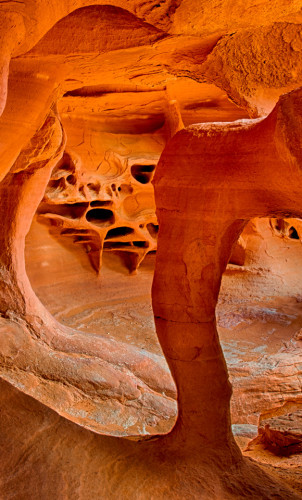 Many folks have trouble finding Windstone (also known as Fire Cave) Even though it is only 150′ from the road, it isn't marked in any way and is hard to see unless you know what you are looking for.  Luckily I had GPS coördinates and walked right up to it.  I was doubly lucky because it clouded up and even started to rain.  Why was that good luck?  Well, Windstone is a morning shot…usually the direct sun in the afternoon ruins the shot.  Overcast skies meant no direct sun and the diffuse light filled the small alcove nicely!
It was still overcast so my sunset shot of Fire Wave wasn't looking promising but we drove to the trailhead and started hiking anyway…at least we could scout it out for our next trip.  Then, nearly at the end of the trail, the sun squinted thru an opening at the horizon.  We nearly ran the last few yards and I fell over myself setting up my tripod.  This was the scene: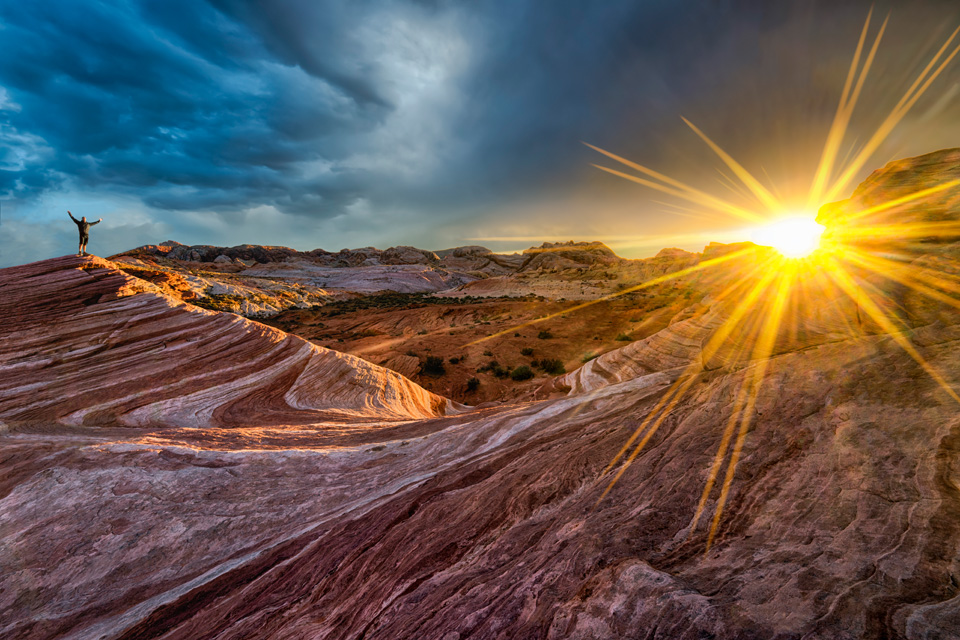 It was magnificent…dramatic and brief!  Two minutes later, the sun was gone but I was still on a photographic high.  In fact, my son laughed at my giddy mood, but I was too happy to care. After the sun fell below the horizon, I took a look behind me:  This place just wouldn't stop…a double rainbow!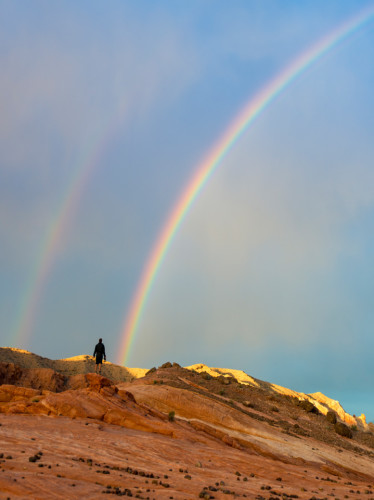 The next few days were spent at one of my favorites, Zion National Park. We packed in full days of hiking.  Those miles on the trail were a bit less tiring for my 20 year old son than for my less youthful body, but the images I captured were worth every last single footfall.
We hiked up Angel's Landing our first day…this was the trail I had the most pre-trip concerns about.  Reviews of this hike cited it as one of the most dangerous in the country (six folks have fallen to their deaths on the hike) and critics warned that anyone who didn't like heights would be sorry.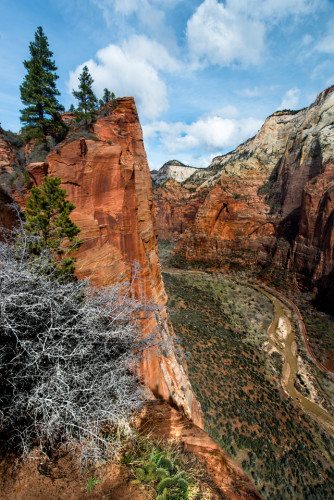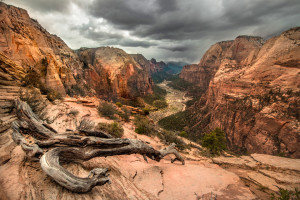 Frankly, it wasn't all that bad.   It WAS steep and I have no idea how many switchbacks were on that silly trail but the views at the end were breathtaking.
But then, just as we reached the summit, the weather Gods (who had smiled upon us the day before) turned downright nasty. The sun and blue skies vanished.  And then it actually started to snow. Ryan and I looked at each other thinking about how the way back down wouldn't be all that fun or safe if the trail back got wet or iced-up.  We called it a day.
We checked off another "bucket list" location the next day:  the famous Subway.  Since it was so early in the year, we had no problem snagging two of the 20 daily permits allowed for this hike.
It was a long, rough hike.   Despite a 'trail' that looked like a Delta Force obstacle course,  we managed to have some fun on the way: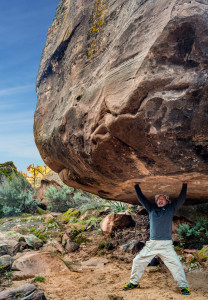 When we finally reached the Subway, it was everything we could have hoped for.  In fact, when I took my first shot and looked at the LCD on the back of the camera, it was one of those few moments when what I saw looked better than all of those perfectly photoshopped pictures I had admired for years on the internet: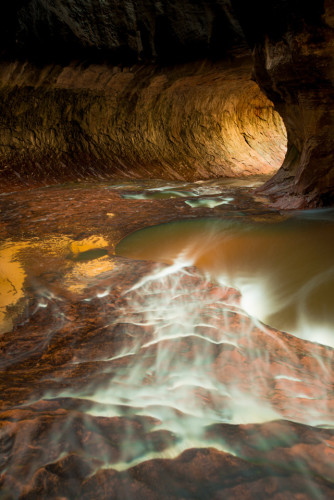 And then, the long hike back…including a challenging 'scramble' that involved a 1500′ elevation gain right at the end.  I was a tired puppy and it was a long day…over 9 hours from the start of the hike until we got back to the jeep.  We ate like pigs that night…I figured I had burned off my share of calories!
Our final day in Zion we hiked up the Narrows.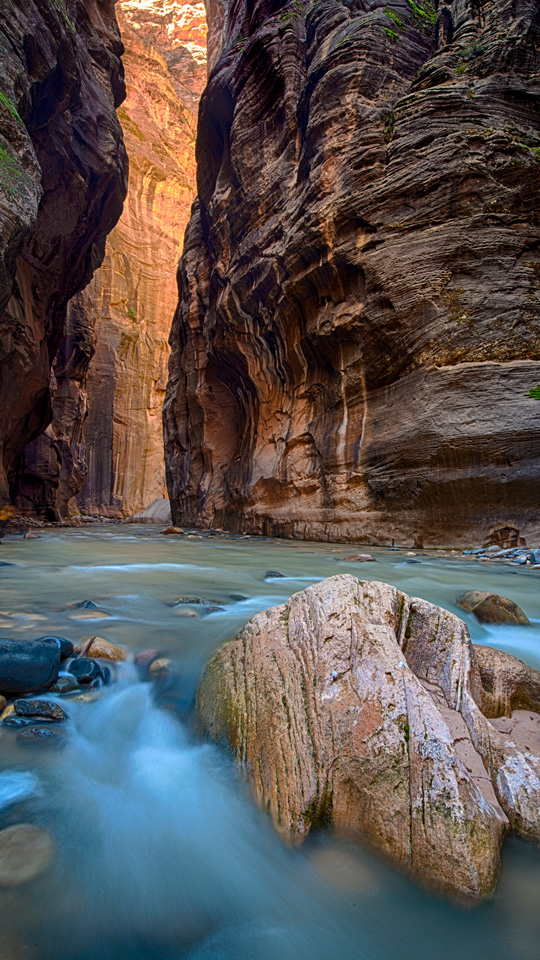 A big part of the attraction of this hike (even for photographers) is that you actually hike in the Virgin River.  However, since it was March and water temps were in the 30s, we actually had to rent full dry-suits to avoid turning into human Popsicles!  The good news was that the cold water kept most of the 'fair-weather hikers' in their nice warm beds so we had the river nearly to ourselves…which made it a totally different and far more peaceful experience than my previous summer visits.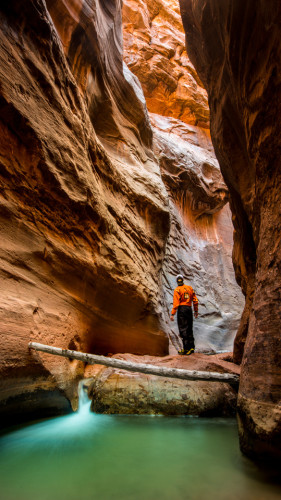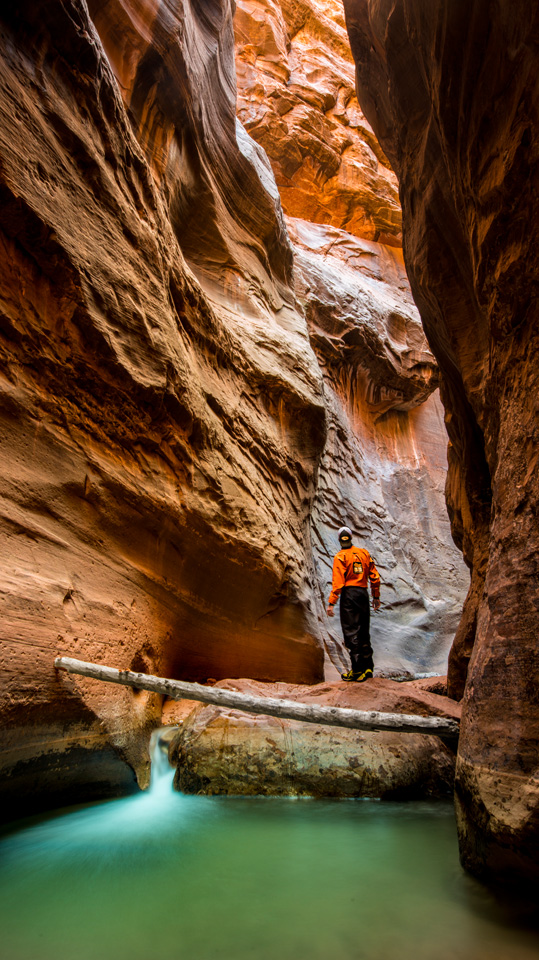 After the hike we drove up to Escalante (near the Grand Staircase/Escalante National Monument.)  We scouted the 'Hole in the Rock Road' before dusk (and nearly plowed into a herd of mule deer).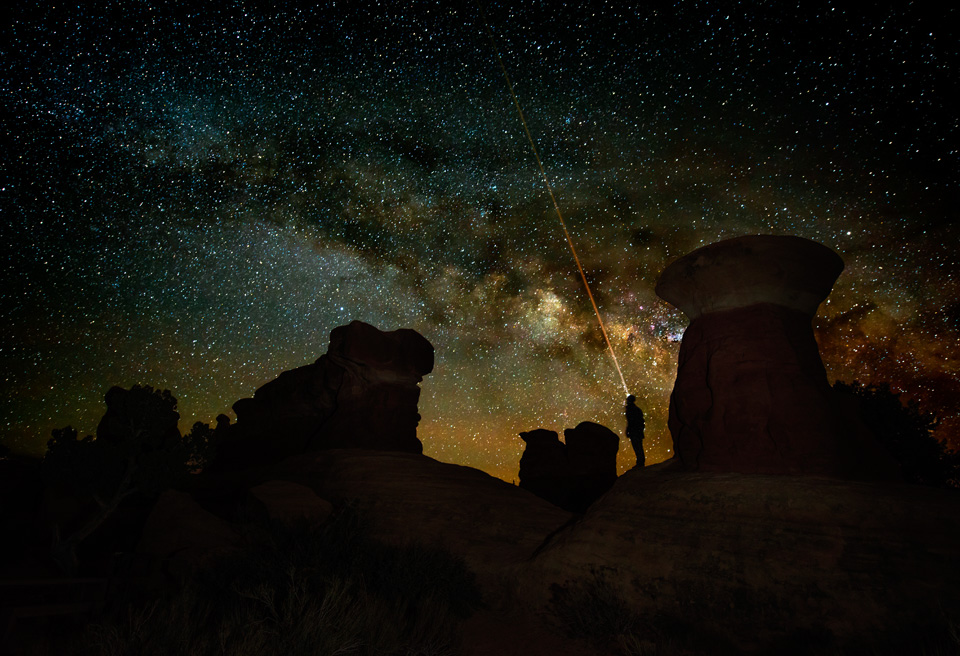 We got up at 3:30 so we could reach Devil's Garden by 4am when the  Milky Way would be high enough to photograph.  As you can see above, it didn't disappoint.  Escalante is so isolated and far from big cities that the view of the heavens is simply incredible.   We shot for an hour and hit the road again.
Ryan noticed that Bryce Canyon was on our way, so less than 2 hours later we were there for sunrise.  I had been checking the webcams and knew that Bryce still had snow…I had long wanted to photograph the hoodoos with snow!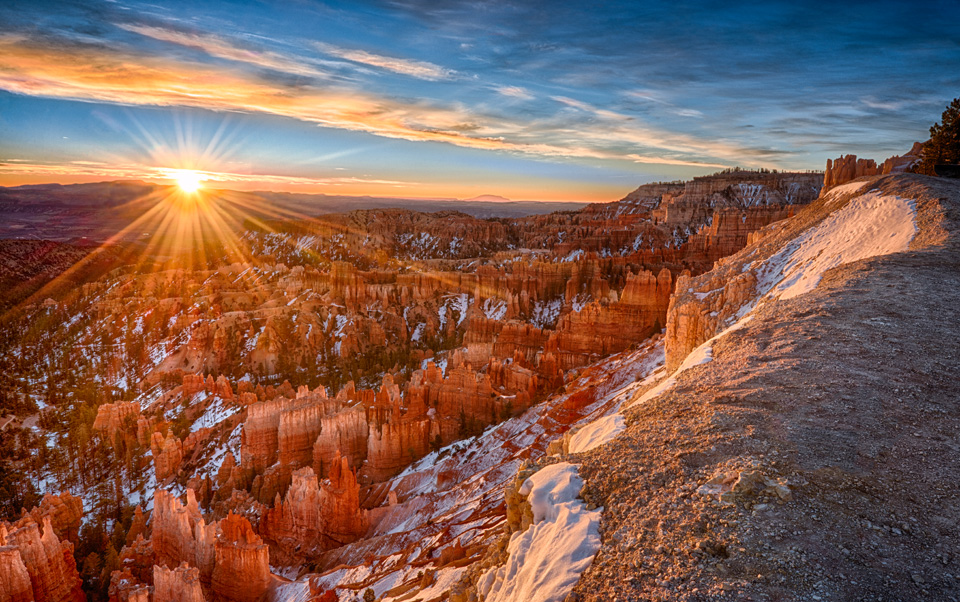 Two more hours in the Jeep and we decided to stop in Kanab to try our luck in the daily lottery for at a permit to visit 'the Wave.'  Well, that was an experience!…Over 150 potential people packed in a little room hoping to be one of 10 hikers who would get permits.  We didn't win, but 'nothing ventured…."  We actually drove back the next day to try again but it wasn't to be.  Afterwards, during a 'consolation breakfast' at McDonalds we chuckled about the lottery and decided that next year would be our year to photograph this Icon!
We hiked out to Wirepass Slot on the way back from Kanab and then toured Lower Antelope Canyon.  We finished the day at Horseshoe Bend near Page Arizona.  Five photo locations in 17 hours…we certainly packed everything we could into that day!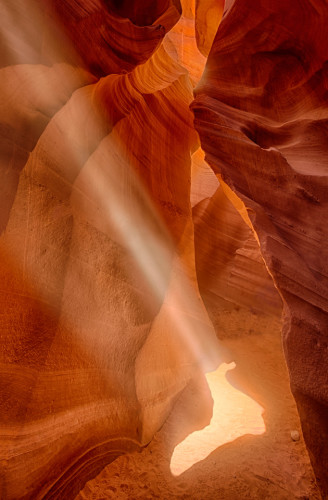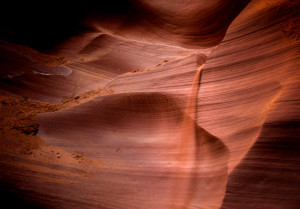 The next morning we decided to try Horseshoe again…I really liked the soft morning light but my favorite shot was a self-portrait from the night before: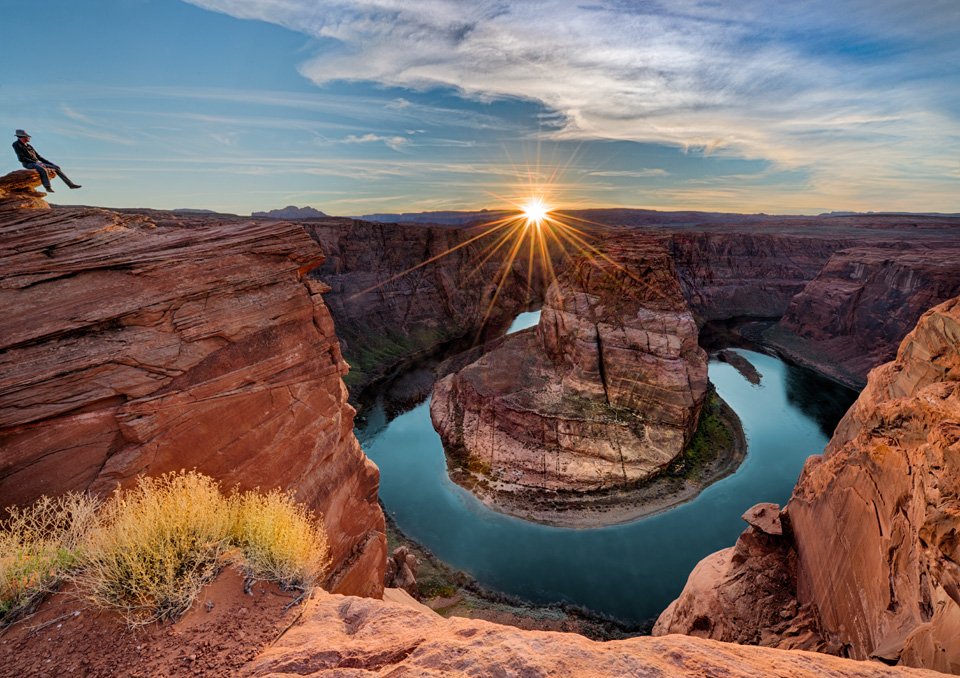 For some reason, I really wanted to see 'Balanced Rock'  which was a bit out of our way (near Lee's Ferry).  It is a cool hoodoo, but I can't honestly say it is remarkably photogenic.  Something about it just appeals to me, maybe just my odd sense of humor:
This was our last full day and we drove down to the Grand Canyon.  It would be Ryan's first time seeing this wonder.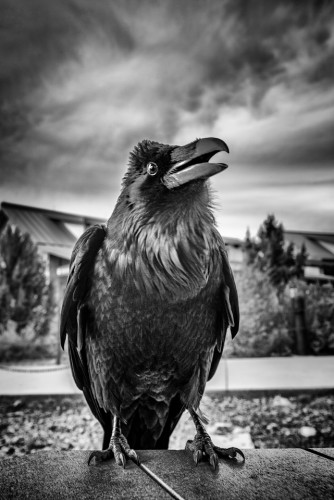 Unfortunately, the afternoon was overcast and the light was flat.  The canyon was still impressive of course, but as photographers, the dismal skies left us a bit disappointed.
Sunset was a bust so after it got dark we splurged on pizza (SO much better than Cliff Bars)!  When we came out of the restaurant, the skies had started to clear, so we headed back to the rim.  I shot until the clouds came back and completely hid the sky.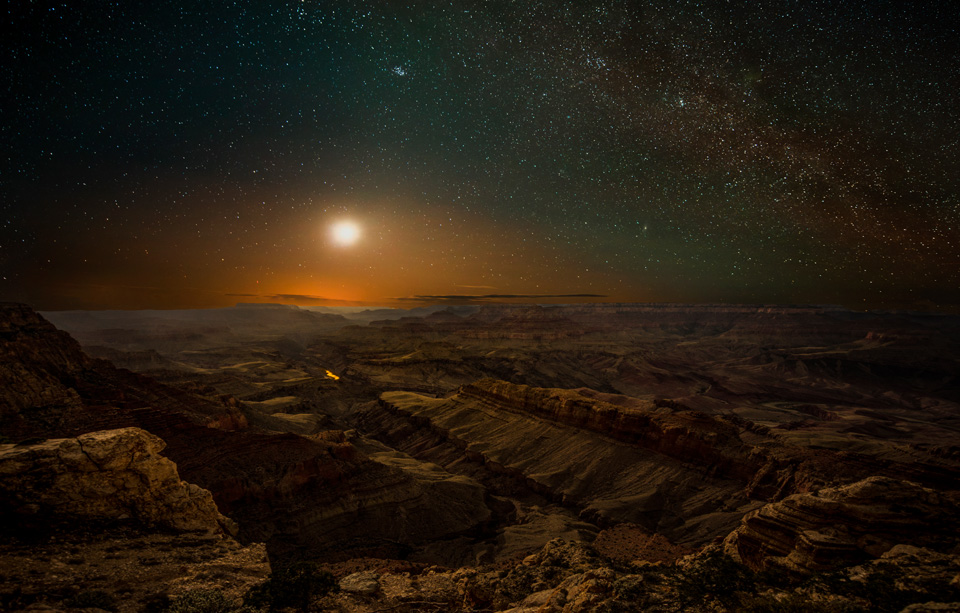 We headed back to the room and I set my alarm for 4 am just so I could check to see if the weather might break for sunrise.  Maybe we could get a few decent shots before we had to head to the airport for the flight home.
Four am came quickly.  I grabbed my beeping phone and my weather app told me it was still overcast, in fact, it was snowing!  So, it was our last day and the weather looked like crap.  The bed, on the other hand, looked wonderful to my sore, sleep-deprived body.  I figured that the chance of a decent sunrise was about nil…so, of course I got dressed and headed to Mather Point anyway.
Glad I did.  I found a spot, got set up and prepared to spend a cold morning shuffling my feet without taking a shot.  But then, somehow, right at daybreak the sun managed to poke thru a clear slot in the overcast skies. It revealed a wonderland of snow, red rock and hoar-frost covered trees.  Shutters started clicking and the tourists at the viewpoint gave up a cheer (I might have joined in)…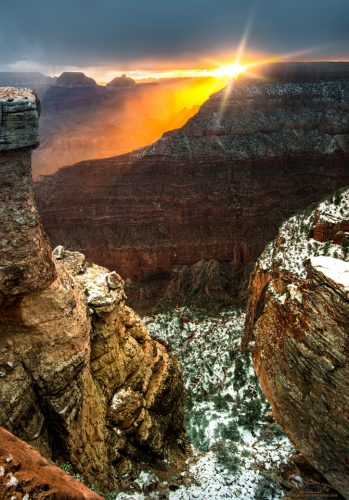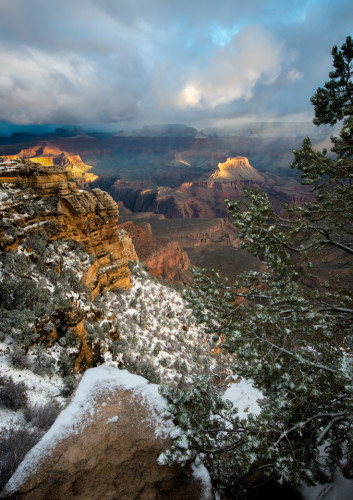 I could never have asked for a better morning to be at the Canyon…it was a photographer's dream.
To make the day even better, I crushed my son in a our first ever snowball fight (hey, we don't get much snow in Florida!)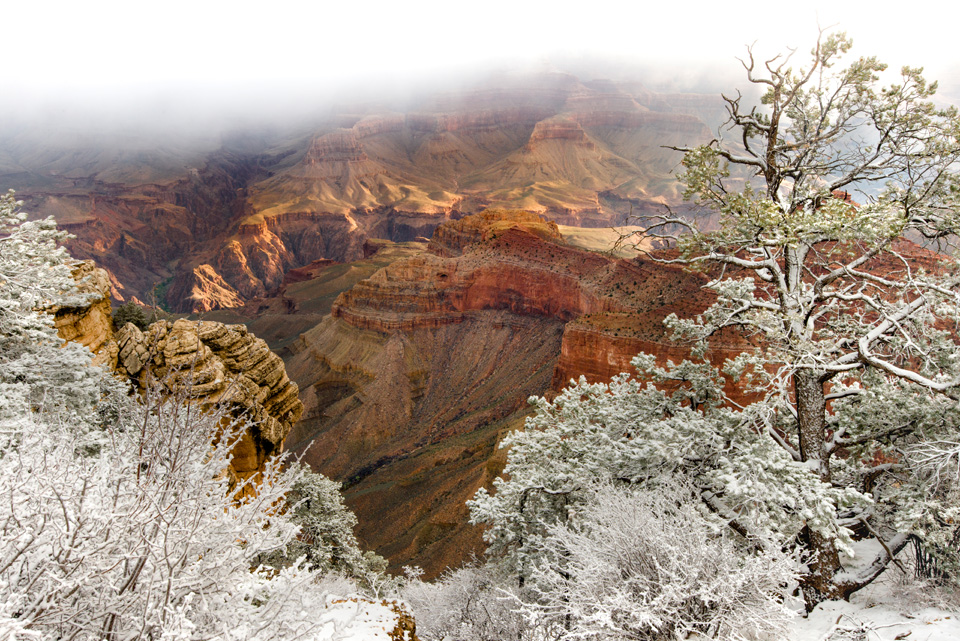 Killer trip.  Great photos.  Fun with my boy.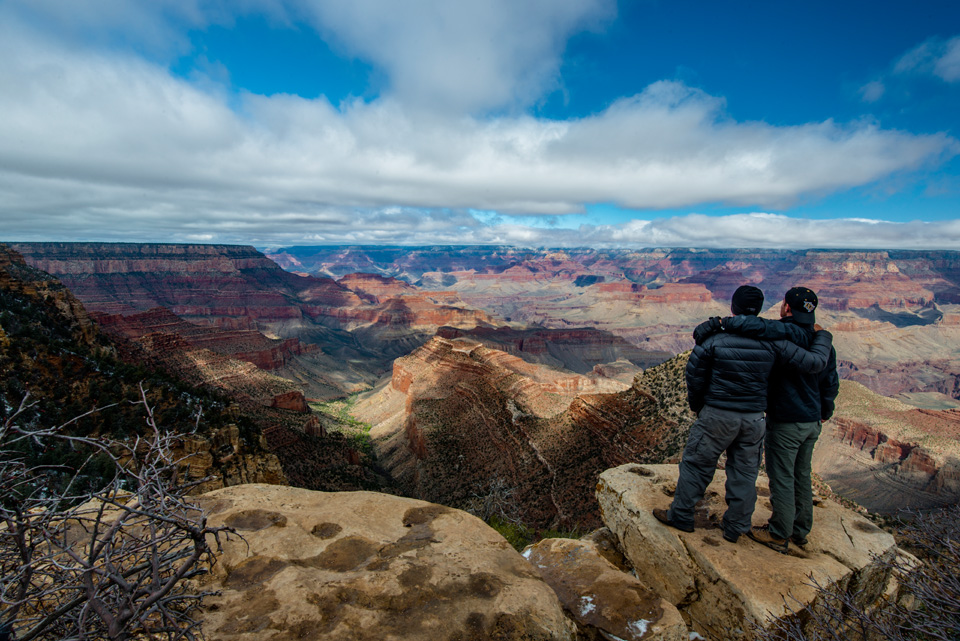 Does it get better than this?  If so, bring it on, I'm ready!
Jeff
Related Images: