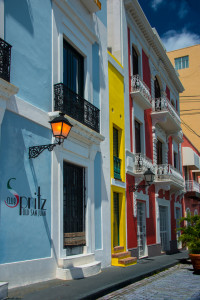 Old San Juan Top 10 Photo Locations & Tips  
I don't do a lot of street photography.  As a rule, I prefer to spend my time outdoors and do my best to avoid cities.  There are some exceptions, towns like Savannah, Charlestown and St. Augustine have a charm I certainly wouldn't deny and I have spent many an enjoyable day photographing them.  Today, I'm adding another location to that list:  Old San Juan.
I've visited Old San Juan a half dozen or so times over the years, usually at the start or end of a cruise (over a million tourists cruise out of San Juan harbor yearly).  I had taken a couple quick tours and hit the highlights but that was about it.  However, earlier this month, a lovely young woman we've known for years had her wedding there and I found myself with nearly three days to explore and photograph the city.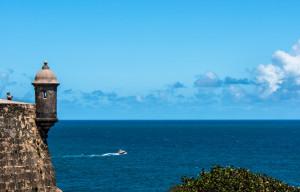 First of all, an overview.  Old San Juan is known as La Ciudad Amurallada "the walled city"…understandable for a town surrounded by a 3.4 mile long wall that is up to 20 foot thick.  It was founded in 1521, by Spanish colonists who called it Ciudad de Puerto Rico ("Rich Port City") and is considered the second oldest town in the New World. The city occupies the western side of a small island at the entrance of San Juan Harbor.  Thanks to decades of good zoning laws, you will rarely see a modern structure, in fact, as you walk the narrow streets and look up at the 400 exuberantly painted and carefully restored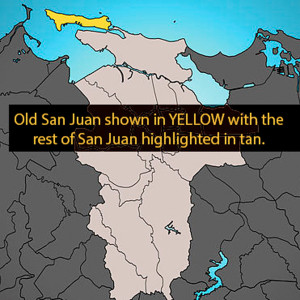 16th and 17th-century Spanish colonial buildings, it would be easy to think you had slipped thru a time rift and had been carried back a couple centuries. The city is pretty small (about 7 square blocks).  You can walk to nearly any spot in the city in 30 minutes.
As soon as I booked my flight, I started searching on-line for 'photo tips' and 'photo locations.'   However, I was surprised by the lack of info available, so I'm writing this blog to help out future photographers who visit this exceptional city.
Top 10 Photo Locations in Old San Juan:
Sure, this Top 10 list is just my humble opinion and some might quibble over a couple of the selections but it will give you a great starting point for your exploration.  So, here's my top 10 list (in no particular order):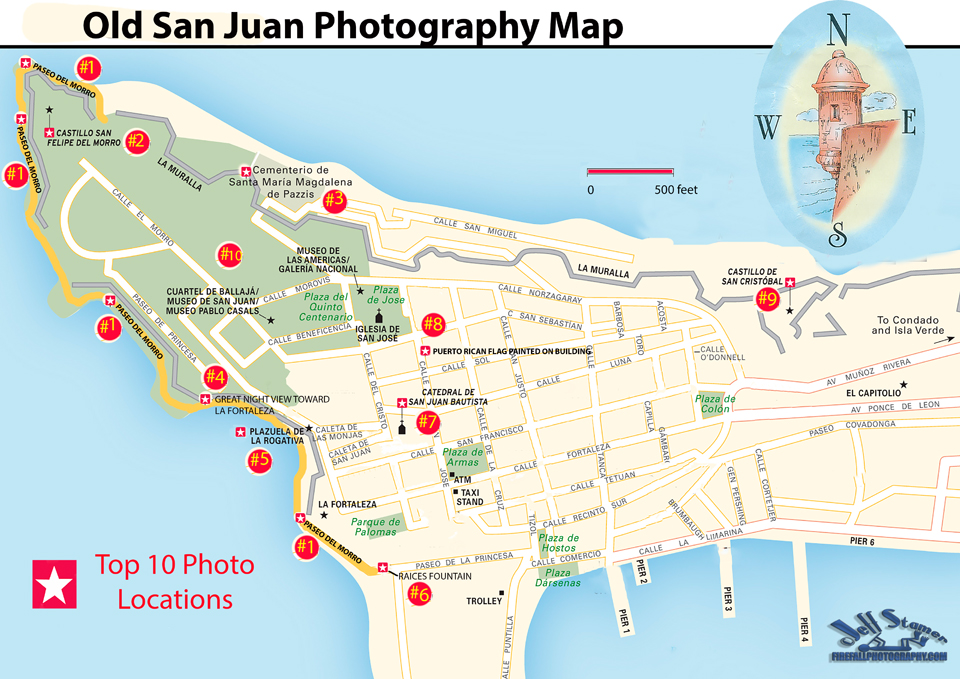 Paseo Del Morro (see location #1 on my map)

Take a early morning stroll along the Paseo. There isn't another like it in the world!

This is an incredible walkway that snakes along the water's edge between el Morro (see #2) and the southern part of the island.  It is wide, paved and nicely landscaped.  Photo ops abound and include the Raices Fountain (see #6 below) the old red city gate and wonderful views of the city wall with its projecting Garitas (sentry boxes).  The trail ends at el Morro.  Great sunset views.

Castillo San Felipe Del Morro

(#2 on map)

HDR is mandatory for this type of shot

Commonly known as El Morro, this is an impressive, 6 storied, 16th-century citadel with walls that soar 140 above the amazing turquoise Caribbean.  Although smaller than Castillo de san Cristobal (#9), it is much more photogenic because of its location at the tip of the island…the views of San Juan Bay from El Morro are spectacular.  The fortresses and the walls, together with La Fortaleza, are recognized by the United Nations as a World Heritage Site, one of only 23 such locations in the United States.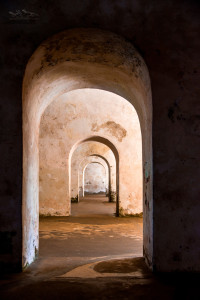 El Morro is part of the National Park system and entry is only $5.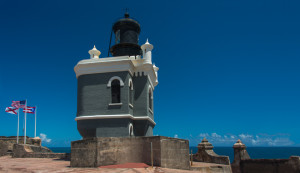 That fee will also get you into Castillo de san Cristobal and your pass is good for a full week.
There is a lot to photograph here.  Cannons, flags, tunnels, a Victorian lighthouse…plenty to easily keep you busy for a couple hours.
3. Santa María Magdalena de Pazzis Cemetery (#3 on map)
Frankly, I'm usually not very enthusiastic about photographing cemeteries, but this is an exception.  Santa Maria Magdalena must be one of the most picturesque burial sites in the world.  It is only a short walk from El Morro.  Early morning photos here are enchanting.
4. City View of La Fortaleza (#4 on map)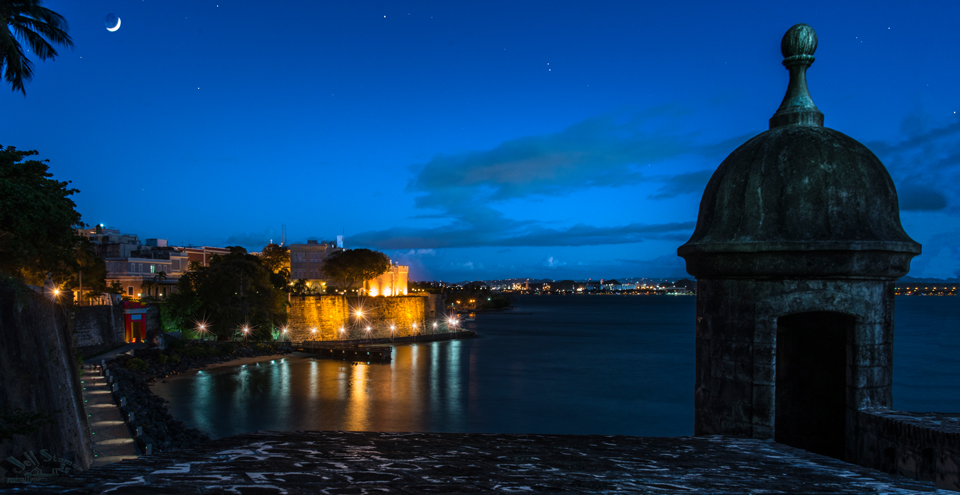 This spot provides a dramatic view of the city wall and La Foraleza (the Governor's mansion).  From the La Rogativa statue (#5), just walk a short distance along the city wall northwest (toward el Morro) until you reach the Casa Rosa (Rosada), also known as the Pink House.  Part of the wall in front of this building curves out toward the bay, giving you a wonderful view of the illuminated city wall, the red city gate and the Governor's house (La Fortaleza)…at night, this is a beautiful, world class vista.
Note:  Be careful entering the sentry boxes (Garitas) at night…unfortunately, they seem to be used as bathrooms by some folks.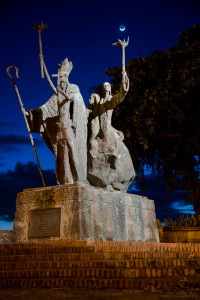 5. La Rogativa Plaza (Plaza of Religious Procession…#5 on map)
Statues of generals and assorted statesmen can be found across the city.  Most of them look like those you can see anywhere.  Not this one.  It is different, modern and depicts a cherished moment in San Juan's history:
In 1797 an English blockade threatened to starve the city into submission.  Outnumbered and desperate, a large group of women and children lit torches at night and walked toward the city as part of a rogativa, or divine entreaty, to ask the saints to save them.  The English, mistakenly thinking the long column was Spanish reinforcements, abandoned their blockade and fled.
The best natural light is in mid morning.  Also, the sculpture very photogenic at night (see photo above).
6. Raices Fountain (#6 on map)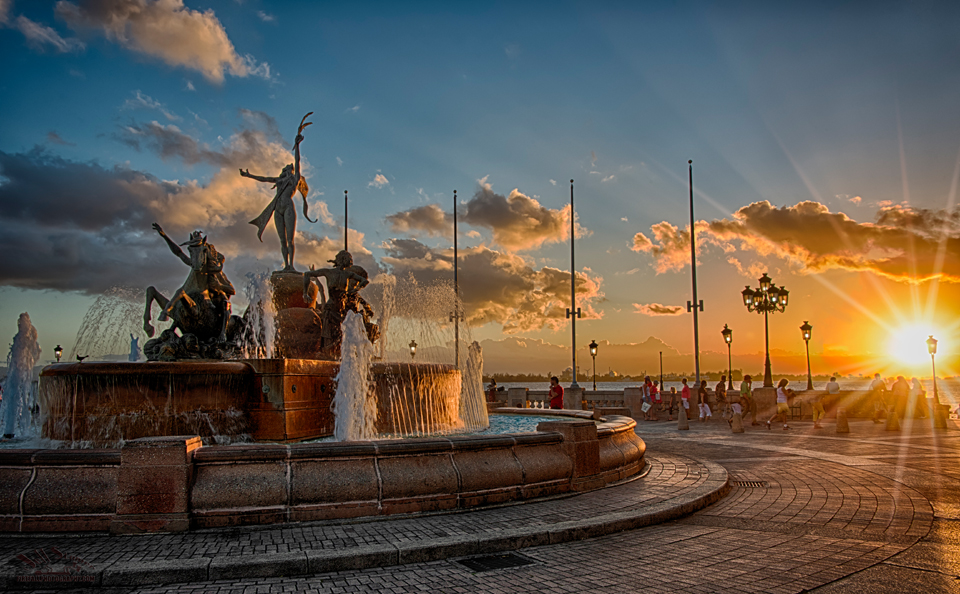 Located where Paseo del Morro meets Paseo de la Princesa, this large and uplifting statue is front lit in mid morning.  Also makes a killer sunset shot.
7. Cathedral of San Juan Bautista (#7 on map)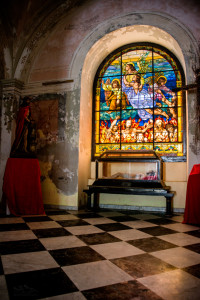 Second oldest cathedral in the New World and also the resting place the island's first governor: Juan Ponce de León.  It may not be the largest or most impressive cathedral you'll ever see, but there are some beautiful niches and stained glass.  Visitors can explore the cathedral from 8:30am to 4pm daily.
8. Street Art with Puerto Rican Flag (#8 on map)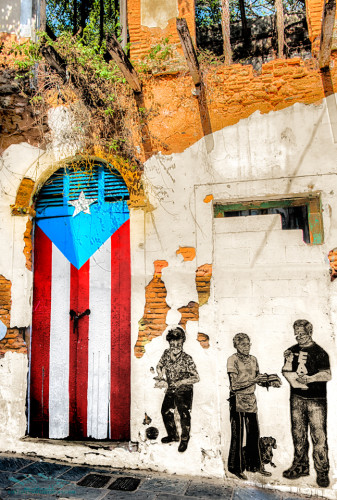 This is simply the side of a decrepit building that has been imaginatively painted with the Puerto Rican flag on the front door and images of famous residents on its walls.  Judging by the number of photos of this spot on the internet, it seemed to be to one of city's iconic locations but I couldn't find directions.  On my last day I happened to turn a corner and there it was!
You can find it about 300 feet south of Calle san Sebastian on Calle de San Jose.
It is best to photograph this spot early in the day.  There can be some harsh light and shadows here in late afternoon.
9. Castillo de San Cristobal (#9 on map)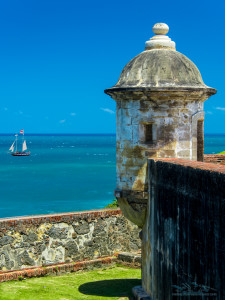 This fort is located on the eastern edge of the old town and is only a bit more of a mile walk from el Morro (which is on the western end of Old San Juan).  A stroll between the forts will take you only about 20 minutes (or you can just use the free trolley that runs between them).
Castillo de San Cristobal is actually larger than el Morro and covers 27 acres of ground (110,000 square meters).  In fact, it was the largest fortification built by the Spanish in the New World.
Personally, I didn't find San Cristobal to be as photogenic as el Morro.  Perhaps I was just so enamored by el Morro that I didn't give it a fair chance.  Good location for sunrise shots with the sun rising behind the fort.
10. Esplanade in front of el Morro (#10 on map)

This is a huge field on the landward side of el Morro.  Originally left open so defenders could have clear fields of fire against attackers this expansive space is unique in Old San Juan.  On weekends, the skies over the field are filled with kites as the locals enjoy picnic lunches.  You can buy kites from vendors there and try it yourself!

11. And even more…
Okay, okay, I know I promised just 10 locations, but there are many more wonderful photography subjects in Old San Juan…my advice is to just start walking and looking.  For example, a life-sized statue of famed Salsa composer Tite Curet Alonso makes a memorable shot (you can find him in the Plaza de Armas…it was actually his favorite bench!)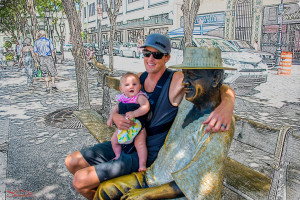 Even the streets themselves are interesting and subtlely beautiful.   They are paved with cobbles of adoquine, a blue stone cast from furnace slag.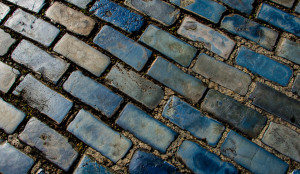 As you wander around photographing the  colored buildings you will also find iguanas, street performers, dozens of feral cats and a cornucopia of other subjects for your camera!
Tips for Photographers: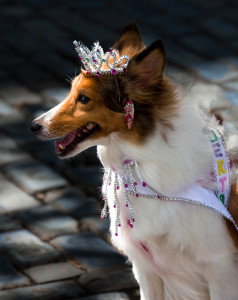 1. Stay in the old city  If you will be there more than one night, find a room in the old city…NOT the modern part of San Juan.  Although the distance between the two is not significant, traffic can make it a long commute. Besides, you really get a chance to soak up the atmosphere if you stay in the old city.  My wife rented an apartment on a quiet street with a killer view on Airbnb for less than the cost of a 'traditional' hotel.  Seriously, find a place in the old city…you won't regret it.
2. Don't rent a car.  The city is full of narrow, one way streets and finding a parking spot can be impossible.  Besides, since the city is small, a reasonably fit person can cover it easily on foot…plus you just see so much more detail when you walk, if you were driving you would miss a lot of photo ops.
Taxis are also available, but can be hard to find.
There is a great hop-on, hop-off  free trolley service which you can use to cover ground quickly. It runs every day Monday through Friday from 7am until 6 pm, and Saturday and Sunday from 9am until 7pm every 15 minutes.  Click on this link for a map of the routes.
3. Hat, Sunscreen, Water, Walking Shoes  This is the tropics and the summers can be very hot.  Plus, the sun can be merciless.  My wife, for example, never gets sunburned, well, at least she never had until this visit to Old San Juan;)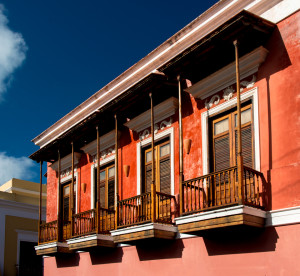 4. Camera Gear
A wide angle lens is a must.  I had a 28mm on my full frame camera (about 18mm on a crop sensor APS-C camera) and it worked out well, but I wish I had brought my 14mm for some shots.
A regular lens in the 50-70mm range will come in handy for most of the other shots you will need.  I really didn't find much need for a telephoto lens.
Travel tripod.  I used mine quite a bit, even during the day.  The buildings are tall and shots often have both shadows and brightly sunlit areas.  I often had to take bracketing shots so I could later process them in HDR to capture the full dynamic range.
Polarizer.  The skies over San Juan can make for a wonderful backdrop for your shots.  A polarizer will really make the blue 'pop' in your shots.
4. Time of Day to shoot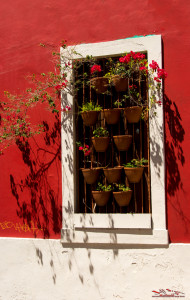 This is one location that you truly can photograph 24 hours a day.  Seriously.
Early mornings

have wonderful, soft light and is the least crowded time of the day.  Sunrise shots at the San Cristobal castle can be wonderful.  Then walk down to the Magdalena Cemetery (#3) for shots of El Morro castle with the sun at your back.
Mid-Day  This is the time to walk the streets and photograph the colorful buildings and the even more colorful people!  When you are photographing the quaint old buildings, I think they look best when the sun is high enough to get some light on them, so late morning thru early afternoon is prime-time.  Keep in mind that one side of a street might get great late morning light while the other side will be best with afternoon light…so you might need to cover the same street during different parts of the day in order to get shots of the buildings on both side of the road.

Sunset

  The Raices Fountain (#6) is a wonderful spot for sunset shots.  Then you can easily head down the El Morro Trail (#1) for a series of great photo ops as the sun drops into the Atlantic.

Night

  San Juan doesn't ever sleep.  You will find folks on the streets all night. My favorite night locations were:

The La Rogativa statue (#5 on map) and
The city wall at Casa Rosada (#4 on map).  Position yourself at the city wall and shoot back toward the governor's mansion (La Fortaleza).
Although there is a significant amount of crime in new San Juan, most of the old town is heavily patrolled by police.  I never felt uncomfortable at night but then again, I avoided dark, deserted areas.  Just use common sense like you would in any city.

One area to definitely avoid at night is the La Perla neighborhood. This is on the northern side of the city between el Morro and Castillo de San Cristobal (see this map).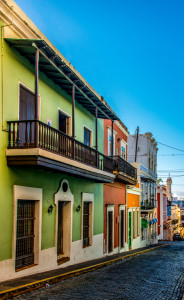 I hope you and your camera get a chance to explore Old San Juan soon.  Even if you are like me and your first love is landscape or wildlife photography, you won't be disappointed!
Jeff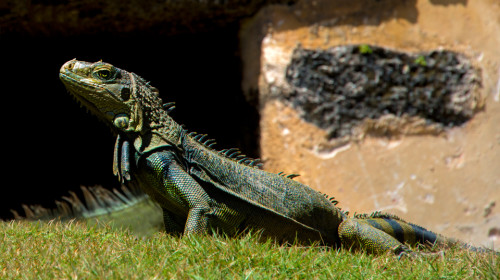 Old San Juan Top 10 Photo Locations & Tips