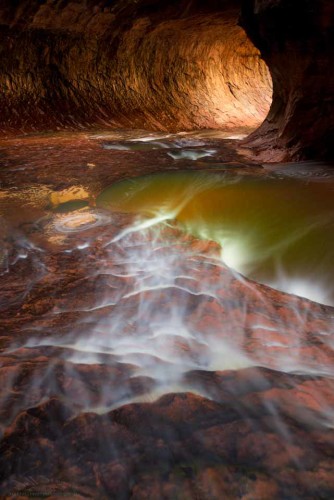 If you are a photographer, then you know we live in challenging times. The source of this concern is that there are a LOT of talented and dedicated photographers out there and they are creating incredible images. So why is that a problem? Well, have you ever finally got to one of those locations on your 'photographic bucket list', set up your tripod, looked thru the viewfinder, and said to yourself….Crap, this doesn't look at all like those pictures I've been looking at!
That's the problem I'm talking about.
Heck, you get all excited, spend the money and time to travel to one of these photographic icons….and then the real thing just doesn't look nearly as good as those images you saw on your computer back at home.
It's happened to all of us…no matter how good our equipment or how talented (we think) we are.
So when I do get to a 'bucket list' spot and I look thru the viewfinder and what I see is there is as good as anything I've ever seen on the internet, well, then I know that I'm truly in the presence of something special. A real Icon.
And I'm here to tell you that the Subway at Zion National Park is one of those Icons. I don't care how many photoshopped masterpieces you've seen taken by National Geographic Award Winning Photographers …the fact is that YOU can take a photo here that will compare well to the best of them and make you shake your head in wonder.
Yeah, but here's the hitch (there's always a hitch). It's not easy to get to the subway. Access is tightly restricted by a permit system plus you have to be willing and able to make a long hike.
Actually, there are two ways to get to the Subway. One way involves rappelling and other mountain climbing type skills, so let's forget about that one. The second route is shorter and easier… its called the "Bottom-up" hike. Although easier, it is still about a 10 miles roundtrip hike. And it isn't a smooth, easy trail. The National Park Service calls this a strenuous hike. That might be a bit of an exaggeration but it was certainly the toughest 10 mile hike I've done. None of it is smooth, straight, level or flat. You are constantly scrambling up and down over rocks and boulders. Maybe this explains why less than 1% of Zion visitors make it to the Subway.
My son, Ryan, and I are confident hikers but we still took about two hours (not counting stops) to reach the Subway. Once you figure in some breaks as well as stops for photography, it would be difficult to do this whole hike in less than seven hours.
But it is worth it!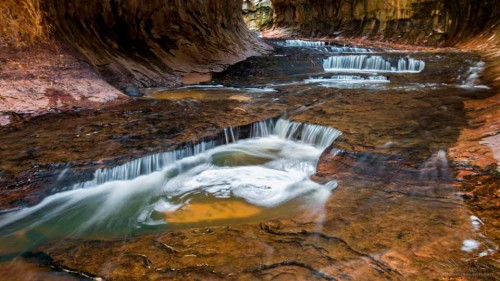 Ryan and were in Zion this March and the Subway was #1 on our list of hikes. We got to the trailhead a couple of hours after dawn and started down the trail. To be honest, compared to other hikes in Zion, this one isn't particularly beautiful. To be brutally honest it was a long, tiring slog. But as we finally approached the subway entrance things started to get very interesting.
Carved out from the colorful sandstone by moving water, the subway is aptly named. Actually it is a narrow canyon with a thin opening in the ceiling but it really does look like someone burrowed a curving, round tube right thru the rock.
We set up our tripods and took our first shot. We glanced at the result and then looked up at each other with huge, dopey smiles on our faces. Shook our heads and got to work. We were bouncing ideas off of each other, suggesting different angles, perspectives, camera settings…I was almost giddy. The place is truly magical for a photographer!
The subway was a lot larger than I had imagined, the ceiling was about 20′ tall. And the colors are amazing! The chilly water saturates the rock which results in robust reds, fluorescent greens and subtle yellows.
Ryan thought it would be good to include people in some of the shots. I'm kind of 'old school' and was taught to exclude people from my photographs. But I've come to appreciate how much a human figure in an image provides a sense of proportion and fosters an emotional link to the image. Looking thru my Subway shots now, the ones with people are among my favorites: who says old dogs can't learn new tricks?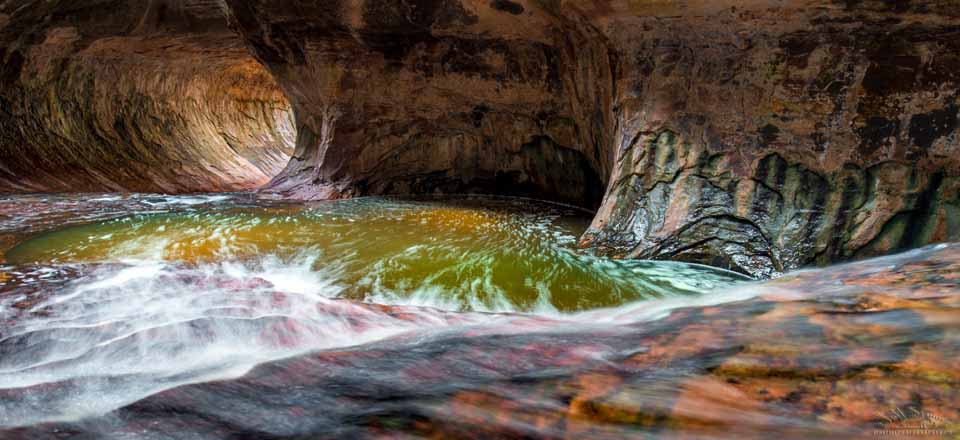 The Subway is fully shaded and surprisingly cold, especially when the wind whips thru the 'tunnel.' We had a ball, despite the chill and managed to stay on our feet the whole time although the swift current and slippery rocks resulted in a couple slips that certainly got the adrenaline flowing for a moment or two.
There is a waterfall in a chamber at the back of the Subway, but the water levels were too high for us to reach it due to the snowmelt. Something for our next trip.
We enjoyed the Subway's magic for nearly 90 minutes before we regretfully packed up to head home.
We decided to stop for a well earned lunch at Arch Angel Cascades. As we were enjoying our extravagant meal (Cliff Bars) we noticed a young couple coming down the stream headed for the Subway. We waved and said hi. About ten minutes later we were putting our packs back on when we saw the same couple heading back. I guess they weren't photographers. They had hiked for 2 hours, looked at the Subway for five minutes or so, then turned around started the 2 hour walk home. Ryan and I were amazed. Sure, the Subway is beautiful, but I wonder if I would be willing to walk 4 hours to look at something for less than 300 seconds!
The hike back seemed to take forever…possibly because I was dreading the climb near the end of the trail where you have to climb 500′ over less than a tenth of a mile. That is one steep climb. Of course my 21 year old son bolted up the trail like some kind of crazed mountain goat. My 57 year old knees weren't quite as nubile so he got to wait quite a while at the top before I clawed my way up.
Now, four months later, the sore muscles are (nearly) forgotten. But whenever I look at the photos I took that day, I smile and think of a place where you don't have to be Ansel Adams or Tom Till to take a breathtaking photograph.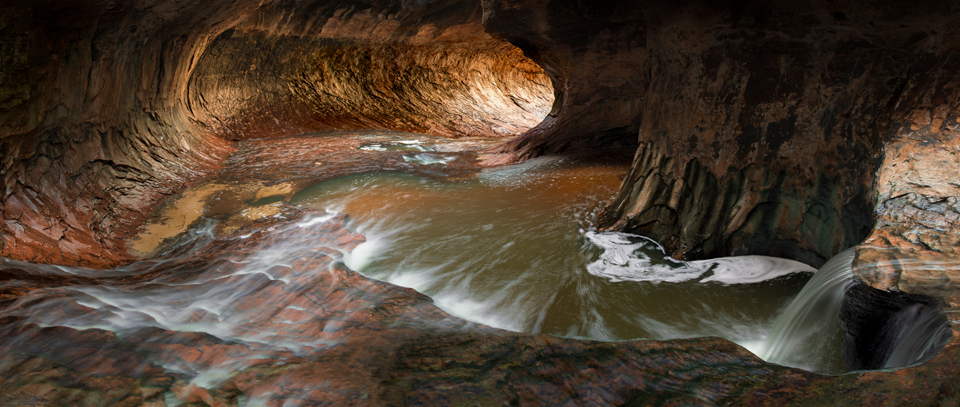 Photo Tips and Guide for Photographers visiting Zion's Subway:
Normally, what you would see now on my blog would be a full length article on "How-to photograph the Subway" …but that isn't going to happen: Because someone has already done it. I ran across this guide by fellow photographer Nico Debarmore when I was first planning my trip. His article is through, detailed, accurate and I highly recommend it to any photographer considering making a hike to the Subway.
In addition to Nico's information, let me add a few random thoughts of my own:
Find out about the water conditions before you hike:
The Left Fork of North Creek is the stream that runs thru the Subway and it is the single most important variable in your visit to the Subway. The amount of flow and temperature will determine IF you can make the hike and what type of equipment (i.e. neoprene socks/boots/etc) you will need.

The best way to get this info is to ask one of the outfitters in Springdale (the little town at the southern entrance of Zion.) They get daily updates on water conditions from their customers as they come back to return rented equipment.

Personally, I found the folks at the Zion Adventure Company to great sources of info…plus they have all the gear you will need to rent at decent prices (and no, they don't give me a kickback for this endorsement, unfortunately.)

I originally tried asking Park Rangers at the desk that issues permits for the hike but they rarely seemed to have up-to-the minute and accurate info (or maybe liability concerns by the management has resulted in instructions for them to be vague?)
Don't get lost
This isn't a well maintained trail. However, once you get down to the river you really can't get lost…you just follow the river. But the trail from the trailhead at the parking lot to the river can be difficult to follow. I got lost for ten minutes when I thought a dry creek bed was the trail. Thankfully I had a "AllTrails" GPS app on my phone and was able to get back to the right trail quickly (that alone was worth the $15 I spent on it!)
Don't get distracted on the way to the Subway.
We stopped and photographed a number of neat little waterfalls and cascades on the way to the Subway…don't do that. Hit them on the way back.

Why? Because there are 3 truly memorable photogenic subjects on this hike other than the Subway (Arch Angel Falls, the Cascade just above Arch Angel Falls and the Crack). They are all clustered near the end close to the actual subway. If you dawdle too long during your hike, then these 3 spots will likely be in direct sunlight by the time you get there.

So, don't be a slowpoke and if any of these 3 spots are still in the shade when you reach them on your way to the Subway, stop and take a few minutes to capture some images.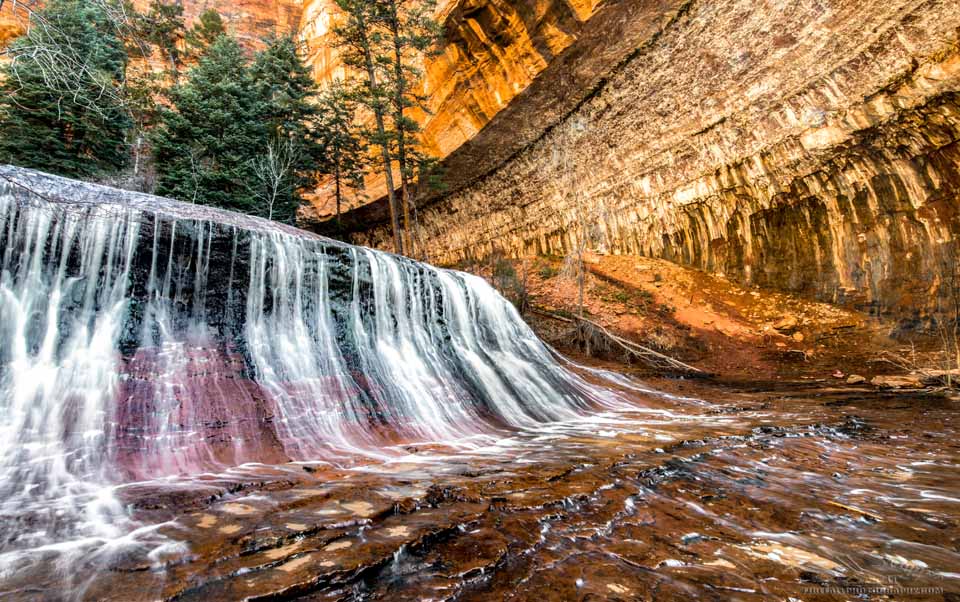 You won't find a photo of the famous Crack in this blog, because I was in a hurry to get to the Subway and didn't stop and photograph while it was still in the shade. I really should have. Because by the time we returned on the hike back it was in direct, blinding and harsh sunlight. It wasn't even worth wasting a shot. I'll know better next time.
Avoid the Crowds. The Park Service allows a maximum of 80 hikers per day to visit the Subway which doesn't sound like a lot. However, the Subway can't really handle more than a handful of photographers without them getting in each other's way. You really don't want to be here maneuvering your tripod here around 79 of your new, bestest friends.
Start your hike at first light (before sunrise if you can). It will mean leaving your room/campsite early, but you will avoid most of the crowd. Plus, you will be able to get to Arch Angel Falls and the Crack before they get hit by direct sunlight. Also, if you are hiking in the winter months when there are only 12 hours of sunlight, you have to start early or you will be hiking home in the dark.
Try to avoid April – October. These are the busiest months. If you visit during Nov-March you are very likely to get a permit (for example, the day my son and I visited in March, there were only 11 other people who applied for a permit). However, during the busy April- October timeframe the 80 available permits are in such demand that they are actually doled out via a lottery…so there is NO guarantee that you will get one (see Nico's article for more details). .
Bracket your shots
The Subway is at the bottom of a tall, narrow canyon, so it doesn't get much direct sunlight. The light is subdued and my Nikon D800e was able to handle the dynamic range. However, the D800 is known for its dynamic range abilities, so depending on your camera, it might be a great idea to bracket your shots just in case you have to use HDR software.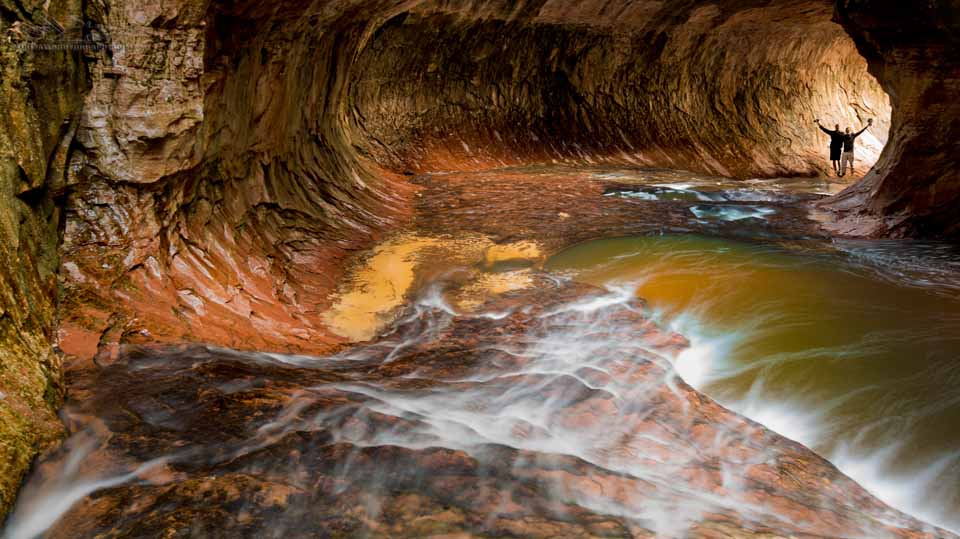 I've never seen a place like the Subway. It is truly unique and for the photographer willing to make the hike, it is a place never to be forgotten.
I hope you get to experience the magic yourself someday soon!
Cheers,
Jeff
Zion's Subway Photo Tips
Zion's Subway Photo Tips
Related Images: