My wife loves cruising and I love my wife.  So I find myself on a cruise boat on a regular basis.  I make the best of it by booking shore excursions that allow me to feed my photography habit.  That can be real challenge in some locations (like the Caribbean).  Alaskan cruises on the other hand are packed with shore excursions that should make any photographer happy.
So, last month I found myself on a cruise ship with my incredible wife heading up Alaska's Inner Passage.  I've never photographed Grizzlies fishing for salmon and this was the trip I planned to correct that oversight.   Taking no chances, I had booked tours in both Sitka and Ketchikan where we would take floatplanes to secluded rivers where you can photograph Grizzlies fishing for Salmon.  On first tour we flew twenty minutes and were ready to land in the lake by the bears before the pilot decided to turn back because of poor weather.
Okay, no big deal.  I had another chance in Ketchikan.  But then that tour was cancelled due to rain before the plane even got off the ground. So a bit of a disappointment.  But since the second tour was cancelled early in the day I was able to book a backup tour.  This was a ground tour that didn't go to a secluded stream…it went to a Salmon hatchery down the coast.  Not what I had planned but I did manage to get a couple (black) bear shots…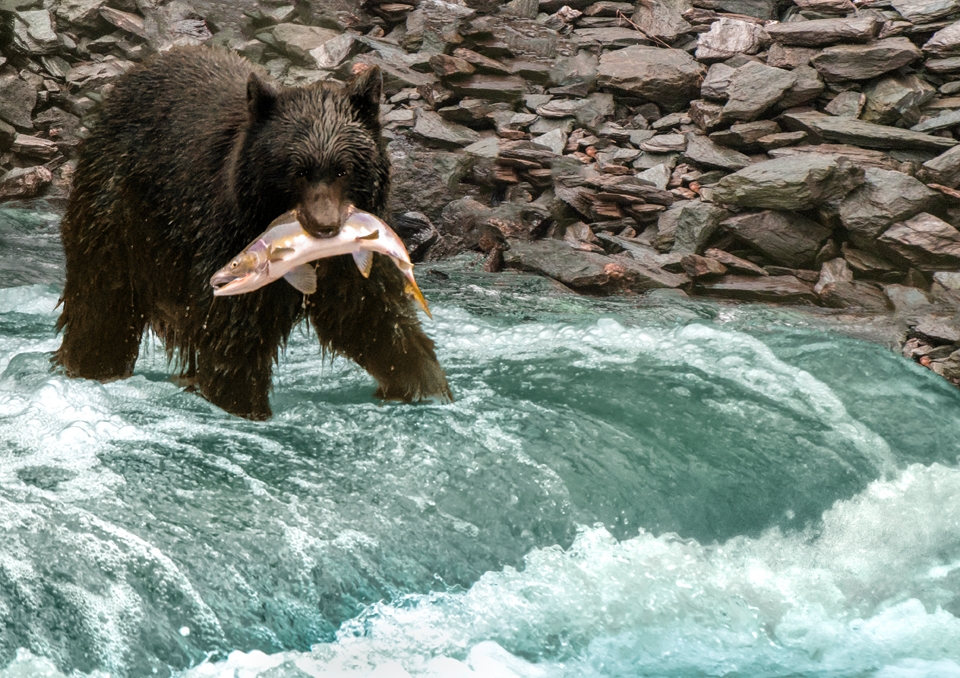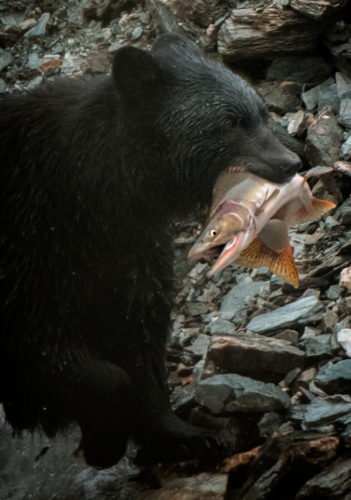 A few minutes later I noticed an eagle feeding on salmon by the edge of the same stream.  While the rest of the tour spent quality time in the gift shop, I walked back out and watched the eagle hoping to catch it in flight.  A few minutes before our bus pulled out, I was rewarded when the eagle suddenly took to flight and I ripped off a series of shots.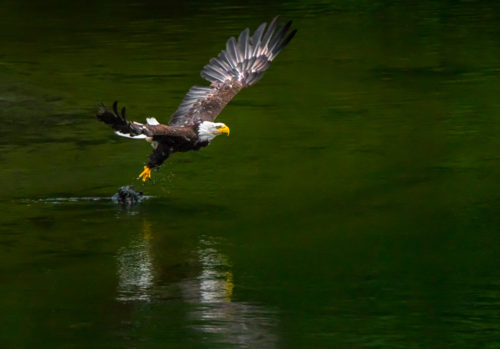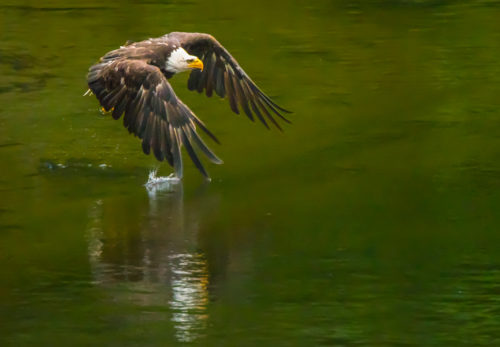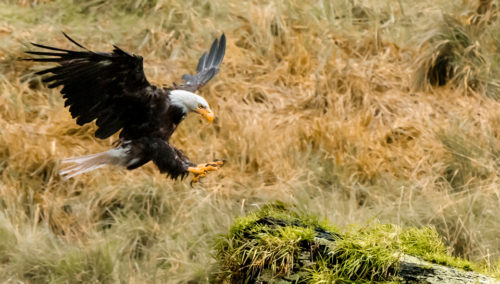 Our third port was Juneau and my wife and I took a four hour wildlife tour.  Its one of those tours that goes out on a two decker catamaran packed with tourists during the middle of the day.    So not exactly ideal for wildlife photography (a kayak heading out at dawn would have been nice), but I was determined to make the best of it.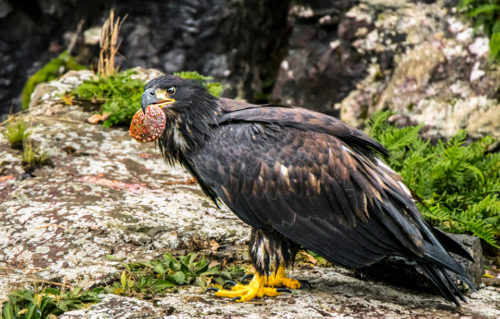 We weren't more than 20 minutes out of the harbor before we came up to our first set of eagles (which seem as common as pigeons in Alaska).  They were high in trees backlit by the overcast skies…which made for difficult photography.  Then I noticed a immature Bald Eagle not more than 50′ from me down on the shore chomping on a Abalone shell.  To be honest, I had no idea what had in its beak until I got home and processed the photos.
Not more than 20 minutes later, we came upon a raft of otters.  I managed to find a spot on the lower deck which allowed me to shoot from only a foot or two over the water and got some decent shots of these adorable critters.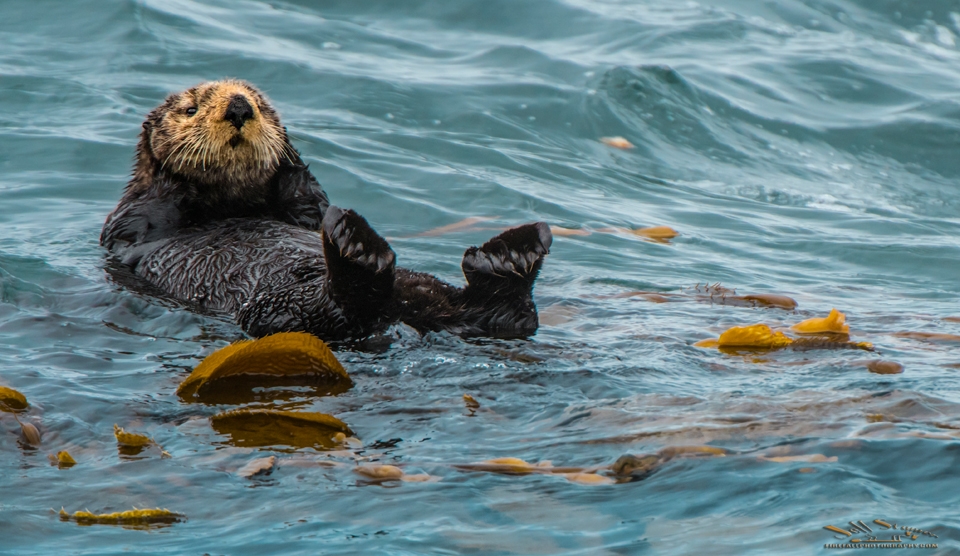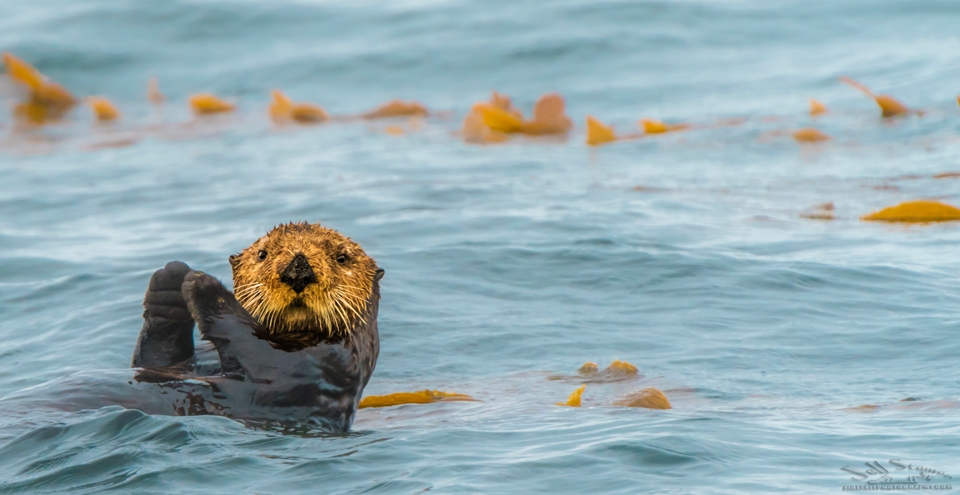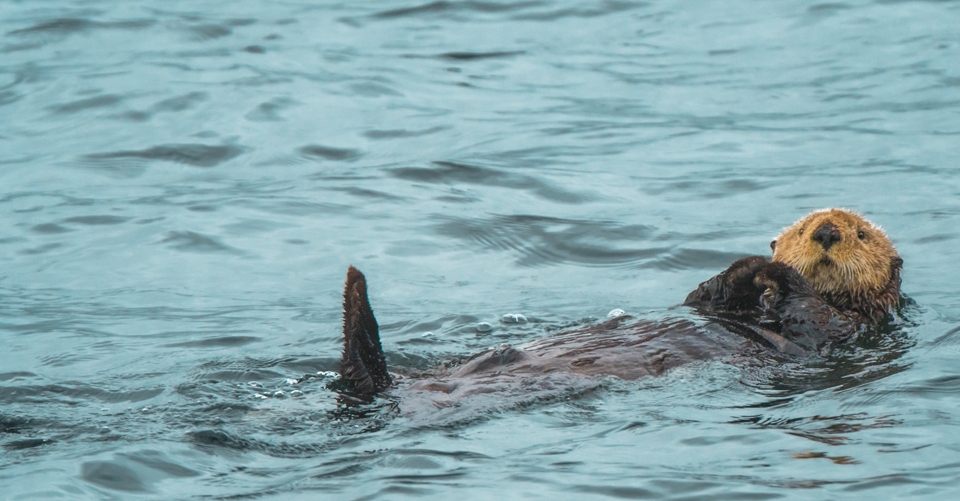 But the best was yet to come.  The captain spotted a Humpback whale in the distance slapping the water with it's tail and he set off  on an intercept course.  At first I was a bit frustrated because I wasn't in a great spot to see the whale and a lady with long, long blowing hair was right in front of me making it impossible to get a shot that didn't include her bright red mane.  I was afraid that the whale would dive when we got close and I'd miss getting a tail shot.  But I had no reason to worry.  We pulled up near the Humpback and it continued to slap the ocean…for ten full minutes.  The captain said he had been doing tours for over twenty years and he had never seen a whale do tail slaps for more than a couple minutes.  We considered ourselves quite fortunate.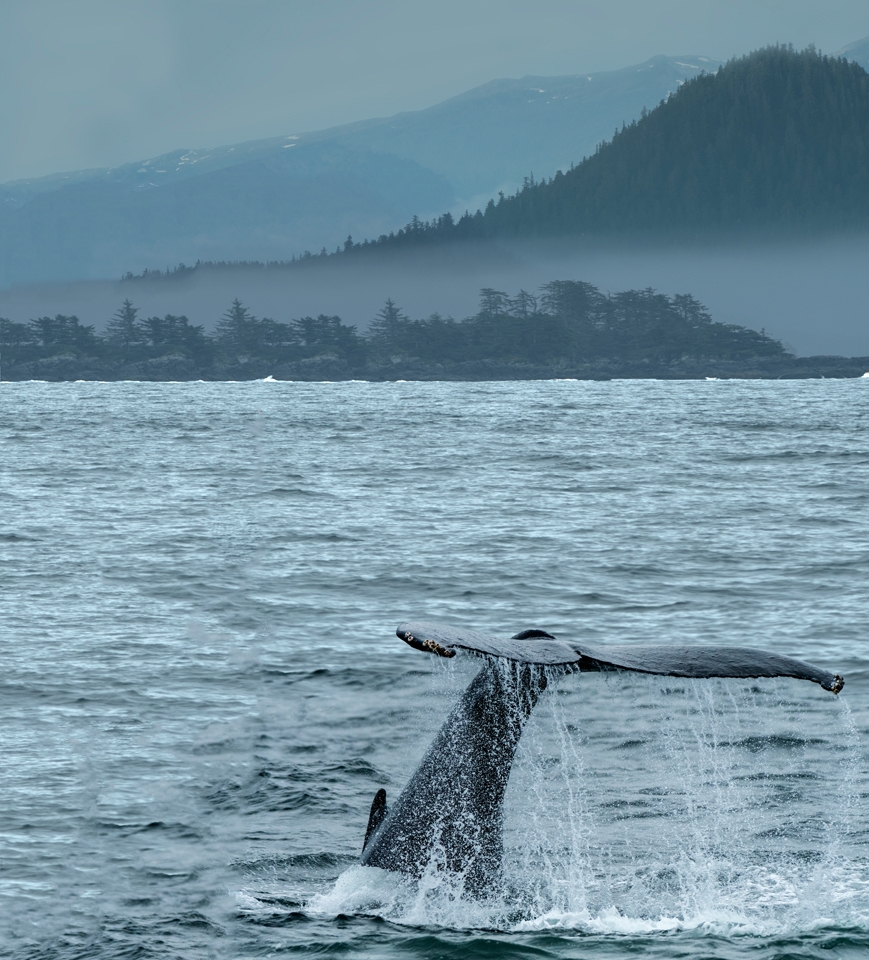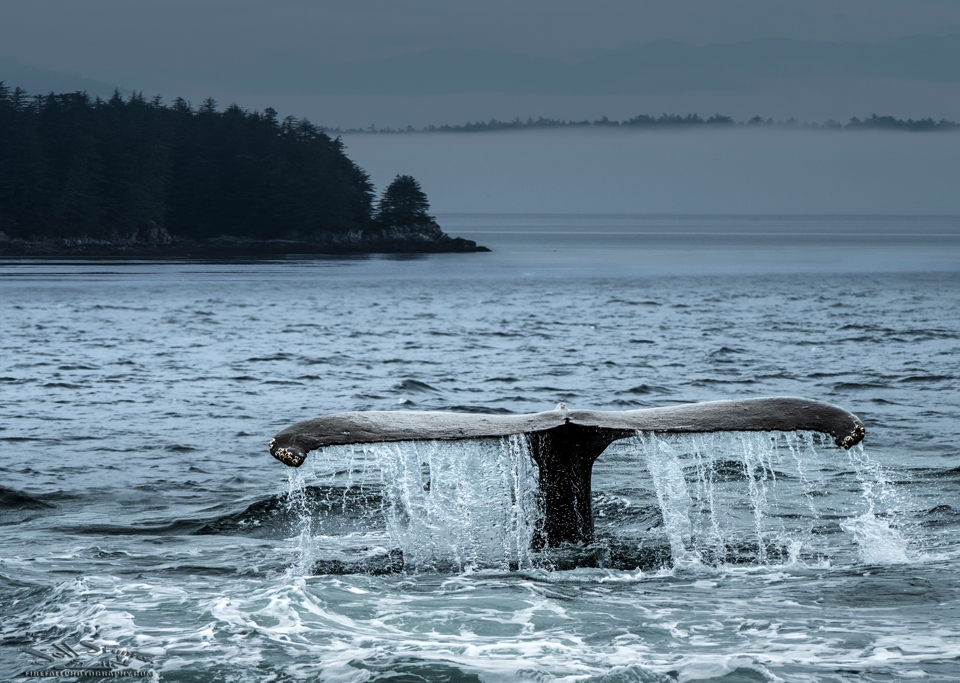 So, I got a LOT of whale tail shots (like over a thousand…which is easy to do when you are taking ten frames per second).  In fact, the whale was so close that my telephoto lens was too long.  Over half of my shots cut off at least part of the whale's tale because it filled the frame…a problem I was very happy to have.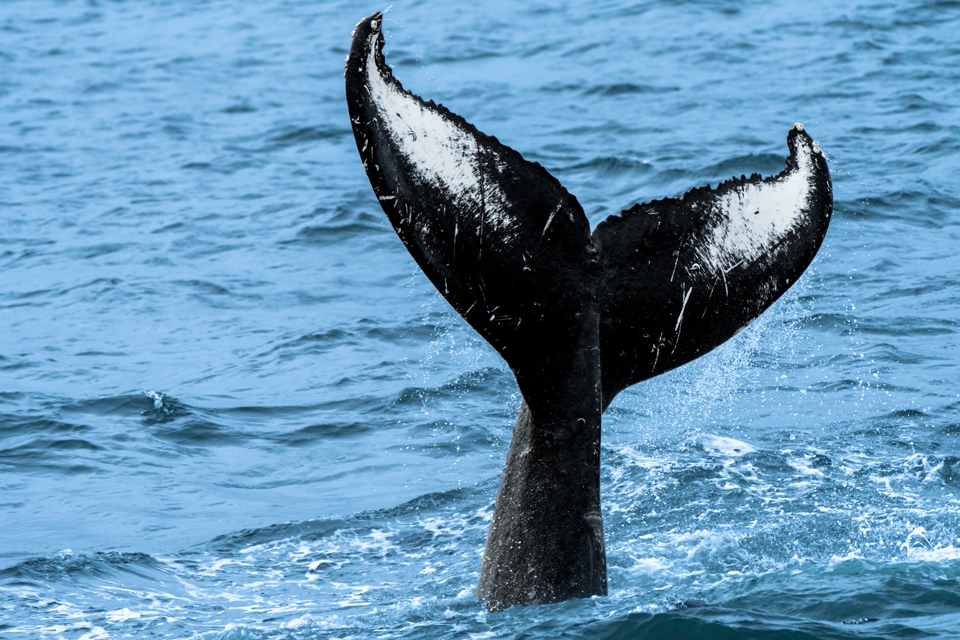 I had wanted to get good whale tail photos for years but my luck had been spotty.  So you can understand why these ten minutes were the highlight of my trip.
We headed back to port and it was hard to keep the silly grin off my face.  It was a great day.
Like all trips, this one had it's share of luck…good and bad.  But even if I hadn't taken a single frame on the entire trip I would have come home content.  I find it impossible to spend time our largest state without coming home recharged, refreshed and with a renewed appreciation for the wonder that is Alaska.
Jeff
Related Images: