As a photographer, it is often a challenge when you shoot a new location. Time is always short and you don't want to miss any cool photo ops, especially those that might be right around the corner but you just don't know about them. If you are like me, you research the web looking for photo tips about the site and if you are really lucky, you find a recap by a photographer who helps you shoot like a pro.
Well guess what? You are lucky because this is the recap of Charleston photo tips and locations that I wish I could have seen before I went there! Below I've listed my top 6 tips for the photographer who has a day or two to spend in Charleston.
1) Spend most of your time in Old Town
Old town is just what you would think it is, the older, historical section of the city. It is located on the southeastern part of the peninsula that Charleston occupies and is roughly bordered by Meeting Street, Broad Street and Charleston Harbor. It is crammed with old homes, parks and buildings that could easily consume a full day of photography. In fact, it can be a bit overwhelming and without a guide you could spend a couple days wandering around and still miss a lot of the good stuff. If you can, get a hotel actually in Old Town..all the photo ops are within walking distance and when you are done shooting, there are tons of restaurants and boutique shops to keep you entertained. We stayed at the Doubletree on Church Street, which was very convenient. http://doubletree3.hilton.com/en/hotels/south-carolina/doubletree-by-hilton-hotel-and-suites-charleston-historic-district-CHSCSDT/maps-directions/index.html
2) Go on a Walking Tour
A good tour guide will help you find those locations that you might otherwise miss and ensure that you optimize your time. Hands down, the best tour for photographers is Charleston History Tours http://www.charlestonhistorytours.com/Tours.html. This tour is targeted specifically for photographers and your guide (Joyce) will spend over two hours showing you the locations you might otherwise have missed. Not only that, but she knows her Charleston history. To make this a no-brainer, she only charges $23.50 for the tour.
3) Be at Waterfront Park for sunrise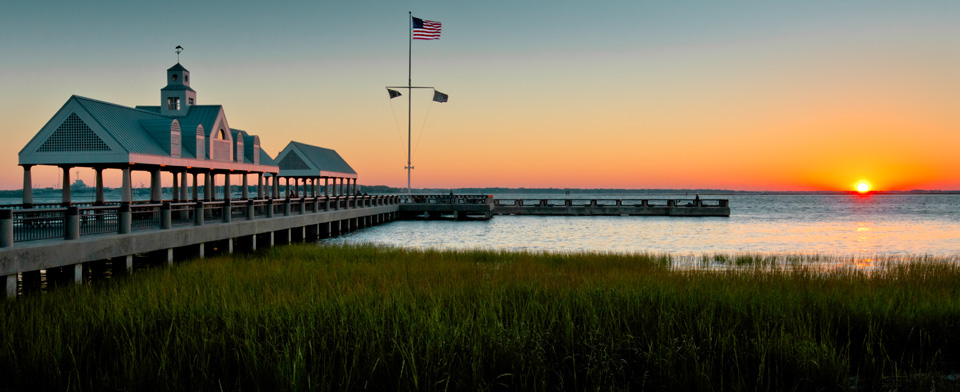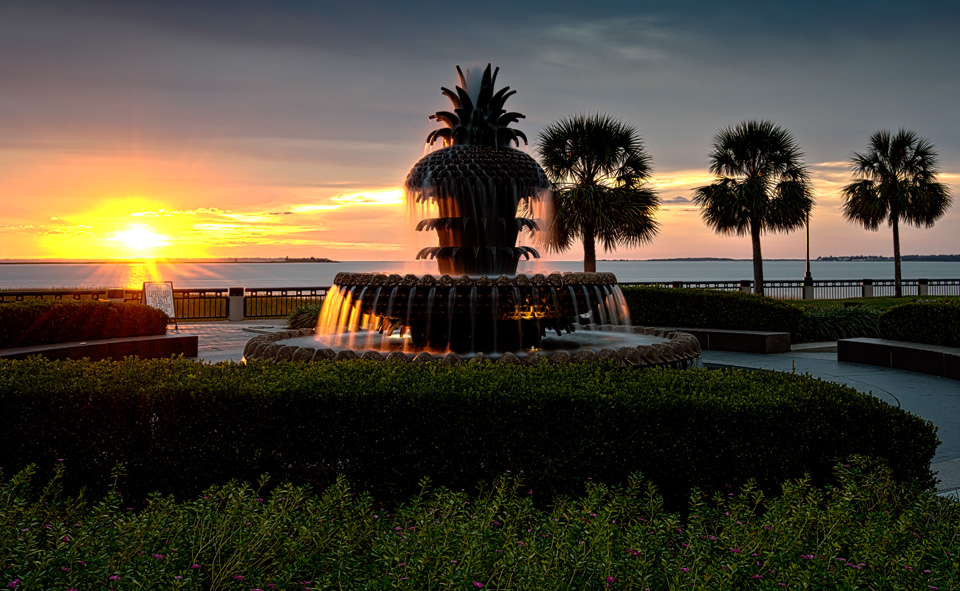 This park has two impressive fountains and an attractive covered pier…all three are outstanding foreground subjects for sunrise photos. This means that you can get a number of very different sunrise shots all within ten minutes of each other. Get there at least 40 minutes before sunrise since the best color sometimes hits that early. Parking can be difficult in the Old City but I've never had a problem at daybreak. Waterfront Park is located at the intersection of Concord and Vendue Range Street.
4) Get a shot of the Arthur Ravenel Jr. Bridge
Although I adore landscape and wildlife photography, I have to admit that on occasion, we humans get lucky and create something truly exquisite. I wouldn't usually say that about a bridge, but this one is an exception. A great location to shoot the bridge is from a park (Mt. Pleasant Pier Park) located just under the bridge on the other side of the Cooper River in Mt. Pleasant (http://ccprc.com/index.aspx?NID=1171 at 71 Harry Hallman Boulevard Mount Pleasant, SC 29464 843-762-9946 or 843-795-4386). It is free to enter and there is a long, new concrete pier that runs right alongside the bridge that will give you a great perspective for photos. The sun sets behind the bridge so you can get great sunset shots here as well.
5) Hit the outskirts of the city
If you have exhausted the photo potential of Old Town, then there are a number of plantations about 40 minutes from Old Town out on Highway 61 that can yield photo ops. Locals recommended Middleton Place Plantation https://www.middletonplace.org/as the best of the bunch. Frankly, I didn't get a lot of great shots there. Keep in mind that I visited in October and I'm sure it is more interesting in the spring when everything is blooming.
I've already mentioned Old Sheldon Church in a previous post https://www.firefallphotography.com/wp-admin/post.php?post=567&action=edit&message=1 . This is located about an hour from Old Town off of Highway 17. This is absolutely worth the hour drive from Charleston.
6) Are you a history buff?
Then you have to see Patriots Point, Ft. Sumter, Ft. Moultrie and the Confederate submarine, Hunley.
Patriot's Point is a wonderland for anyone with an interest in aviation, warships or all things military. Seriously, if this kind of thing interests you (I'm certainly guilty), then you could spend the better part of a day here. Tickets are $18 for adults and it features the U.S.S. Yorktown, a WWII aircraft carrier that is packed with aircraft and exhibits of all kinds. They also have a submarine, a destroyer and a mock-up of a Vietnam-era support base. Patriots Point is located at 40 Patriots Point Road, Mount Pleasant, SC 29464 near the Mt. Pleasant Pier Park mentioned above. http://www.patriotspoint.org/explore_museum/?gclid=CKGZkaHMt7MCFQu0nQodDH8AKg
Ft. Sumter was a bit disappointing from a strictly photography perspective since it really isn't that dramatic visually. If you haven't been there before, you might be surprised to find that it doesn't at all resemble those pictures you saw in the history books about Civil War… http://www.nps.gov/fosu/index.htm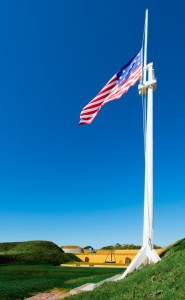 On the other hand, Ft. Moultrie was different from the dozen or so other Civil War era forts I've visited since it had been restored to look like it did during it's heyday. It is in Mt Pleasant and is a bit of a drive, but if you have the time, you can get some interesting shots here.
As for the Hunley, well it is a fascinating story…both its wartime service as well as its recovery, but like Sumter, you will find it difficult to get exciting photos.http://www.hunley.org/.
So, there you have it…a quick recap of how you might want to plan your Charleston Photo Trip. Hopefully you have found this helpful, but either way, I'd love to have your feedback so I can improve my 'Photo Tips' in the future.
Jeff