Gators are to Floridians like chickens are to poultry farmers…we pretty much take them for granted because they are just everywhere.  Honestly, there seems to be a gator in every body of water larger than a puddle and the natives here get pretty blasé about them.
Even so, sometimes they manage to get our attention:  Check this out!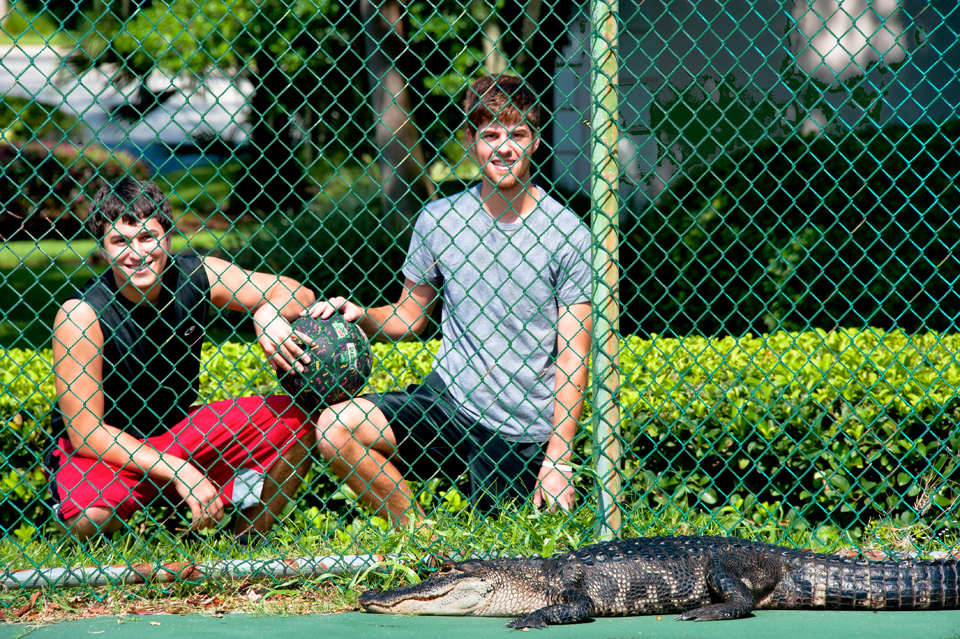 My son Ryan (on right) and his cousin Jonathan, had walked down to the end of our street to play some basketball.  Ryan had just entered the court when it noticed it was already occupied!  He quickly decided that the gator had dibs on the court and made the understandable decision to high-tail it out of there.
This gator had entered the caged court the night before thru a door that had been left open.  The door shut automatically trapping it inside.  Apparently it had been trying to get out for a while…it was exhausted and its snout was bloody from slamming against the cage.
Ryan called me and I hustled down (with my camera of course).  We propped the door to the court open and then spent about 40 minutes trying to encourage the gator to leave the court.  He (she?) crawled all over the court but wouldn't go out the open door.    We couldn't just go home and leave the gator there…a caged seven foot gator can be pretty ornery and if some kids walked into the court unaware it could be a close encounter of the unpleasant kind.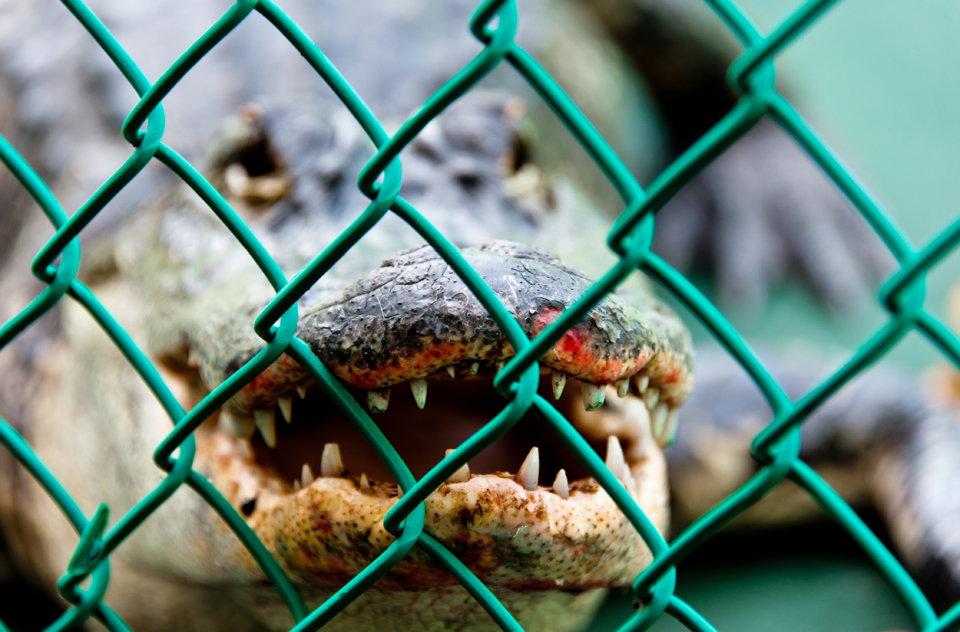 Once it became clear that we weren't going to be able to convince it to leave, I called the Sheriff's Department hoping a Deputy might have an idea or two.  A couple officers came by twenty minutes later but they had no more luck than we had.
After another half hour it became clear that we had no choice but to call a Gator Trapper.   It was a last resort and something none of us truly really wanted to do because it was a death sentence for the gator (Gator Trappers are contractors licensed by the state of Florida who are 'paid' by selling the hide and meat of the gators they catch…in other words, they don't 'catch and release.')
The trapper and a helper arrived 40 minutes later…we spent that time becoming increasing frustrated by our inability to get the darn gator to save itself and head out the door and back to the lake.  I was sure the trapper would be ticked off if he showed up and the gator was gone, but just the same we did everything we could short of actually enter the court and push it out the door!
I'll tell you, the trapper sure knew his business.  In five minutes he had grabbed the gator, taped its mouth shut, trussed it up and carried it off the court.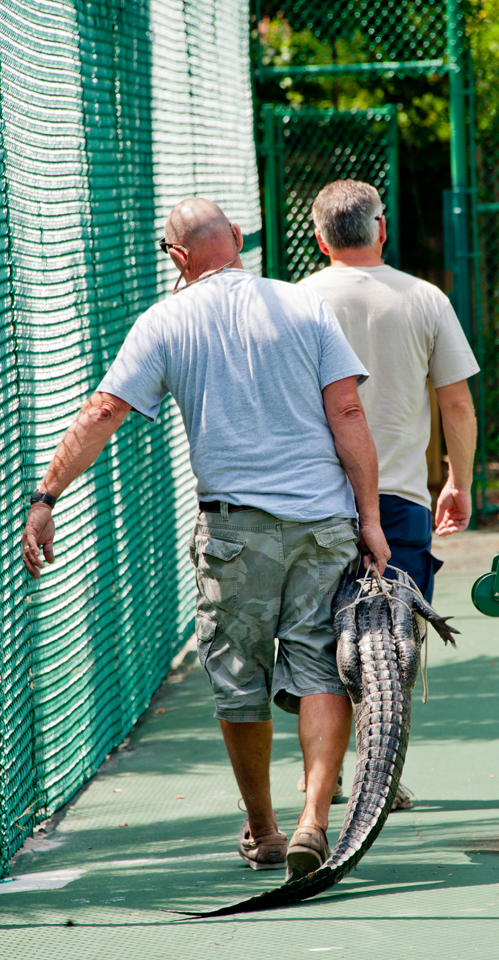 I've often been ticked off at folks who call to report gators that aren't doing anything more than basking next to one of our ponds or streams…so for me to have to call a trapper was ironic and disheartening.  Still the right decision but not one that I enjoyed making.
Only in Florida….