One item on my "bucket list" is to snorkel off the Yucatan coast and photograph Whale Sharks. Alas, my budget this year is already blown due to trips planned to Yosemite this spring and the Arctic in September (if only that darn Powerball number had come thru!) Anyway, I took my beautiful daughter to Atlanta recently for a cheerleading competition. With free time on our hands between events, I convinced her to visit a few downtown venues near our hotel that would allow her old Dad to get his photography "fix." We had a blast at both Centennial Park and Zoo Atlanta…but it was the Georgia Aquarium that really rocked me back on my heels because…guess what?: They have whale sharks!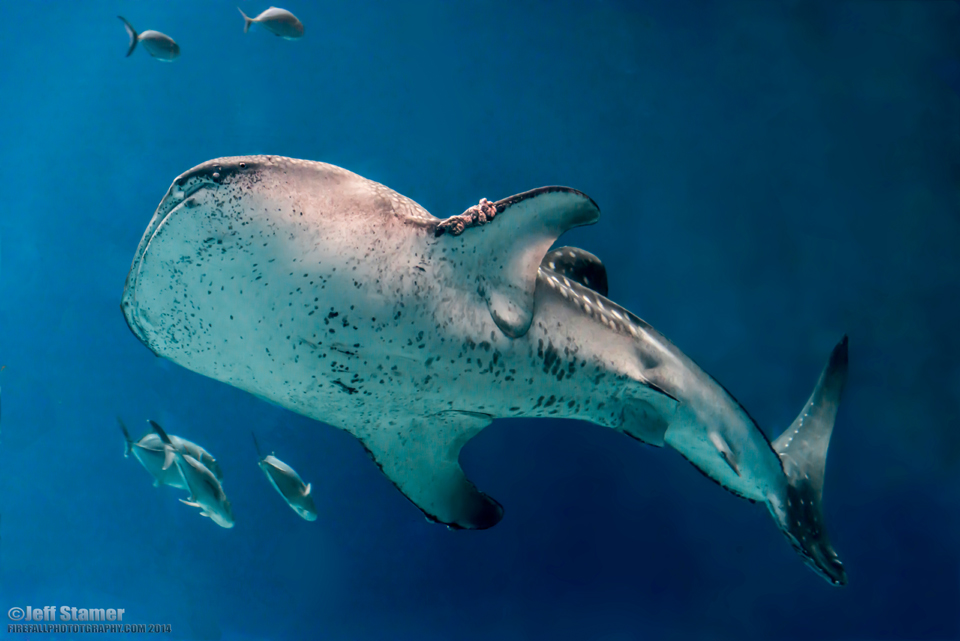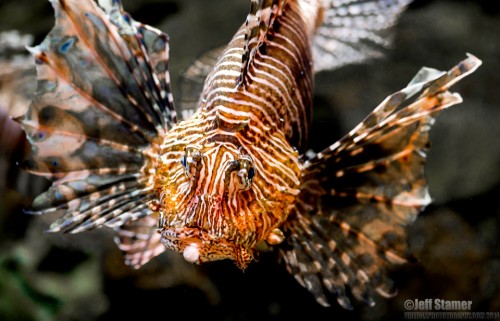 It's funny, I probably visited Atlanta 50 times or more during the 3 decades that I slaved away in my corporate job, but I never even heard of the Georgia Aquarium until a couple weeks ago when I Googled "photo ops in Atlanta." Boy, I'll tell you, it is impressive. It's the second largest aquarium in the world, and the only one outside of Asia that has whale sharks. I've been to a number of other aquariums over the years, but this one is in a class of its own. And as a photographer, it is a gold mine! You could easily spend a full day here and I would have done exactly that..if it hadn't been for my daughter dragging me away so she could also see the twin baby Pandas at Zoo Atlanta.
The Basics:
The Georgia Aquarium is located in downtown Atlanta right next to the World of Coke and the Centennial Park (see this link). They have on-site parking for $10
Admission is $36…which isn't cheap (but a lot cheaper than airfare to Cancun)!
The aquarium is open 365 days a year. Doors open at 10 a.m. and it closes at 5 p.m. (except Saturday, 9am to 6pm).

Get there early and try to visit on a weekday

. This place gets BUSY and as you can imagine, it is often packed with kids on field trips. If you get there at opening, you will have the place nearly to yourself for an hour or two.
Photography Tips:
Don't bother with a tripod or amonopod. The aquarium does allow them, but most of the critters you will photograph are moving…so a tripod would help you capture the background perfectly, but moving animals would still be out of focus.

Use a F-A-S-T shutter speed and pan your camera with the otter to freeze the action!

You probably won't want to bring a stobe either. Most of the exhibits have signs prohibiting flash photography.
Shoot in RAW. There can be a wide dynamic range of light in the tanks. If your exposures are in the RAW format, you have a better chance of being able to dial back the overexposed highlights and lighten up the deep shadows.
Bring your fastest lens. Light levels are low, so you will want to open your lens up to its widest possible aperture.
Experiment with your shutter speed at each exhibit and then select the slowest shutter speed that will actually freeze the action. I found that I could shoot jellyfish at 1/60th a second but the energetic otters required nothing less than 1/160th of a second!
You won't need a telephoto lens…and there is isn't much need for wide angle glass either. Nearly all my shots were between 85-120mm
You'll want a camera with good low-light/high-ISO performance. Full frame cameras were made for this type of thing but some of the newer APS-C DSLRs are pretty impressive as well.
Take a series of shots with a range of ISO settings. Then review them and see how high you need to set the ISO to get decent exposure. Depending on your camera, the higher ISO setting will likely result in some 'grain' that you will need to clean up in Photoshop.
Spend extra time reviewing your shots to see if you nailed the focus. With your lens opened all the way up, you often will have a pretty small range of perfect focus in your photo. Try to focus on the eyes of your subject and don't hesitiate to switch to manual focus if the lack of light is too much for your camera's auto focus.
Watch carefully for reflections on the plexiglass. If you position yourself at angle to the glass (not at 90 degrees), you can often avoid the worst of them.
Also look for the vertical seams in the glass that run from the floor to the ceiling in the larger tanks. Try to take shots when your subject is not directly behind them.
Highlights:
The aquarium's central attraction and largest exhibit is the Ocean Voyager:

The biggest in the world…both the fish AND the tank!

This is the largest indoor tank in the world ( 6.3 million US gallons (24,000 m3) and contains over 50 species and several thousand fish.

Here is where you will find the Whale Sharks…and Manta Rays, Sawfish and dozens of other species that will help you fill up that memory card.
There is also a glass tunnel that runs undera section of the tank. Thiscan be a great spot to get shots from below…which can be an interesting perspective. The tunnel has a moving walkway but there is room off on both sides where you can stand and take shots.
The viewing area for this exhibit has two levels and since it is over 60 feet long, there are a number of different angles you can shoot from. Take a walk around first and explore your options before you start shooting.

Cold Water Quest has a floor to the ceiling tank with four Belugas. They are incredibly graceful creatures that move like they are practicing an underwater ballet. This exhibit also has sea otters (who are fun but challenging to photograph), penquins and sea dragons (which are the most wicked sea-horses you will ever see).
Tropical Diver has a wonderfully illuminated tank of jellyfish that I could spend hours photographing (actually, my daughter accused me of doing exactly that!) A large pacific reef covered with brightly colored tropical fish might actually get you to put your camera down and just enjoy the relaxing view.
There are two or three other exhibits and all of them have some wonderful photo ops. The only one you might want to skip is Dolphin Tales. This is a theatrical show featuring human and dolphin actors. You are not allowed to take photos during the show and frankly, my daughter and I thought it was pretty corny although some of the dolphin stunts were neat. If you have small children, however, they would probably love it.
Finally, if you want to try something really different, the aquarium offers you the chance to actually swim in the Whale Shark tank. Cost is about $240 and you are in the water for about 30 minutes (details at this link). Sound pretty wicked to me, but I think I'll wait until I can do it for real in Mexico.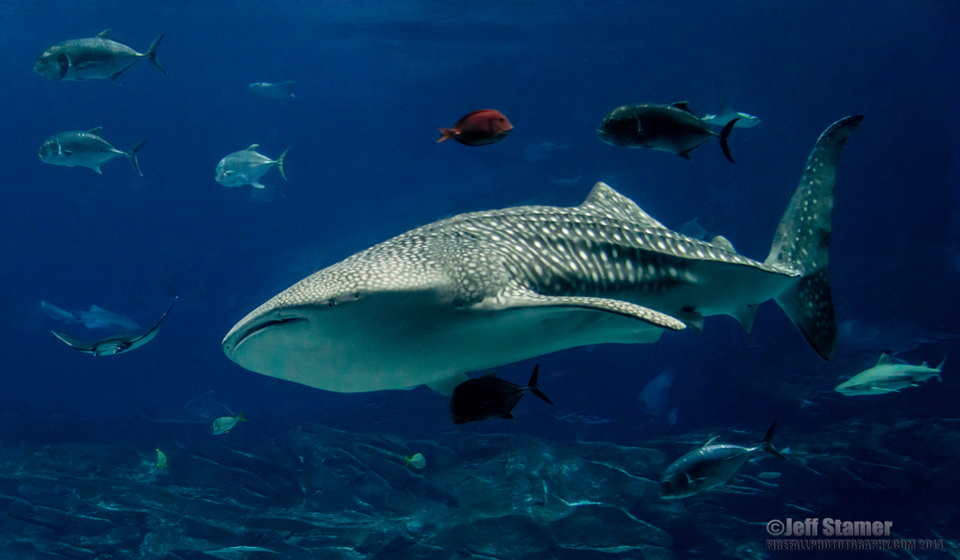 Have a great week!
Jeff
PS: Sometimes my wife accuses me of never taking photos of people. Just to prove her wrong, here is a shot of my daughter during her competition: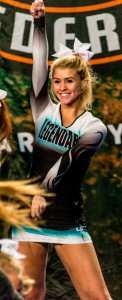 Georgia Aquarium Photo Tips
Georgia Aquarium Photo Tips: How to take great photos at the Georgia Aquarium.
Georgia Aquarium Photo Tips: Whale Sharks, Manta Rays and Belugas…oh My!
Related Images: