Photography Icons.  You know the places I'm talking about…the ones with their images plastered all over the magazines and websites catering to photographers… heck, you even see them in TV commercials!   The photos are awe-inspiring, entrancing and amazing… but it often seems that when I finally get the chance to actually see them in person, I'm disappointed.  Sometimes, the reality just can't live up to the hype.
But sometimes it does.  This summer, I went on a wonderful road trip to photograph a dozen or more of these icons in the western US.  Looking back on the trip, one place in particular stands out in my mind:  Grand Teton National Park.  Perhaps the reason is because the photos I had previously seen actually failed to do it justice…it was far more impressive than I had anticipated.
Now, I love to write detailed how-to-photograph articles about new locations, but honestly, I only spent a couple of days at Teton, so I'm simply not qualified.  Just the same I was so enamored by this park that I wanted to at least share with you some of my thought and images.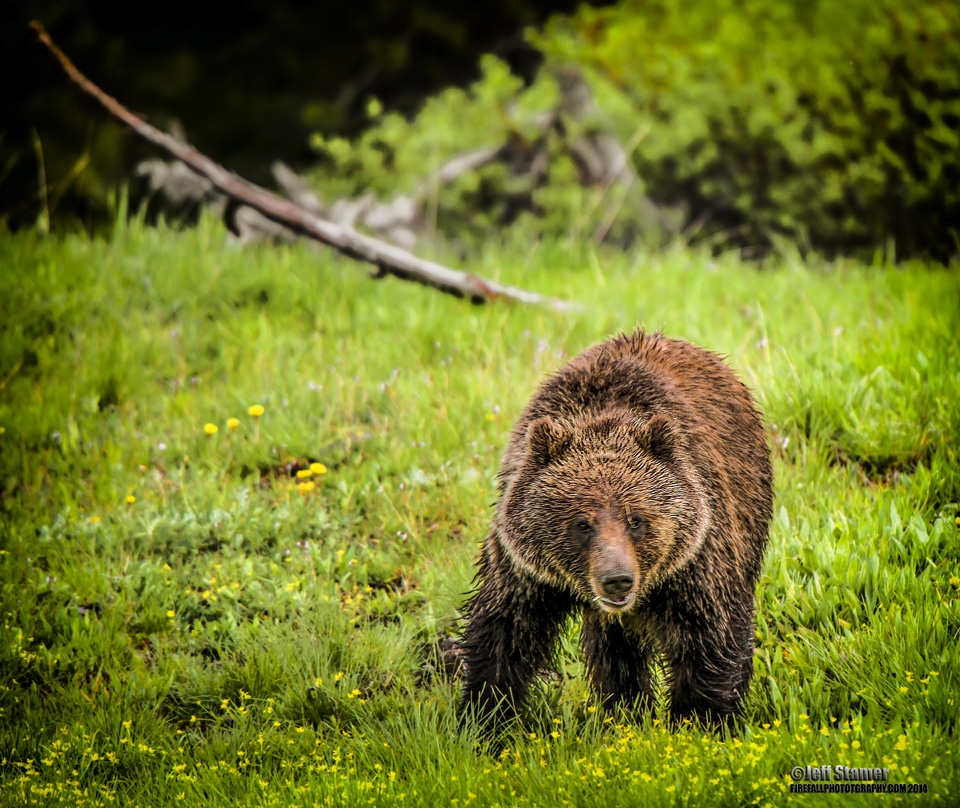 So why did Teton hit my hot button?  Well, the Tetons themselves are dramatic mountains…and they dominate the landscape.  Sharp, angular and huge.  Plus there is the added bonus of the Snake River and a number of lakes which make wonderful foregrounds.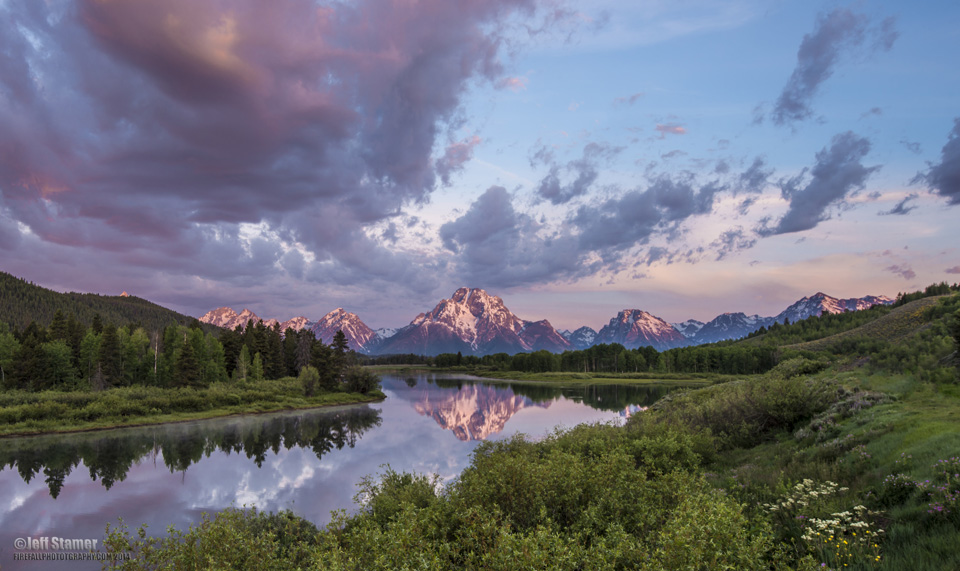 Another popular spot is Schwabacher's Landing.  In fact. even well after sunrise,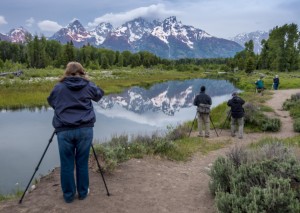 there were still a half-dozen photographers trying to find an unobstructed spot for their tripod *see photo to the right)…
But when you have a view like the one below, it is easy to understand!
Teton isn't as well-known as Yellowstone for its wealth of wildlife photography, but I found myself swapping my landscape lenses for zooms on a regular basis.  In addition to the Grizzly already mentioned, I stayed busy snapping Elk, Bison and all kinds of waterfowl.  Perhaps my favorite wildlife shot, however, was this beaver I surprised early one morning at Schwabacher's while waiting for the sunrise.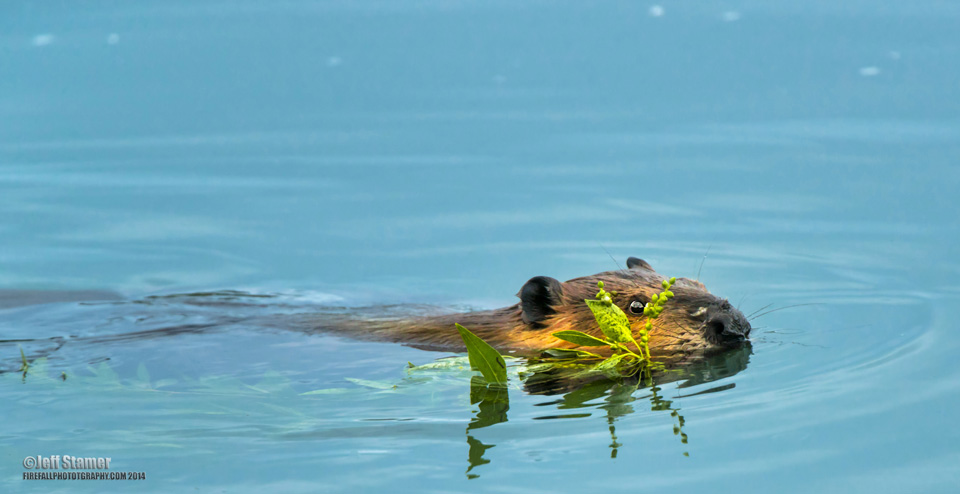 So, mountains, water and wildlife…I thought I was in heaven.  And then it just got better…flowers!  I found this spot just off a gravel road near Oxbow bend one morning…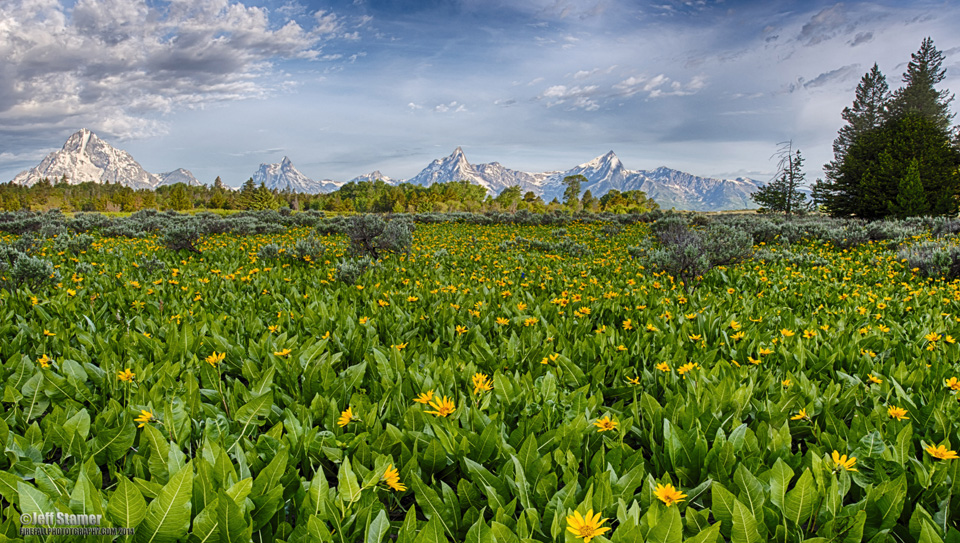 Unlike many National Parks, I didn't see a swarms of tourists (although I did run into a number of fellow photographers).  Teton was peaceful:  at many sites, I was the only soul around, like when I stopped by the historical Cunningham Cabin.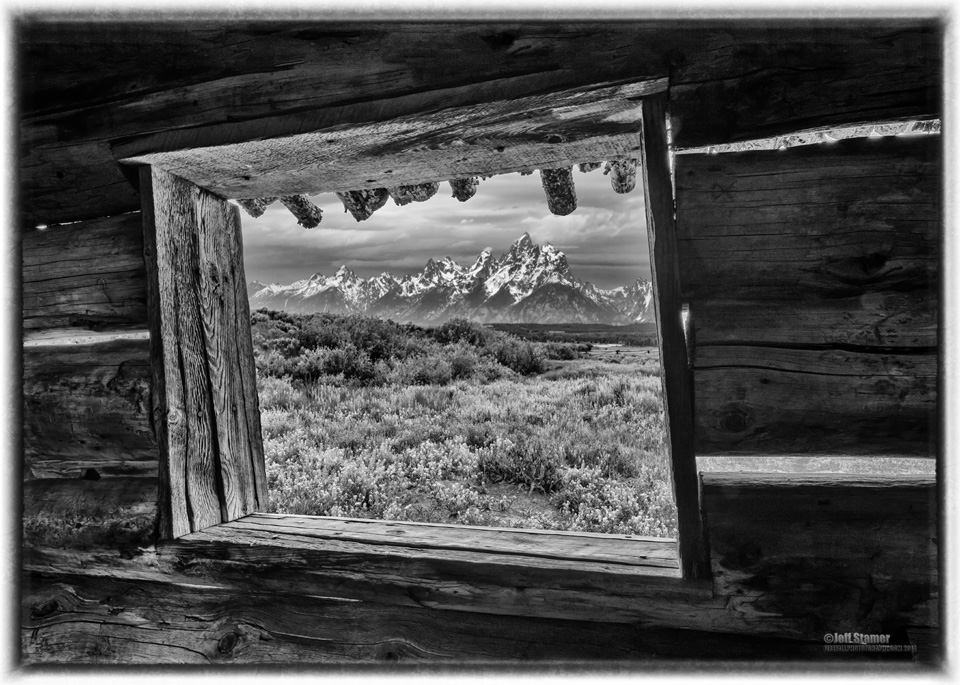 Although it was nothing but a simple cabin, it certainly had a million dollar view out the back!  J.P, Cunningham was a lucky man.  I spent over an hour there photographing the landscape and the nearby prairie dogs.  But I kept getting drawn back to the cabin.  Something about the juxtaposition of the raw-framed log home and the soaring mountains was palatable.  The shot above was perhaps my best effort to capture the view.  I used a 7 frame HDR to balance the severe dynamic range between the dark cabin interior and the morning clouds outside.
A bit south of the Cunningham Cabin is the bend in the Snake River made famous by Ansel Adams.  I 'channeled' my inner Ansel and came up with this effort: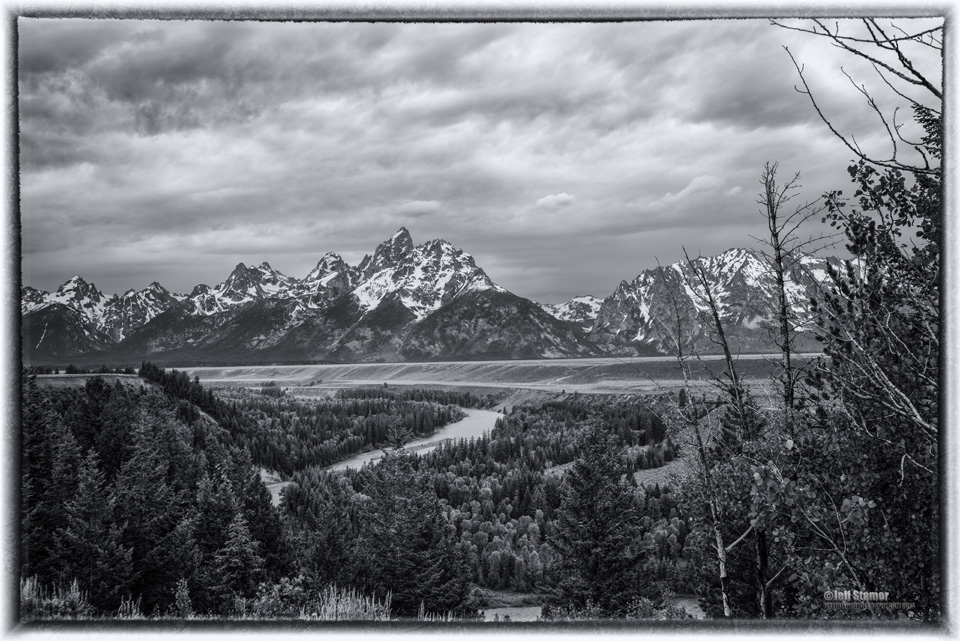 After I got home and started processing my shots, I converted a lot of them into black and white.  Something about the Tetons just seems 'right' when viewed this way.  Perhaps the drama of the landscape and intense weather just made color unnecessary.
There was so much to see that even though I was up before dawn and didn't stop shooting until well after dark, I never got the chance to photograph some of the famous spots at Teton, like Jenny lake and  "Mormon Row."   And the weather wasn't exactly cooperative:  clouds prevented a chance to shoot the Milky Way and the sunrises/sunsets weren't exactly epic.  Despite those challenges, the landscape provided a weath of photo ops.    Unlike some places that I visit and 'check the box',  I will be visiting Grand Teton again..and I'll be staying longer next time!
Jeff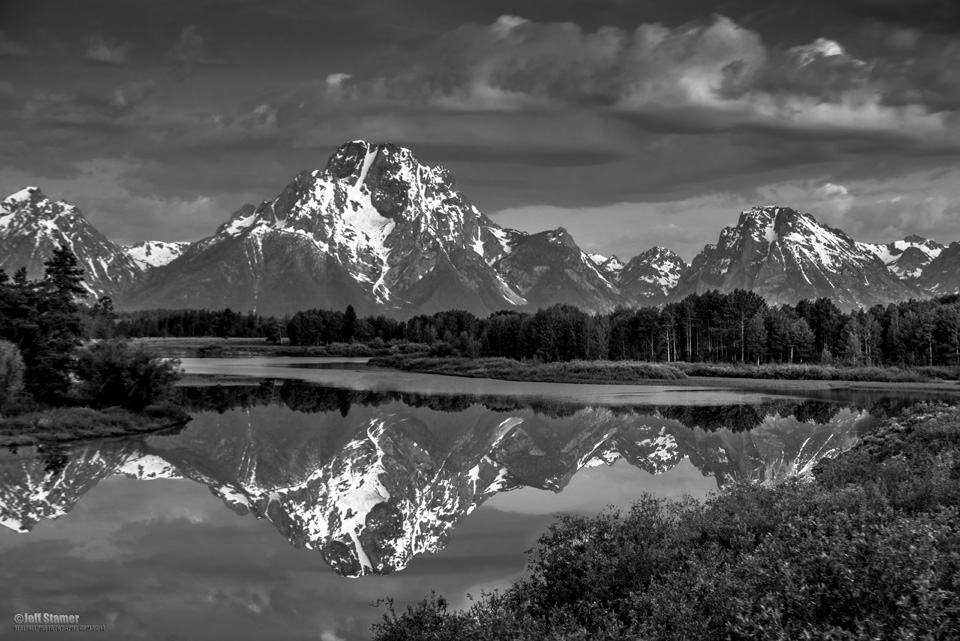 Grand Teton photography tips
Grand Teton photography tips