Ask anyone who has visited Horseshoe Bend to describe it and I bet that I can predict the reaction: They will hesitate, then a sly smile will creep across their face…they will slowly shake their head and say: "Oh yeah…Horseshoe…Wow… you have to see it yourself."
Horseshoe is one of those places that truly are more emotionally impactful in person than you could ever think possible if you have only seen it in photos. Try to imagine this…you walk about 30 minutes over a featureless desert landscape…there really isn't much to see…some mountains out in the distance…lots of sand and slickrock…maybe a Jack Rabbit or two bouncing between brown and thirsty plants. Then, suddenly, the path ends. Actually, it doesn't end, it simply disappears as it abruptly ends at a sheer 1000′ drop: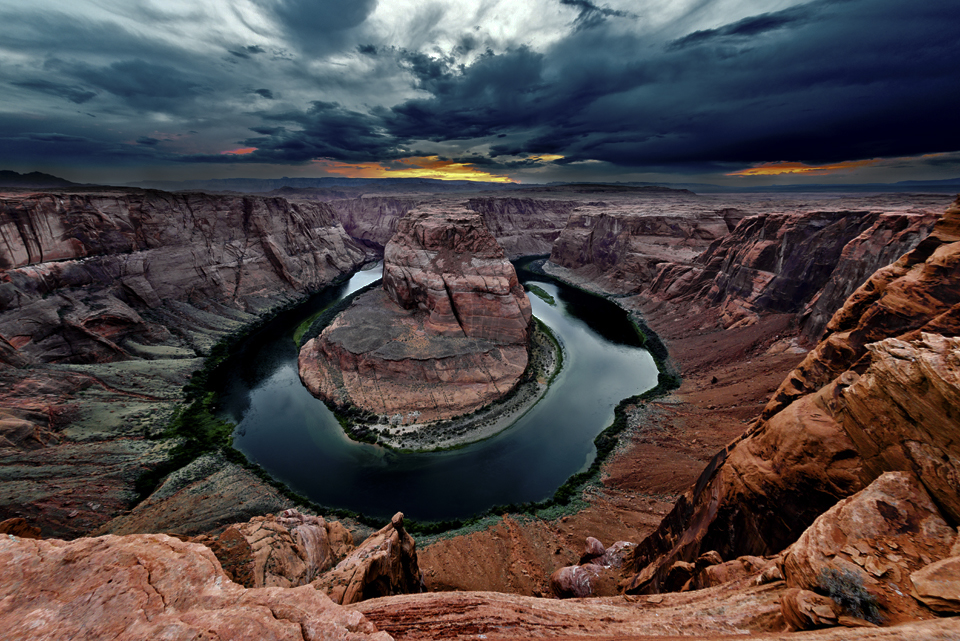 Look at the bottom of this photo…that is a straight drop down to the river…nothing to stop you other than a couple sandstone outcroppings that might slow you down a bit as you bounce off of them:)
This vista WILL get your heart kicked into overdrive. In fact, I've seen some folks actually crawl up to the edge on their bellies to take photos because they didn't trust their legs. But in all fairness, I won't deny that I had second thoughts as I set up my tripod on the edge. If you are ever near Page Arizona, then this is a stop that you really have to make…it is a visual and emotional powerhouse! Interested? if so, then read further for my Horseshoe Bend Photo Guide and tips.
The Basics:
Horseshoe Bend is a loop of the Colorado River 5 miles downstream from the Glen Canyon Dam and Lake Powell (just south of the Utah line). It has its own parking area on the west side of US 89 about 4 miles south of Page, Arizona. The GPS coordinates are: 36.876246,-111.502788. This link will show you the parking lot location on Google maps.
There is a (small) sign for Horseshoe Bend, but it is easy to miss. However, if you keep looking to the west you will see the parking lot…there isn't a whole lot else out there. The parking lot was expanded in 2019 but still fills up on Holidays and busy weekends.
There is a $10 parking fee (as of Feb. 2021) for personal vehicles, vans and buses pay more. The lot is staffed from sunrise to sunset. Your National Park Pass is not accepted for parking since the lot is actually managed by the city of Page, not the National Park Service.
The path to Horseshoe is very easy to follow. The hike (actually it is more of a walk) to the overlook is a gentle slope of 1.5 miles (2.4 km) round-trip over flat terrain. The trail was upgraded in 2018 and is now so easy it is even wheelchair accessible. It has two large shade stations along the way. It should take you about 30 minutes depending on your pace.
There is no water for sale. No bathrooms (except at the parking lot). If you are there in the middle of the day during summer, you will need to bring plenty of water. A hat and sunscreen would be good to have with you too.
It can be pretty windy…bring your sunglasses
Be prepared to meet folks from all over the world! I had two guys from France on my right a German to my left and a photographer from Mumbai India spent twenty minutes asking about my camera. You will be surprised how friendly and talkative folks can be when they have this scene before them.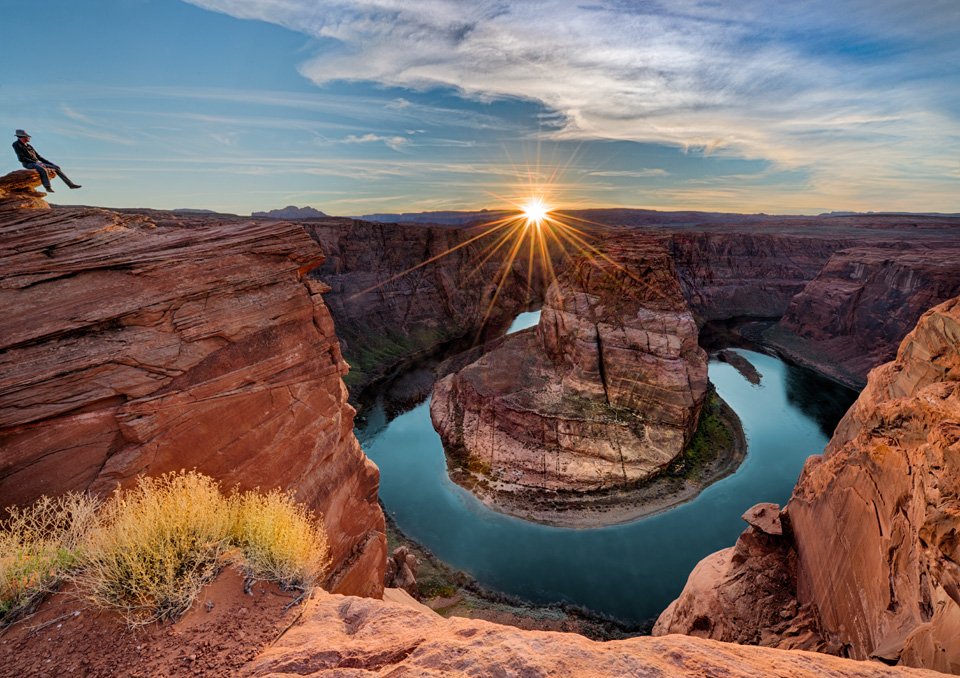 Horseshoe Bend Photo Guide and tips for my fellow Photographers:
Most photographers are going to visit Page because of Antelope Canyon. The nice thing about Horseshoe is that you can photograph it before or after your day at Antelope.
How much time should you schedule? Well, if you jumped in your car in Page, drove to the parking lot, hiked to the site, snapped off a dozen shots and hoofed it back to your car, you would be back in Page in less than a total of 2 hours. If that is all the time you have, then fine. However, if your schedule isn't too tight or if you are blessed with a killer sunset, you can easily spend twice that amount of time.
Bring a steady Tripod.
Where to set up:

There is a new viewing platform that was completed in 2018 (see NPS photo below). It has a railing and is great for those who like something solid between themselves and the thousand foot drop. You can get a solid image from the platform by setting your tripod up right against the railing.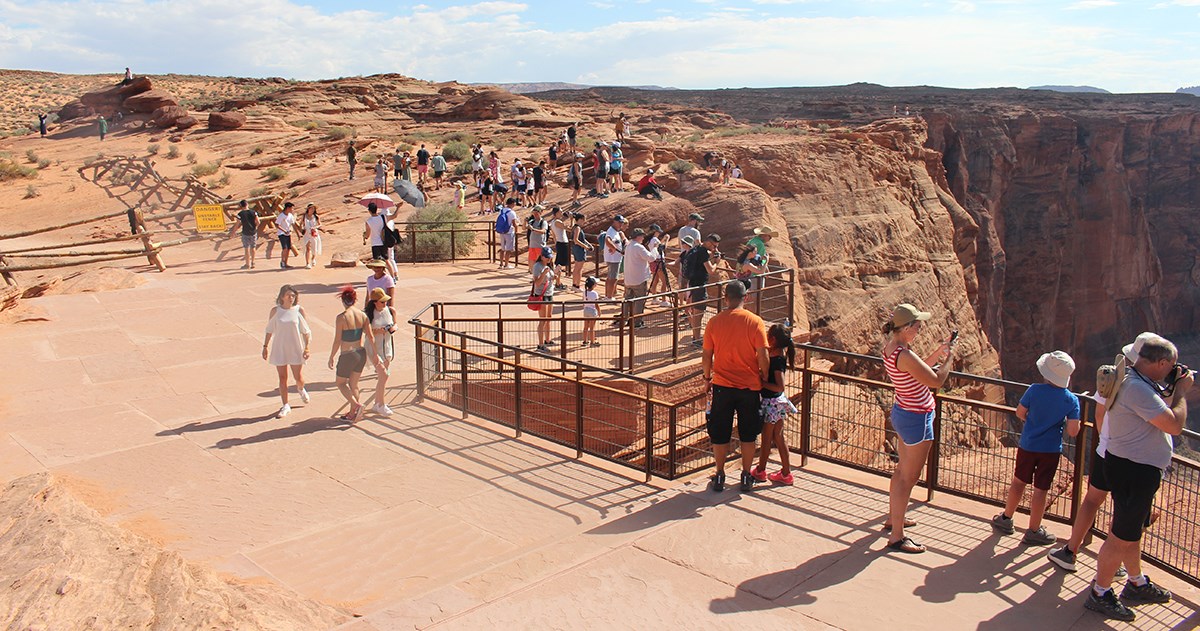 The platform takes up only a small amount of the real-estate on the rim and frankly, you can get a better perspective and more interesting images if you don't restrict yourself to this one spot.
Do yourself a favor and show up a bit early and scout around a bit. You just might find a nice bush or a landscape feature that will make your shot stand out from the crowd. 99.9% of the images taken here were made within 50′ of each other…don't be shy about roaming around a bit and looking for your own unique view.
5. Lenses:
A 14-16mm lens on a full-frame camera will let you capture the whole panorama in a single frame (you will need a 10mm lens on a APS-C, cropped sensor camera).
If you have a fisheye lens, you can have fun with it at this location. My 15mm fisheye came in handy here.
If you don't have a wide lens (or if you want a super-high resolution image), you can stitch together a panorama in Photoshop.
6. Time of Day:
To get an idea about how the light at Horseshoe changes over a day, check out this link. It shows a wonderful series of photos by Brian Klimowski from pre-dawn to late evening.
My personal favorite time of the day here is sunset. There is at least a full 7 stops of dynamic range at sunset, so you will need to use HDR or a strong ND filter to capture the shadows and highlights.
If you can't schedule this for a sunset shot, morning can be good as well…
Mid-Day will light up the full scene. For example here is an afternoon shot I got a few years back: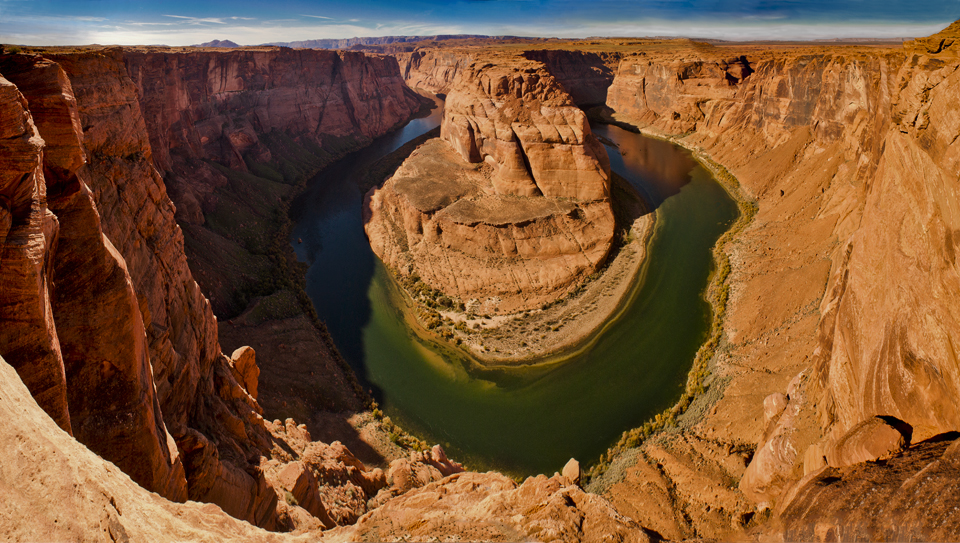 A polarizer will come in handy except at sunrise or sunset.
Be careful of your focus. With a wide angle or fisheye lens, the lip of the cliff right in front of your tripod will be in your frame, so you will want to either crop that out of your final shot or set your focus accordingly.
Night

I have seen some wonderful Milky Way shots taken here but most of those images are older. The issue is that parking in the lot is no longer permitted at night. And if you are thinking that you can just park alongside US 98 and walk-in, you should be aware that you might be ticketed since road-side parking on US 98 is prohibited as well.
Time of year:
The drama of this scene is undiminished no matter what season you get to see it, however, summer during the rainy (monsoon) season can provide dramatic clouds (see the first shot above…taken in July). I'd bet this would be an incredible to see covered in snow, but I haven't been able to capture that shot yet
There is a whole lot more to photograph in the area (Antelope Canyon, Bryce, Zion, etc.) If you have more than a couple of hours to spend in Page, then you might want to check out this blog which gives you pointers on how to best schedule your day to maximize the photographic potential!
You will enjoy (and certainly always remember) your time at Horseshoe bend. Have fun!
Jeff
PS: When my son was taking this shot of the photographers lined up on the cliff's edge he thought: "You know…one good gust of wind and these guys will be the lead story on the TV news tonight"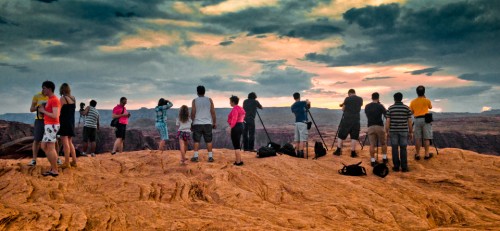 Horseshoe Bend Photo Guide and tips
Related Images: