Ask a hundred photographers going to Hawaii what are the top three things they most want to photograph and I'll bet Lava will be on every list. Specifically, photographing the lava entering the ocean from a boat is something many photographers would gladly trade a limb or two for. Since this is likely to be a once in a lifetime experience, you will want to make the most of it. I certainly felt that way my first time but there was very little info on the internet about how to best do it…so I learned the hard way. Fortunately, you won't have to. This article will tell you everything you need to know about how to photograph lava from a boat in Hawaii.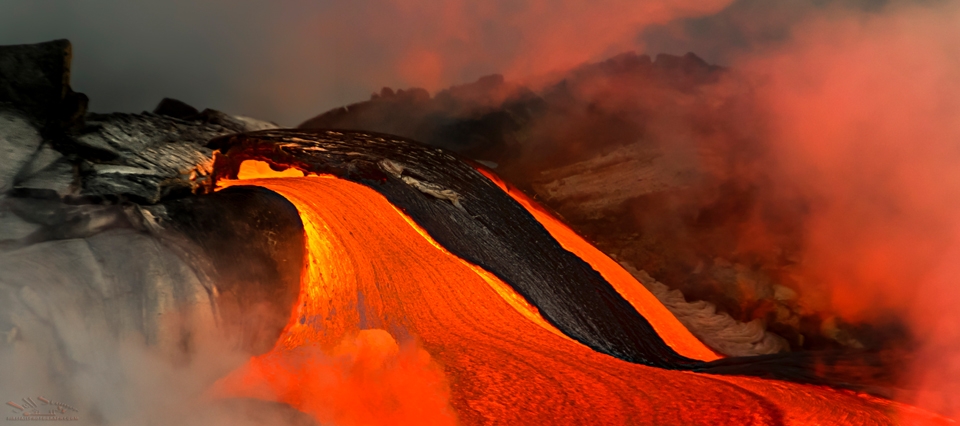 Is this for you?
First of all, to see the lava ocean entry you have to go out into the open ocean in a relatively small boat. This isn't a pleasure cruise, it can get rough so if you don't like being in a rocking/jarring boat, have back problems or if you are frail, then this might not be something you want to tackle. In fact, some of the tour operators won't sell tickets to folks who are pregnant, over 75 years old or weighing over 275 lbs. They seem to take safety seriously and aren't shy about turning people away that could potentially get injured (and sue them).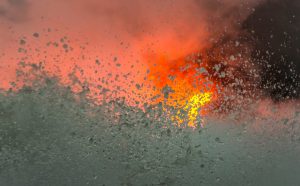 With that said, I think this tour is absolutely incredible and unforgettable. The experience of being watching new land be created from 50′ away is breathtaking and not something you will ever forget. You will be close enough to feel the heat on your face and hear the explosions of the sputtering and sizzling hot lava as it collides with the chilly Pacific. Nearly everyone in my family has done this tour and they all loved it.
And if you are a photographer, well you can create mesmerizing photographs that simply can't be created any other way. I've photographed lava from the air, ground and sea and I think images of lava taken from a boat are the most dramatic, impressive and beautiful.
Where is it?
The only location in the state you can see lava is on the Big Island of Hawaii. The lava enters the ocean on the southeast coast (see map). Most flights to the big Island arrive in Kona but Hilo also has an International Airport and it is quite a bit closer.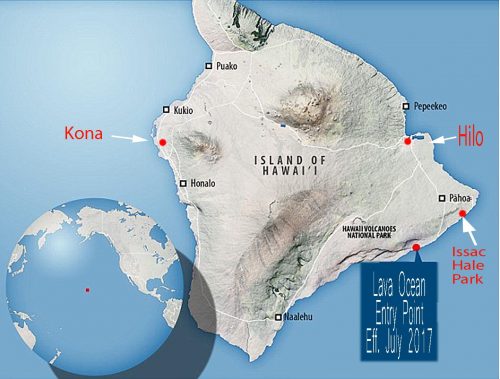 Which tour to take?
As of July of 2017, there are only four tour operators licensed to conduct ocean tours within 300 feet of the lava entering the ocean: Lava Ocean Tours, Moku Nui Lava Tours, Kalapana Cultural Tours and Hawaiian Lava Boat Tours. I'm sure you can find other tours and they will be cheaper. But consider this: it is at least a 20 mile ride on the open ocean to the lava: Do you really want to take the chance on a unlicensed operator? Plus, the Coast Guard has been known to board and shut down illegal operators
So, which is the best for photographers? Well, it depends on your priorities. From a pure comfort and safety perspective I prefer Lava Ocean. The competition uses much smaller fishing-style boats typically like the one I photographed at the ocean entry earlier this year (below).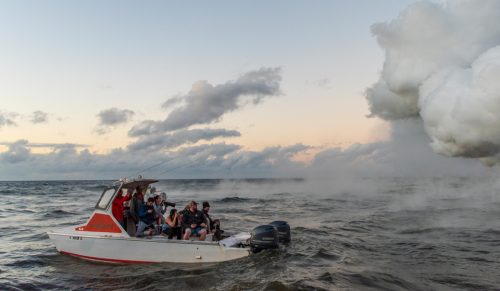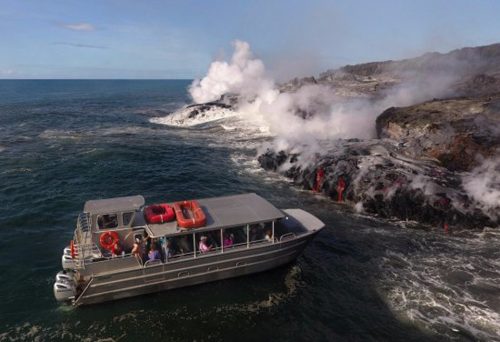 Lava Ocean's boat (the LavaOne seen here) is a modern 40′ aluminum catamaran designed specially for lava viewing. It is a more stable platform for shooting and will get you out to the lava 50% faster.
On the other hand, it is easier to shoot from both sides in the smaller boats. Plus other companies seem to stay on site at the lava a bit longer and they tend to be cheaper.
So if you are going with your family and safety and comfort is most important, do the LavaOne. If photography alone is your primary consideration, then go with one of the other three licensed companies. Kalapana Cultural Tours seems to be very well regarded by other photographers.
When to go:
Go NOW! Lava has been flowing into the ocean for just over a year, but there is no way to know how long this will last. For three years prior to July 2016, for example, lava wasn't flowing into the ocean. So before you book a flight specifically to see lava entering the ocean, call or email Lava Ocean and make sure that the lava will visible during your visit.
I really don't think that one time of the year is significantly better than another. Yes, the rainy season is from November until March and photographing the lava in a rainstorm is less than ideal. But keep in mind that it rains a lot on this part of the Big Island…even during the dry season.
Lava is MUCH more visible and photographically dramatic at dawn or dusk. Tours are scheduled throughout the day, but don't even consider any of them except the dawn and sunset tours. You will pay a premium of $70 or so compared to the daylight tours, but it will be worth every penny (which is why those trips sell out first). Personally, I think the dawn tour is the better of the two, if for no other reason that the ocean tends to be calmer.
The weather doesn't always cooperate. In addition to the rain, the ocean can get rough. If the waves are too high, the tours will be cancelled. Schedule your tour early during your trip to the Big Island so that you have time left to reschedule if needed.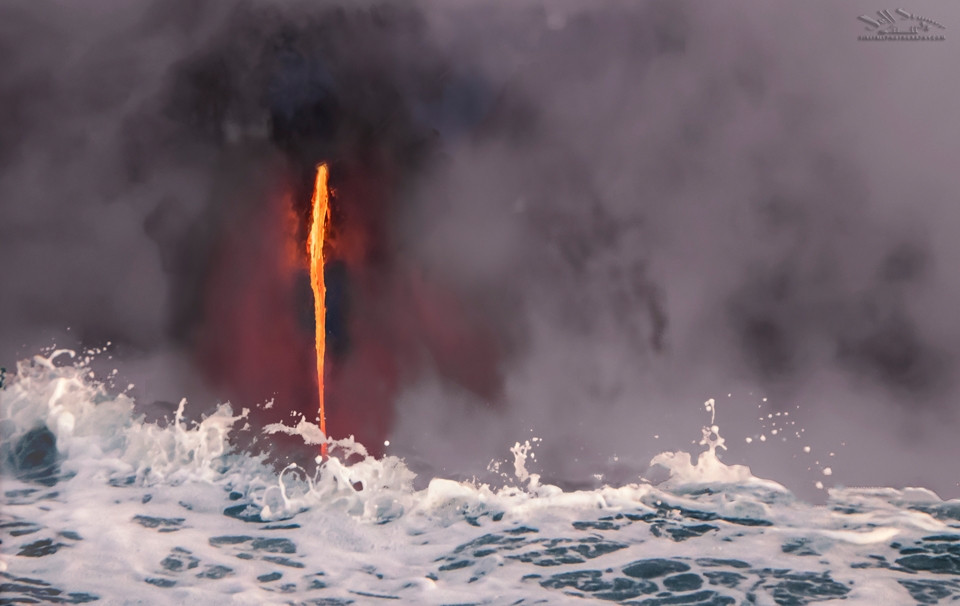 Tips Before you go:
Get a room/hotel near Hilo or a bit south of it…this will save you a lot of driving. The boat launches from Issac Hale Park…which is 45 minutes south of Hilo and a long 2.5 hours from Kona. Driving on some of these roads at night isn't fun, especially with intense fog that is common between Kona and the eastern part of the island.
Leave early. As you approach Issac Hale Park, the roads get narrow and curvy…it will likely take longer to get there than your GPS tells you.
Have your camera and gear already set up and ready to go before you leave your room (more about camera settings later). You really won't have much time or opportunity to do so on the boat.
Tips for the Boarding Process: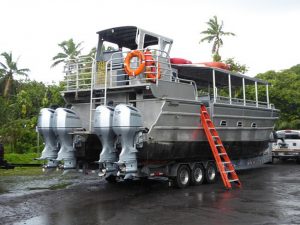 After you park, get out and look for a guy from Lava Ocean holding a clipboard and flashlight. There might be a couple other tour operators there, so make sure you find the right one.
After you and the rest of the folks have checked in they load the boat. You actually board in the parking lot and then they launch the boat at the park's ramp.
One factor that will determine how many good shots you get will be where you sit on the boat. The seating consists of padded bench seats running down each side of the boat with three people in each seat and an aisle down the center. You want to sit on the end of the bench seat against the side (gunwale) of the boat (away from the center aisle) so you have an unobstructed view with your camera.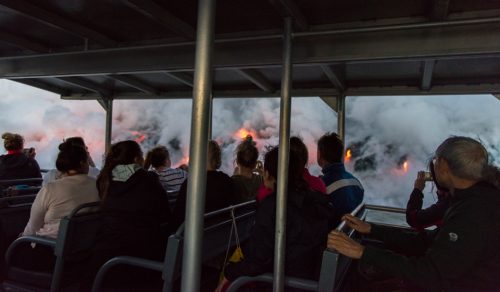 Obviously if you are in the center of the bench seat or the spot closest to the center of the boat, you will have to shoot around your seatmates. Once the boat is underway, you can't change seats or stand up, so it is really important to get a good seat.
So how do you get a good seat?
This isn't like an airplane where your seat is pre-assigned. They load the boat by age. People over 60 years old board first and sit where-ever they want. Then folks over 50. Then everyone else. If you are older, then you shouldn't have any problem getting a primo seat. If you are younger, here is what you do:
Be there early…I'd suggest arriving 10-15 minutes before the check in time (in the summertime, check in is at 4:30am)
When you check in, ask the captain/crew where they want you to line up for boarding. If they don't give you a specific answer, watch carefully and you will see when they bring the boat into the parking lot on the back of a trailer. When the boat/trailer stops moving, walk over as close to it as you safely can.
Most customers just mill around aimlessly after they check in. Pay attention and move quickly to board ahead of the 'herd' when your age group is announced.
The seats toward the back of the boat tend to provide a smoother and dryer ride, so those are preferred. However, if the only seats left on the sides of the boat are toward the front when you board, grab one of those instead. You're a photographer and this is likely a once in a lifetime opportunity…who cares if you get a bit wet and go home with a sore back?!
What to expect:
From start to finish, the tour takes about 2 hours. The check-in/boarding takes about a half hour. The trip to the lava takes about 30 minutes, you spend a half hour there and then head back.
On the way out it will be quite dark (if you are on the dawn tour). Sometimes it can be very rough (another reason to have your camera already 'dialed-in' before you board). Depending on how big the waves are and your attitude, the ride can be fun…a group of girls on my last tour squealed like they were on a roller-coaster every time we hit a wave (maybe it did get kinda old after a couple of hours). On the other hand, some folks were tossing their cookies and asking the captain if he could turn the boat around before we even got to the lava. Consider taking motion sickness pills if you are prone to sea-sickness.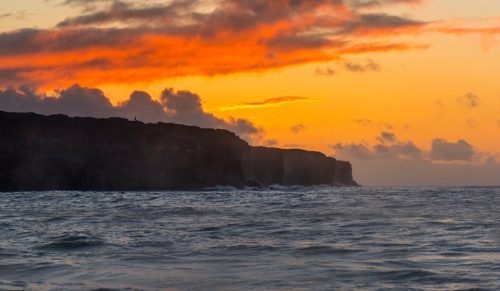 Once you get to the lava, the captain will spin the boat around every few minutes so that customers on both sides of the boat can see the show. In other words, you will only be facing the lava for about half the time you are there. When you are turned away from the lava, dry your lenses, check your photos and make sure your exposure and focus look good. Then you can adjust your settings accordingly. After that you can pass the time by taking photos of the sunrise and grumbling that the people on the other side of the boat get to face the lava more than your side…
Another thing you can do is take photos of the floating rocks. Yup…I kid you not! When the lava hits the ocean and solidifies it can get a lot of air trapped in it, so pieces of will sometimes float right by you…sparking, sputtering and sizzling the whole time. Pretty darn neat.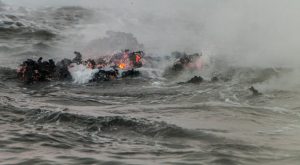 Photographing lava from a boat is kind of like photographing wildlife from a moving vehicle. The action may appear anywhere in front of you and shooting with both eyes open will allow you to spot a new opportunities as they occur. Keep scanning constantly. Waves hitting the lava creates a lot of steam and will obscure some locations while other areas might clear up.
You will find that the 30 minutes there passes in an eyeblink. When the captain starts to head home, pack your gear away because the ride back is usually rougher than the way out. You can enjoy the view of the coast but unless you spot some dolphins your camera won't likely miss anything particularly photogenic.
What to Bring:
Rain Gear…for you AND your camera
Although the boat does have a roof, you WILL get wet from the spray/waves even if it isn't raining. Your rain gear should cover your legs as well.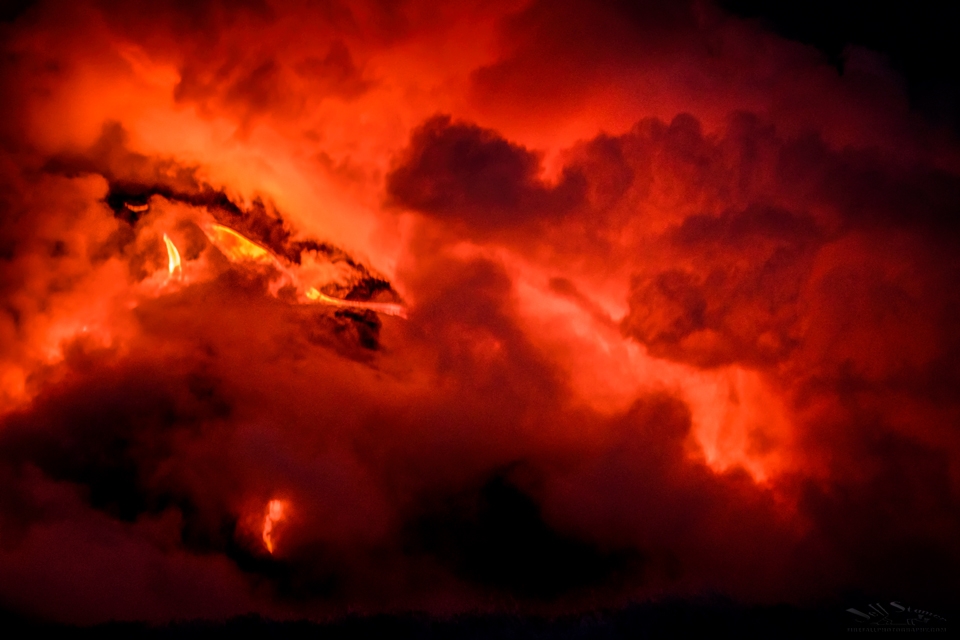 Keep your camera in something watertight during the trip. When you arrive at the lava, you will likely be able to shoot without much fear of getting wet (assuming it isn't raining or the seas are not incredibly rough).
Dress a bit warmer than normal:
Although you are in Hawaii, you might get cold, especially if you get wet. Your feet will likely get wet as well, I wouldn't wear sandles…something waterproof would be better.
Bring a small waterproof backpack or drybag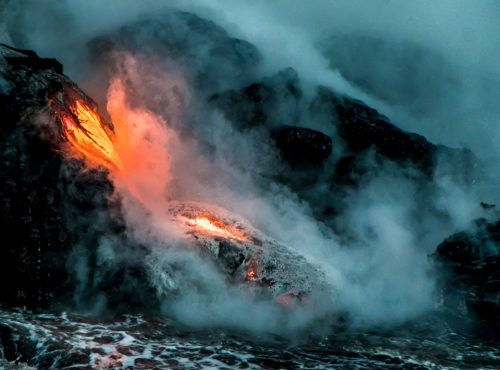 Anything you put on the floor of the boat will get wet. Water sloshes across the floor and out the scuppers (holes above the floor that let the water flow out). There is a small shelf under your seat that is raised above the floor that stays dry. But it is narrow…maybe about 9″ tall so bring a waterproof bag/backpack for your camera gear that will fit on the shelf. Keep in mind that the ride can be very rough, so be sure you have some padding around your cameras.
Lenses:
Bring your fastest glass…at least f2.8. Since you will be shooting with a fast shutter speed in near darkness, slow lenses are going to struggle until the sun comes up.
Use zooms, not primes. Your perspective is constantly moving and you are at the mercy of the captain and the waves, so a zoom is your only way of being able to selectively choose and frame your subject.
Since your time shooting is short, you don't want to be changing lenses (besides the salt spray and rocking wouldn't help) I usually bring two cameras: one with a wide angle zoom and the second with a long zoom.
Once the boat gets to the ocean entry point, it stays close to lava (often within 50′) so if you want to capture the whole scene you will need a the wide angle lens.

This wide angle shot gives you a perspective of the entire scene, but I found close ups with a long zoom to be more memorable.

It will be your long zoom that you will use the most. Frankly, 90% of my total shots (and 99% of my favorite shots) are taken with the long zoom (Nikkor 70-200 f/2.8 with a 1.4 teleconverter). So if you only want to bring a single camera, put your long zoom on it.
I prefer not to use a polarizing filter shooting lava. I don't find that it helps colors/reflections enough to justify the loss of a stop of speed.
Camera:
Your camera needs to be able to handle a lot of dynamic range. The lava can easily blow out your highlights and you can't shoot HDR from a rocking boat. I use my full frame Nikon D810 with a wide angle lens and a Nikon D500 with the 70-200. Both handled the dynamic range well.
Select a camera with excellent autofocus ability. Again, this is like wildlife photography, lighting isn't great, everything is moving and a camera without competant autofocus is not going to give you as many 'keepers.'
I love my D810 but my D500 is my go-to camera for lava photography.

It has wicked autofocus and it shoots 10 frames per second, which allowed me to capture a lot of the quick action of dripping lava.
Also, the D500 is a DX, so that effectively doubled the focal range of my 70-200. I need every bit of that range when shooting lava from the boat since about half my shots are usually taken at the longest setting.
Although the dynamic range of the D500 doesn't equal the full frame D810, I found it was capable of handling the lava.
Misc:
Have empty, large capacity memory cards and full charged batteries.
Have a number of easily accessible microfiber cloths ready in your shirt pockets. In addition to the rain and spray, you will probably run into clouds of steam at the ocean entry, so the microfiber will come in handy.
Since you are on a rocking boat, you will be handholding your camera…no need for tripods/monopods/gorilla pods
Camera Settings:
VR: Since you are on a bouncing boat, you need to engage your Vibration Control (VR/IS).
Shutter Speed: Selecting a high shutter speed will also help eliminate vibrations. This will also allow you to 'freeze' the action of the spray/waves and exploding lava. I find the best results are between 1/500 and 1/1000th of a second.
Manual/Shutter Priority: Personally, I like to shoot in Manual and adjust my settings as I go. If this isn't something you do regularly, I'd suggest you use Shutter Priority.
Aperture: Shoot with your aperture wide open…you will need every bit of light you can get.
Auto ISO: Use your Auto ISO setting. The brightness of the lava constantly changes and using Auto ISO will allow your camera to use the best possible ISO without requiring you to continually change it yourself. I adjusted my auto ISO so that 1600 was my highest setting and 200 was the lowest. I usually find that the ISO settings on my shots start at 1600 when we first arrive on site and the Auto ISO gradually upgrades the setting to ISO 200 after sunrise.
RAW: Shoot in RAW. This will preserve every bit of data your sensor collects and will make your job a lot easier in post-processing when you are trying to tame the wide dynamic range.
White Balance: I leave my white balance on Auto and then adjust to taste in Photoshop.
Frame Rate: Set your camera to its fastest possible frames per second setting. Shoot a lot…you have to anticipate that some of your shots will be blurry because of the moving boat and long focal length. The more shots you take, the better your chances that your auto-focus will produce some crisp shots.
Post-Processing:
Your main challenge will be controlling the dynamic range. Use the Photoshop sliders for 'highlights' and 'shadows' and minimize blown out highlights while still showing some details in the darker areas of your images.
Noise will probably be a challenge, especially in areas containing steam or dark shadows…made worse if you are shooting at high ISOs. I cut out the lava and surrounding rock, put it on the top layer. Then I liberally use the noise reduction slider on the other, lower layer that has the steam/foggy areas. This leaves the areas of lava and rock sharp which really contrasts against the 'soft', noise free steam/fog.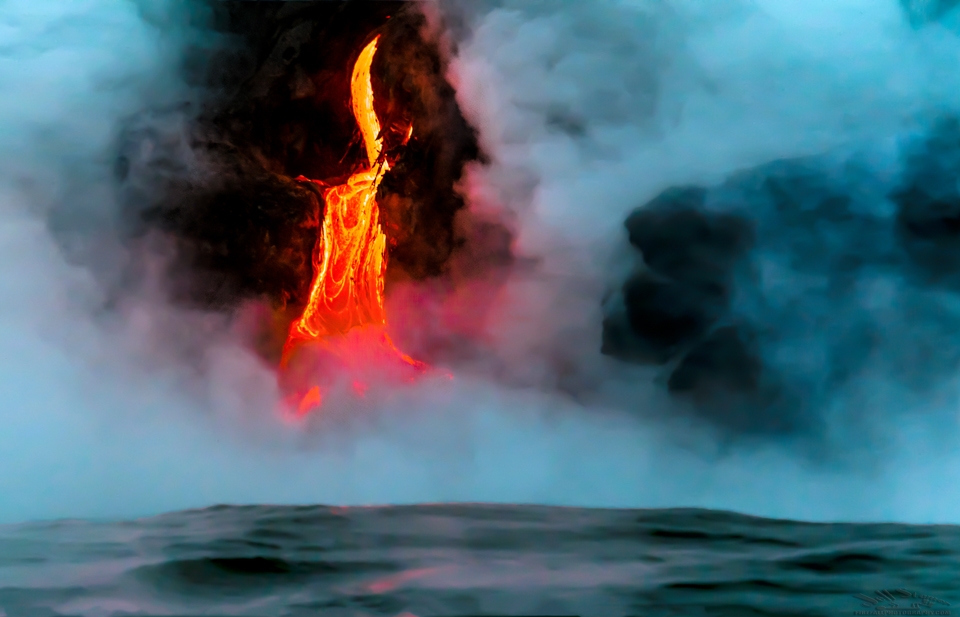 The raw colors on my images are usually pretty intense and rarely need much saturation/tweaking in Photoshop
Don't forget to adjust your white balance. Your shots will have a strong blue tint before the sun rises.
After the tour:
When you get back to Issac Hale Park, you might want to check out the hot springs there. It might be just the thing for your sore muscles if your trip was a bit rough.
If you are staying in Kona, you should check out Hilo while you are on the eastern side of the island. The Hilo area has a number of beautiful waterfalls. And of course, Volcanos National Park is also on the way back…you could easily spend a couple days exploring that incredible treasure.
Anyway, more about other Hawaiian photo ops later. Now I must leave, it is time for my evening glass of wine!
Aloha!
Jeff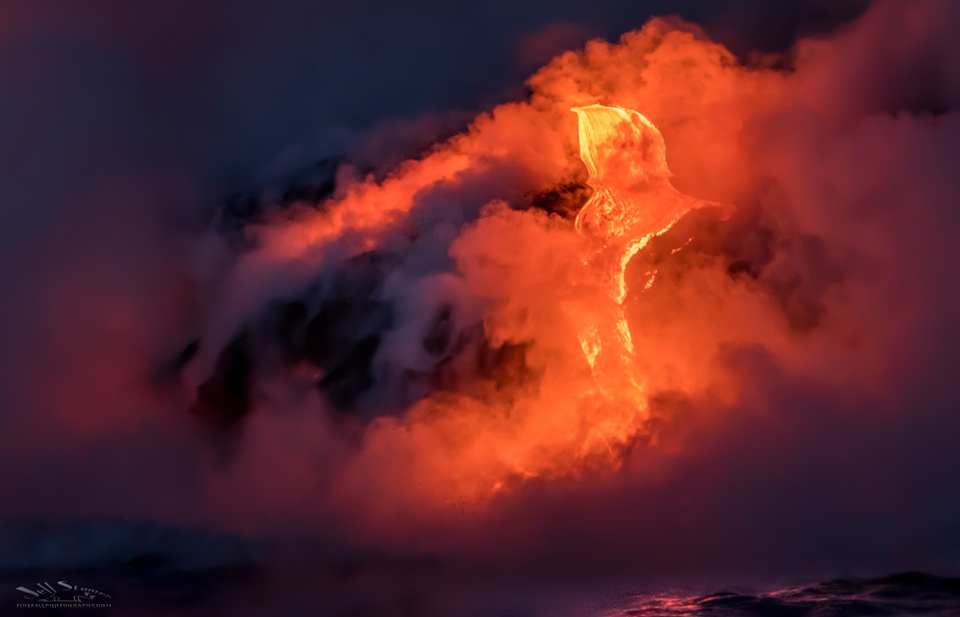 How to Photograph Lava from a boat in Hawaii
Related Images: