One of the lessons I've (painfully) learned over the years, is to be open to the unexpected and unplanned.  Honestly, it isn't an easy lesson for me.  By nature, I'm a planner..perhaps excessively so (at least my wife THINKS so!).   My perspective has always been:  This might be a once-in-a-lifetime trip…what if there is a killer photo op two miles away but I don't know about it!  So often I leave on a trip with a twenty page itinerary complete with maps, notes, GPS coordinates and more.
On the other hand, I honestly have to admit that much of my best work has been the result of an unplanned opportunity (or flat-out, total mistakes).  Like this shot below: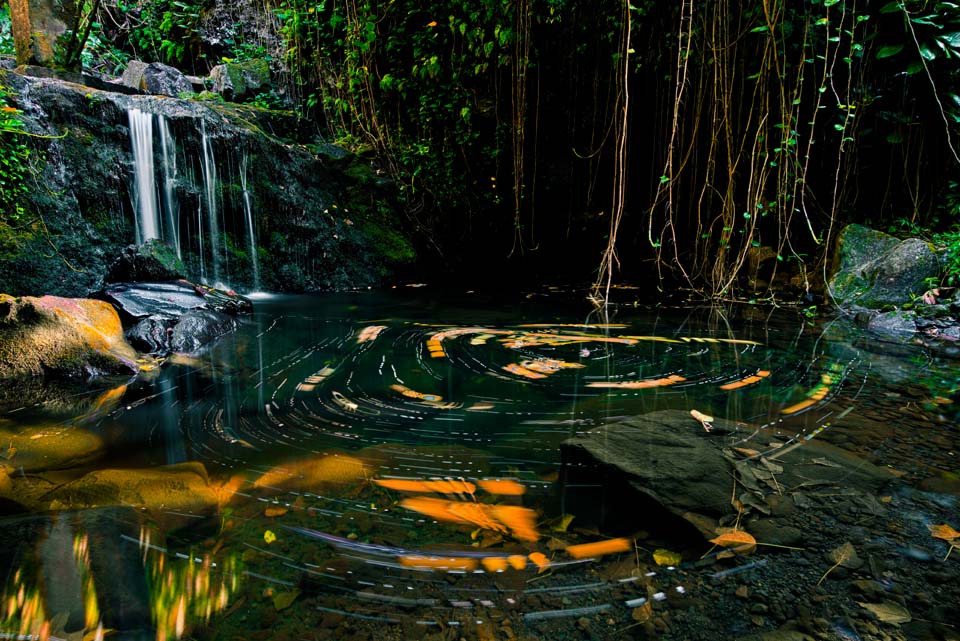 I love this photograph.  Of the dozens or so huge, magnificent, incredible waterfalls I photographed on a recent trip to Hawaii, this quiet, secluded, almost miniature cascade is by far my favorite.
It happened like this:  My wife and I had stayed overnight in Hana so I could get some sunrise shots.  I had planned to photograph Wailua Falls (about 7 1/2 miles south of Hana) since it was right on our the way to the trailhead for a hike we were making later that morning to Waimoku Falls (another 400′ tropical wonder). When we got to Wailua Falls (here is a link to a map on Google Earth) it was obvious that over 99% of the photographs falls are taken from the bridge which runs right in front of it.   So I decided to hike down to the base of the falls and get a shot with a different perspective…but I made a mistake.  I knew from my pre-trip research that there was trail from the bridge to the falls but I didn't know where it started.  I looked around and spotted one just past the bridge (west) on the ocean side (south) of the road.  After ten minutes of slipping and sliding down a wet and muddy slope, I had worked my way back to the bridge…which is where I found this delightful little pool.  As it turns out, I couldn't get any closer to the big falls from this trail (apparently, the correct trail is on the other (north) side of the road).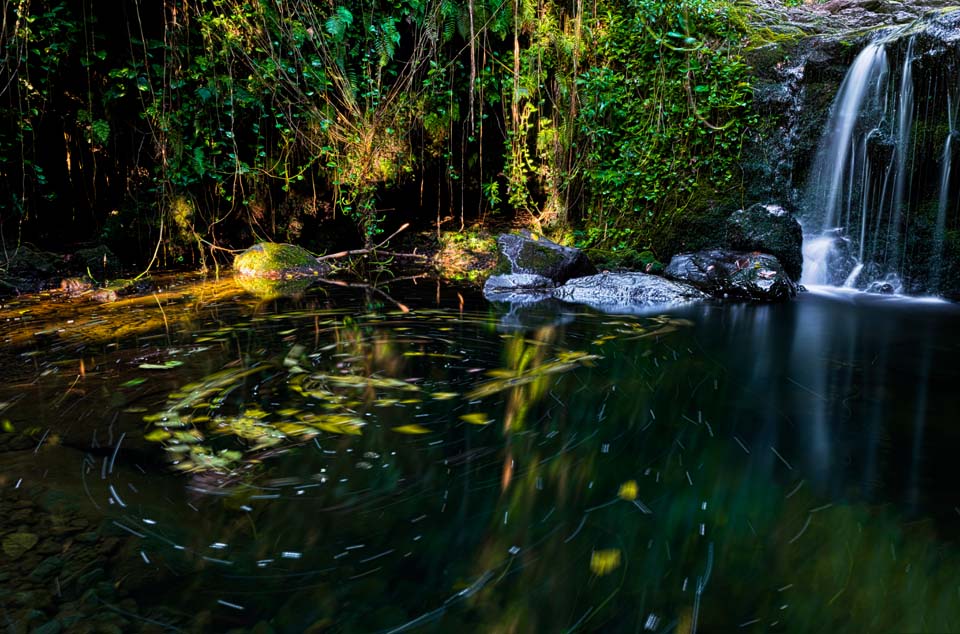 And here is where I got my second unplanned gift.  The best thing (to me) about this shot are the streaks caused by the the swirling leaves in the pool.  I had seen this before in work done by other photographers, but I hadn't ever done it myself.  Honestly, I didn't even notice at the time that the leaves were moving. But since the spot was very dark, I took a series of seven bracketed shots hoping that HDR would be able to capture what little light there was.  A couple weeks later when I processed the shot with HDR , I was shocked to see that the slowly moving leaves were now wonderful looping swirls of color.  In retrospect, it makes perfect sense that that seven shots, taken over a two or three minute timeframe, would transform the languidly moving leaves into mesmorizing streaks of color.
So there.  I didn't know this little falls even existed and I had no idea that the HDR would result in the beautiful leaf swirls.  Despite that, the result was far better than my hundreds of well-planned shots of other, more impressive and well-known waterfalls.
The moral of the story?  Planning is vital and it will dramatically increase your chances of great captures, but don't be a slave to your plans or 'pre-visualized' shots.  Keep one eye open for the unexpected…and see what happens!
Have a great Holiday and may all your surprises be happy ones!
Jeff
PS: Here is a shot of Waimoku Falls from later that same morning.  It is an incredible vista (yes, that little green dot at the base of the falls is my long-suffering wife Anita waving at me)!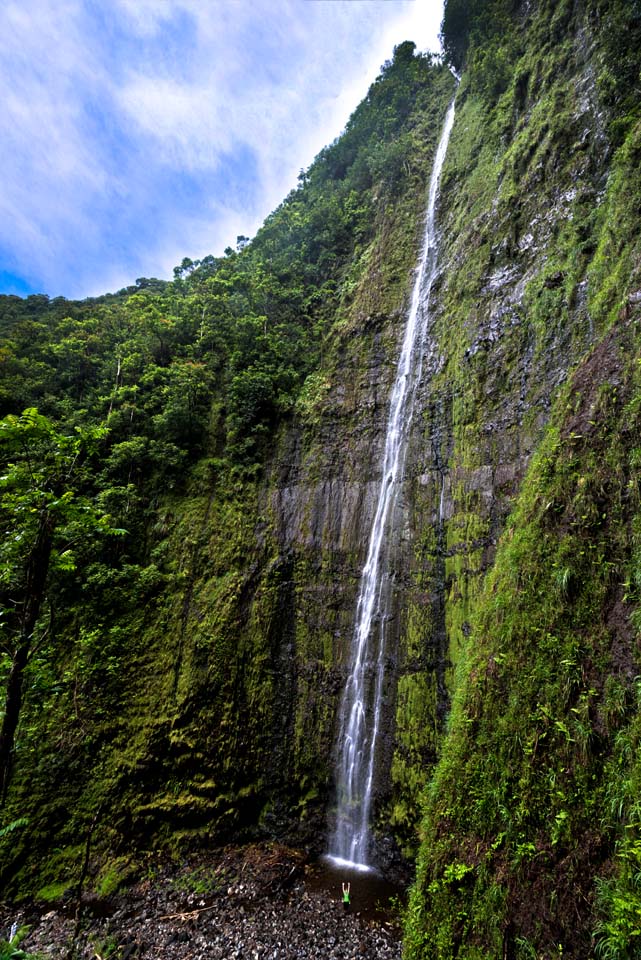 Little Surprises:  Little Wailua Falls…Maui's Subtle Hidden Treasure
Related Images: