As one of my son's High School graduation presents, this summer we are taking a road-trip to the southwest for a father and son bonding, hiking and sightseeing blow-out.  Of course, I will be taking my camera and one of the things I'm planning is to try some night HDR (high dynamic range) photography.  I've done quite a bit of work with HDR, but never at night, so I thought I'd head over to Disney's Magic Kingdom to practice.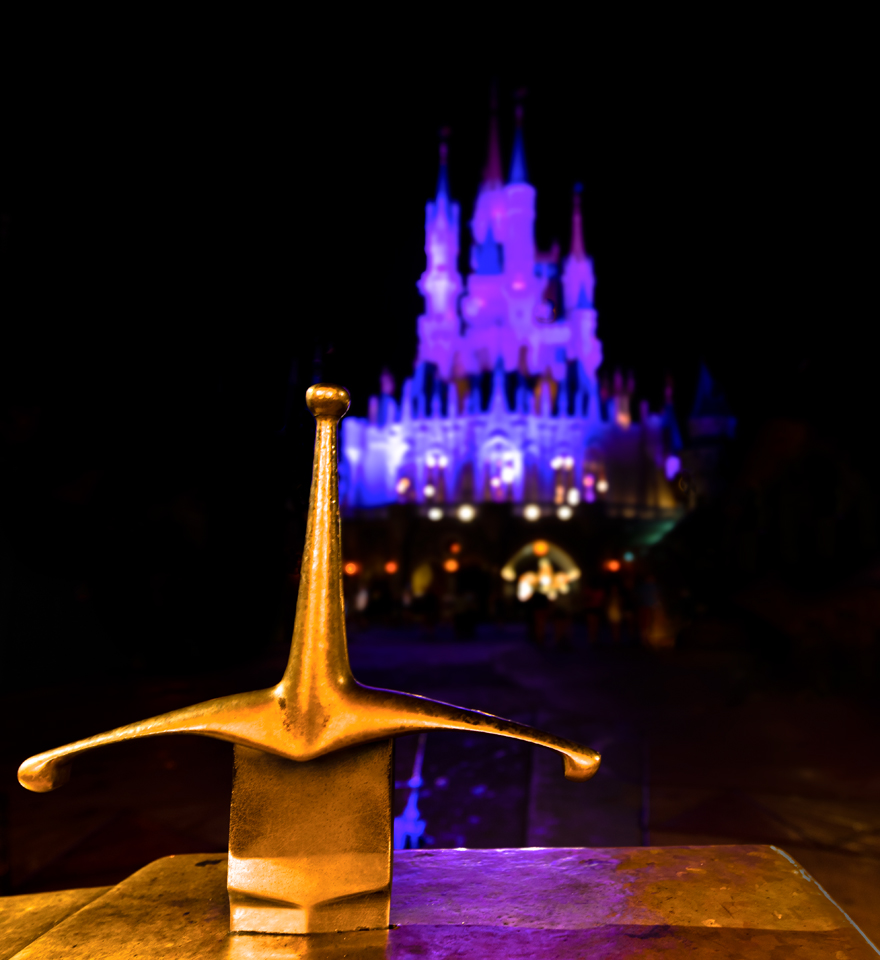 Being a nearly obsessive planner, the first thing I did is some research.  Luckily, Flickr has some Groups devoted to nothing but Disney, so by reviewing photos at that site I was able to identify some locations that might make solid shots.  A couple of the photographers on that site specialize in night HDR and I was particularly impressed with the work of Matthew Cooper (use  attached link to see some of his work) http://www.flickr.com/photos/thetimethespace/.
As you might know, HDR is a technique that allows your photos to capture the full range of light…from the deepest shadows to the brightest highlight.  This article won't be able to cover the details of how you do HDR, but if you are interested, the following link will take you some tutorials you might find helpful:  http://speckyboy.com/2009/03/25/19-tutorials-for-creating-beautiful-hdr-high-dynamic-range-imagery/
Disney is a wonderful subject for night HDR…the accent lighting is magnificent and the park takes on an otherworldly character that magnifies its 'magical' nature.   In addition, I just frankly like Disney a LOT more at night…the crowds are (usually) smaller and the temperatures are lower,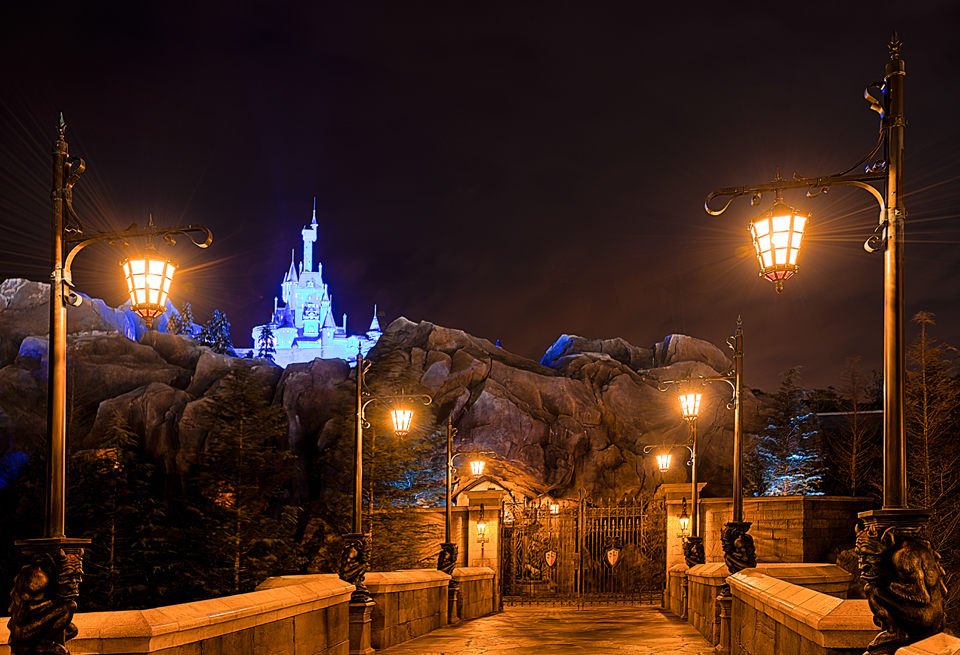 One thing that I learned quickly, was that if you set up a camera tripod, tourists are going to think that you are a Disney "Photopass" employee http://www.disneyphotopass.com/   Man, if I had a dollar for everytime someone asked me to take their picture, I could have bought a new camera:)
Another thing I learned was that if you want to get images that don't include a lot of people, you need to be there LATE.  The Magic Kingdom closes at 10 or 11pm (the attached link has park hours: https://disneyworld.disney.go.com/calendars/2013-04-26/.  My best photos were taken after 11:30.  Disney employees don't chase you physically out of the park, they just close down the rides, turn off the music and fire-up their loud gas powered vacuum cleaners.
I also discovered was how challenging it can be to get perfect focus at night.  When I've shot night landscapes in the past, I basically changed focus to Manual, set the lens at infinity and I was good-to-go.  At Disney, however, there are usually items in the foreground you need to have in focus as well.  After the first hour I so I reviewed my work saw that a lot of my shots were not perfectly focused (yes I know, I should have carefully reviewed my work after each shot…but I was excited and made a rookie boo-boo).   I soon learned  not to rush and instead take my time and use my camera's Live View feature to ensure my focus was spot-on (if you aren't familiar how Live View works on your camera, I strongly suggest that you Google it or check your camera manual to become familiar with this critical technique).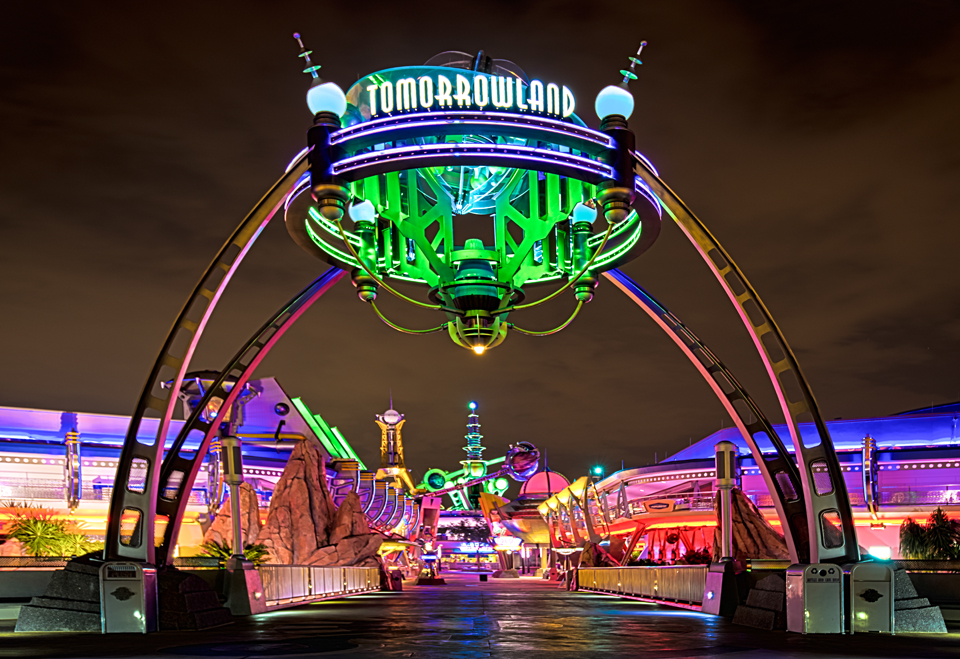 I clearly have a lot more to learn about night HDR techniques but judging my feedback some of these shots have got on Flickr and Facebook, it seems that folks appreciate the results.  I'll be going back to Disney again over the next few months and I hope to eventually compile a detailed 'how-to' manual about night HDR at the Magic Kingdom.  When I do so,  I'll post it on my blog to share my learnings with you.
Anyway, my oldest daughter is getting married next month and I've been tasked with scanning, retouching and processing about 500 old photos for a slide show they will use at the rehearsal dinner…which is my way of saying I need to sign off now and get back to work!
Jeff
 Night photography at Disney's Magic Kingdom