If you are a photographer who happens to have a cruise or trip to Cancun / Cozumel in your future, then read on for my guide and photo tips for a great photo op I recently found there: Xcaret.
Xcaret is a 'target rich environment' for any photographer…if you enjoy wildlife, architecture, native culture or even underwater photography, then Xcaret  will keep you busy!  Even better, if you happen to be traveling with kids and/or a spouse/friend who isn't a photo nut, they will find plenty to do here.  Check out the link to the Xcaret website  for a full listing of all their activities and I think you be able to convince your traveling companions that this park will interest them as well (while you go off on your own for a full day of wide-ranging photography).
Overview
Xcaret is a huge (200 acre) Disney quality park located on the coast near Cozumel and Cancun.
Just about everyone speaks English, the place is clean and organized.
 There was plenty of security on site and I was never got concerned or uncomfortable about my safety.
If you are on a cruise, they usually have this park listed as one of their shore excursions with a cost of about $110 for adults and $60 for kids.  If you are at the port of Cozumel, the tour takes a 45 minute ferry to Playa del Carmen and then a 20 minute bus ride to the park.
The cruise shore excursion was a full day…about seven hours. I could have spent twice as much time there and still had lots more to photograph.
If you aren't on a cruise, it is about an hour from Cancun by Taxi (approx. $80-$100) and entrance tickets are around $79 (you can pick them up for $71 on their website) . However Xcaret recently starting offering a bus service from Cancun for $125 (includes admission) which seems like a great deal. This link will give you details.
Lots of restaurants and drink stands.  Prices are reasonable.
Lockers are available
Some of the things available for non-photographers include an underground "Lazy River" (pretty cool),  horse shows, shopping, swimming with dolphins (there is an extra fee for this activity), beach area for sunbathing, and lots more.
For more info, I recommend you check out the Tripadvisor Site…don't just take my word for it!
Tips for Non-Photographers:
Pick up a map of the park when you enter, it will help you plan your day and find yourself around.
The underground river is neat, so bring a pair of trunks and a towel.  If you want to hit the beach, these will come in handy also.
Wear comfortable shoes…this place is BIG and the walkways are concrete.
There are a lot of trees, but Mexico is hot, so a hat and cool clothes will be nice to have.
Hints and Suggestions for my fellow Photographers:
You will want a long lens (at least 300mm) for the wildlife and a wide angle lens for the architecture and landscapes
If you want to try and get some photos of the underground river (I didn't get a chance) a waterproof camera would be good to have (if you go on the river, you can lock up your equipment in lockers…but do so at your own risk).
For non-wildlife shots, a polarizing filter will help ensure those rich blue skies in your shots.
I didn't see the need for a tripod.   If you are going to be there in the evening or if it is a cloudy day it might be a different story, but it was a bright beautiful day during my visit.
Don't overload yourself.  You will walk a lot and the extra weight will punish you.
There are a number of 'shows' during the day.  Get a schedule when you first enter the park so you can plan to be at the events that interest you.
Specific subjects and venues I found to have Photographic interest:
Jaguars!  The Jaguar and Pumaexhibit was the highlight of my day.  It is a modern-style enclosure surrounded by a moat with no cages.  They had two jaguars (one was all black!) and a puma whichwas located on an adjacent but separateexhibit.

The first thing you want to do when you get to the park is ask an employee near this exhibit when they are going to feed the cats! 

As you might know, big cats sleep most the day which can result in some boring shots, but if you are there when they toss scraps of meat to the Jaguars, you can get shots like this:

When I first got there, the Jaguars were dozing in the shade…they seemed to be determined not to be interesting photo subjects.  Then I noticed a couple of the park's employees holding some zip-locked bags of meat heading toward the other side of the Jaguar enclosure.  Well I darn near knocked over some other tourists as I hustled over to get closer.  Sure enough, the employees starting tossing scraps of meat over the moat to the now very awake and active big cats!  The distance is less than 70′ and with a 300mm lens, you will be able to get some great shots.
One last hint…try to position yourself RIGHT NEXT to the guys throwing the scraps.  The Jaguars stare intently at the food as it flies toward them and if you are close to the spot where the food is launched, your photos will appear as if the cats are looking right at you.  I only figured this out at the end of their meal, but the shot above was the result.  It was a gas!
There are a number of other animal exhibits that have good photographic potential, including:  monkeys, tapirs, deer, flamingos, a HUGE butterfly pavilion, scarlet macaws, etc .  Trust me, if you love to photograph wildlife, you will be happily busy all day.
There is some non-caged wildlife as well!  This is Mexico and you will certainly see iguanas.  I don't know why I like photographing these mini-dinosaurs so much, but I do!

The Iguanas are not skittish around people. This guy let me set up a flash on the rock two feet from him so I could get good fill flash!

The park also has a recreation of a Mayan ball court and a pyramid.  You will also find full sized reproductions of Mayan sculpture.  Granted, this isn't as cool as photographing the real thing at Tulum or Lamani, but it is fun nonetheless!
Xcaret also has a full sized recreation of a Mexican Hacienda, a primitive Catholic church, Mayan village and a wild Mexican graveyard.
There is a full orchid greenhouse as well as a botanical garden if photographing flowers is one of your interests.

One last thing, if you've never seen 

Danza de los Voladores 

(Dance of the Flyers) ,  it is worth your time.  Unfortunately, I got to the show late and my view was pretty limited so I only got a few shots.  Show times are listed on the flyer you get when you enter the park.  Seating is limited, so get there early for a good spot.

Danza de_los Voladore is an exciting ancient Meso-American ceremony
I've been to Cozumel/Cancun a number of times and there is nothing else I've seen there that has the intense, varied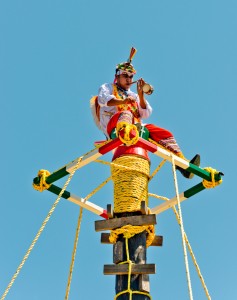 and consolidated photographic potential as Xcaret.  Of course, if you have more than a day, then you might be able to find similar subjects, but it would probably take you the full week to do so.  Plus, the rest of the family can have a fun day while you get to indulge your hobby!
Have fun!
Jeff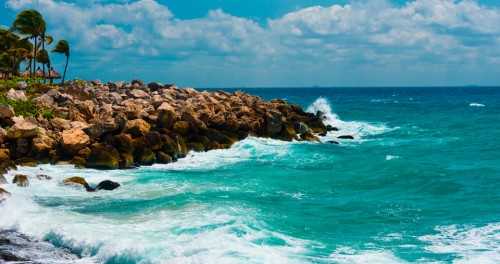 Xcaret Photo Tips & Guide: Cancun and Cozumel's Best Photo Op
Related Images: