I've lived in Florida 40 years and visitors often ask me what they should do when they visit. At the top of my list is swimming with the Manatees at Crystal River and King's Bay. I've done it a number of times and I'd like to share with you my learnings and photo tips to help you make the most of this incredible experience.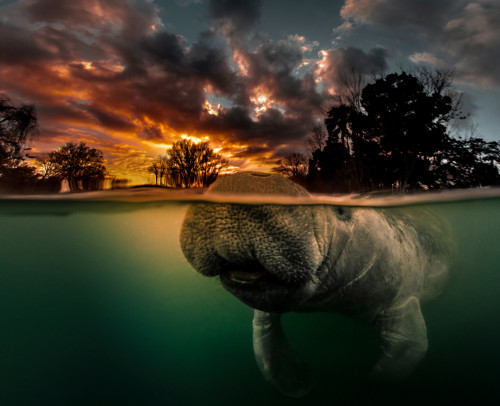 Manatees are large, gentle creatures that seem to touch an emotional chord in most people that encounter them. They live in the coastal areas of the southern US and through-out the Caribbean. Being mammals, they are sensitive to the cold. As a result, every Florida winter they return from the ocean and head for the rivers that have underwater springs which pump out relatively warm 72 degree water.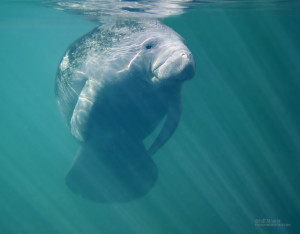 Although there are a lot of springs that attract manatees, there two locations where you can readily swim with them: Crystal River/King's Bay and Homosassa Springs.
Of the two, Crystal River usually has the highest concentration of Manatees. As a result, it is the most popular and an entire industry has been built around this fact. Crystal River is on the west coast of Florida about 70 miles north of Tampa (100 miles west of Orlando). There are a bunch of small tour companies there that will take you on a pontoon boat directly to the manatees so you can snorkel with them for a couple hours. The cost is about $75 per person and includes snorkeling gear and a wetsuit (you will need it…72 might be warm to a manatee but I guarantee you will find it chilly!) If you haven't done much snorkeling, don't let that stop you… most of the places the tours hit are shallow enough that you can simply walk on the bottom rather than swim.
On the other hand, Crystal River's very popularity has resulted in a number of rules and regulations to ensure that overly enthusiastic tourists (and photographers) don't harass the manatees. As a result, if your primary interest is in photographing manatees (rather than just snorkeling with them), then you might prefer Homosassa Springs. For example, you are not allowed to use underwater flash/strobes anymore in Crystal River, but there are no such restrictions in Homosassa. These regulations seem to change yearly as the government attempts to balance the best interests of the manatees and the public's desire to swim with these wonderful creatures. Please check online here and here to ensure that you have the latest info. If you book a tour, your boat captain will know the regulations…just ask.
My photo tips for Manatees:
Equipment
Obviously you will need a waterproof camera. Fortunately, this isn't like photographing 60′ below the surface inside a wreck…you are shooting in 5 feet of water (freshwater at that) I've used everything from a high-end DSLR in an expensive underwater housing to $300 waterproof point-n-shoots.
A DSLR can certainly provide better quality and if you are trying to produce world-class work, then it is the way to go. However, if the shots are just for your own use and you aren't going to try to print anything larger than 8×10, then a high-end waterproof point-n-shoot is a lot easier to use and will give you adequate quality.
If you know how to use Photoshop, you will want to shoot in RAW. This will help to avoid blown-out highlights plus you can adjust the white balance in post processing to account for the shift into the blue spectrum.
Whatever camera you are using, practice using it in the water until you instinctively know how to adjust the controls. I stress this because most of us don't use underwater cameras often and even if you are using your regular camera in a waterproof housing, you will be surprised how difficult this can be in the water. For example, the last time I was photographing manatees I was using my Canon S 100 in an Inklite housing. I practiced using the camera in the housing for an hour the day before the dive. But…almost as soon as I got in the water I noticed the camera had started a video recording. For the life of me I couldn't figure out how to turn it off in the housing. Sixty seconds later the memory card was full and that camera was done for that dive. Fortunately I had taken a backup camera with me.
An underwater flash can dramatically enhance your photos. The water is often murky and fill-flash is helpful.

However, as noted above, using flash when photographing Manatees is no longer allowed in the Crystal River/King's Bay area
This regulation only applies to the Manatee Refuge area. So you might want to consider a tour in the Homosassa River where flashes are still allowed.

Take a roomy backpack or duffel bag with you on the boat and load it with a warm change of clothes (including socks), a towel and Thermos with hot coffee or chocolate (some tours have hot beverages on board).
If you have your own wetsuit (full wetsuit, not a 'shorty') mask and snorkel, bring them as well. Bring water shoes and wear them when you are in the water. You probably won't need fins and many tours won't let you use them anyway (so they won't inadvertently bother the manatees or stir up silt)
The boat ride to the dive site can take up to a half hour (depending which marina you start from). There is often a lot of wildlife on the way, so I always bring my best DSLR with a long lens (300mm or more). Eagles, osprey, herons and other birds will keep you busy.
When to Go
Manatees can be found in Crystal River year-round and the dive companies will tell you you can see them any day of the year. However, you really want to come during the winter and if possible during a cold snap. You can see literally dozens of Manatees on a one hour dive during the winter while you might only see a couple during a full day in the summer.
Most tour companies have two or three tours a day. The dawn tour day used to be my favorite. However, now that flash photography is prohibited the early tour isn't a good choice for photographers due to the lack light around sunrise.
The least busy and therefore the best days of the week are Tuesday thru Thursday (unless one of these days is a holiday).
The two weeks before Christmas are excellent since most folks are focused on the holidays and don't plan a manatee trip. As a result, you will have the manatees almost to yourselves.
What company to Use
I've used a number of different companies and they all were all adequate. I'd suggest using Tripadvisor to check out reviews of potential companies. Here is a link: http://www.tripadvisor.com/Attractions-g34162-Activities-Crystal_River_Florida.html

Be sure that a wetsuit rental is included in the price…otherwise you might be hit with a surprise extra charge.

The water is about 72 degrees Fahrenheit, so you might get chilly. Some companies have heated boats which might be something you want to consider.

Personally, in Crystal River, I prefer a company by the name of Bird's Underwater. Their captains know their stuff and their price is very competitive (and no, they don't compensate me for this recommendation).
In Homosassa, I've had great experiences with Wyn Walker of Blue Heaven River Tours. Wyn actually has an enclosed and heated boat, which is quite appreciated when climbing out of the chilly water. His Trip Advisor rating is also excellent and he is passionate about the manatees..and his customers. And again…no kickbacks…darn it.
Tips:
When you first get in the water, scout around a bit to see where the manatees are. Don't necessarily stop at the first manatee you see one. What you are ideally looking for is:

A Manatee that is in relatively shallow water (less than 5 feet)
A Manatee that is close to and

downstream

from one of springs (this will ensure that your shots won't show much suspended silt).
A Manatee that isn't surrounded by a horde of snorkelers.

Often the manatees are resting on the bottom. If see this, position yourself about ten feet in front of the manatee. Try to find a spot that has a darker background behind the manatee (ideally, you want to get the dark blue water of the spring behind it). Now… you….wait. Usually it will come up to breath every 3 or 4 minutes rising slowly to the surface and back to the bottom. If so, you should be able to get a number of shots every time it does this.
If the manatees are moving, you just have to try to anticipate where they are going and position yourself accordingly Keep in mind that you are not allowed to harass them…which basically means that you shouldn't do anything that makes them change their behavior. In other words, if a manatee swims right up to you and rolls over, you can rub her belly (this really happens..and it is just incredibly cool when it does), but you can't swim up to a stationary manatee and try to climb on it's back. Please review the official regulations on the attached link: http://myfwc.com/education/wildlife/manatee/viewing-guidelines/
I've never had a captain rush me back to the boat, even when I was the last one from our boat in the water (actually, I'm always the last one in the water). However, be aware of the time and the fact that unless you hired the boat for the entire day, that the captain does have another boatload of folks waiting back at the dock.
Post-production
Your primary task will be re-adjusting the white balance. Manatees are grey, so you can usually just touch your Photoshop white-point stylus to their skin and get close to the right colors.
It can be challenging to get a shot that has the right exposure. If you were able to shoot raw, then you should be able to recover most, if not all of the blown-out highlights that often result from the sun reflections off the surface of the water.
No matter how careful you set up your shot, you will probably see some suspended silt (backscatter) in your shots. You can try using the dust filter in Photoshop but if that is a bit too severe you can just take a deep breath and take the time to use your clone tool systematically thru the frame and remove the 'backscatter'.
UPDATE:
I've added a number of new techniques and suggestions in a more recent blog. Click on this link to see more!
Final thoughts
If you want to photograph more after your tour, then take the time to hit some of the numerous parks located right on the water in Crystal River (none of them are more than ten minutes away). I've gotten some incredible bird shots here…two weeks ago I watched (thru my viewfinder) an osprey desperately trying to steal a fish from another osprey that had just snatched it from the river. Just another boring day in Florida!
PS: After completing this blog, I was referred to an excellent photo guide by John Ares. Check out the attached link: http://www.divephotoguide.com/underwater-photography-travel/article/underwater-photographers-guide-manatees-crystal-river/
Good luck and good shooting!
Jeff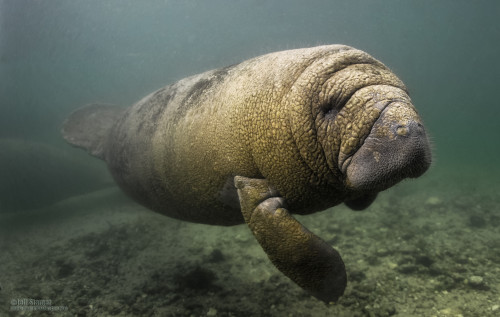 Related Images: