Night photography is a passion of mine. I don't know if I can explain exactly why. Possibly because the images simply amaze me, maybe because of the solitude and quiet, perhaps it is the wonders that photography reveal that my bare eye can only hint at. Don't know, but I do love it.
The Milky Way has long been my favorite subject for night photography…and with good reason. It is mind-boggling, majestic and awe-inspiring. But I have a new night-time fave: the Northern Lights!
I photographed the Aurora Borealis for the first time five years ago during a trip to Alaska. Unfortunately, I only had two nights when I could see the lights during that visit.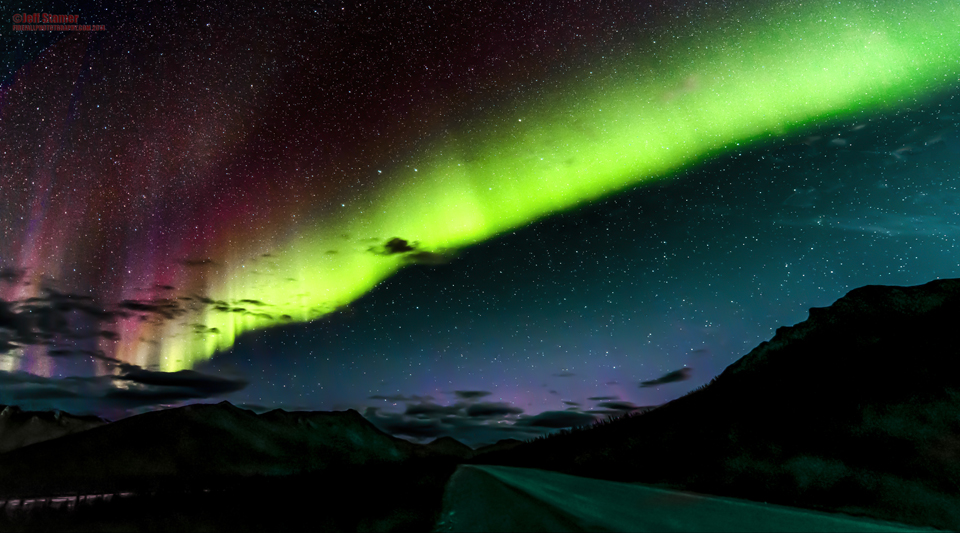 In the intervening years since I had forgotten how breathtaking it can be when the night sky dances in swaths of colorful ribbons and the landscape is bathed in its soft green light. During my trip to Iceland last month, I was able photograph the Northern Lights six times over a two week span. Seeing the northern lights is truly hit or miss. Some nights the aurora is weak or simply non-existent…other nights are overcast and it's hidden. I have met many folks who spent a couple weeks in Iceland and never saw the lights so I felt blessed to have had such good luck. In this blog I will share some of those experiences and photos.
After a day in Reyjavik, I took a two day tour up to the Snaefellsnes Peninsula. We stopped at a small hotel (the Langaholt Guesthouse) on the peninsula's southern coast for the night. I woke up at 4am and saw a grey glow over the northern horizon. I knew that until your eyes adapt to the dark, the aurora appears faint and nearly colorless so I hurriedly dressed and ran outside. In my haste, I put on my pants backward, but I didn't notice until hours later;)
To be honest, I had failed to scout the area before I had gone to bed, so I really didn't know where I would find a decent foreground. First I headed out to the main road.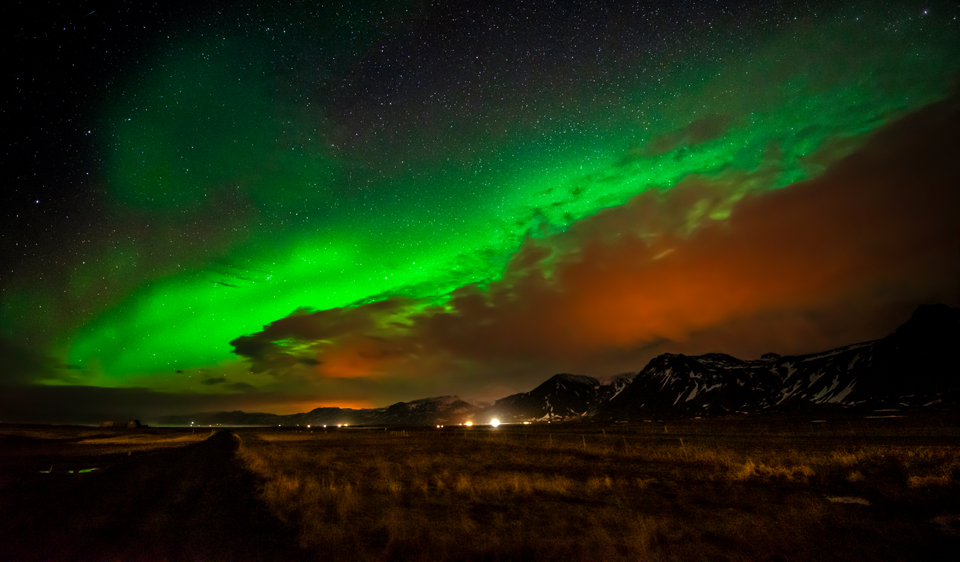 As my eyes adapted, I could see the colors. The green was magnificent and city lights glowed red on the lower clouds above the mountains. I shot for twenty minutes but couldn't find a foreground that made me happy. So I hiked back past the hotel and toward the coast. And I'm glad I did! Between the hotel and the coast there was a tidal flat filled with water. Plus, there was no wind, so it was reflecting the sky almost flawlessly.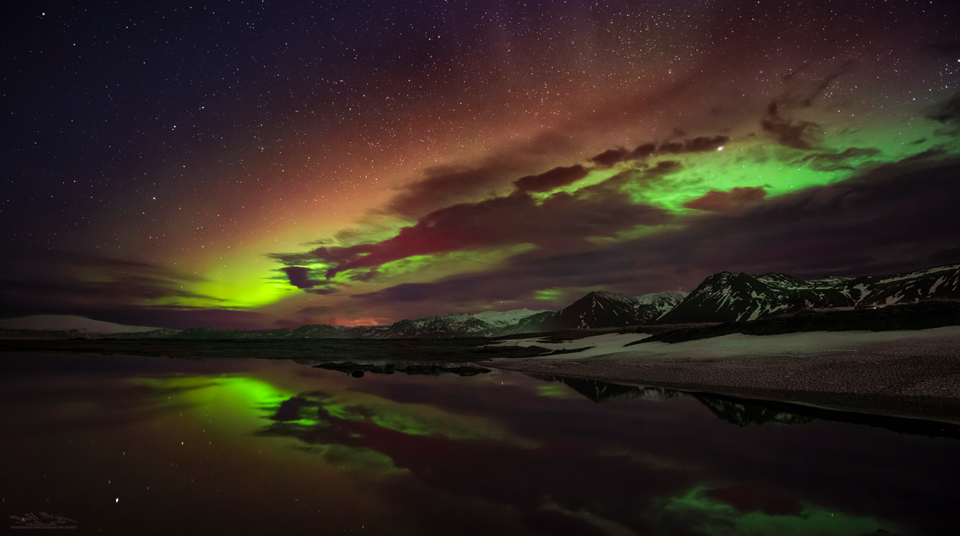 Amazing, huh! I was blessed with a red aurora as well. The crimson color occurs only at higher altitudes and it is relatively uncommon…and uncommonly beautiful. To top it off, the snow-capped mountain ridge provided interest and leading lines. It was a magnificent setting…and I knew it. I photographed blissfully for the next couple hours until the eastern sky started to lighten.
One of my best shots was an accident. I took a few long exposure images at low ISO just to get high quality/low noise images of the foreground that I could later merge with the higher ISO, shorter exposure sky shots. Well, this happened: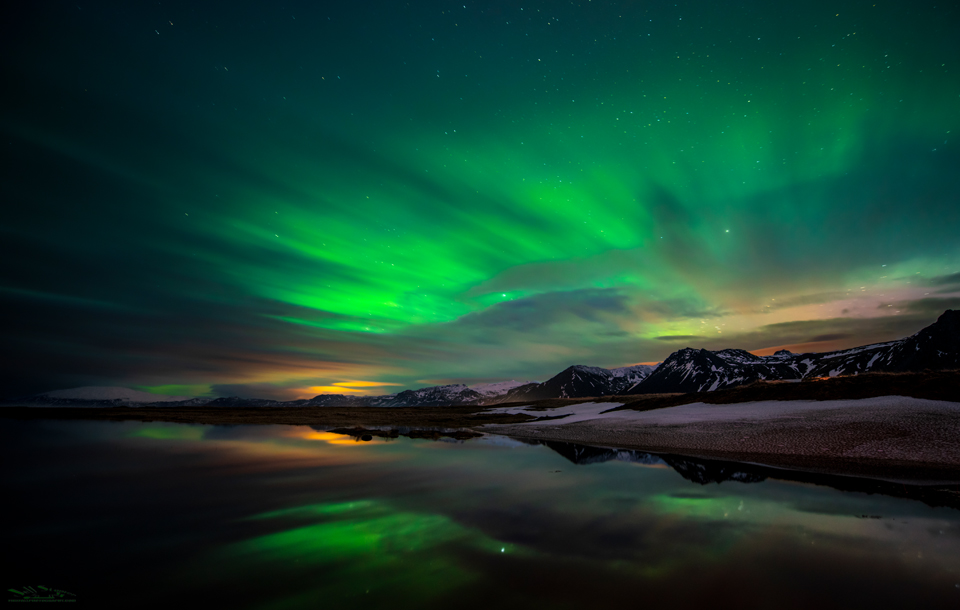 This exposure was for a minute and a half and it did capture the high quality foreground image I intended. But it also made the low, fast-moving clouds appear as streaks that nicely reflected the aurora's light. Usually you take aurora shots for about 7 to 15 seconds so you can capture the 'grain' and delicacy of the aurora…but I really like the way this image turned out…sometimes you just get lucky!
The next few days were overcast. I was having dinner on the southern coast near Vesterhorn when the skies cleared again. I bolted outside and saw that the aurora was dancing!
Our tour guide, Aron, knew of a nearby spot that featured a shallow inlet framed by a mountain ridge. We jumped into our truck and soon were standing in front of this scene: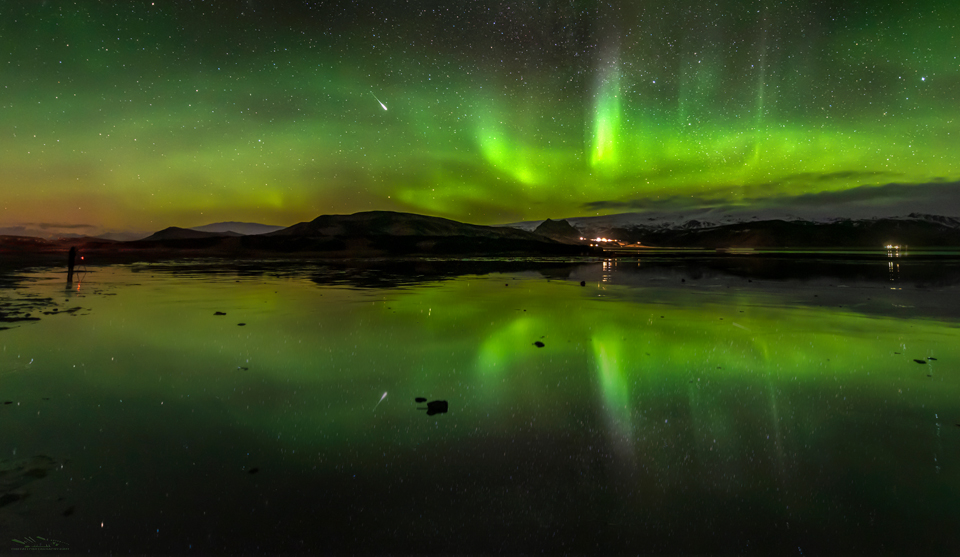 There was another cloudless night a couple of days later. I set my tripod up a few inches above a small frozen pond which was reflecting the aurora's joyful glow.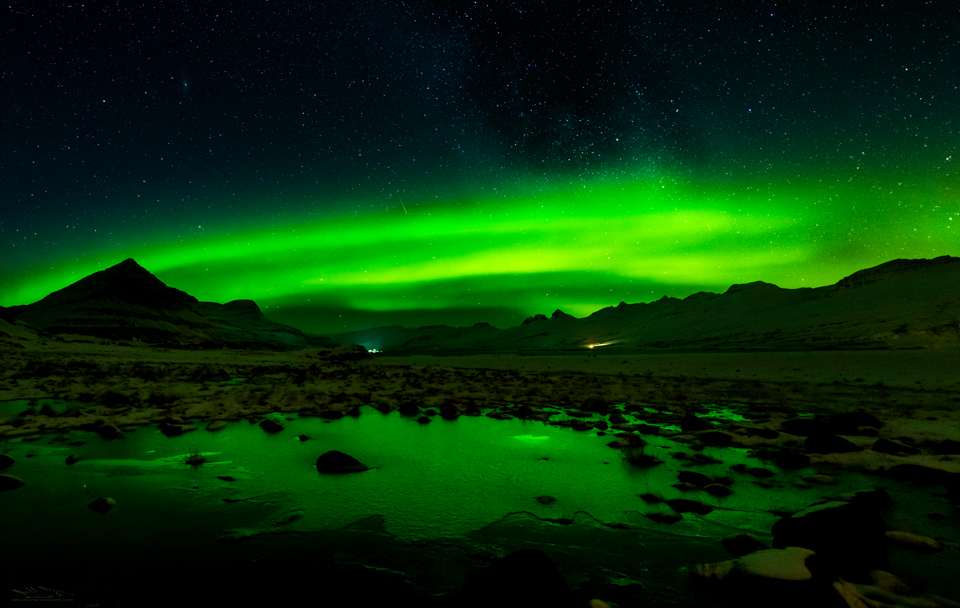 The photo tour I was on (Arctic Exposures) circled the entire coast of Iceland via the 'Ring Road.' By the time we reached the far eastern coast, people and towns were few and far between but the landscapes were anything but scarce. Godafoss roughly translates to "Waterfall of the Gods" and that is no hyperbole. Magnificent as it is during the day, it is truly something sublime when illuminated under the Aurora Borealis: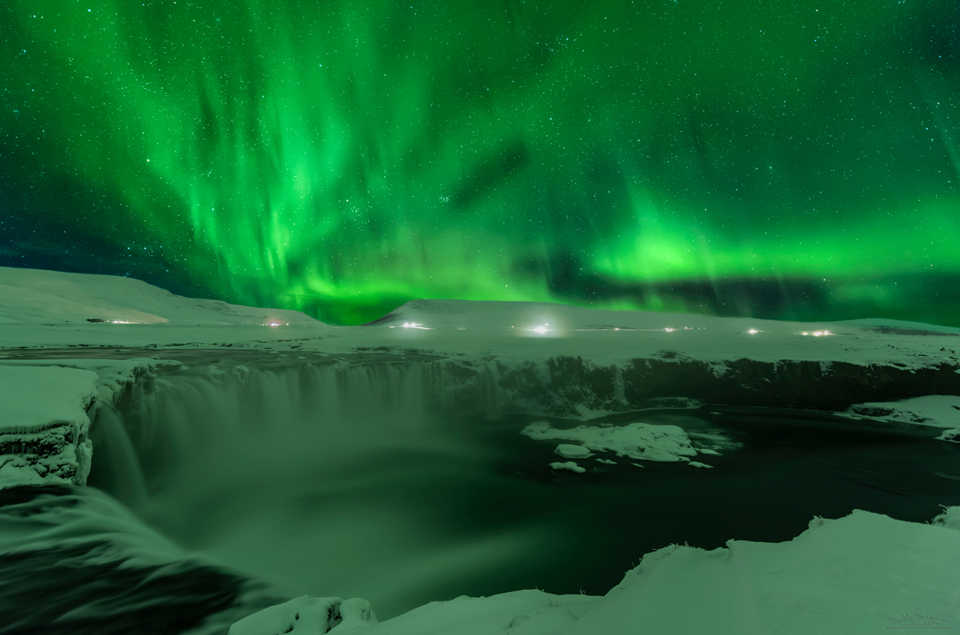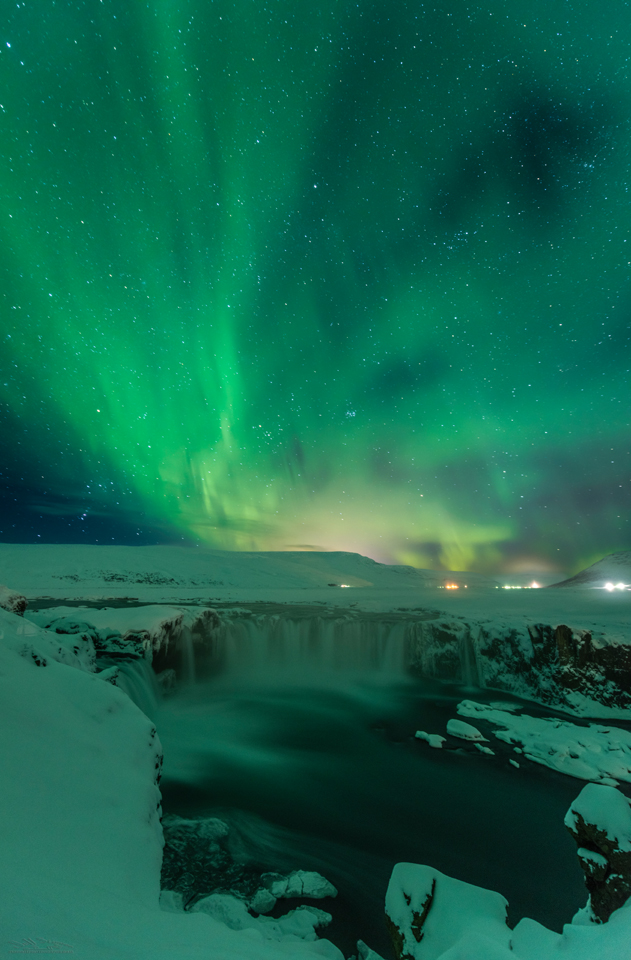 By now we had reached Myvatn in northern Iceland. One of my favorite locations there wasn't a grand landscape. It was this small pond that had a puny island in its center crowned by an even smaller tree.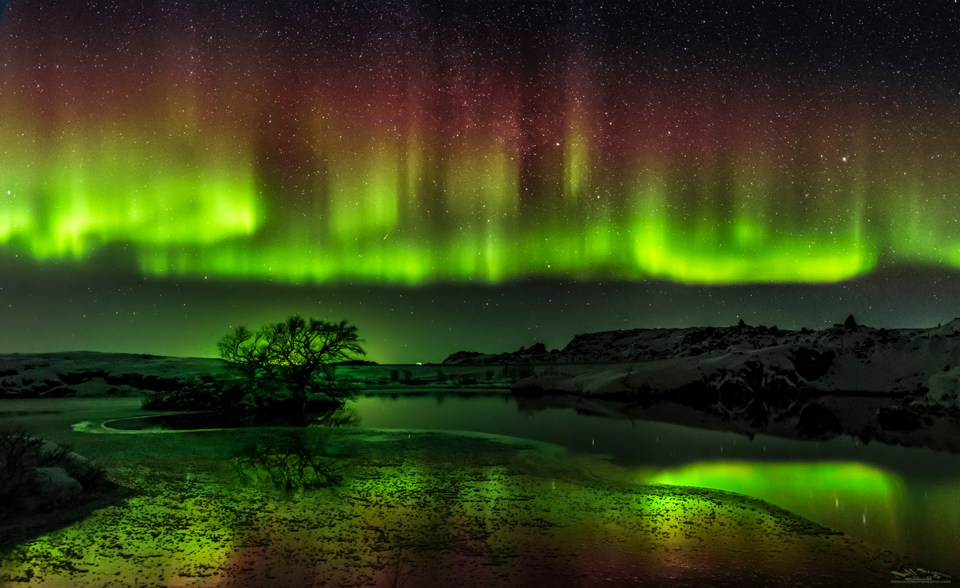 Even after the red faded the 'normal' green aurora was enchanting.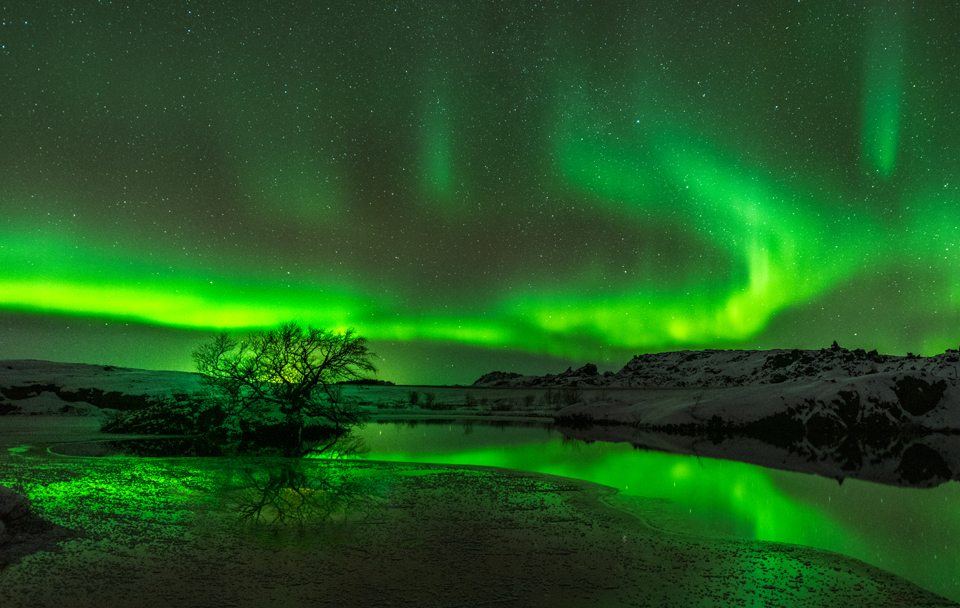 You know, as I think back now, what I really love about the Aurora is its movement and unpredictability. When you shoot the Milky Way, it doesn't change much one minute to the next. It is beautiful, but consistent.
The aurora is always changing. The shape, color, intensity, texture…they are all in flux and never the same. It's kind of like the difference between photographing landscapes and wildlife.
Anyway, hope you enjoyed the photos. I'm off to the Bisti Badlands and Moab for the next couple weeks. I'll share my images when I return!
Jeff
PS: Check out my other photos on my Iceland trip recap and my blog about Iceland's Ice Caves !
Related Images: