I spent three days shooting in Sedona, Arizona last week and I have some great images and tips that I will be sharing over the next weeks about the area's iconic locations (Cathedral Rock, Devil's Arch, Bell Rock, etc.)  However, first I'd like to let you know about a Sedona sunrise photo location that I've never seen discussed before…and it surprises me because I think it bears an uncanny resemblance to the famous Towers of the Virgin at Zion National Park.  I'm going to call it Sedona's Towers of the Virgin, but I just made the name up this afternoon, so don't ask anyone in Sedona about it…they will just look at you like you were another crazy tourist.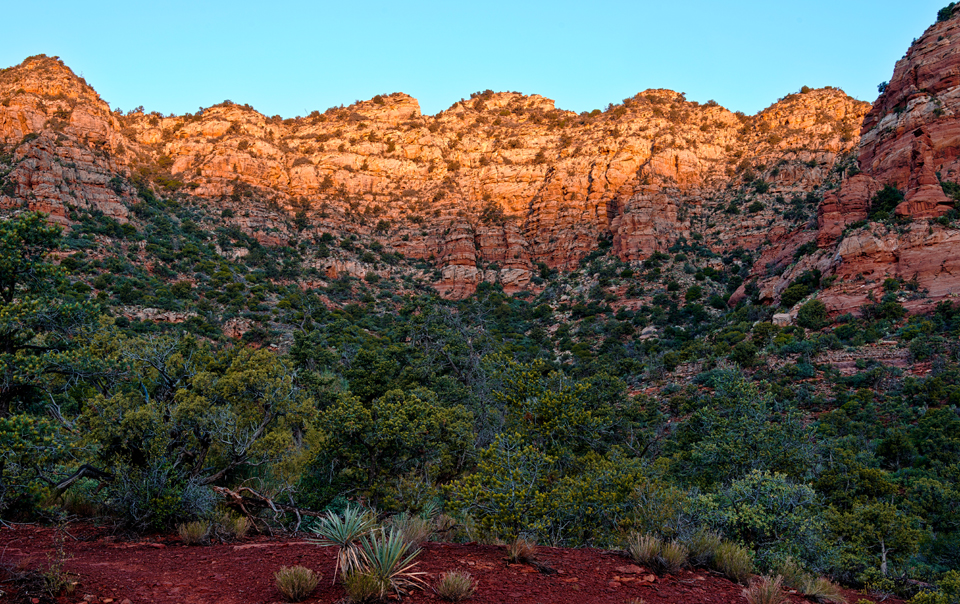 Okay, now it certainly isn't as large as the real thing, but it's a wonderful vista just the same.  And, unlike the shot at Zion, I wasn't in a field filled with other photographers taking the same shot!  For the sake of comparison, here is an image of the "Virgins" at Zion: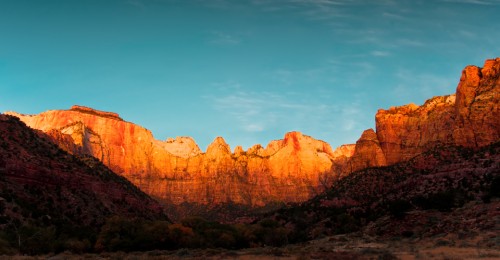 Like the location at Zion, the Sedona ridgeline is lit by the rising sun as it clears the horizon and the red rock just glows as it warms up.  Wonderful spot to spend a morning.
If you would like to visit this location, here are the directions and photo tips:
From the "Y" in 'downtown Sedona (this the roundabout intersection where 89A and 179 meet), just head south 4.9 miles on Highway 179.  Here is a map on Google Maps.   GPS Coordinates for the trailhead are 34.807336,-111.769574
There will be a 'scenic overlook' sign on the right (west).  This is the only scenic overlook on the right…all the others are on the left, so you can't miss it.  Park and pay $5 at the automated kiosk.  This location is called Yavapai Point (not to be confused with the location with the same name at the Grand Canyon:)
The trail is well marked.  Follow the one called Yavapai Vista Trail.
The trail will twist and turn and will have a slight elevation gain.  In about .2 of a mile you will come to a large slick rock shelf from which you will see the ridgeline I photographed.
The sun will start hitting the ridge about ten minutes after the "official" sunrise time.
Take a tripod.
You will need a 35-50mm lens on a full sized sensor camera…or a 57mm-75mm on a cropped' sensor DSLR.
The dynamic range of the sunrise is best captured via HDR.  If you don't use HDR, bracket your shots and merge them in Photoshop so you avoid blown-out highlights and totally black shadows.
If you are in Sedona, this is a great sunrise spot.  Personally, I like it better than the popular Airport mesa.  Hope you enjoy it!
Good luck and good shooting!
Jeff
PS:  Here is a final shot: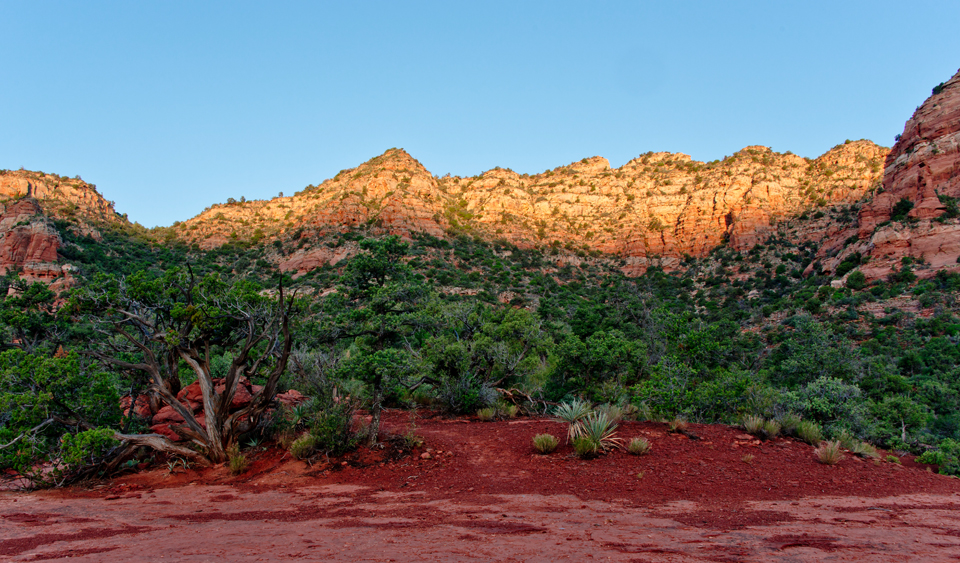 Related Images: