Recently, I made my most expensive photographic purchase ever.  I broke down and bought a Nikon 200-400 f/4 zoom with a TC 14E teleconverter.  Even though I got it used, I spent a stupid amount of money.  Heck,  it's actually worth twice as much as the ten year old vehicle that I drive now ("Please, steal my van but just leave the lens!")  But I really needed/wanted the lens.  I'm taking a photo trip to the artic this September and I was able to justify the expense because it is a once in a lifetime opportunity to photograph Polar Bears in the wild…and I simply had to have the right equipment.  At least, that argument convinced me.
And WHAT a lens!  Holy crap.  With the teleconverter, I have effectively a 560mm lens, which is nearly twice as powerful as my previous glass.  And it is sharp!  I mean like seeing individual hairs on deer at 200 feet sharp!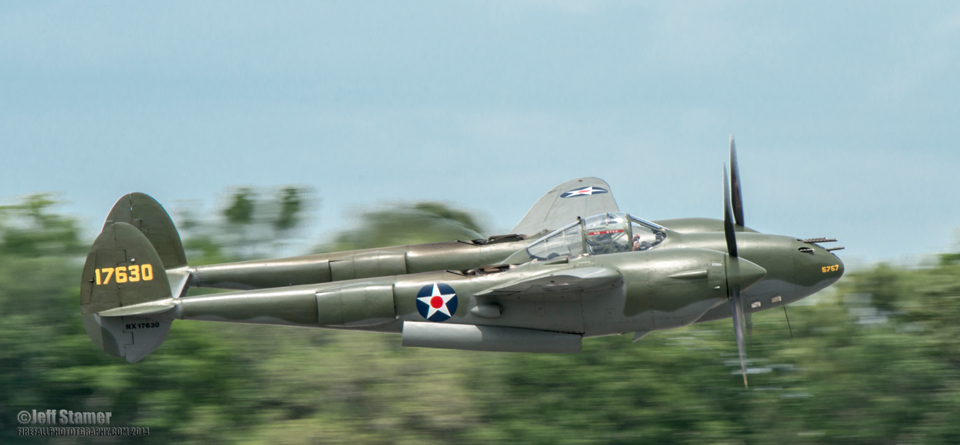 I've learned the hard way to get a lot of practice with new equipment before I take it out on a critical photo shoot, so this past weekend I took my new toy with me to the Sun 'n Fun airshow in Lakeland.  Now, I suspect an airshow might be a bit out the comfort zone for many of you read this blog because of a specific interest in landscape or wildlife photography…if so, think of this as a lens review:)
The Sun 'n Fun airshow (link) is held every April in Lakeland Florida (about halfway between Orlando and Tampa).  It is one of the larger airshows and it includes everything from ultralights to airliners.  Before the airshow begins, you are allowed to walk around and photograph the parked aircraft…which I like nearly as much as the actual flying part of the airshow.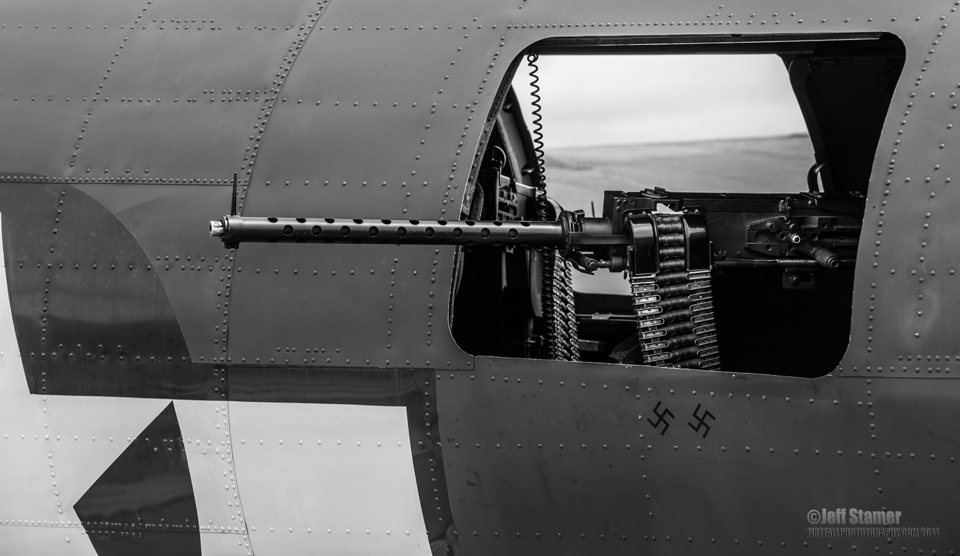 There were a couple substantial improvements to the show this year.
First of all, they now have a premium photographer area that costs an additional $30 (this is in addition to the regular $35 entrance fee).  This extra fee allows you access to a private area called "the Nikon Photography Area"  (but they let folks with Canons come in too:)  It is located as close as you can to the action and it also has bleachers, which allows you enough elevation to photograph over the obstructions between you and the runway.  It made for one heck of a concentration of photographers: there was probably over a hundred grand worth of lenses on those bleachers…I even saw one guy with one of the new $18k Nikon 800mm (that made him a rock star to a gear-head like me).
The second improvement was that the Blue Angles were there this year.  Last year, they didn't participate in Sun 'n Fun because of the sequestering.  It had been decades since I'd seen them and I'll tell you, I was amazed at their show.  These guys fly at 400mph with their wingtips 18″ from each other.  Now, that is one thing to read on a screen, but it is a visceral, emotion inspiring event to witness personally. Even if you are not an aviation buff, you really should treat yourself and see them fly at least once.  It isn't something you will forget!

A "Heritage Flight" is the term used when old and new warbirds fly in formation. Seeing a F-22, P51 and P-38 like this is pretty darn cool!
I'm not going to recap a bunch of tips of how to take great airshow photos.  Frankly, this isn't my specialty and I don't feel qualified to give you the best advice, but there are some great recaps on the web, like this one from the well-know aviation photographer, Moose Peterson.
I love the variety you can see at an airshow, everything from graceful gliders,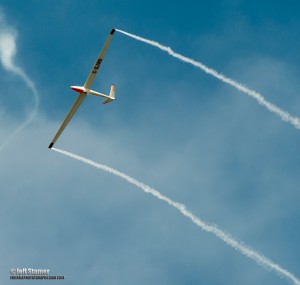 to  state of the art warplanes.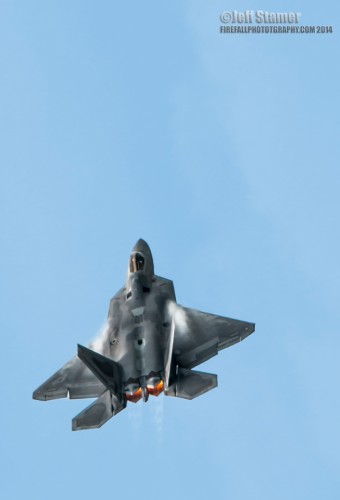 If I've prompted your interest, put a note in your calendar for April next year!
I normally write much more detailed (long-winded) blogs, but I've got to cut this short today.  I'm packing for a trip to Yosemite.  I hope to photograph something I've never seen before:  a Moonbow!  What's a moonbow?  Well, it is just like a rainbow, but you see it at night.  They aren't common, but they are predictable and Yosemite has one early next week (if the sky is clear).  Wish me luck and I'll share my photos with you when I return!
Jeff
Sun 'n Fun Airshow photography