I've just returned from a two week photo extravaganza in Hawaii and I have a lot of photos, stories and tips that I'm dying to share with you. After the first ten days or so, I was starting to think that my biggest problem would be deciding what I would write about first, but that turned out not to be an issue after my wife and I did a night snorkeling Manta Ray tour! Holy crap…this was one of those kick-you-in-the-head incredible events that leave you positively giddy! I mean it was otherworldly, graceful, enthralling, ethereal, beautiful, exhilarating,…and another hundred adjectives that elude me right now. Read on to learn more about an experience you will be adding to your bucket-list. This article will give you some pointers and tips that will ensure you make the most out of your trip and also help you take incredible photographs to keep along with your memories.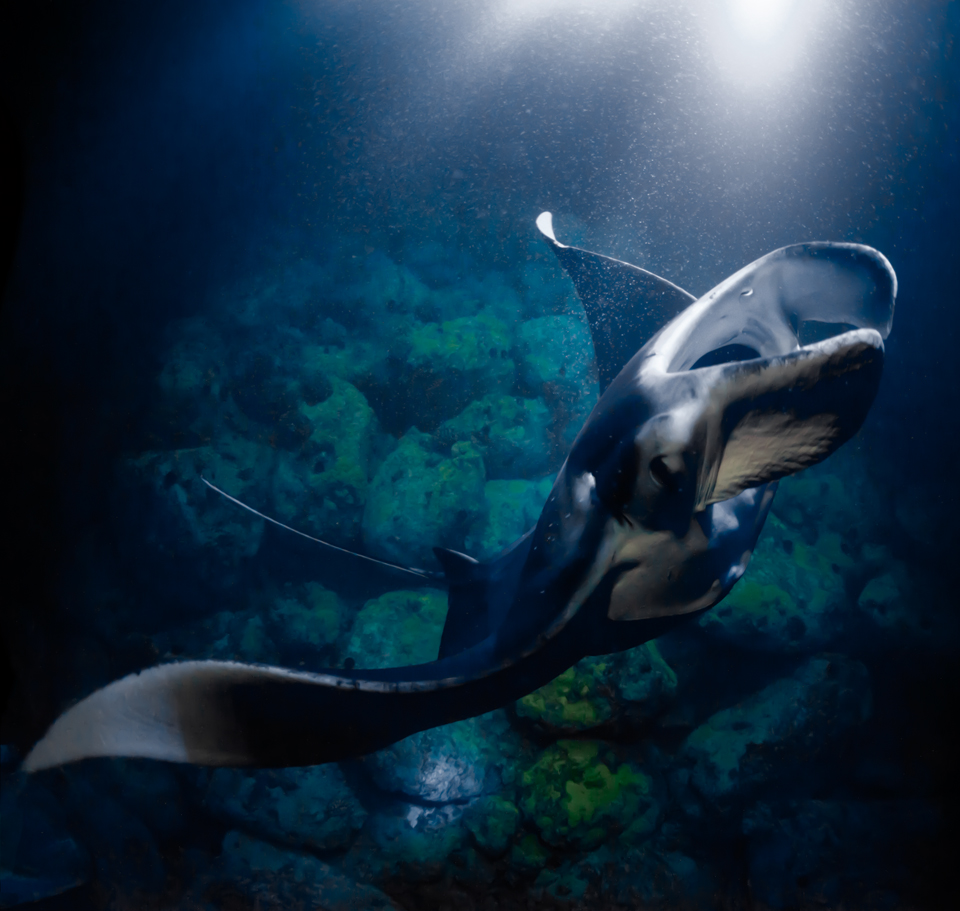 So, what makes this so impressive? Well, start by looking at the photo above. Imaging laying on the surface of the ocean, at night, and you start to notice shadows moving on the periphery of your sight, then this massive, but impossibly graceful apparition swoops up from the ocean floor, slowly opens its huge mouth and heads right toward you. Then, inches away from your nose, it turns away and silently glides back into the darkness while your body rocks from the water displaced by its passage. Now imagine four or more of these creatures doing this same ballet repeatedly over an hour. Oh, and by the way, when I say massive, let me clarify…many of these suckers are easily 12′ or more from wingtip to wingtip and can weigh 2,000 lbs. The captain on our boat referred to one local Manta they call Big Bertha that is more than 20′ across! If you would like to read more about Mantas, check out this link.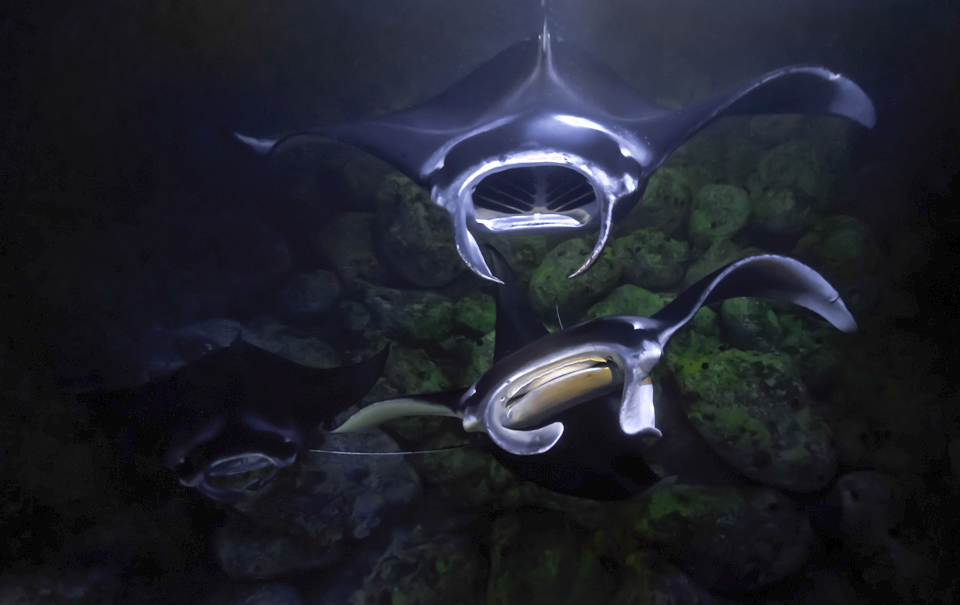 Absolutely insane. This was without a doubt, the most incredible thing I did in Hawaii (which is truly saying a lot). Not only that but my wife ALSO agreed that it was the highlight of our trip…which is perhaps an even more impressive fact:)
Okay, I'm assuming you want to give this a try this now, so here are some answers to some questions that often come up:
Is it safe?
Mantas eat plankton. If they mistakenly get a fish in their mouth, they spit it out. They certainly don't dine on Homo Sapiens. Also, unlike, stingrays, mantas don't have stingers (so don't concern yourself about a repeat performance of the sad story of the Croc Hunter, Steve Irwin). Put it this way, the nickname for Mantas is the "butterfly of the sea"…gentle, non-aggressive, no worries.
One other thing, there are two locations that most of the tours go to…one is by the Sheraton at Kona and the other is near the airport. Both locations are within 100′ of the shore, so it isn't like you are heading out a couple miles to sea. If the boat sprang a leak you could swim ashore in two minutes. Also, the Kona coast is pretty calm so unless you are very susceptible to seasickness, you can leave the Dramamine at home.
Sharks?
Some folks have a real phobia about sharks…but attacks are rare. Your chances of getting hit by lightning is much higher and a fatal traffic accident while driving to the marina is even more likely. I did an internet search and couldn't find a single record of a shark attack during a night manta ray dive. I'd worry about other things instead.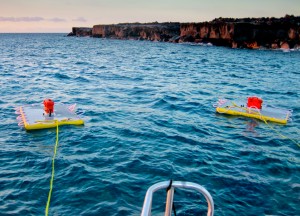 Is it difficult?
No…we had boy and a girl under 7 years old on the tour. You basically float on the surface while breathing thru a snorkel about ten feet from the boat. Most boats have large floating platforms (see photo to the right) with hand grips you hold onto (so you don't even have to really swim). This float has lights that shine down into the water…which attracts the plankton and the plankton attracts the mantas (and the mantas attract the tourists)!
By the way, the two kids didn't have a good time for the first five minutes. The reality of floating in the ocean at night wasn't as cool as they had anticipated. Once the Mantas showed up they settled down and had a great time. Obviously folks that hate the dark or the ocean might not enjoy this as much as most.
Is it expensive?
My wife and I paid $90 each. For a bucket-list item, that seems cheap to me! Of course, you still have to get to Hawaii…which is anything but cheap.
Where can I do this:
The Big Island in Hawaii near Kona is the only spot in the Hawaiian Islands that I've heard of. However, if you ever get to Australia, Bora-Bora or the Maldives, I understand that you can do night dives with Mantas there as well.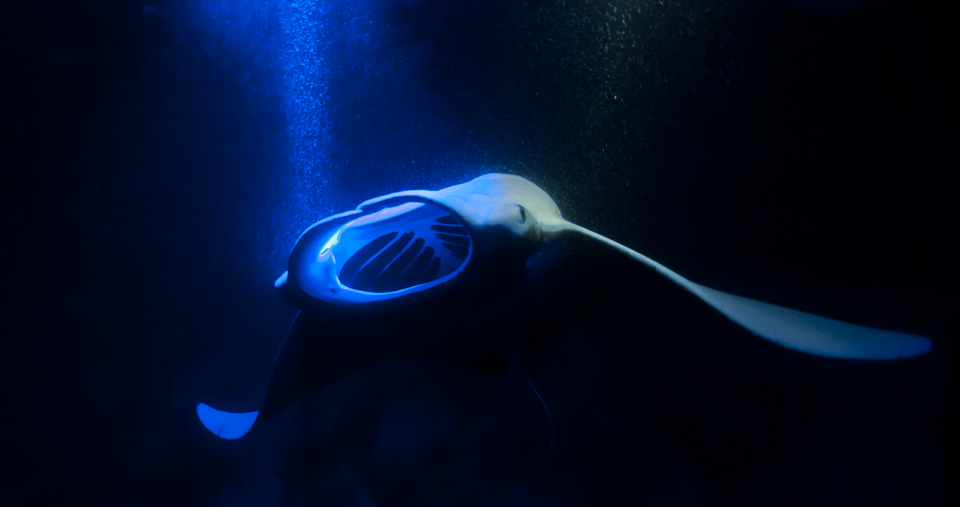 Here is a critical Thing to Know:
Not all tours are the same. Some of the folks we saw on another tour were given glow sticks and a cheap underwater flashlight to attract Mantas (their boat didn't have the lighted floating platforms). Needless to say, those folks didn't see many mantas and probably didn't have a memorable experience. When you are deciding which tour to take, be sure they use the lighted platforms. We used a tour operator named "Sunlight on Water"…they did a fine job (no, I don't get kickbacks from tour operators…wish I did though).
One other thing, I was checking out Trip Advisor and saw that some folks on other tours didn't see a single manta when they went out. Being wild creatures, no operator can guarantee sightings, but if your tour operator knows what they are doing and have the right equipment, you should have a very high chance of success.
Other hints:
Most of the tours start about an hour before sunset (so the actual start time depends on the time of year). You will be told that your tour will be about 3 hours long, but your time actually in the water will probably be 45 minutes to an hour)
Bring a towel and some dry warm clothes to change into when you finish your dive (yes, it is Hawaii and the water is about 80 degrees Fahrenheit, but that is less than 98.6 and you will feel a chill by the end of your time in the water.)
Our tour operator supplied a wetsuit, snorkel gear and gave us hot chocolate on the way back to the harbor. Check to see if yours does the same. It really is nice to have something to get the taste of saltwater out of your mouth. Our tour also had a warm fresh water shower right on the deck which was great as well.
Tips for my fellow photographers:
Don't use a Flash!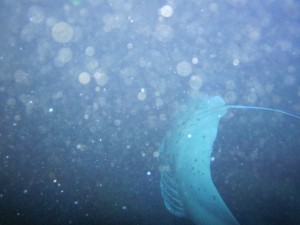 I know this seems counter-intuiative, it would seem to be common sense to use a flash at night, especially underwater. The problem is that using your flash/strobe will result in backscatter because of all the plankton (backscatter is a term used to describe when an underwater flash illuminates small suspended particles in the water resulting in thousands of little specs of light in your photo…see example to the right).
The tour operators told me all this, but I had lugged my strobe nearly 5,000 miles and I had to give it a try. Sure enough, even though I had my strobes set up on the arms set as wide as possible away from the camera housing, I still got terrible backscatter.
If I ever have a chance to try this again I might try to have an assistant hold another flash unit off-angle about six feet away and trigger it remotely.
The floating platform actually generated a lot of light…enough for me to get great shots without the flash. And since those lights are shining straight down and you will be off to the side, the backscatter won't fill your frame.
Take the first 15 minutes to Experiment
This will be difficult advice to follow. You will be so excited and overwhelmed by the mantas that you will want to capture every moment. Trust me that the action will get better the longer you are in the water (you often get in the water right at sunset and it takes the mantas some time to be attracted to the lights). Use these first minutes to try different camera settings (ISO/Shutter speed/exposure) to get your camera 'dialed-in'. It is more important to finish the night with a couple dozen killer shots than to review you work the next day and see that you got 200 frames, but they are all mediocre.
ISO
I shot with an ISO of 800 on my Nikon D700, which has very good high ISO resolution. This is one of those settings you will want to experiment with during those first 15 minutes to see how low you can keep your camera's ISO and still have good exposure on the mantas.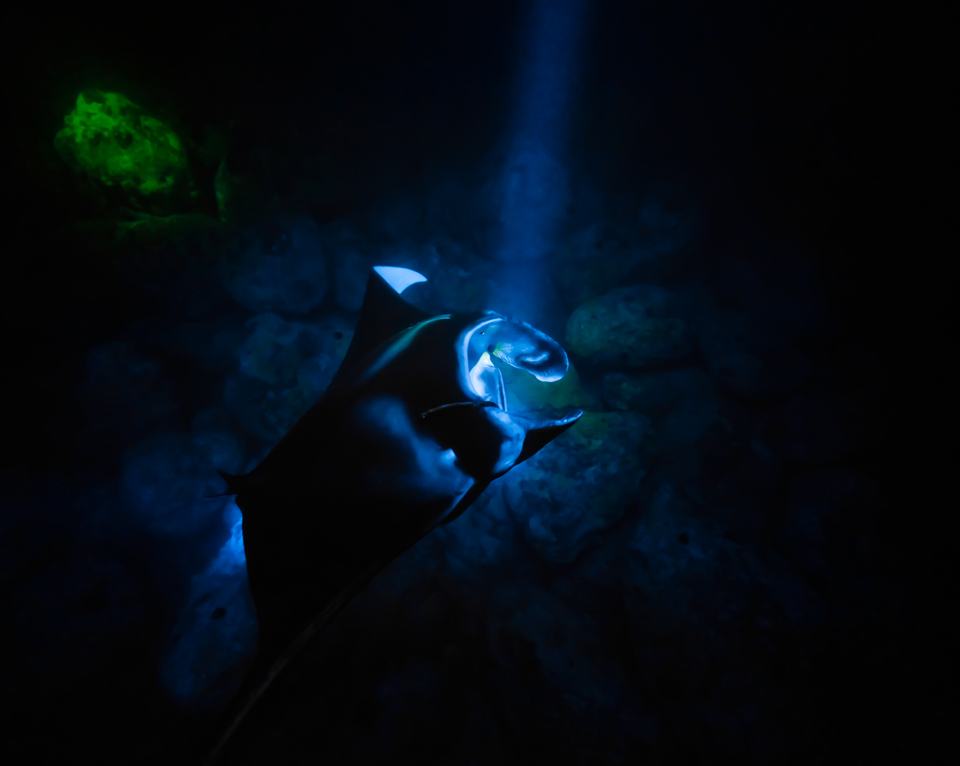 Shoot in RAW
If your camera has the ability to shoot in RAW (as opposed to JPEGs), do it. There can be a substantial dynamic range between the areas illuminated by the spotlights and the shadows and manipulating a raw file in photoshop will give you the best chance of coaxing those details out of the shadows and avoiding the 'blow-outs" in the highlights.
Use Shutter Priority
The Mantas move slowly and I found that a shutter speed of 1/250 successfully froze their motion. In retrospect, I think you could probably get away with as low as 1/100th.
Use a fast Wide Angle Lens
The Mantas will get close. By close I mean that they bumped my underwater camera housing a couple times! Coupled with the fact that they are huge, a wide angle lens will be ideal. And since there isn't much light, the faster a lens you have, the better. I used a f2.8 15mm Sigma Fisheye and it did a tremendous job.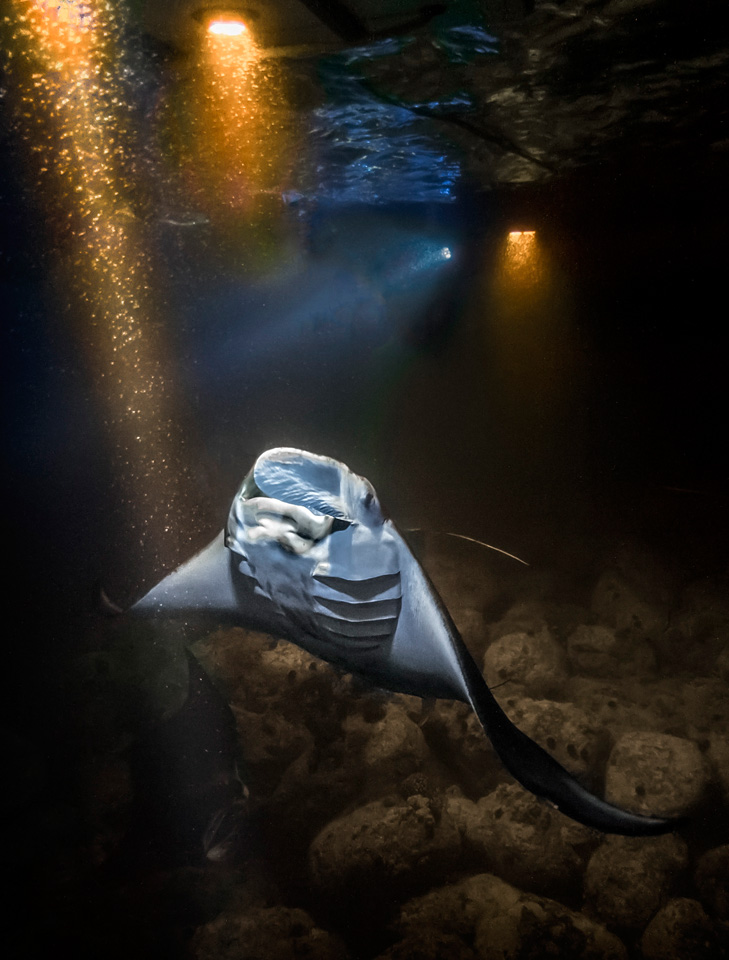 Try a Video
The Mantas perform what you would swear is an underwater ballet…it is incredible (and I'm not even a fan of the REAL ballet). Still photos are great, but they fail to capture the grace and fluid movement of the Mantas. If your camera has the ability to record video, you might want to give it a try.
Post Processing
Since your shots are taken at night with limited lighting, you will have to invest a significant amount of time in photoshop to develop high quality prints. A full review of processing underwater night photos is beyond the grasp of this post, but here are some guidelines:
Adjust your white balance. Fortunately, mantas are white on the bottom, so you have something on which to click your white balance tool and get an initial setting. I found that a color temp of 11,ooo or so was close to correct if the manta was close to the dive platform, but I had to increase the setting up to 30,000 if it was near the sea floor and away from the lights.
Then use your Fill Light tool to reveal some of the details lost in the shadows and also adjust your Exposure as needed.
You will likely spend some time with noise control. I had to move the Luminance slider all the way up to 50 or so to get the noise level down to an acceptable level…far more than you would dream of doing with a typical daylight shot. I also found it helpful to cut the manta out and put it on a separate layer, which allowed me to use even more drastic noise control on the background while maintaining detail on the ray.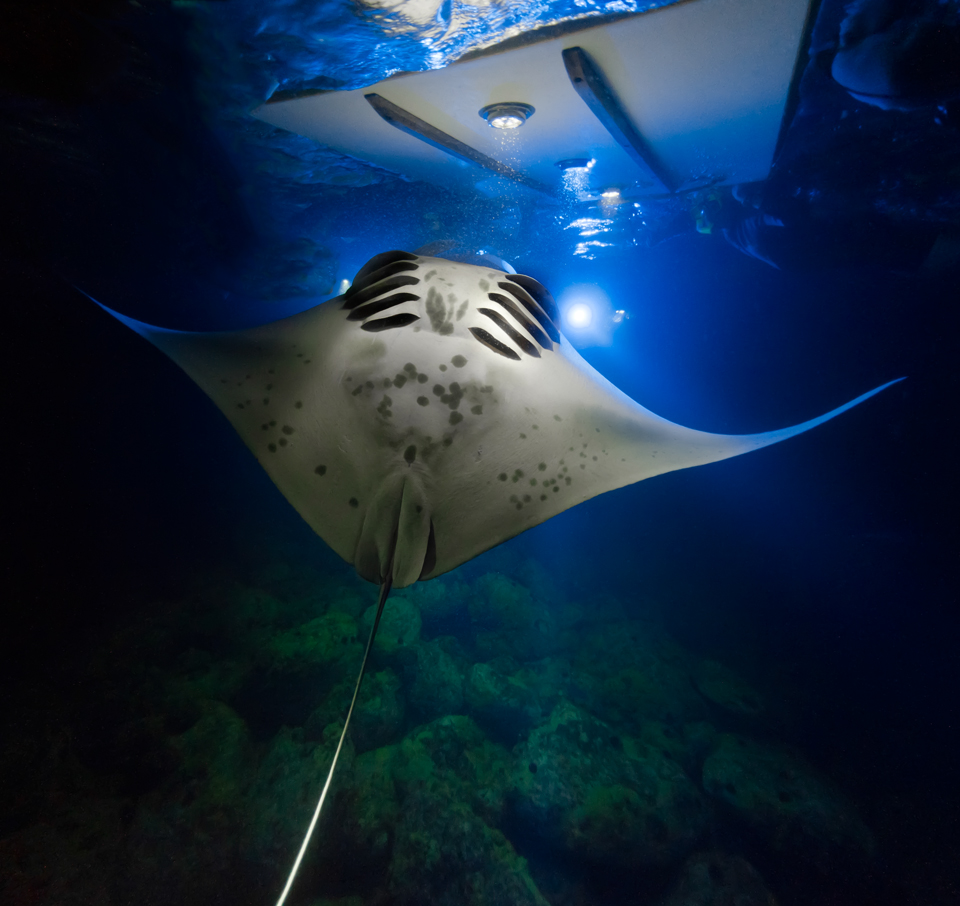 Capture ALL of the Manta
Don't come home with shots only of the bottom of the Mantas. I say this because if you are not careful, you will end up with most of your shots showing something similar to the photo above. The reason is because the Mantas have a particular 'dance' they will perform for you repeatedly. They swoop in along the sea floor until they are right below the lighted platforms. They then swoop straight up scooping up plankton (you will be shocked how big their mouths are…and you will see ALL the way down into them). Just before they get to the surface (and you), they flip upside down (exposing their bottom side to you) and spin away.
After my first ten minutes I reviewed the shots I had taken and saw that 90% of then showed the bottom of the rays. After that I concentrated on getting shots of them during their 'approach' BEFORE they did their flip.
One last thing
Don't get so wrapped up in taking photos that you fail to take a moment to appreciate just how magnificent this experience is. About 50 minutes into our swim, I heard some folks shouting and hollering loudly so I popped my head up to see a new group of snorkelers that just joined in the fun. These folks were so excited that they literally couldn't restrain themselves. Now, I'd be the first to admit that I was raised with the old-fashioned 'real men don't show emotion' mindset…but I'd be a liar if I didn't admit that I put my camera aside for a couple moments and let go of a couple little 'woops' myself!
I really hope you get swim with the Mantas someday. If so, I know you will find the experience to be as mind-blowing as I did!
Jeff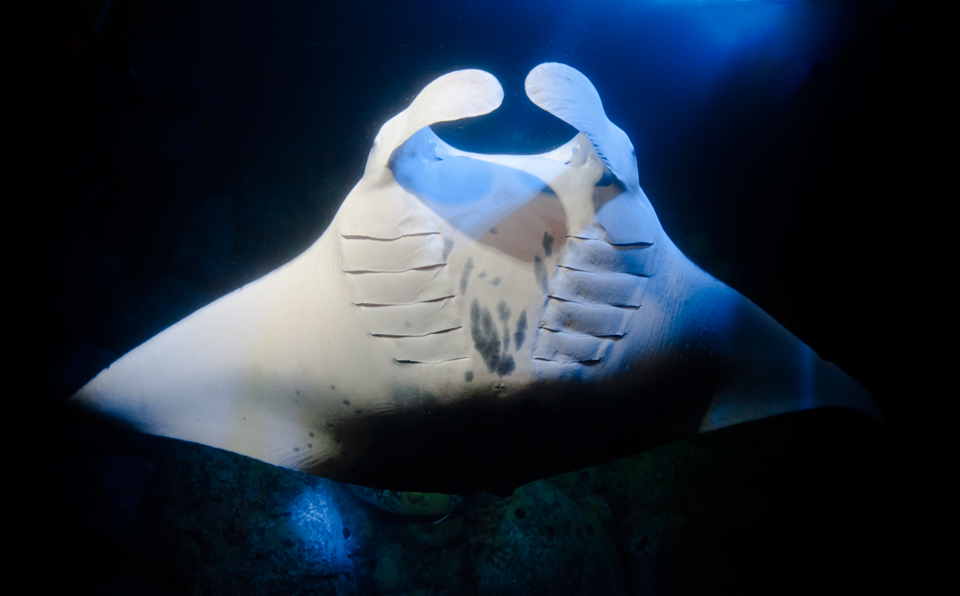 Swimming with Manta Rays: Tips & Photo Guide
Related Images: