Tunnel View at Yosemite needs no introduction, I doubt there are many photographers left on earth who haven't seen an image taken from this iconic location.  The view is grand, majestic and truly awe-inspiring.  Plus this guy named Ansel Adam's took one of the 20th century's most famous photographs there: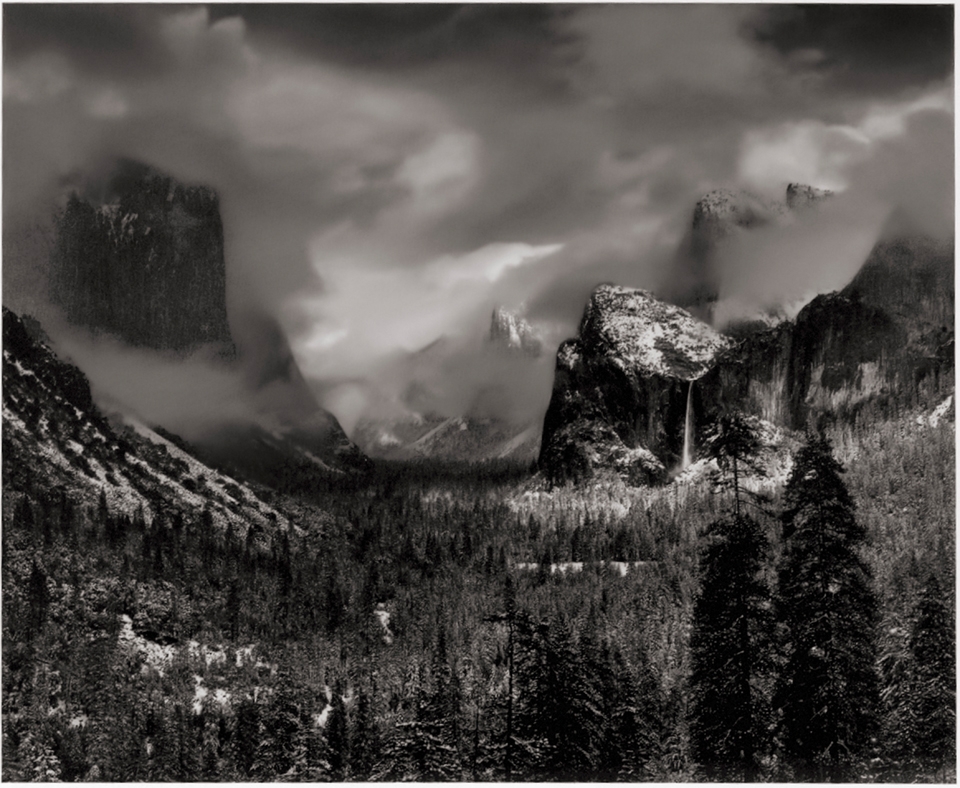 Among photographers, there has been a bit of  buzz lately about a 'better' location called Artist's Point.  It's not far from Tunnel View and earlier this year I checked it out to see if it truly was superior.   I found that the answer to that question will really depend on your priorities.
Tunnel View
Pros
The view is magnificent….You have El Capitan to the left, Bridalveil Falls to the right and Half Dome anchors the center of the image.  One glance and you will fully understand why this is the most popular spot in Yosemite.
It is super easy to get to.  It is located at the mouth of the tunnel on Wawona Road (see this link for a map).  Tunnel View is a large paved overlook (with parking) that allows you to experience the grandeur of the Yosemite Valley only a few feet from your car.  It is a perfect, easily accessible spot for photographers…you can shoot here any time of the day or night and get memorable images.
Cons
The biggest downside is that its popularity has resulted in untold millions of photos being taken here.  So it is truly challenging to capture unique images here.
Plus, it can be busy.  Even though there is a lot of room, you might need to arrive an hour or more before sunrise/sunset to get a prime spot during holidays or during the summer.   Photographers will be lined up with overlapping tripods.
Artist's Point
Pros
The view is (also) magnificent.  Artist's Point is located at a higher elevation about a half mile away (as the crow flies) southeast and offers a subtly different view than Tunnel View.   Take a look at the two shots below and see if you can spot the differences.

The view from Artist's Point…

and the more famous view from Tunnel View

A close comparison will reveal that from Artist's Point you can see Bridalveil Meadow, North Dome, Ribbon Falls and Royal Aches but you can't see Sentinel Dome and Half Dome is a bit less prominent.
Is one view really a better view than the other?  Opinions differ, but personally I think the differences are so darn subtle that calling one 'better' than another is splitting hairs.  I doubt that more than 1 person in a 100 would say one is superior to the other.
However, even though the views are very similar, Artist's Point does have the advantage of not looking exactly like those bazillion shots taken at Tunnel View.  If you are one of those folks (like me) that strives to create images that are unique, then maybe even these minor differences might be enough to tip the scale in favor of Artist's Point.

Another advantage is that you will likely be the only person there.  It won't make a bit of difference in your photos, but life isn't completely about photography (at least it shouldn't be).

Tunnel View isn't exactly the place to go to enjoy solitude!

Unlike the carnival atmosphere at Tunnel View, the experience at Artist's Point is much more intimate.  The last time I visited Tunnel View it was packed with over a hundred folks…plus a wedding shoot was in progress and noisy tour buses and motorcycles were continually disgorging even more tourists.  But during my visit to Artist's Point, I didn't see another person for over three hours and heard nothing but wind rustling thru the leaves.  Take a look at my short time-lapse video to get a better idea of what an afternoon at Artist's Point is like.
Cons
The only down-side of Artist's Point is that it isn't as easy to reach as Tunnel View…you can't just drive up in your rental car and start shooting.  You have to hike.  It isn't a bad hike. The first half mile is steep and can be a bit difficult to follow, plus the trail isn't really maintained, so you will be climbing over some fallen trees…but your average person can reach Artist's Point in about 40 minutes.
If you decide to hike to Artists Point, here are some helpful hints.
The Hike:
First, check out this hiking guide to Artist Point.  It provides a wealth of detail.
The trailhead for the hike starts in one of the two Tunnel Valley Parking Lots.  It isn't the lot on the side of the actual overlook, it is the one on the north side of Wawona Road.  The trailhead sign doesn't actually say "Artist's point"…the sign reads "Inspiration Point" or the "Pohono Trail."  The trail to Artist's Point is the same one as Inspiration Point for the first .6 miles.  By the way, although Inspiration Point has a great name, it really isn't much of a view for Photographers.
I know of many folks who have tried to reach Artist's Point and failed.  It's not a long hike, but the first half mile is poorly marked.  To avoid getting lost my first time, I used the AllTrails app on my smartphone.  This app lets you download the hike ahead of time and it tracks your progress while hiking via GPS to within 10 feet or so.  Next to having a guide, this is the best way I know of to find the spot.   This link will take you to iphone version and this link will get you to the Android one.
The first half a mile is narrow and steep…you won't win any speed records but take your time and an average hiker can make it with no problem.
At that point you are going to come to a trail crossing.  The trail you will cross is wide…more than 7 feet wide.  It is actually the old stagecoach road and you will see these two signs:
Now, take the trail left (east) which is the direction of the Bridalveil Falls Parking Area.  You will follow this wide trail another 1.6 miles.  You will probably have to climb over/under some trees that have fallen across the trail.

Like I said, the trail isn't maintained…but it sure is nice and wide.

You will start to get glimpses of the valley to your left but it will be largely obstructed by trees…just keep going.  Artist's Point doesn't have a sign or marker but when get to the spot shown below that has a clear view, you will know you've reached your destination.
Equipment:
Keep in mind that if you want to be there for sunset, you will have to hike back in the dark so take a headlamp or two.
You will definitely want your wide lens.  A minimum of 35mm on a full frame camera (about a 50mm on a crop-sensor APS-C sensor camera).  Plus, a longer zoom (say 70mm to 120mm) will allow you to grab nice portraits of Bridalveil Falls and El Capitan.
If you are shooting at the beginning or end of the day, a tripod will allow you to take the necessary longer exposures.
Bottom line, if this is your first trip to Yosemite and time is tight, then just go to Tunnel View.  But if you've been here before, have the time and you're the type that appreciates solitude, take the hike up to Artist's Point and soak in one of the world's most majestic vistas in peace and quiet.
Jeff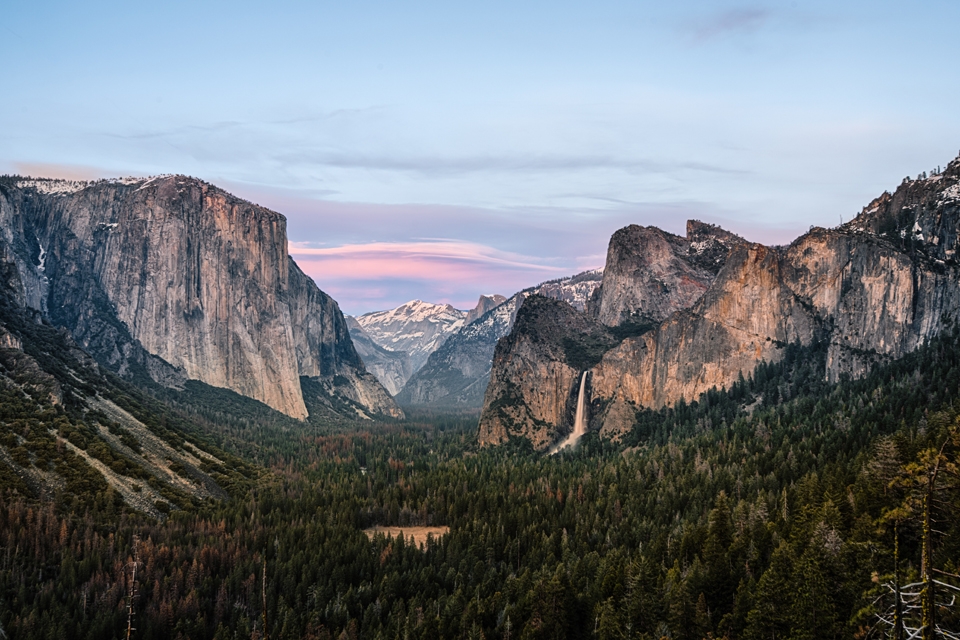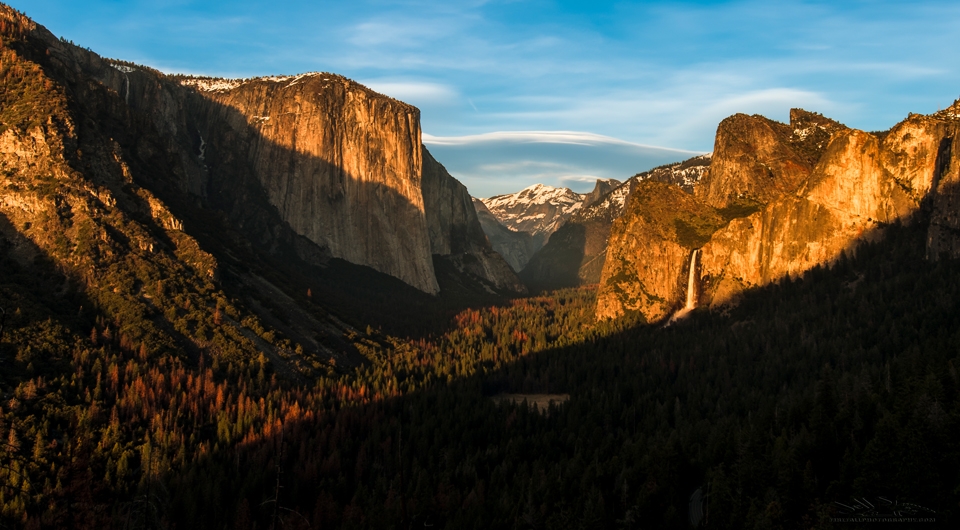 PS;  Oddly enough, even though Artist's Point is the 'new' hot spot, it actually is older than Tunnel View which didn't exist until 1933 when the Wawona tunnel opened.  However, back in 1855, artist Thomas Ayres stood at Artist's Point and drew a picture of Yosemite Valley that as was published in California Magazine.  Not long after, a stagecoach road was extended into Yosemite Valley that ran right by Artist's Point.  The road was paved in the early 1900s but abandoned after the shorter route into the valley was completed in 1933.
Yosemite's Tunnel View vs. Artist's Point: Which is the Better Choice for Photographers?
Yosemite's Tunnel View vs. Artist's Point:  Which is the Better Choice for Photographers?
Related Images: