It's that time of the year again!  Last week I made a trip over to the coast to snorkel with Manatees.  The weatherman said that Thursday would be the coldest day of the winter so far…which ensured that Manatees would be clustered around the (relatively) warm-water springs that abound in Kings Bay.
Although I look forward every year to photographing Manatees,  it is still a bit of a shock when the alarm starts wailing at 3am and I have to haul myself out of my bed, into my Subaru and make the two hour drive to Crystal River.  Sometimes, while making that trip, I start to ask myself if it is really worth the trouble…I mean, I have thousands of manatee photos…do I really need more?  But once I get in the water and the first manatee slowly paddles up and butts his head into my facemask, well, then I remember why I do this: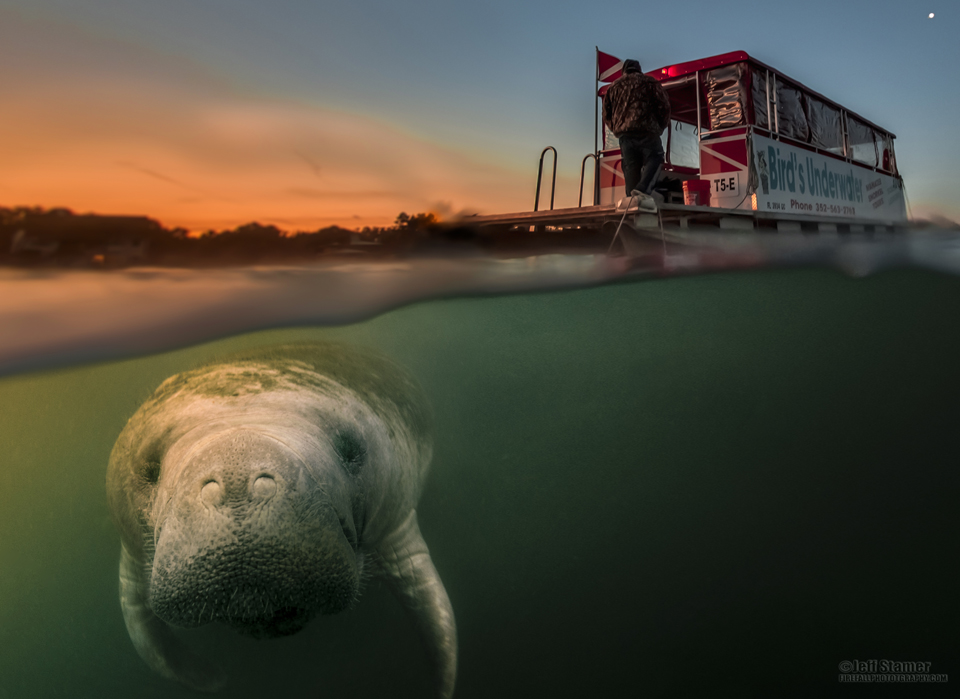 It's really not only about the pictures:  Swimming with Manatees is a calming and peaceful experience.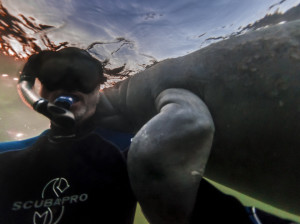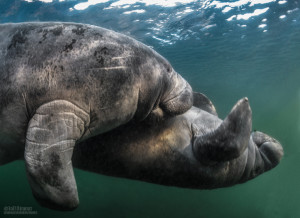 There is just nothing frantic about these lumbering beings and when they peer at you with their sleepy, hound-dog mugs, you just can't help but smile.
The weatherman was right: It was COLD…and the wind-chill made it even more frigid.  One of the couples on our boat were from Russia (Siberia actually) and even they were freezing!  It was a relief to get into the water…which was at least 40 degrees warmer.  The darkness and silt resulted in poor visibility…maybe 8 feet or less.   But, the cold and poor water clarity were forgotten within minutes…because there were a ton a manatees about.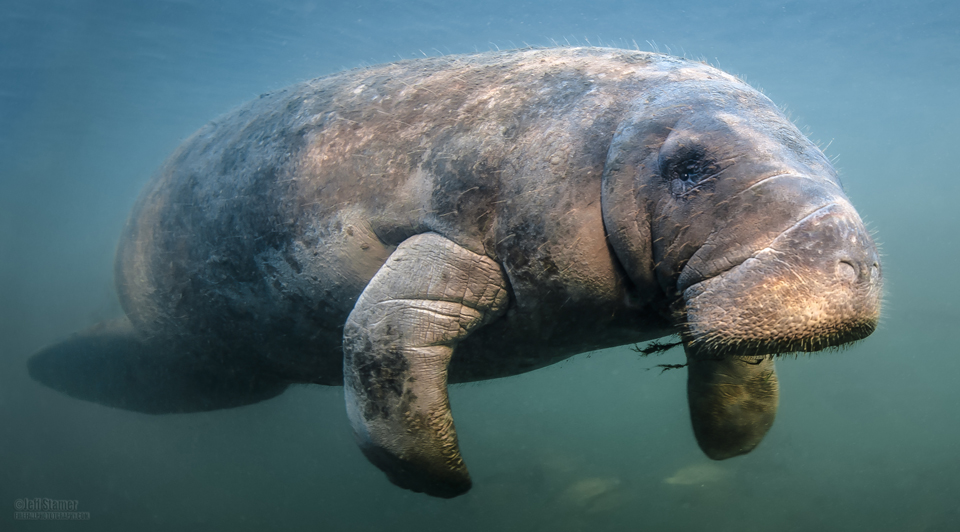 As usual, most manatees didn't seem very interested in the odd-looking humans, but one youngster was fascinated by us.  Even though we tried to observe him passively, he would have none of that.  He swam right up…bumped into us, held on with his front flippers and just seemed to have a ball snuggling up with his new friends.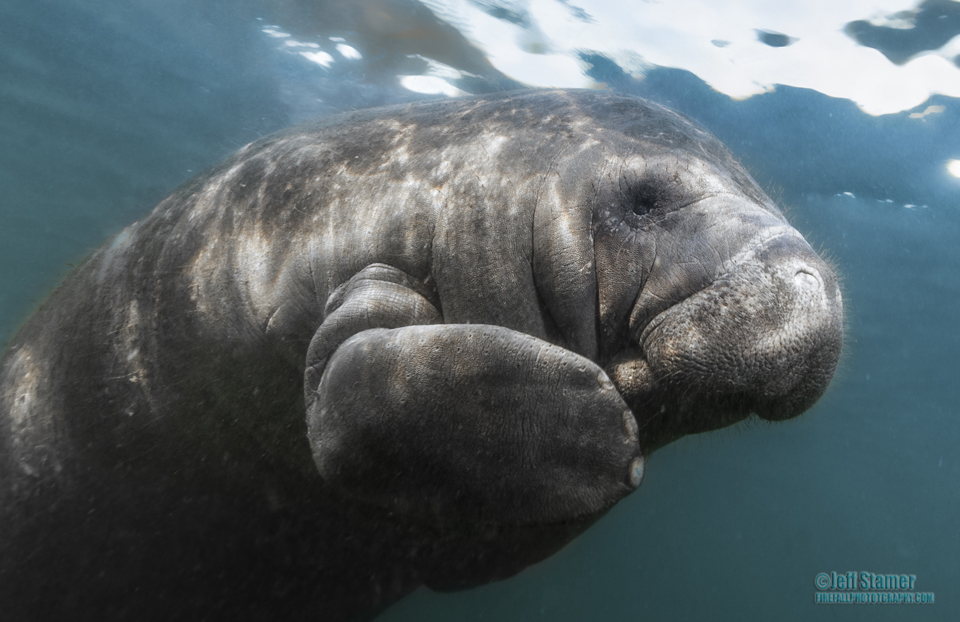 All too soon, it was time to leave.  The Manatee in the photo above seemed to slide up to me and 'wave' goodbye.
When we got back to the dock, I decided to book a second trip on the 11am boat.  Usually, I only consider going out on the dawn trips because by mid-morning there are usually hundreds of folks in the water.  But the cold weather had resulted in a lot of cancellations, so I figured..what the heck, I'm already here.
Two German tourists from Hamburg were the only customers other than me on the next boat.  It was still pretty chilly ("Sehr Kalt!" according to one of my compatriots).   Although most tour boats inevitably head over to Three Sisters Spring, our Captain decided to try a  less crowded spot:  Jurassic Spring.   He was right…we were the only boat there.
There was plenty of sunlight, but the Manatees had stirred up tons of silt.  The good news is that this did enhance the sunbeams in the water and I was able to get some interesting shots.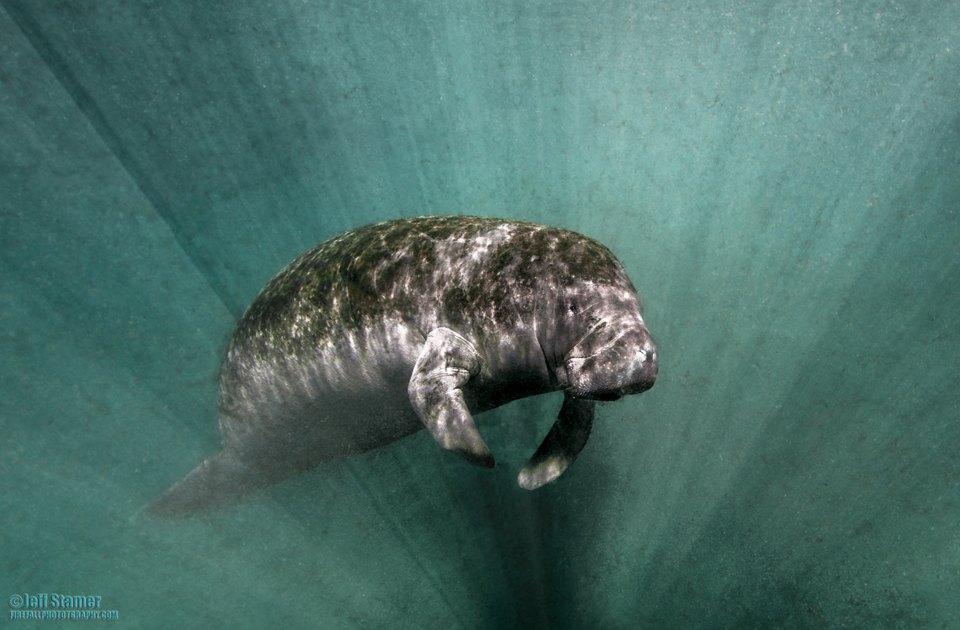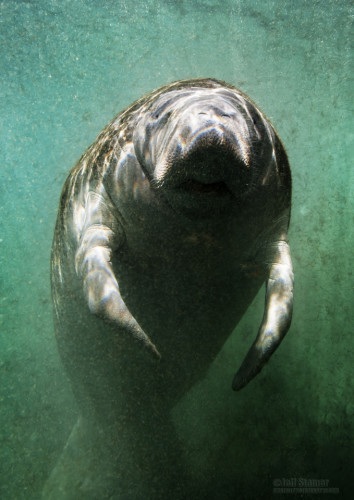 Unfortunately none of these manatee had a fascination with people.  Since government regulations prohibit you from pursuing or approaching them, I had to patiently wait for them to come to me.  The cold water soon sent the Germans back to the boat for hot chocolate.  I stuck it out another hour trying to capture a last portrait or two before I joined them.
As I reviewed my photos the next day, I was initially pretty disappointed.  In the past, I've been spoiled by photographing manatees in the crystal clear waters of the Three Sisters Spring.  But there was so much silt in these shots that I had to instead concentrate on playing with the the moody ambiance created by the backscatter and particulates in the river.  Once I made that mental transformation I started to have more success processing my shots and ended up with some that are now among my favorite manatee portraits.  Funny how those initial impressions can be so wrong.
Take care!
Jeff
PS:  If you would like to learn more about how to photograph manatees, take a look at my Manatee Photography Guide.
 Crystal River Manatee Photography Trip
Related Images: