If you are a seasoned reader of my blogs, you might remember that my first trip to Iceland was back in 2019. I was amazed at the profusion of world-class landscape photography locations (especially considering it is only the size of Ohio) and swore I would return. Well, I just made good on that promise: I visited Iceland just a few weeks ago and I wanted to give you a quick recap.
So, was it as good as the first time? Well, it was amazing but there were certainly some hickups (more about that later). First of all, let's look at some photos.
Our first day started late. Iceland has had an abnormal amount of snow this year and we couldn't even drive out of Rejkavik to start the tour due to the roads being shut down due to high winds. When I say high winds, they were clocking bursts at 60mph….which in Florida we would call a hurricane! Later in the afternoon, things calmed down a bit and we made a sprint over the mountain pass out of Reykavik…check out this video.
Well, the weather didn't let up when we came down the other side of the mountains either. The wind was insane and it was truly ugly…no one in their right mind would want to get out of a nice warm van. But we weren't normal people, our tour consisted of 8 hard-core photographers who had spent a significant amount of effort and money to be on this photo trip so when we spotted some Icelandic horses on the side of the road, we made the driver stop so we could get our first shots.
Islenski Hesturinn (Icelandic Horses)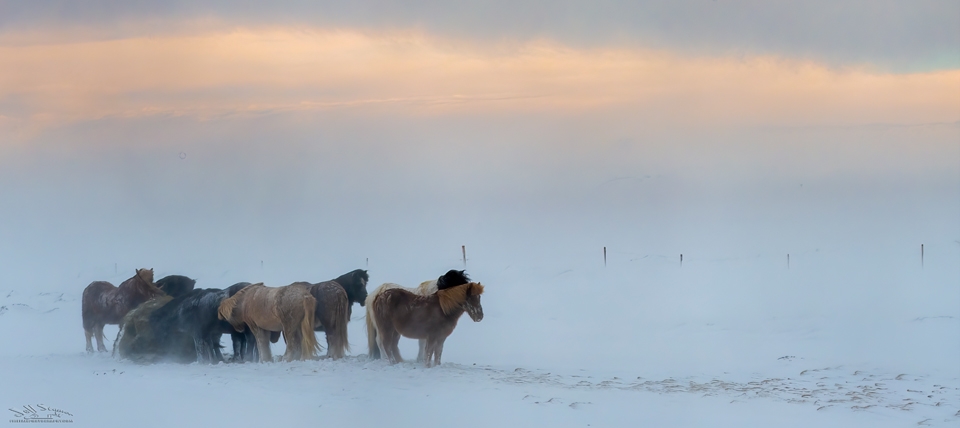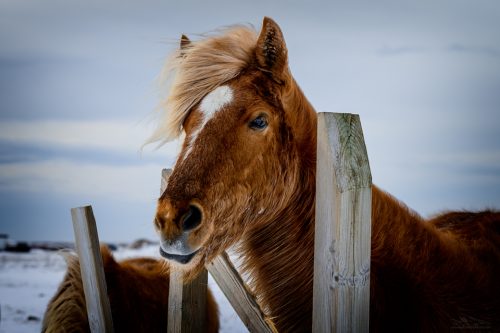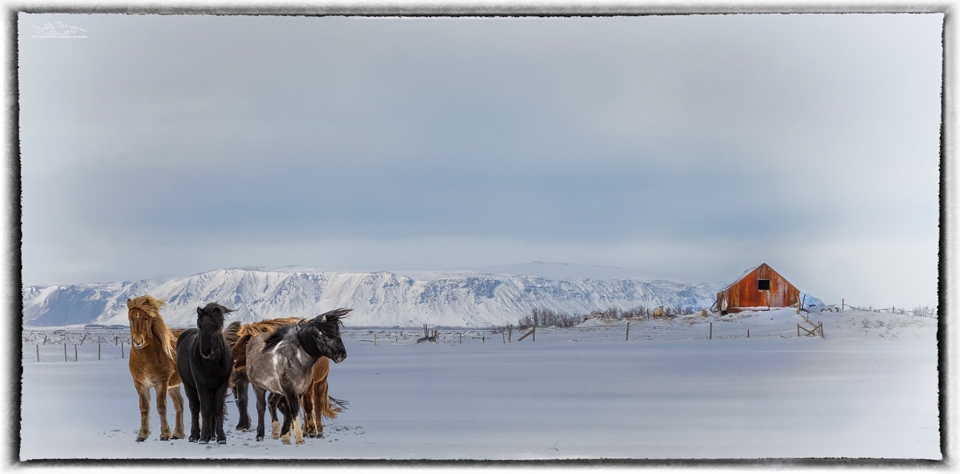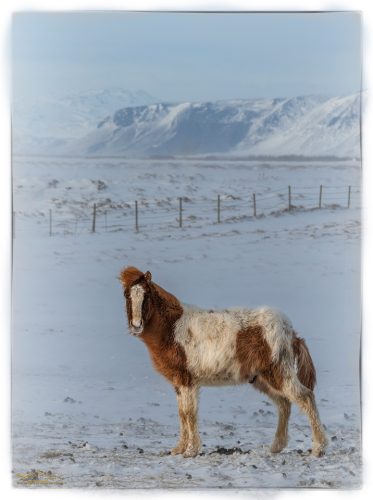 Seljalandsfoss
As sunset approached, the skies cleared and we made our way to one of Iceland's most dramatic waterfalls, Seljalandsfoss. As the sun neared the horizon, it's last rays fully illuminated the falling water and gently provided a mauve cast to the virgin snow.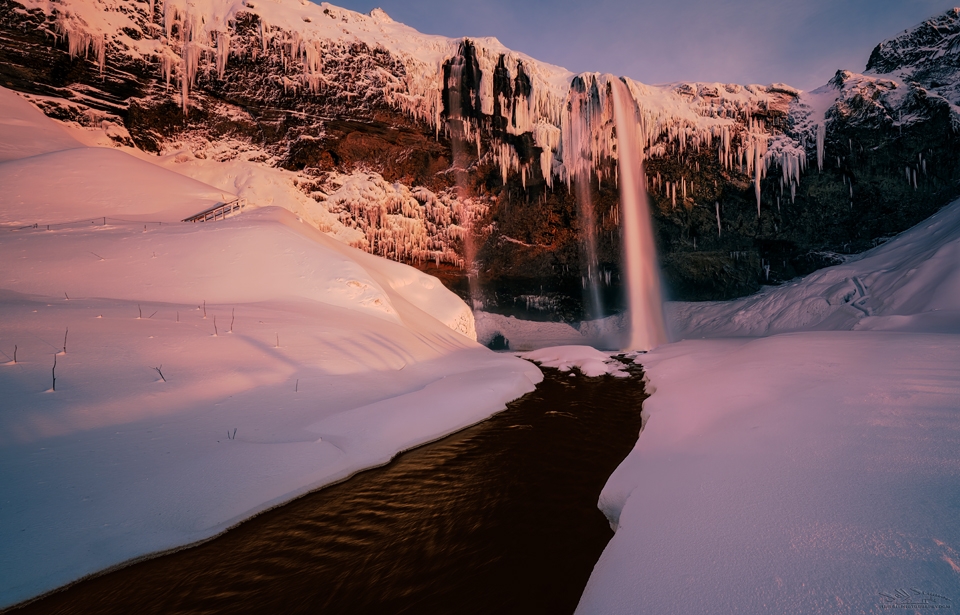 Aurora Borealis
The sky stayed clear as night fell so we headed out to find the Aurora after dinner. We were near the town of Vik and our guide knew of a huge bolder that had been deposited in a nearby field during a massive flood that could serve as a foreground object.
The aurora started out faint at first, so I played around with foreground…even going so far as to include our van in some shots. There was zero moonlight, so it was difficult to get sufficient light to illuminate the foreground. Some folks on the tour tried light-painting the bolder with flashlights, but the results were a bit harsh.
I managed to take a low ISO/long exposure (over 4 minutes) of the boulder. After I got home, I combined that shot with a 7-second shot of the aurora/sky which yielded the image below. See this blog for details on tips and techniques for aurora photography.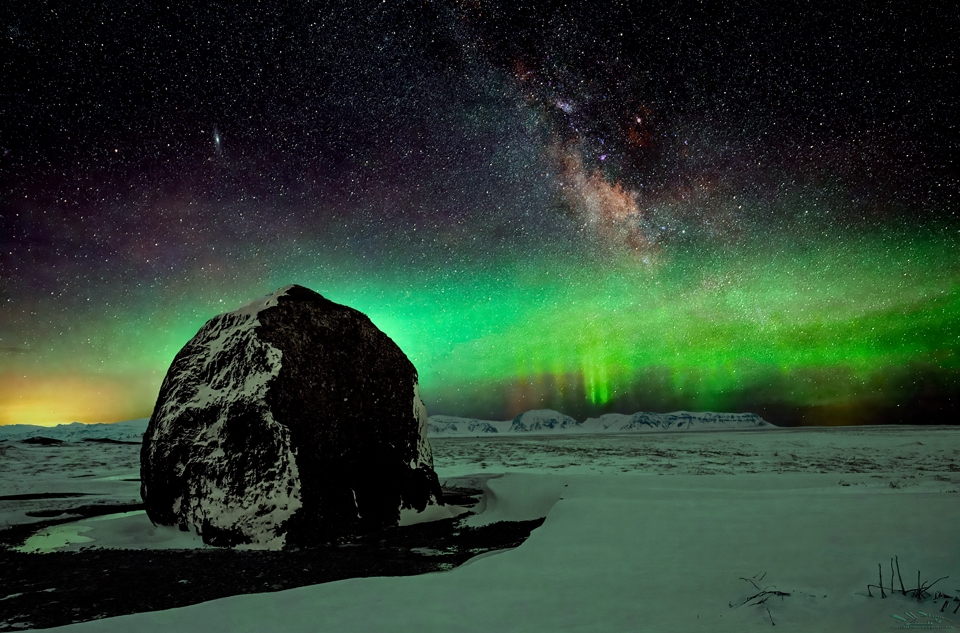 Ice Caves
We had hoped to start the next morning at Diamond Beach but the weather was nasty and the roads were impassable. Things cleared up by noon and we headed out to photograph Ice Caves instead.
My last visit to Iceland had been in 2019 and our tour had hit 4 different caves over a couple of days. This time, I would only see a single cave…but it turns out that I wasn't to be a bit disappointed.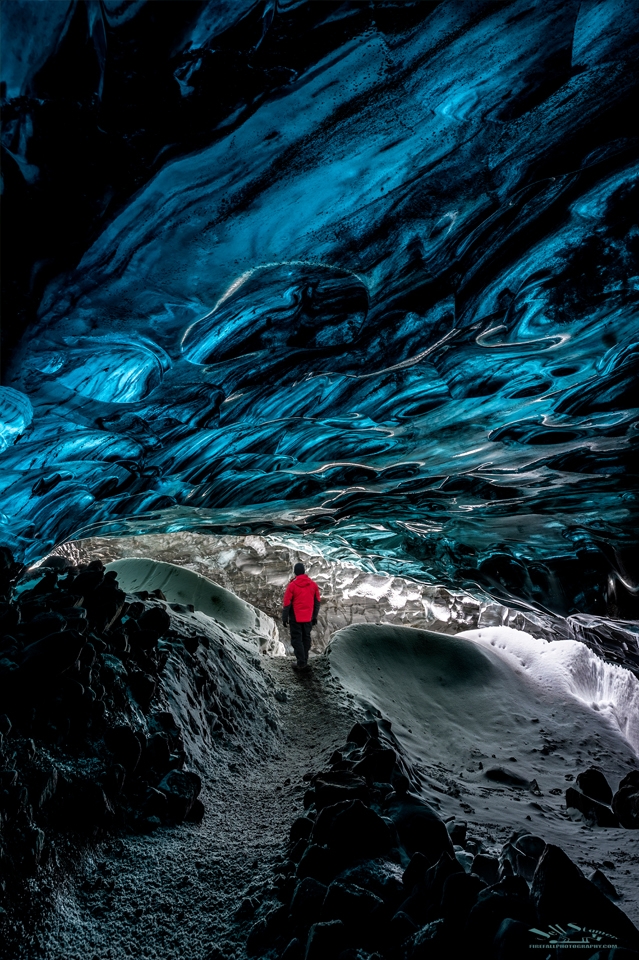 But what a cave! It was massive, with 5+ separate openings…each of which was incredibly photogenic.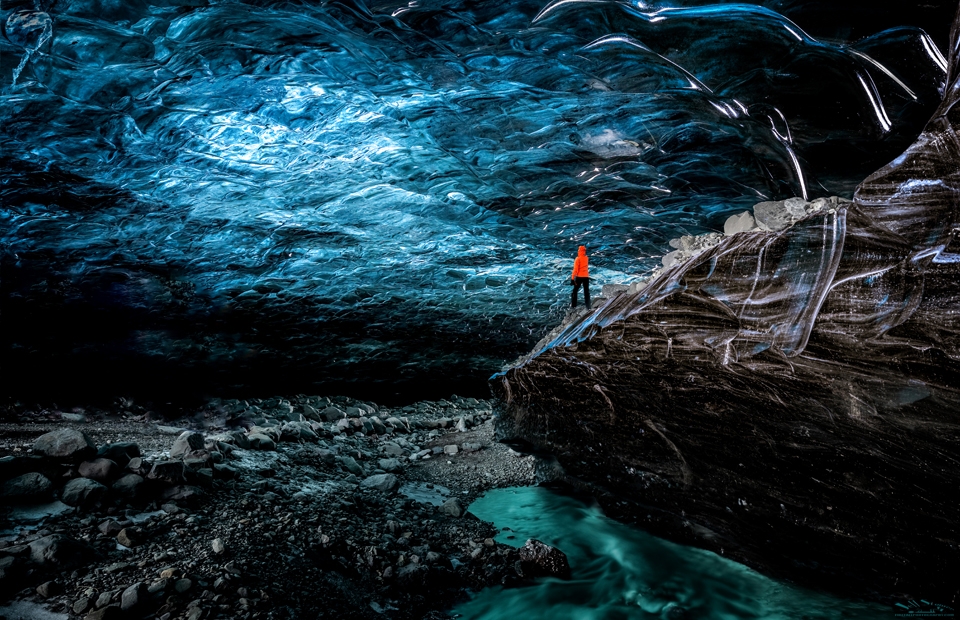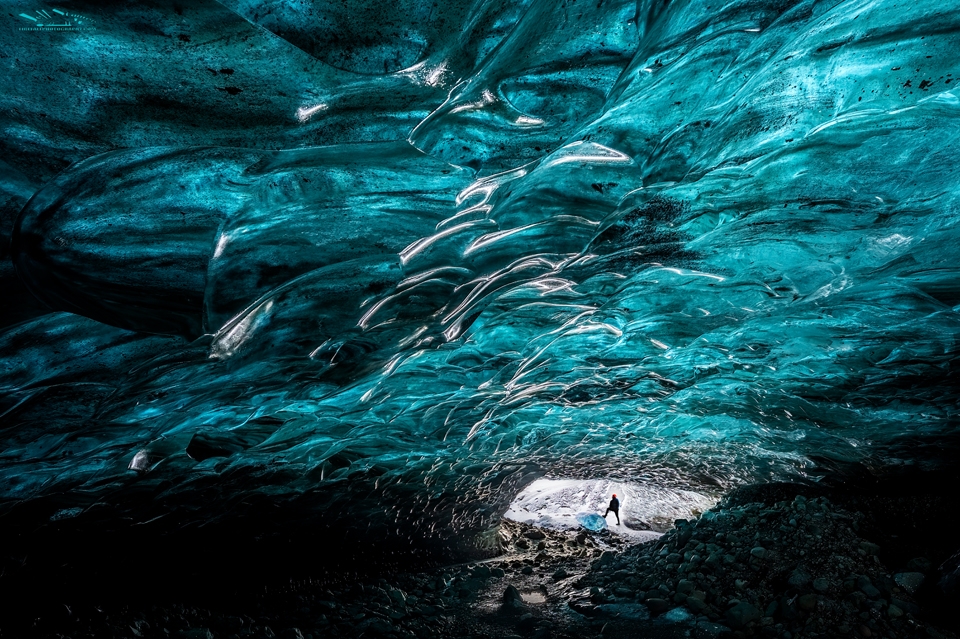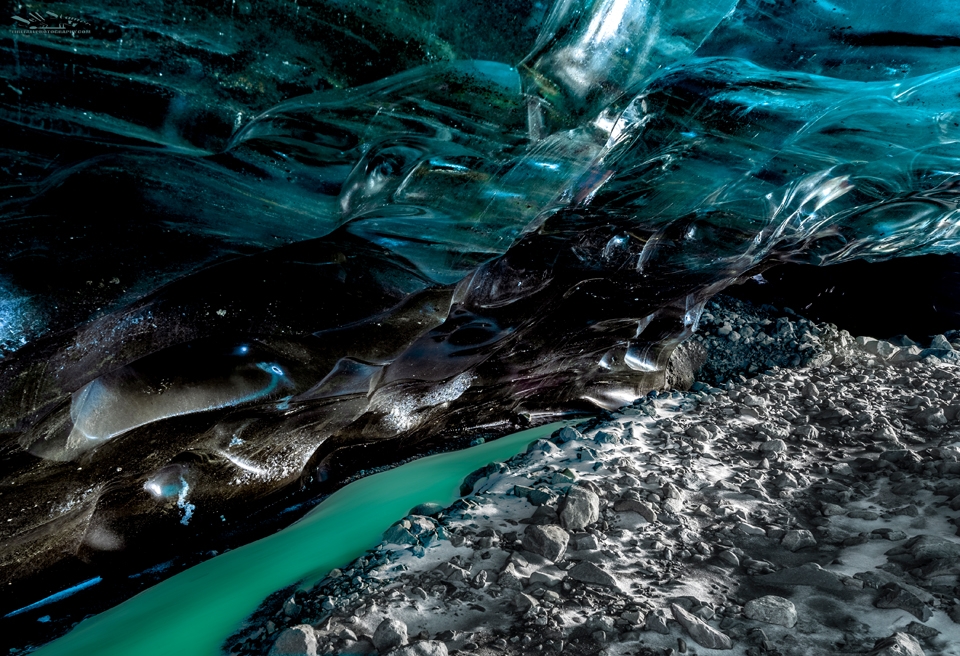 We were at the cave for over two hours, which allowed us to work around the constant ebb and flow of tourists that would show up periodically. Even so, I ended up using a lot of 'Content-Aware-Fill' in postproduction to eliminate some of the 'distractions.'
To see more photos and read an in-depth article about how to take shots in an Ice Cave, check out my previous blog here.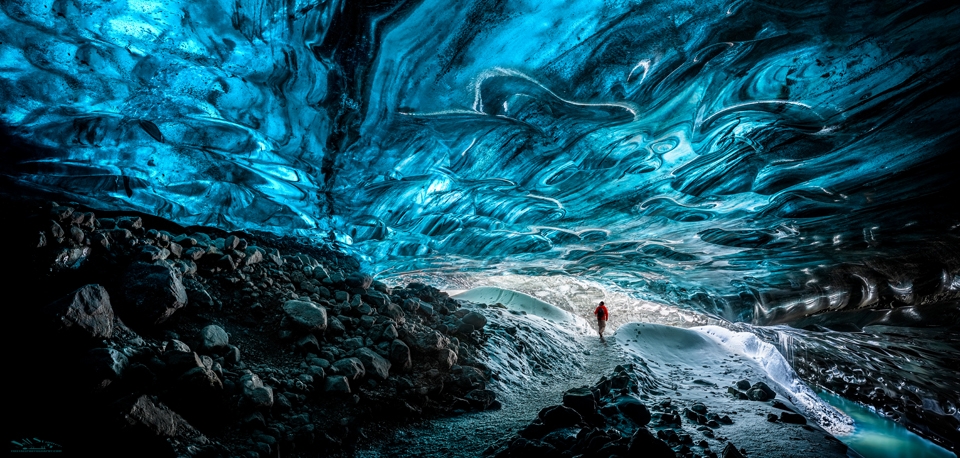 One of the folks on our tour twisted an ankle in the cave, so being the old scoutmaster that I am, I hung back with her on the return hike to keep her company while the rest of the group sprinted to the heated van.
Northern Lights: Take 2
But karma was repaid a few hours later when my new limping friend pounded on my door yelling that she could see the aurora out her window! I grabbed my gear and dashed out into the parking lot looking desperately for something I could use as a foreground. The first thing I ran across was a huge glacial erratic right next to the hotel: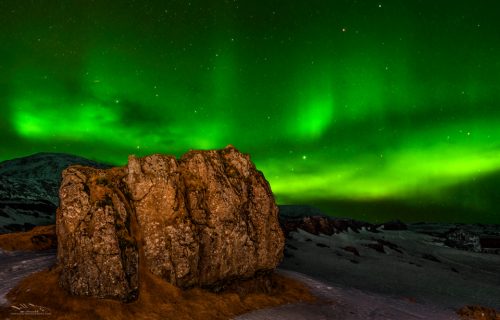 Well, obviously it looked pretty similar to the boulder I had just shot under the aurora the night before and I really wanted something a bit different, so I keep looking. And then a few hundred yards away, I came across this abandoned ruin that provided a unique and interesting foreground: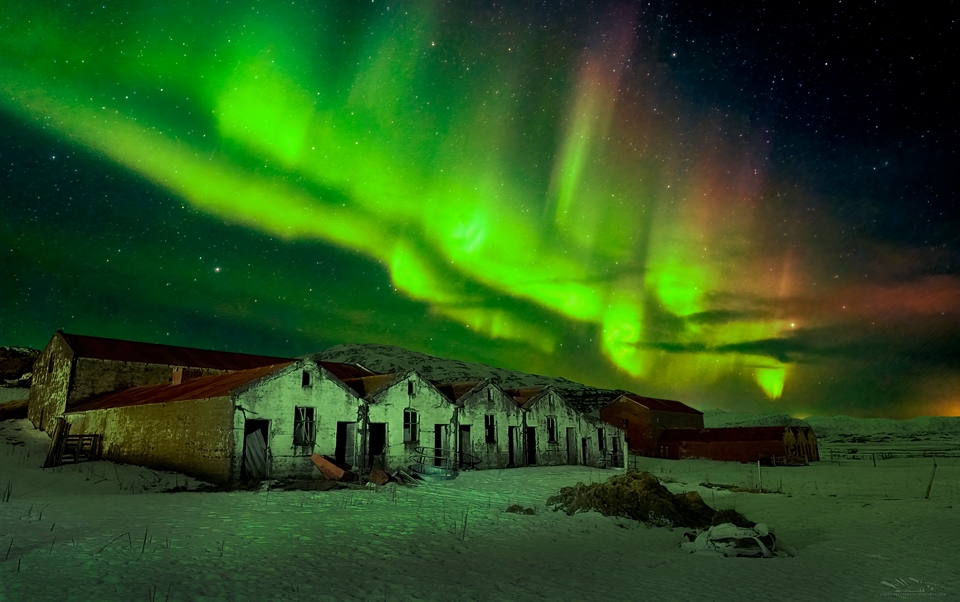 The aurora was really wild this night. Active, bright, and colorful. I photographed for a solid hour but the lights finally petered out (as did I).
Diamond Beach
Morning dawned overcast but we headed out hoping the clouds would break and give us our first nice sunrise. We were headed to Diamond Beach, one of my favorite spots in Iceland.
Diamond Beach got its name from the diamond-like chunks of ice that litter the black sand beach. The ice comes from the adjacent Jokulsarlon Glacier Lagoon where the magnificent Vatnajokull Glacier calves tons of ice each day…which float out the lagoon into the Atlantic and are promptly thrown right back on the beach.
When we got to the beach, it was still overcast, with no contrast and no color…other than blue (see photo below). Since I had the time and there wasn't anything dramatic to shoot, I took the time to scout out some pieces of particularly photogenic ice since you never know what can happen…right?!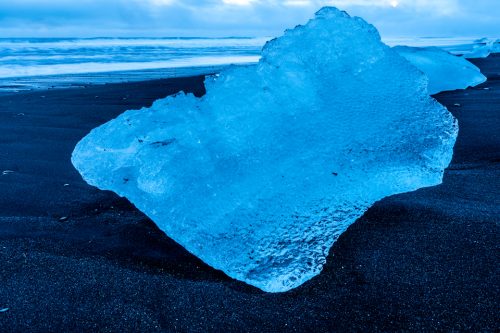 Then, slowly the sky started to clear, and suddenly color burst through. The scene exploded and for the next 28 minutes, I went nuts.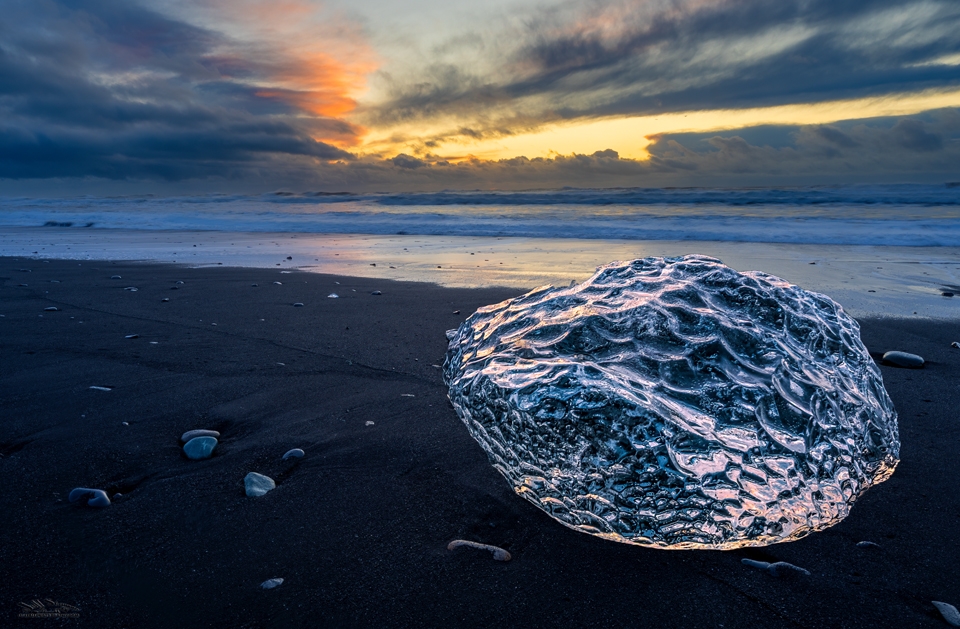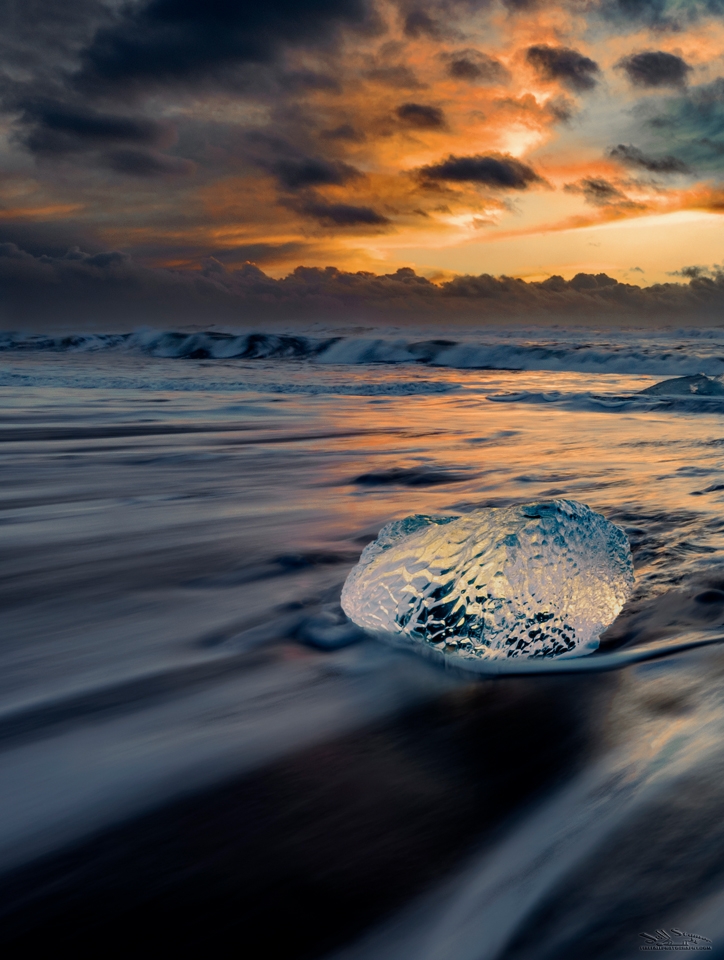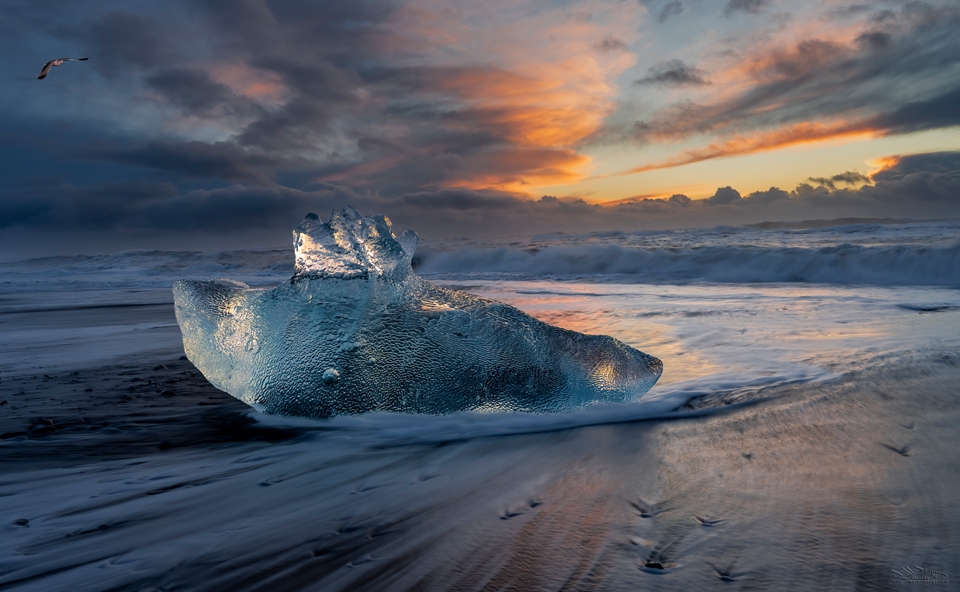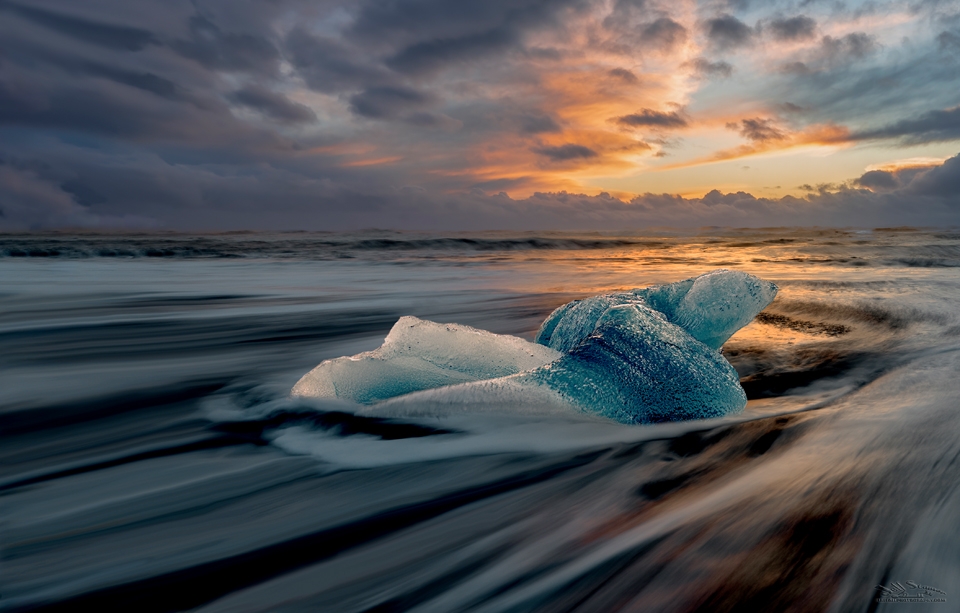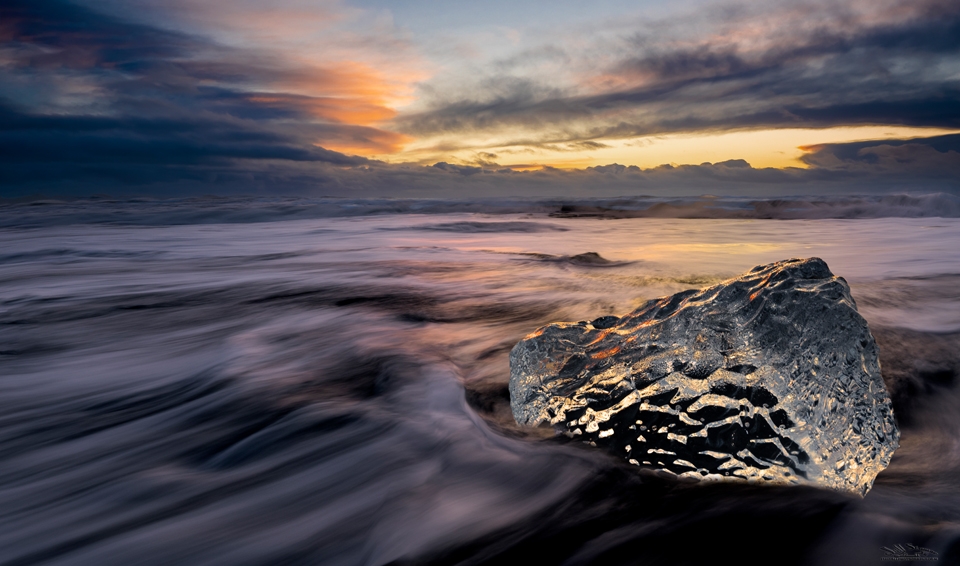 And in less than 30 minutes, the color faded and it was over. Often, landscape photography is kinda cerebral, methodical, and measured. But this half-hour had been an exuberant rush of adrenaline-fueled insanity. I won't live long enough to forget it.
Vestrahorn
The rest of the morning was a bust due to high winds plus our tour guide was feeling a bit under the weather, so we took it easy and had a leisurely lunch. The skies cleared up a few hours later and we headed out to one of the most dramatic locations in Iceland: Vestrahorn.
As we approached on the coastal road, a shallow lagoon provided a wonderful reflection of the coastal mountains: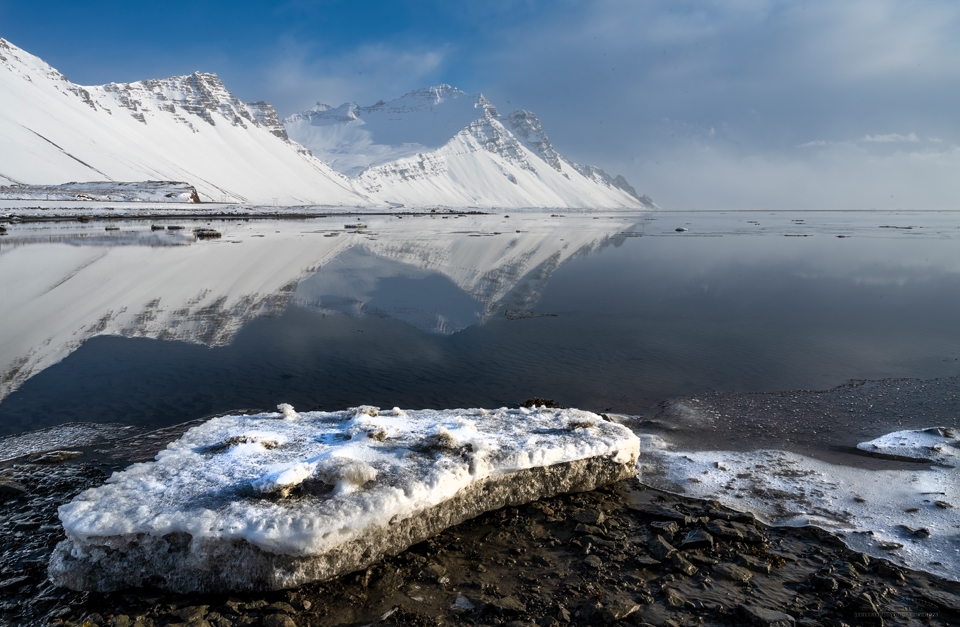 A couple more miles down the road and we were nearly at the base of Vestrahorn's 1490 foot glory.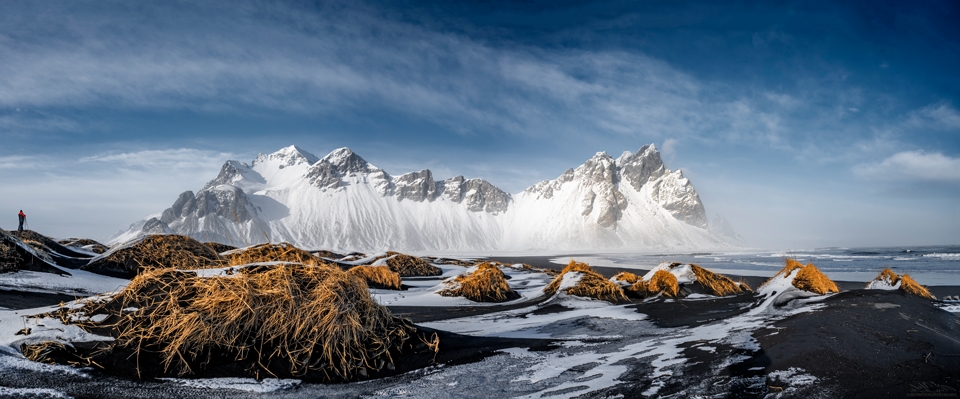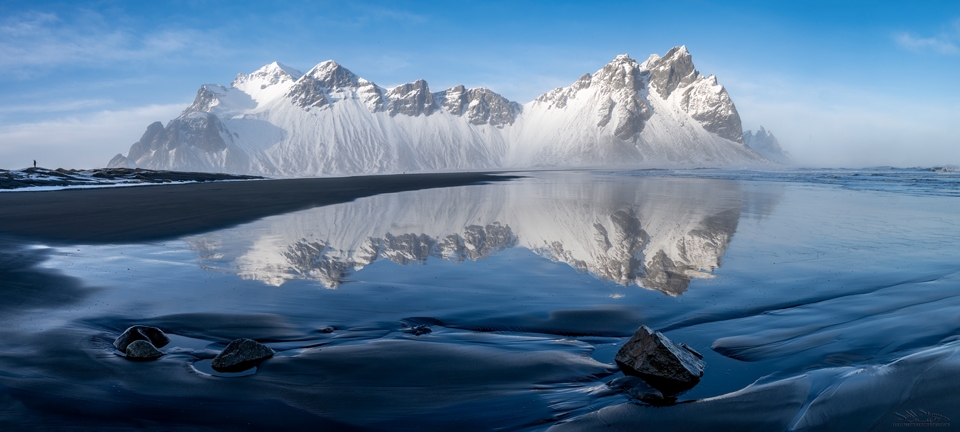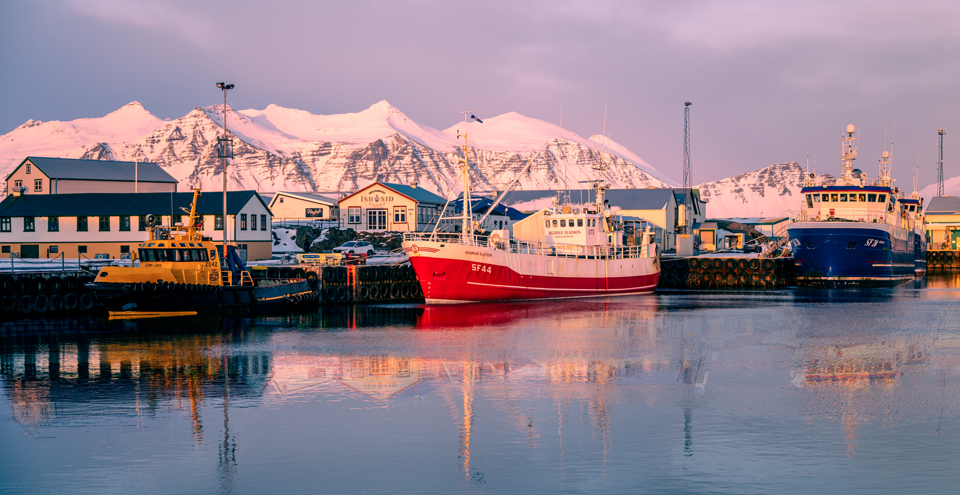 Clouds rolled in before dusk which killed any chance of an aurora shot that night.
The next morning wasn't much better and the wind was really ripping. Plus a couple more of us were having some mild flu symptoms. Of course with the pandemic, we immediately thought about our tour leader who had been sick for a couple of days…but he said he had tested negative for Covid that morning. Plus all of us were vaccinated, boosted, and had tested negative before arriving in Iceland.
We pushed aside any concerns moments after the sun appeared and we sprinted to the van in hope of some new photo ops.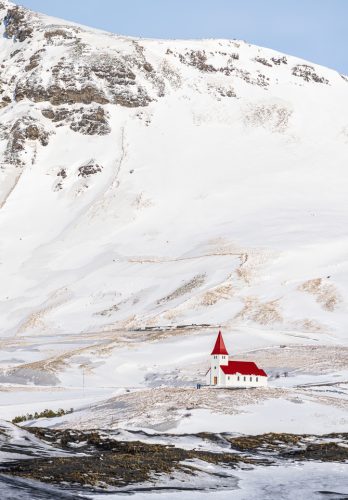 Reynisdrangar
The wind was simply incredible…which did result in some awesome waves:
There are a lot of warnings about 'sneaker waves' in the parking lot near these sea stacks. At least 3 folks have been swept out to sea and drowned there over the past decade. But most folks don't seem to read the signs or simply disregard them. I was shooting the stacks when I noticed one wave sweep up and knock down a bunch of people into the freezing surf. There weren't any serious injuries, but I'd bet that was a miserable, wet slog back to the parking lot.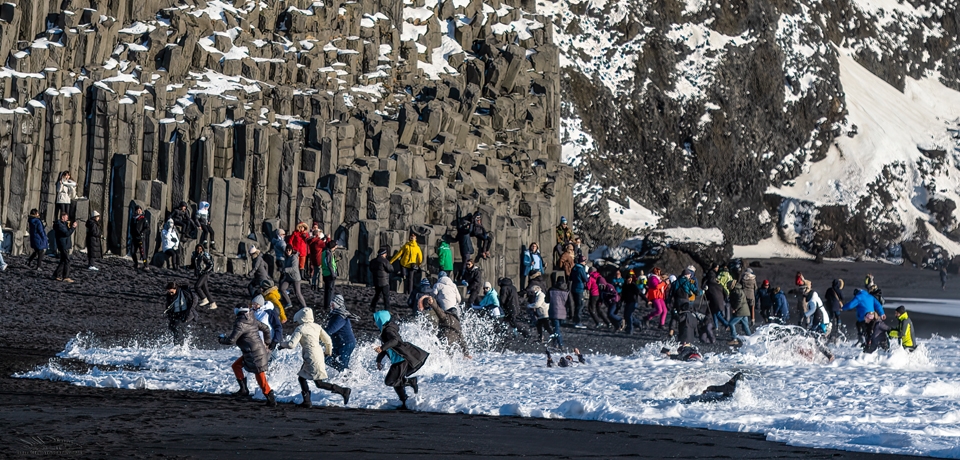 Sunset was nothing special and that night the weather took a turn for the worse. The next morning was more of the same: wind, sleet, snow, clouds….photography was just impossible. The road back to Reykjavik was closed and we all starting to get worried about making our flights the next day. Fortunately, the roads finally reopened and we were able to get back by early evening. We said our goodbyes at the hotel and looked forward to returning home.
The Best Laid Plans…
But…those plans came to a crashing halt the next morning: Every single person on our tour tested positive for Covid. And since you have to have a negative test to fly home, we had to make new plans.
As a photographer, you get used to rolling with the punches. I canceled my flight, found a new hotel room, and looked up my Netflix password.
Fortunately, my symptoms were pretty minor…a day of sore throat and congestion. Some of our group had no symptoms at all but one guy was really miserable for a couple of days. The good news is that no one was hospitalized (or worse)!
I settled into self-quarantine in the hotel, My new schedule revolved around meals, movies, and going to get a new corvid test every two days.
Which I did.
And every two days I'd fail the test again.
Authorities in Iceland allow you to go back out in public five days after a positive test. The weather had been hideous for four days, but finally, I saw the sun again on day five. Needless to say, by then I was a bit stir crazy. I grabbed my camera and bolted out on foot to explore Reykjavik.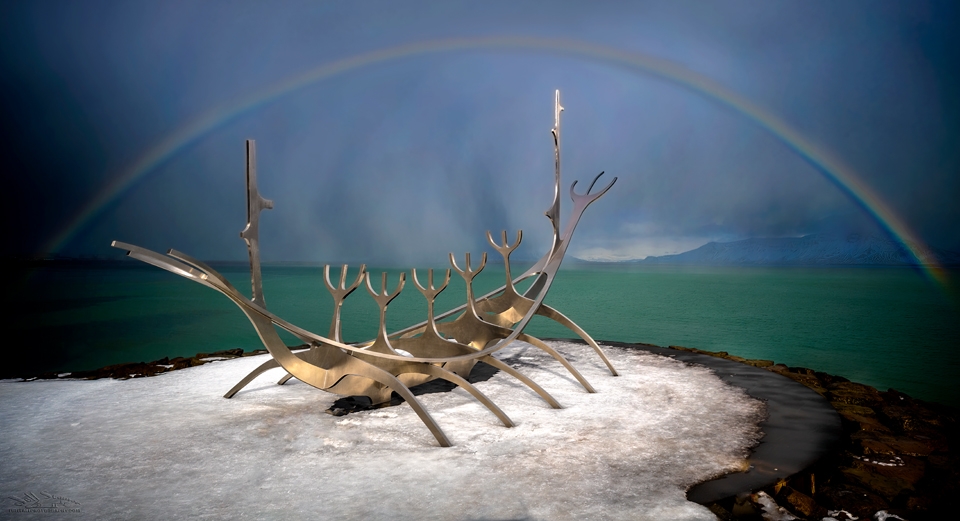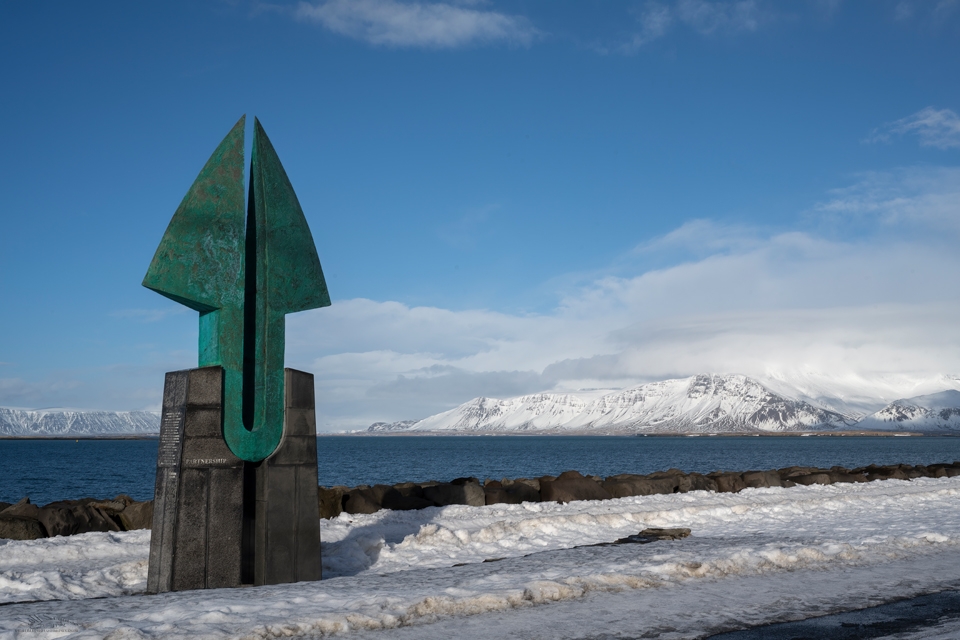 Groundhog's Day
The next morning, I walked the familiar mile in the dark down to the testing station at the bus station. And got a positive result again.
By now my kids were joking that I should think about getting a part-time job (I have since written those little twerps OUT of my will). Okay, maybe my good humor was being a bit strained. But I had read horror stories about folks who tested positive for weeks and although I love Iceland, I really wanted to be back home in the good ole USA again.
I had been hanging out with one particular guy from our tour during our quarantine and he had become a pretty good friend. But he became my Bestest friend when he called me with the stunning news that a local clinic had told him that you could actually fly back to the states even if you were still testing positive. You had to get a letter from an Icelandic doctor documenting that you had tested positive more than five days previously and were symptom-free. I verified this with the US Embassy and had a letter from a doctor within an hour. Six hours later, double-masked but smiling, I was flying home.
"So, other than that, how was the play Mrs. Lincoln?"
Well, sure…the weather was challenging and Covid certainly provided an unexpected and extended twist at the end. But I loved my trip just the same. The old saying might be trite, but it's true: Life isn't about the destination, it's about the journey. Even the detours along the way just make it that much more precious and memorable.

Cheers!
Jeff
PS: I've updated my Icelandic Photo Gallery. It includes a bunch of shots not shown on this blog. Check it out here!
PSS: I finally won the lottery to go hiking to the Wave with my son in May! I tried unsuccessfully to get these permits for over five long years so I am pretty stoked. More to come about this later!