One reason that Iceland is insanely popular for photographers is the fact that there are so many iconic subjects jammed in a small island the size of the state of Georgia. Auroras, glaciers, geo-thermal geysers, vast waterfalls, sea arches, black sand beaches, lava tubes, volcanoes and ice caves. Heck any one or two of these would be enough to justify a trip, but all of them together is just a wonderful embarrassment of riches.
Of all of these, Ice Caves were the ones I most looked forward to seeing during my first trip there years ago. I'd never seen, much less photographed an ice cave. Plus the images I had seen were spell-binding: so I fully admit that my expectations were thru the roof. To be honest, I was half-expecting to be disappointed.
I wasn't.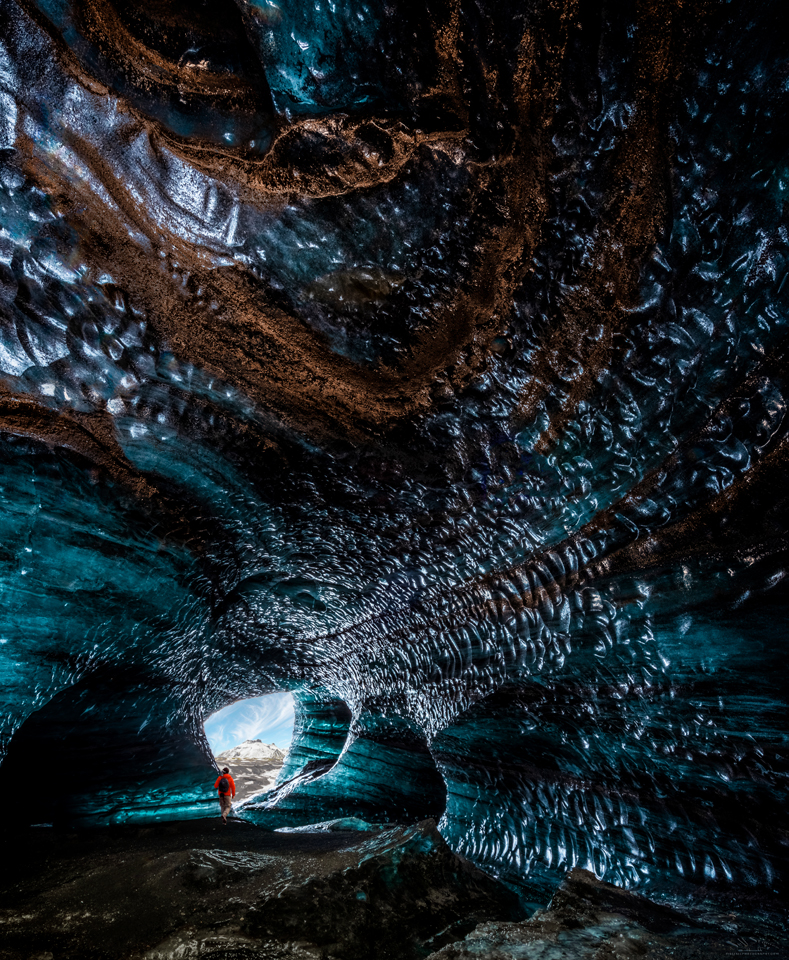 What can you say about a scene like the one above?
It. Is. Epic. The color, the texture of the walls, the sheer scale. I was awestruck.
Since that first time, I've been back to photograph the ice caves a number of times and I can tell you that the thrill never dimishes. Plus, unlike most landscapes that don't really change much year after year, ice caves often don't survive from one year to another and even if they do, they often morph into something completely different. So every time you go, it is new, different and exciting!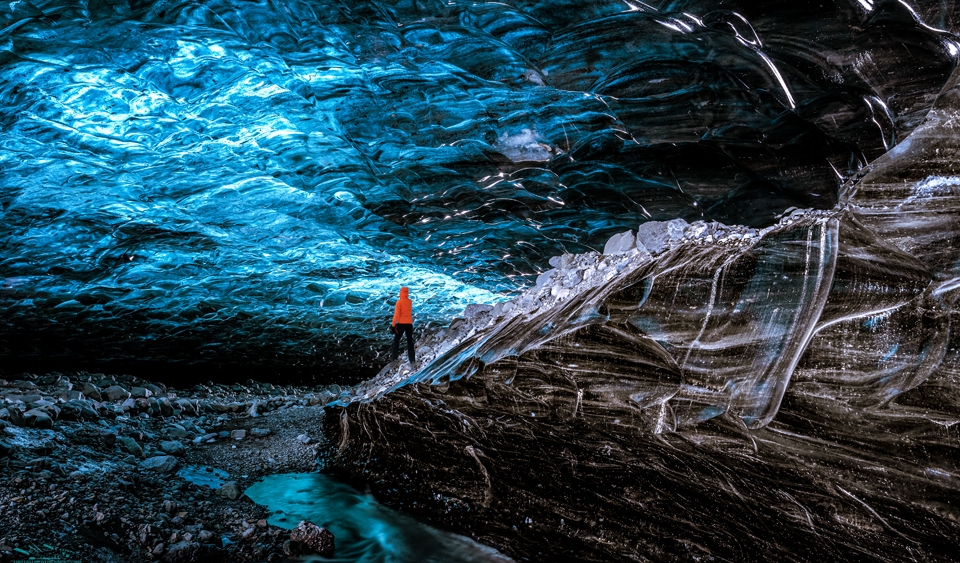 So first of all, don't write down the names of the caves mentioned in this blog with the intention of photographing the same one. It is probably already gone, but there will be others for you to see just the same.
Many of the most photogenic caves are located a good distance from Rejkavik. Many of them are in the southern or southwestern part of Iceland in the huge glaciers that are found in these areas. Actually all the caves are Glacier Caves (to be technical about it). You have to drive/hike out onto some truly vast glaciers to get to them.
Sometimes, the entrance is nothing more than a small crevasse (see below)…
others looked like a massive hole created by a meteorite that had slammed into the glacier.
They come in all shapes and sizes. Some of them were so small they can only fit four people at a time, others were so immense you could easily drive two Abrams tanks thru them side by side.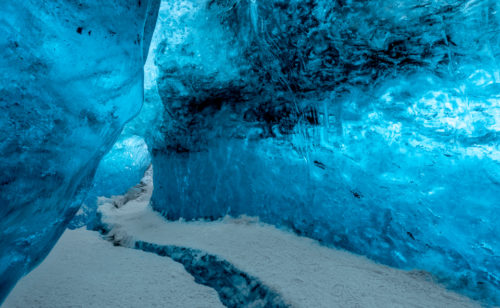 The GTI Ice Cave (also known as the Blue Cave) was the smallest I've been in.
In many ways it was also the most beautiful. Probably less than 10 feet of ice overhead allowed sunlight to actually penetrate through the roof, resulting in the entire cave being translucent. It was so BLUE, and totally mesmerizing. But oddly enough, when I finished processing my photos, it turned out to be the least photogenic cave I shot. My images just don't have the emotional impact that I felt standing there.
On the other hand, the Anaconda Cave was the largest…maybe a hundred feet across at the entrance and a ceiling easily 50′ at its highest point. Some of these caves are truly immense and impressive.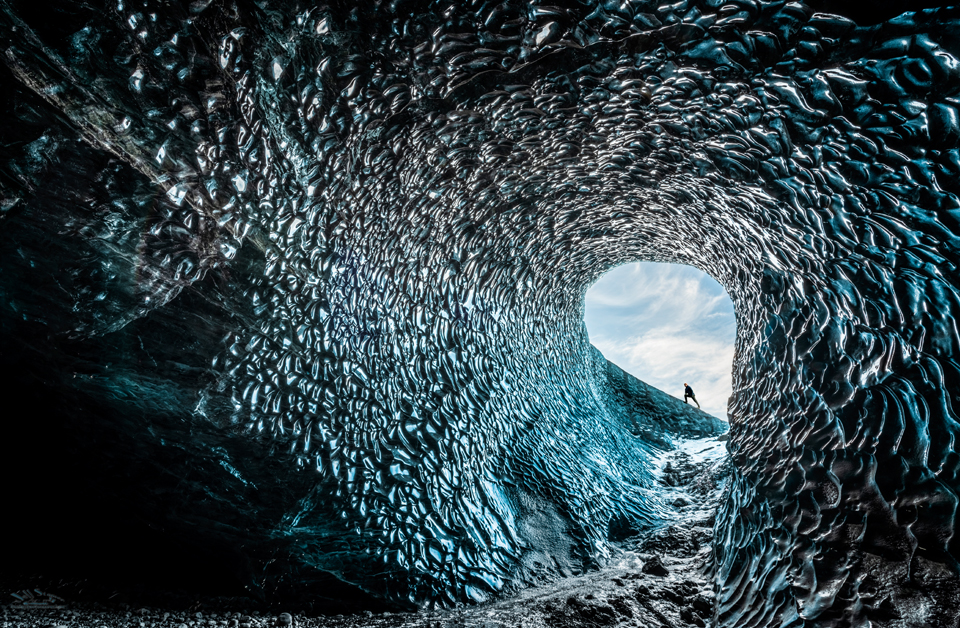 There was a stream running through the cave as you can see behind the figure in the photo below.  As it turns out,  it is the glacial meltwater that carves out most of these caves.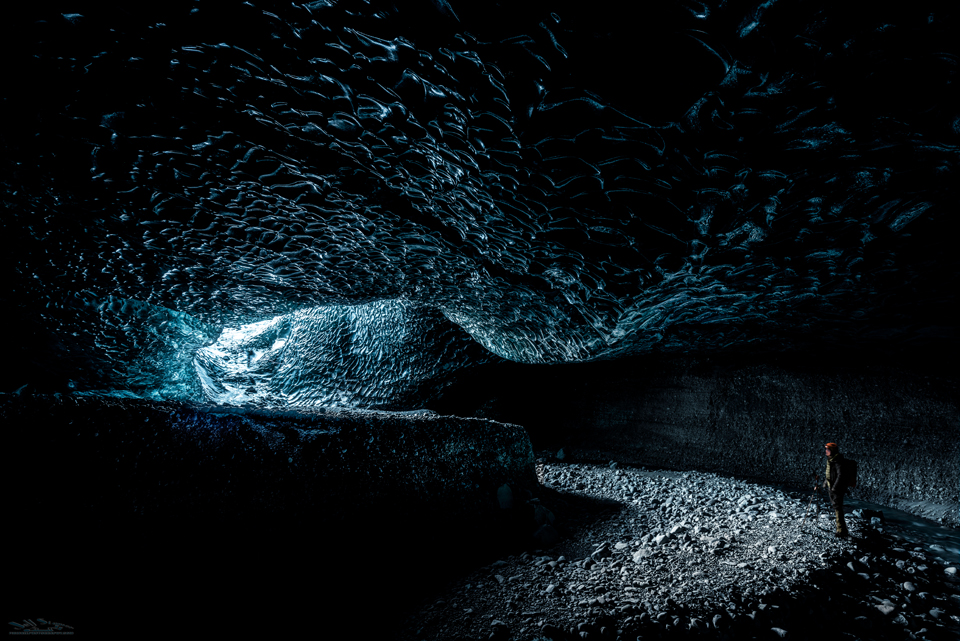 The Black Diamond (below) was another substantial cave. The 'dimpling' of the top and sides of the cave near the entrance were dramatic and insanely photogenic: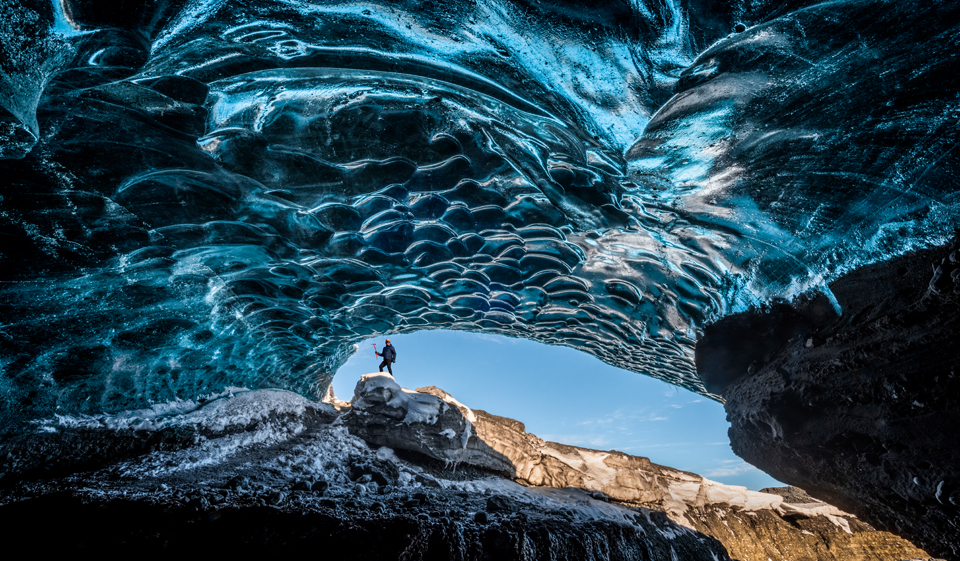 Most of these glacier ice caves are only accessible during the winter between November and late March.  There are a couple of exceptions but by April, the warming temperatures make many of them unstable and dangerous.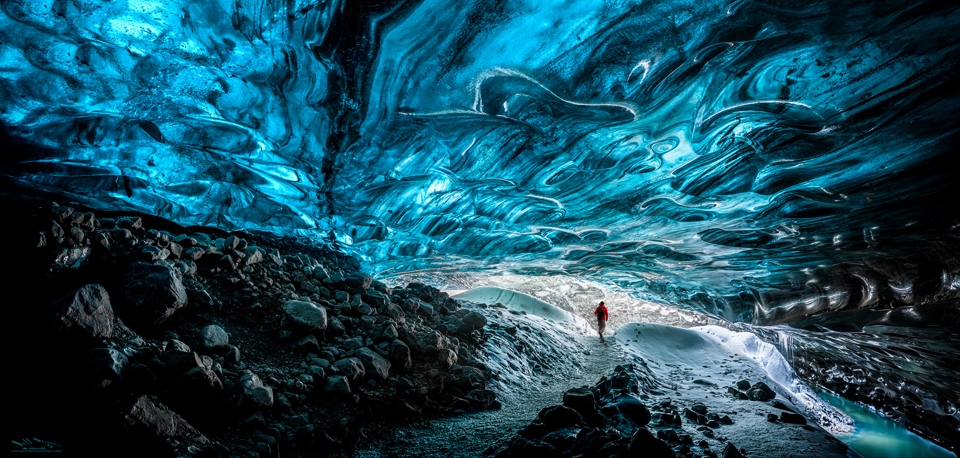 When a glacier has been compressed beneath its own weight for hundreds or even thousands of years, the air bubbles are forced out resulting in ice so thick, dense and old that it absorbs every color in the spectrum except blue. Sometimes, sunlight shimmering through the transparent ice makes it look like a deep blue quartz crystal.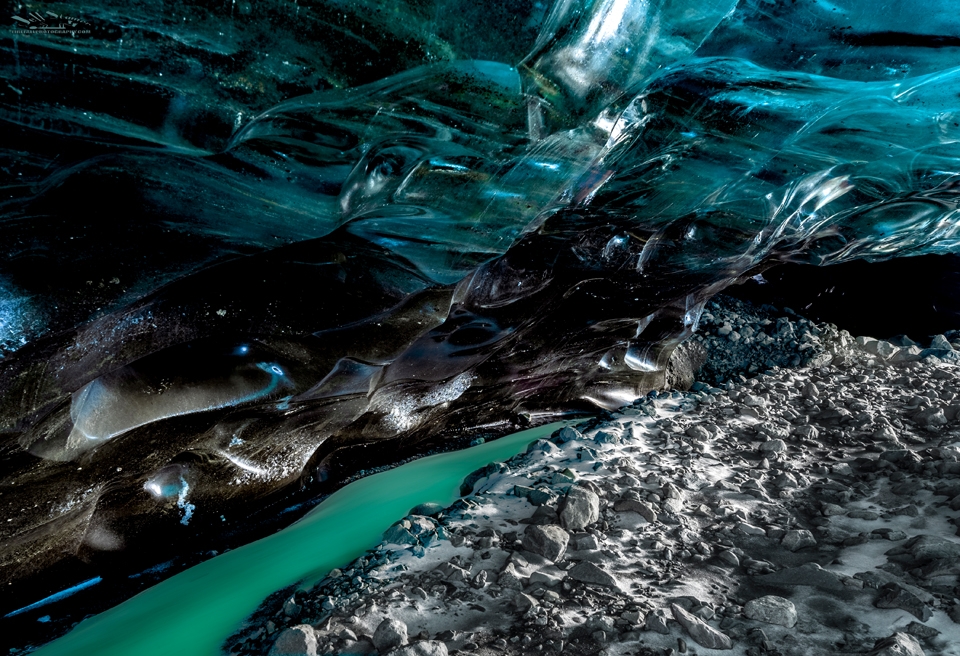 The only thing I regret about Ice Caves is that I spend all my time taking photos and never fully experience the caves. Maybe next time I'll visit without a camera. Yeah well, that's never gonna happen.
If you are planning to photograph Iceland's Ice Caves, here are some tips that will come in handy:
Shoot with a wide angle lens. Most of my shots were taken at 14mm on a full frame camera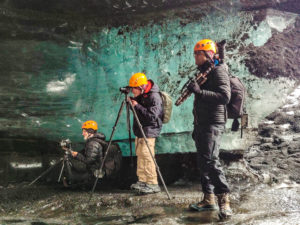 A tripod is a must…the darkness makes long exposures a prerequisite.
Shoot at your sharpest aperture (F/8 worked for me). Since you have a tripod, go ahead and set a low ISO to get the best detail and lowest noise possible
Bracket! The dynamic range is insane in these caves, especially if you photograph an entrance. I shot 7 shot brackets with a full stop difference between each frame and processed them via HDR.
Use a model. Shots with a person really help illustrate the scale and supply an empathetic jolt of emotion. Use your your guide or someone else who'd rather have their photo taken than to stand behind a tripod. And give them a red jacket!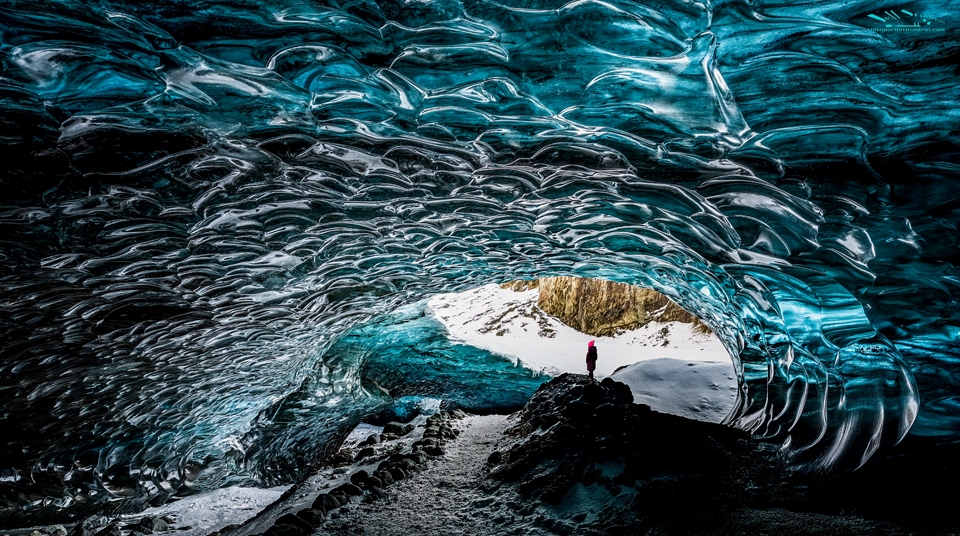 Don't shoot only from eye-level. Get your tripod down on the ground for a different perspective. Also try some shots right up against the side of the cave to emphasize the 'dimpling.'
Wear waterproof clothes, gloves and boots. Many of the caves have ceilings that drip and there are often streams of melted glacier water running across (and under) the floor.
Pick a tour that specializes in photography. Otherwise the other guests on the tour will be wandering around taking selfies and getting in all of your shots. Plus guides on photo tours will know the best camera angles so you won't have to waste precious time figuring it out on your own.
Pick a tour that has a max of 12 people . These smaller group tours are more pricey, but you will be hard pressed to get decent shots if you are trying to shoot around 40 people in a confined space…there is only so much Content Aware Fill you can use!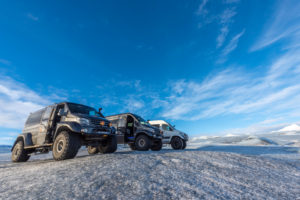 Pick a tour that and will let you spend at least an hour in the cave. Even that won't seem like enough. You will need some time to cover the larger caves and it will likely take a while to get your camera dialed-in to compensate for the low light in the caves.
Don't think about trying to drive out and photograph these caves on your own. There are real safety concerns plus you simply can't reach many of the better caves with a rental vehicle…pay the money for a good tour and leave it to the experts. Plus, tours will supply the required safety gear (crampons, hard hats, ropes, etc).
Be prepared to spend a lot time in post-processing if you really want shots that have 'zing.' My first efforts were pretty bland. Most of your frames will take a lot of processing to fully reveal their beauty.
The 'dimpling' of the walls and ceilings can be pretty dramatic. I'd suggest making separate layers in Photoshop for the cave's walls and ceiling and push up the contrast and clarity to make the edges sharp.
If your shots seem to lack color, try using your luminance slider on the blue and aquas to help 'coax' them to be more visible in the poor light.
Jeff
PS: I've been on tours operated by Arctic Exposure and I highly recommend them. They aren't cheap, but nothing in Iceland seems to be. On the other hand, this might be a once-in-a-lifetime experience…do it right!
PS: Check out my other photos on my Iceland trip recap and my blog about Iceland's Northern Lights !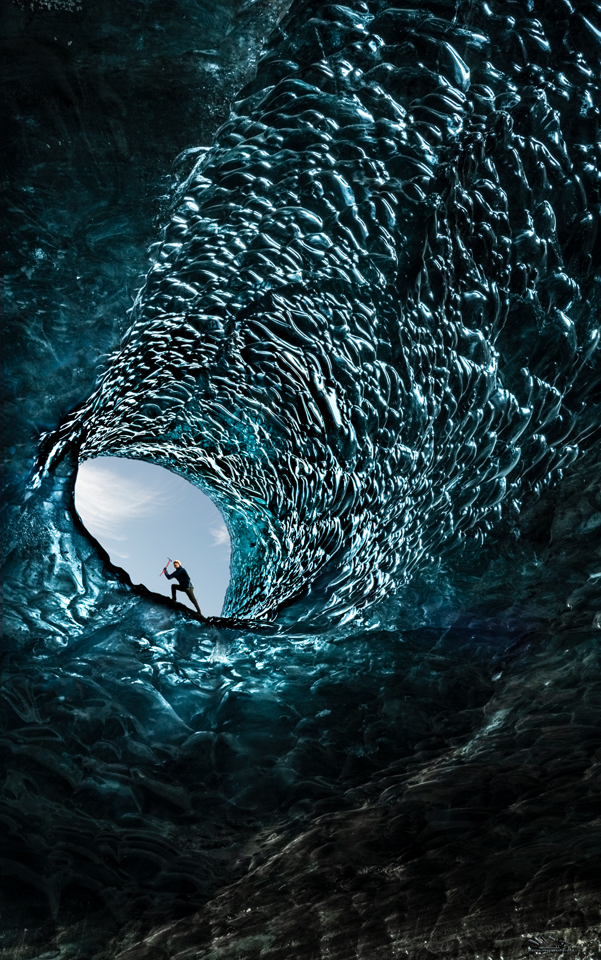 Tips for Photographing Ice Caves in Iceland
Related Images: