Last week, my fellow Central Florida photographer Ed Rosack reminded us in his blog that: "The flowers are coming!  The flowers are coming!"  He was referring to the annual bloom of Sunflowers that cover fields as far as the eye can see on the Marl Bed Flats that border the northwestern shore of Lake Jesup.
I drove out there before dawn yesterday and was greeted with this sight: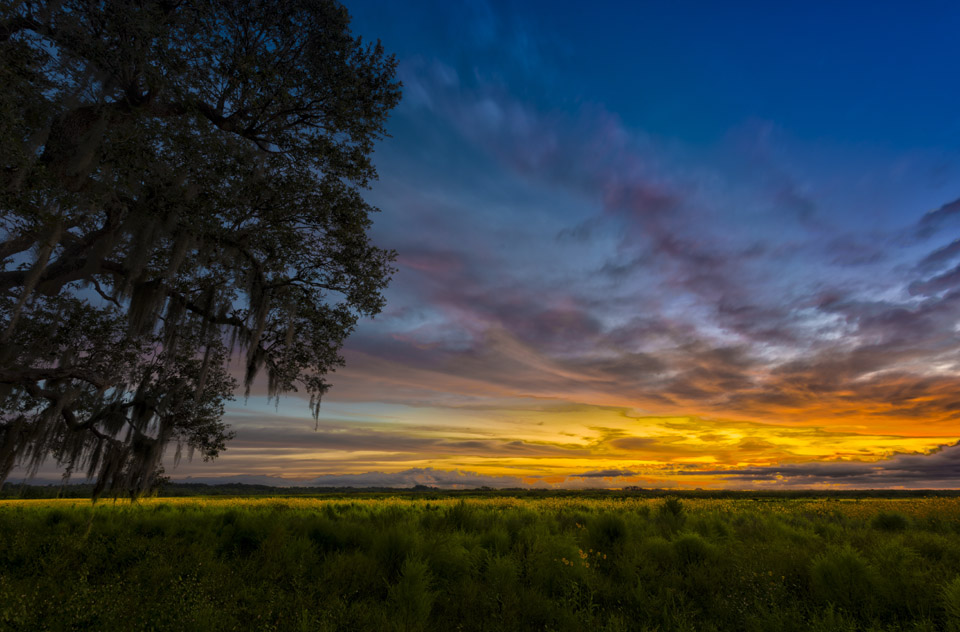 Not only are the sunflowers in full bloom, but yesterday morning was blessed with one of those sunrises that had folks talking around the water cooler for the rest of the day.  It was still pitch black when I had arrived at the parking area and started hiking down the tunnel-like trail, so I had no idea that this incredible sunrise has developed until I cleared the treeline.  Needless to say, I practically ran to the edge of the flats to set up my tripod and capture the moment.  Time stood still for the next 20 minutes as I worked to take full advantage of this wonderful surprise.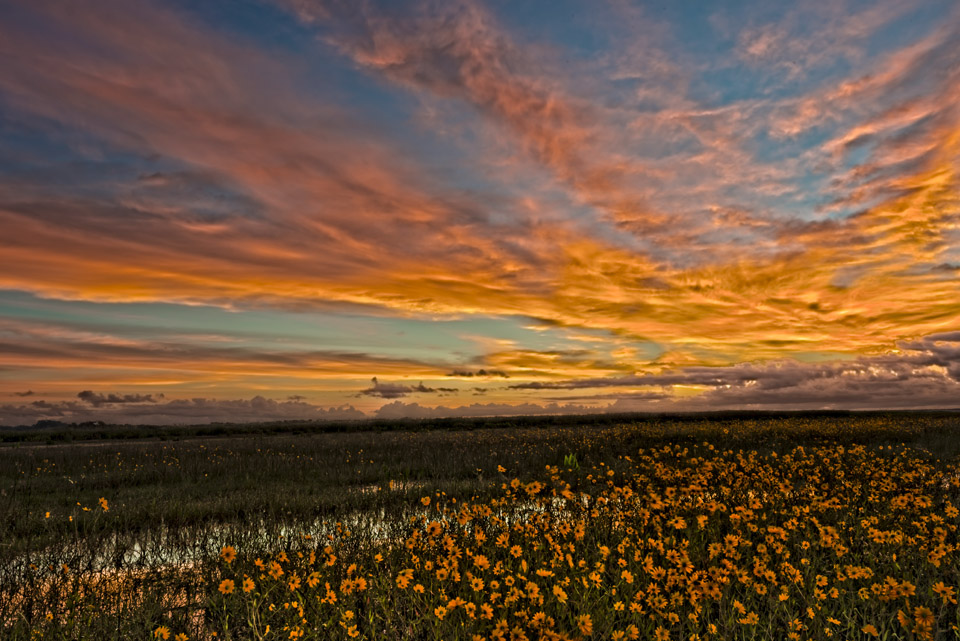 Like most sunrises, the 20-30 minutes before sunrise was better than after the sun actually peaked over the horizon.  The shot below was the last one I got before the color started to fade: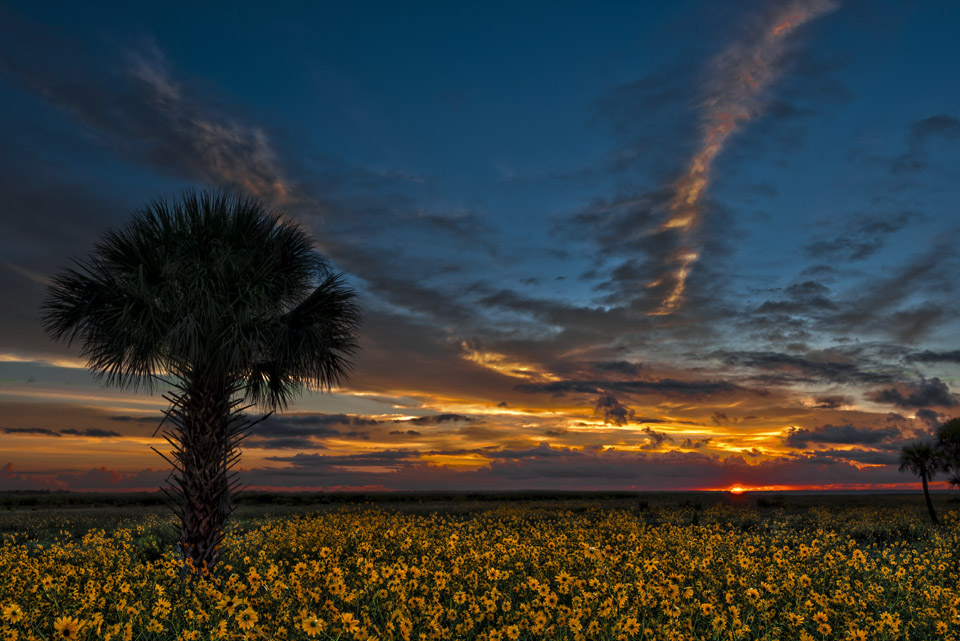 I love taking panoramas here, so I stretched the limits a bit and got this 15 frame shot that actually covers more than 360 degrees.  See that tree at the far right and the far left in the shot below?  Same tree.  I kinda liked how including it twice added symmetry to the shot:

Once my sunrise frenzy faded, I was able to take a breath and just enjoy the vista.  It is a calm a peaceful place.  For the next two hours, the only sounds were dragonflys and the cry of bald eagles.  It is hard to believe that you are only a few miles from  the 417 expressway.
Even if you don't get there for the sunrise, the sunflowers are just magnificent.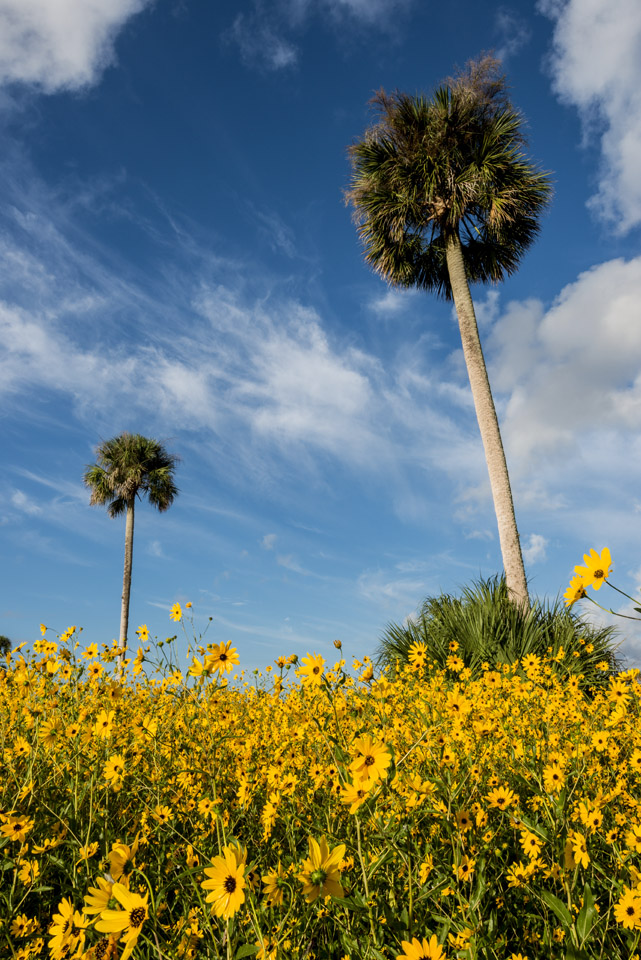 Okay…do you want to see this for yourself yet?  If so, I've got full directions as well as tips for you on a blog I wrote last year: Lake Jesup Wildflowers:  Photo Tips and Guide.  Click here to check it out.
You know, I've traveled across a good part of this planet to satisfy my passion for landscape photography.  Fifteen hour flights, 6500 mile roadtrips, 15 mile hikes thru the desert…so it still amazes me that one of the best landscape photography subjects on Earth is right here in Central Florida.  If you call yourself a serious photographer and you live anywhere near Central Florida, you owe it to yourself to make the effort to capture this spectacle yourself during the next two weeks before the blooms fade.
PS:  The mosquitos this year are truly ravenous.  Be sure to load-up on your DEET before you get out of the car!
Enjoy yourself!
Jeff
Here is one last panorama I stitched together in photoshop:

Lake Jesup Sunflower Photo Tips and Guide
Related Images: