I made it out to the Marl Bed Flats at Lake Jesup today. The sunflowers looked to be at peak bloom, so if you are planning to get out there, this weekend may be your best bet!
Unlike the past couple years, the fields are not flooded and the blooms are prolific. Perhaps not as dense as some earlier years, but impressive all the same.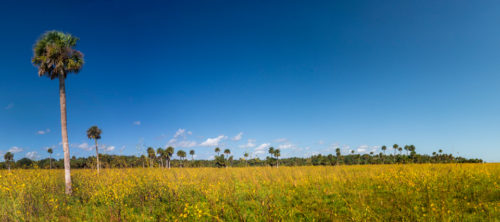 The rain earlier this week did make the fields marshy and you can't venture too far out into them without flooding your boots but there are photographs to be had if you stay close to the oak hammocks or follow the lines of palm trees that stretch out toward Lake Jesup. Either way, bring tall waterproof boots and maybe an extra pair of dry socks (I wish I had!)
Both the Red and Yellow trails are good this year with the best blooms in the fields between where those two trails exit the tree cover.
I didn't get out there today until 9:30 so the light was a bit harsh but at least I was able to do some scouting. Hopefully I can get out there again at an earlier hour Monday.
In addition to the wildflowers, there are plenty of birds…a pair of bald eagles soared over the fields the entire time I was there.
If you've never been out there, check out my blog that has detailed maps, tips and other things I've learned over the years about this wonderful event.
Jeff
PS: I got a little write-up about the sunflowers on a website that features neat things to do in the Central Florida Area, check it out!
Related Images: