Hi all,
The fields are still blooming in the Marl Bed Flats area by Lake Jesup but it is  still wet…very wet:  Unlike the drought out west, Florida's rainfall as of October 1st has equaled what we normally receive for a full year.  Plus, some of the areas that are usually packed with flowers are overgrown by other plants.  I've heard from a number of you who have tried to see the fields this year but were disappointed.
The good news is that I've found a new, relatively dry field filled with flowers. Take a look below…what do you think?

I'm guessing that we have another week before the flowers start to fade, so this might be the last weekend for you to see the extravaganza this year with the flowers at their peak.  If you are interested, then I'll help you get to this spot.
But first, let me be clear.  Don't be like the couple I met at the trailhead yesterday who expected that they were going to drive up to an overlook, step out of the car and start snapping photos.  This isn't Disney.  You are going to have to hike about 20 minutes out to the fields.  You are going to be bit by mosquitos (no matter how much DEET you have on) and your feet are going to get wet (unless you have waterproof boots).  If you are still game, then read on.
Note:  If the following directions look familiar to you, it is because they are identical to those I've published in past years UNTIL you get to step #6:
1. First of all, once you are in the Orlando area, get on SR 417 (the Greeneway toll road) and exit (east) on E Lake Mary Blvd (the first exit north of Lake Jesup) and head east.  Then take a right (south) on South Sanford Ave.  Take a left (east) on Pine Way (this will be just before you drive under the 417 again). Take a right (south) on S.Mellonville Ave. This will dead-end into Oakway…turn left (east). Oakway is a

 

narrow

 

two lane road with no shoulders so be careful if a vehicle is coming the other way.

2) Oakway dead-ends at a small parking area that is open during daylight hours (see photo above).  If the gate is closed you can park outside the gate on the shoulder of the road.

 3) The trail starts at the gate (see below) located in the back south-eastern corner of the lot located next to the parking area. As you walk to the gate, you will likely see your first sunflowers in the fenced field to your right.

4) Follow the trail on the other side of the gate (actually an old overgrown dirt road).

5)  You will see trail markers with both red and yellow diamonds. 
6) Within five minutes, the trail will split.  In past years, I've always told you to continue straight (on the Red Trail)  but this year, you need to take the right fork at this split and follow the Yellow Trail

 

7) This trail is marked with

 

yellow diamonds

and will take you thru an oak hammock.  The trail will curve to the left (south).  Continue on the trail (actually an old dirt road) until you see the flats .

8) At the edge of the flats, the trail/road will take a sharp right and become completely overgrown.  As you stand here looking out to the flats you will see a long, perfectly straight row of palm trees leading off south-east into the flats.

9) Walk along that line of trees (no need to follow it to the end).  As you do so, you should see the field of sunflowers to your left (south-east).  This area is particularly nice in the afternoon with the sun to your back.
Here's a map that shows the trails: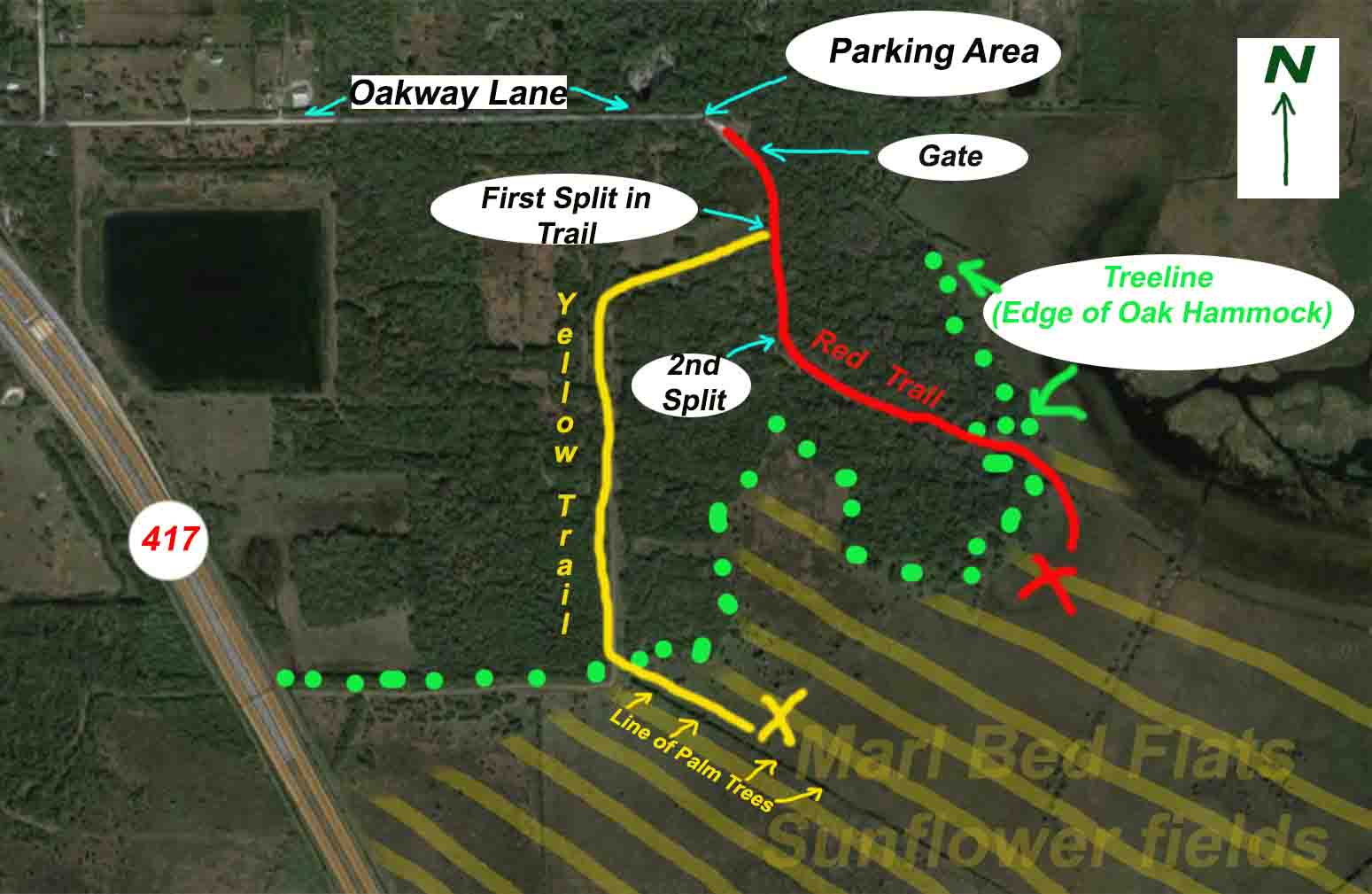 It is really gorgeous out there right now and I hope you are able to get out there and enjoy it.  If so, be sure to review my list of tips and suggestions before you go…it will help you avoid some of the mistakes I've made in the past and make for a more enjoyable day.
PS:  If you know of any other good locations, please let me know.
I've heard rumors that are good fields in the Tosohatchee Wildlife Management Area along Power Line Road.  I hope to check that report out in the next 3 or 4 days.

UPDATE:  I drove out to Tosohatchee on Oct 13.  I only found a few small clumps of sunflowers.

I did check out the Caldwell's Field area at Lake Jesup Park on Oct. 9th, but it was totally underwater…don't waste your time.
I haven't yet hiked the East Lake Jesup Tract or the North Cameron Tract this year.  If anyone has seen these areas recently, please let me know if they were dry.

UPDATE:  I heard from one of my readers on Oct 11th that the North Cameron Tract is dry this year, but the flowers are not as profuse as they are in the Marl Bed Flats.
PSS:  Fellow local photographer Ed Rosack was out at the fields yesterday also.  Here is his report: http://edrosack.com/2015/10/10/beauty-and-bugs-in-the-soggy-swamp-sunflowers-2015/
PSSS:  Here is a shot of my 6′ son in the fields yesterday: