Those of you that subscribe to my blog know that I've been photographing Manatees for years. Every winter, I look forward to the Manatees returning to Crystal River and my chance to interact and photograph these gentle giants. And every year, I learn a few tidbits that help me take better photographs (who says you can't teach old dogs new tricks?!). In today's blog, I'd like to share with you the best of my manatee photographs as well as my learnings, tips and suggestions.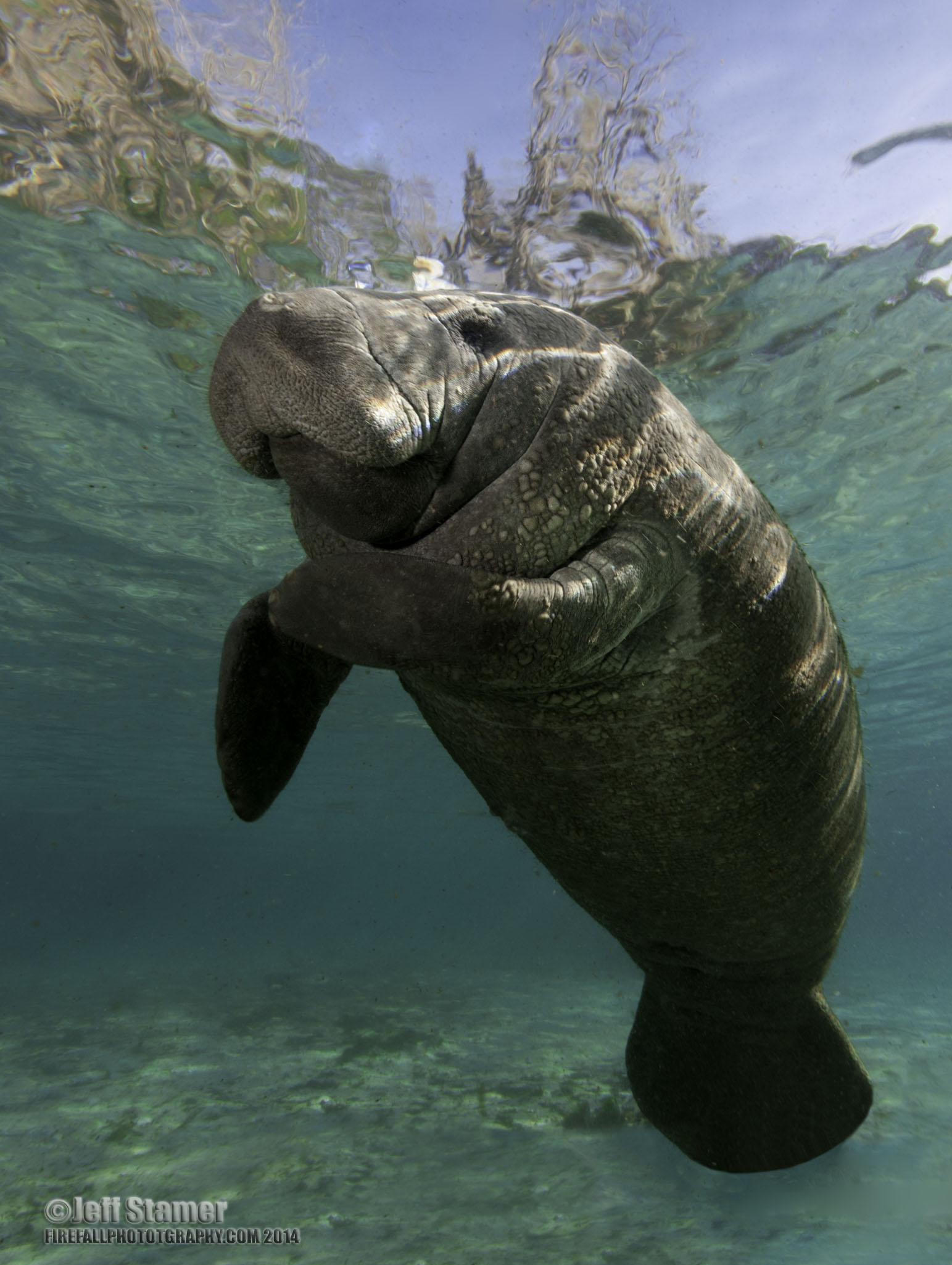 Before we get started, if you are looking for an in-depth review of how to photograph manatees, check out this article I wrote last year.
My first tip : Who to book your tour with
Crystal River/King's Bay

In the past, I haven't recommended a specific tour company…because over the years I had found them all pretty much the same. However, this year I took two trips with

Bird's Underwater

and I was incredibly impressed. They've been in business for quite a while and somehow manage to combine all the best aspects of the other tours with none of the downsides…and their pricing is competitive as well. I'm not the only one who thinks highly of them, they also have an excellent Trip Advisor rating. Here is a link to their website. And…no, I (unfortunately) don't get any kickbacks/discounts for this recommendation:)

Homosassa

If you decide to try the more 'photographer friendly' Homosassa area, then I'd recommend Wyn Walker of Blue Heaven River Tours. Wyn actually has an enclosed and heated boat, which is quite appreciated when climbing out of the chilly water. His Trip Advisor rating is also excellent and he is passionate about the manatees..and his customers. And again…no kickbacks…darn it.
Buy an underwater housing for your DSLR
Although you can get solid quality manatee photos from a waterproof point n shoot camera (which is what I've recommended in previous posts), I finally broke down last year and bought a Ikelite underwater housing for my old Nikon D700. Although I got it used on eBay for half of the retail price, it still wasn't exactly cheap. But, I have to admit that using a DSLR provides a significant advantage.
When combined with a 15mm fisheye and an 8″ dome, you can get truly remarkable shots of Manatees with a technique known as CFWA (Close Focus Wide Angle). Since manatees will come right up to you (heck, they will bump you!), CFWA is perfect for this type of photography (I wouldn't try it with Great Whites though). Alex Mustard is a underwater photographer I have long admired and he has provided a great recap on techniques involved in CFWA…check out this link for more.
Note: As of 2018, restrictions prohibit approaching closer than 6 feet from a manatee, so if you are using a wide angle lens, be aware of your distance.
Shooting underwater with a fullsize DSLR takes some practice. Over the years, you get to know your camera's controls without even looking, but don't be surprised if using an underwater housing initially seems like learning how to use your camera all over again. The sheer size, bulk and weight of the housing can also be a bit intimidating but it manageable with practice. Oh, and you will certainly get comments from your fellow snorkelers!
Hold your camera down and aim up at the Manatee.
I photographed manatees for years before I realized what a difference it made to use this technique. It will allow you to capture the dome of the blue sky in your shot, which makes for a beautiful contrast to the grey manatees and green-blue water.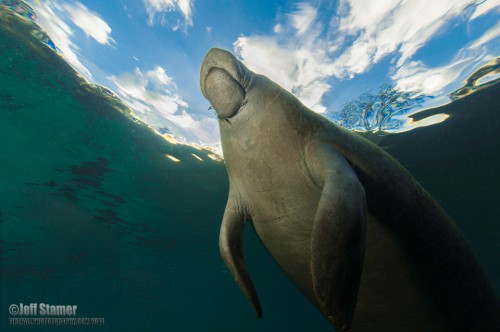 The photograph bellows illustrates a photographer using this technique: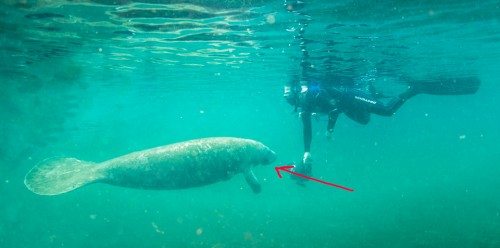 Try to capture sunbeams streaming thru the water.
I think sunbeams are a magical enhancement in a manatee portrait. Although silt in the water doesn't help the clarity of your photos, it does enhance the sunbeams. Position yourself with the sun nearly in front of you and you should have some luck.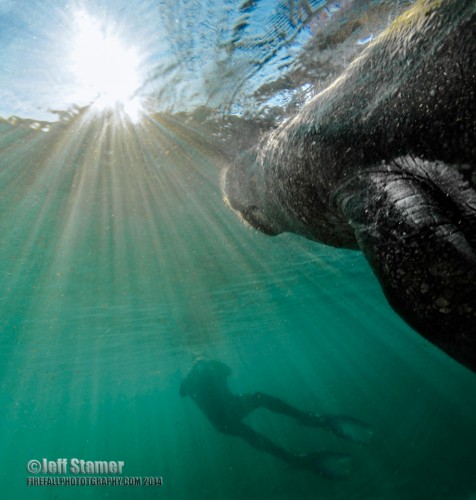 Try Off Camera Flash
UPDATE 2018: Flash photography is no longer allowed when photographing Manatees in the Crystal River Wildlife Refuge (which includes Kings' Bay/Crystal River/3 Sisters). Photographers should no longer consider early morning trips in this areasince you won't have adequate sunlight. Fortunately, manatee photography is usually done within a few feet of the surface, so if it is a sunny day, you should have adequate light during the day.
Note: Flash photography IS still permitted in the Homosassa River area (about 10 miles south of Crystal River). Although the manatees are not quite as plentiful, there are still plenty when the air is cold. You can find are tour companies on TripAdvisor who are located in Homosassa.
Using a flash attached to your underwater housing (not the one on your camera) is a tremendous advantage, for a few reasons:
First of all, by moving the flash away from your lens, you deemphasize the 'backscatter' of the silt suspended in the water.
It also helps you illuminate the bulk of the manatee and give it a more 3-D appearance.
Finally, when it is overcast and/or visibility is murky…a strobe will cut thru the gloom and help you finish your day with some usuable shots that wouldn't have been possible otherwise
Be Aware of New Manatee Laws & Regulations
The laws and regulations that protect Manatees from over-enthusiastic tourists (and photographers) are reasonable and should be respected. Not only that, they are actively enforced. Know your responsibilities as a photographer and be well informed before you go…this video from the US Fish and Wildlife Dept. is a great recap (eff March 2014). Note that the regulations seem to be upgraded every year…be sure you have the latest info.
A few watchouts/suggestions:
No flash photography allowed in the Crystal River Wildlife Refuge (see above)
I suggest that you ask your tour captain how the laws are currently being applied to photographers. Since there can be some subjectivity to how the regs are enforced, your guide will be able to provide the latest scoop.
Finally, you should be aware that there are those who would prefer that we not be allowed to snorkel with manatees and that all observation be restricted to above-water. We should consider it to be a honor to be in the water with manatees and be on our best behavior. It would be a shame if a few overly enthusiastic photographers were to cause all of us to loose this privilege in the future.
Hope this article helps you get better shots the next time you get to photograph these wonderful animals,
Take care!
Jeff
Manatee Photography: Tips and Suggestions