I couldn't tell you when I saw my first photo taken in the Virgin Narrows at Zion National Park.  But since that first moment, this became one of the top locations on my "photographic bucket list."   And with good reason:  the images of sandstone walls glimmering with reflected light were magnificent.  Sort of like Antelope Canyon…only with a river ripping thru it!  Last month I finally got a chance to visit this icon and I have to tell you, it was everything a photographer could hope for.  First I'd like to share with you some of the highlights and then provide some hints for those that hope to make this trip in the future.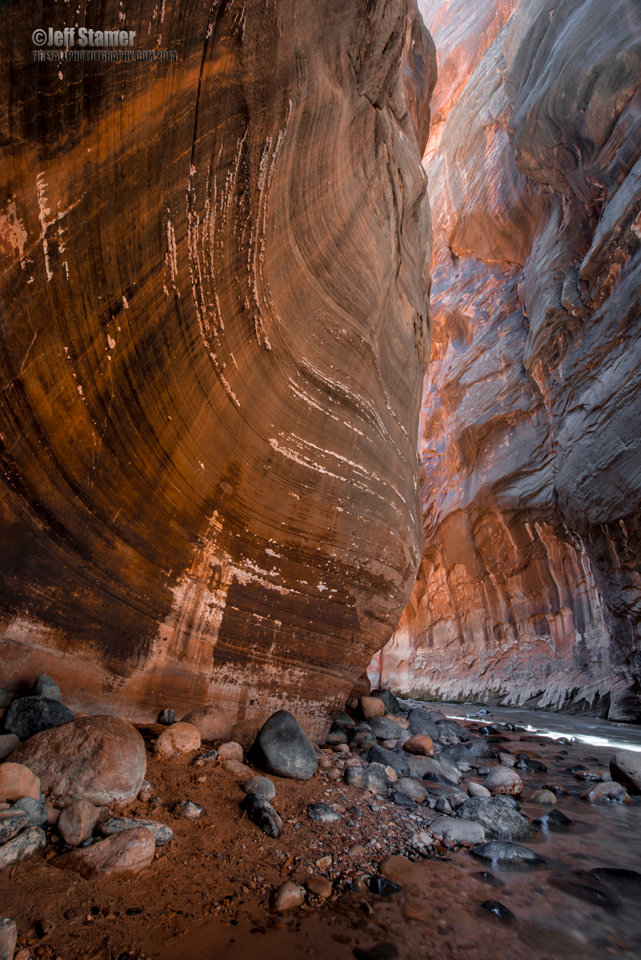 So, first of all, what exactly is the Virgin Narrows?
Over the eons, the Virgin River has carved its way thru sandstone to create the wonder that is Zion National Park.  The Narrows is a section where the river has sliced a thin, deep wound thru the surrounding sandstone…only 20 feet wide in some spots and the walls of the canyon shoot nearly straight up over a 1,000 feet.  Just imagine yourself standing in the river, the walls close on either side, and the sky no more than a sliver of light snaking its way far overhead.  It truly is magnificent.  And if that wasn't enough, what really makes this a wonder to see is the incredible way the sandstone of the canyon walls reflect light…it isn't easy to describe…almost a glow, an iridescence…heck, just look at the pictures!
My top Impressions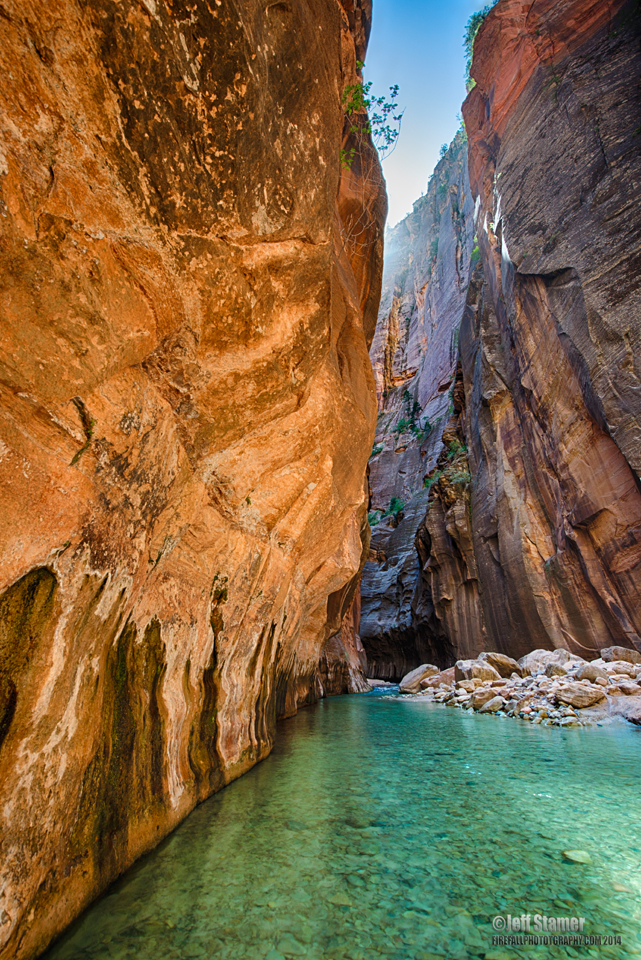 Here are four aspects of the Narrows that truly stand out:
1)  The light.  I've already mentioned it, so I won't beat this to death, but the quality and color of the light as it reflects off of the sandstone walls of the canyon is amazing.
2)  The sheer number of incredible views.  You know, many of the places I photograph really are 'one-trick-ponies.'  You go to a specific location for a specific shot, set up the tripod and might not even move it more than ten feet until you leave.    But the Narrows is not a single, specific vista.  Here you are moving the entire day and are treated to new views every five minutes!   I could spend days here without photographing the same scene twice.
3)  Six hours never zipped by so fast.  I know that this sounds like a long hike, but much of the time you will actually be photographing, not walking.  And I was so enthralled with trying to capture the grandeur before me that time just flew by.
4)  I actually enjoyed this hike.  Time for a confession:  I usually don't really love hiking.  I mean, the actual process of putting one foot in front of the other with a heavy pack in hot weather for a full day…well, I can think of more pleasant things to do.    With that said, this is one of the few hikes I would go on again even if I didn't have a camera with me.  It-is-really-THAT-cool.  The scenery is non-stop the entire way and the fact that most of the hike is actually in the river itself makes it just plan fun!  My son and I have hiked a lot of places during our years in the Boy Scouts.. but we both agreed that this was the best day of trekking we have ever experienced.  It is small wonder why this is often included as one of the Top 10 hikes in the country.
There are different hikes for the Narrows, which one should I take?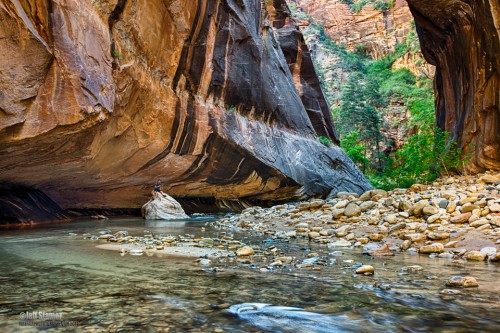 For photographers, I'd suggest you do the "Bottom-Up"  hike in which you trek upstream about 3-5 miles and then turn around and return.  This hike will cover most of the prime photo ops, you don't need a permit and most reasonably healthy folks should be able to make the hike with no problems.  Another great thing for photographers is that you can catch a sunrise shot, hike the Narrows after sunrise and finish in time to head out to another location in the park for your sunset shot.
You could also do the "Top-Down" hike.  This is about 16 miles starting at the trailhead at Chamberlain's Ranch.    It can be done in a long 12-14 hour day IF you are in great shape, AND you don't mind that you won't have any time to actually stop and take photographs. Photographers will need to plan to make this a two-day overnight hike.  A permit is required for any "Top-Down' hike and you can obtain them three months in advance at this site.
Since the "Bottom-Up" hike is the one most photographers choose, it is the one I will review in this article.
 What should I expect on the Bottom-up hike?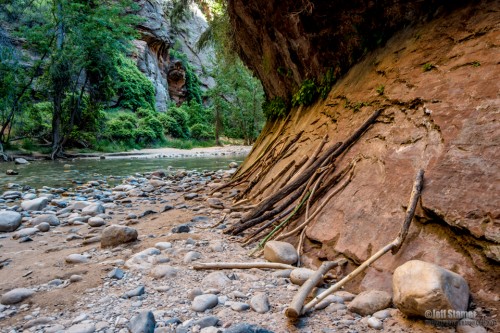 This trailhead starts at the Temple of Sinawava.  You first walk a mile on the paved "Riverside Trail."  Keep your eyes open, there is a lot of wildlife (especially early in the morning).  At the trail's end you enter the river and head upstream.  Most of the water is waist deep or less and you will cross from one side of the river to the other dozens of times.  With a bit of practice you will learn to recognize where the current is slowest and cross at those spots.  Photo ops begin immediately once you get into the river.   Less than a 1/2 mile will bring you to Mystery Falls (see photo below).
Each bend of the river reveals another photo-worthy vista and you will find yourself stopping often to set up your tripod.
About 2.5 miles from the trailhead (1.5 miles after entering the river), you will see a small stream enter from another canyon on your right.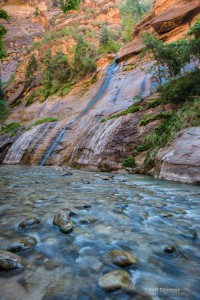 This is Orderville Canyon.  Although it has a charm all it's own, the best of the Virgin Narrows is yet to come, so I'd suggest bypassing Orderville and continuing down the main channel.  After Orderville, the canyon gets even more narrow and the photo ops continue over the next two miles until you get to Big Springs (when you see waterfalls coming out of the western side of the cliff, you will know you found it).  This is as far as most folks will be able to reach before having to stop and head back.
When should I go?
The Park Service doesn't allow hikers in the Narrows when the water flow is high due to snow-melt (usually April to June).   As a result, summers are the most popular time of year to hike the narrows and even though it might be over 100 degrees, the cool river and the shade make it a comfortable trip.
Autumn and winter has fewer crowds, however, the river sure gets colder!  I've done this hike in March with a dry-suit (you can rent gear in Springdale for about $55/day) and I was warm and toasty.  The only downside is that the water levels were higher and the water wasn't quite as clear.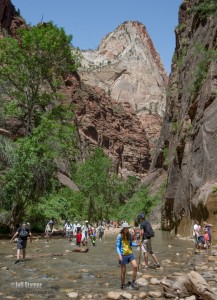 Go EARLY in the day!  The Narrows can become a real zoo by late morning, especially in summer when there will be literally hundreds of people on the river by noon.  Trust me, you want to be at the trailhead as early after dawn as you can so you can enjoy the river and your photography while the multitudes are still in bed or having a leisurely breakfast.
Also, during the summer, the reflected light is best in early or mid-morning during the summers…by 11am or so you will have missed the best light.  I still regret that I skipped some shots when I first got to the Narrows figuring I'd just take the shot on the way back…but by then the light was harsh and directly overhead…plus the river was so packed with bodies that it was pointless to even pull out my camera.
Note that if you are hiking in autumn, you will find the best light in mid-afternoon.
How to get to the Trailhead
If you are visiting Zion between November and mid March, you have to take the mandatory park shuttle bus to the trailhead (at the Temple of Sinawava…the last stop).  Just park your car at the Visitors Center, which is on the right after you pass the toll-booths at the South (Springdale) entrance of the park.  The Shuttle is free and during the summer (May 9-Sept) the first one leaves at 6am  (it leaves at 7am the rest of the year).  Be on one of the first buses. Here is a link to the 2014 Zion Shuttle Bus schedule (note that it changes every year).
If your trip is between November and early March, you can just drive your own vehicle to the parking area at Sinawava.
Weather
You need to be aware that the narrows can be dangerous after a rain…that pleasant, shallow river can turn into a raging wall of rushing water coming at you in a narrow canyon with no way to reach higher ground.  Don't take this hike if rain is in the forecast.
We photographers love our clouds. You can hear us groan at sunrise or sunset when the sky is clear.  However, clear skies are actually ideal for this location since there will be that much more sunlight to reflect off the sandstone.  If you are spending multiple days at Zion, do this hike on a day with a forecast for sunny skies.
Equipment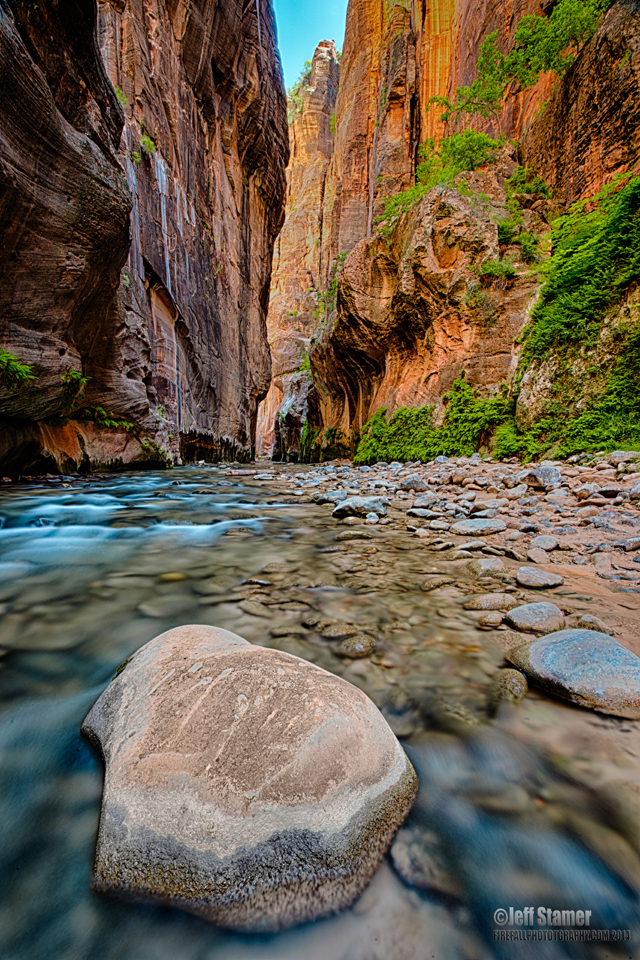 Since you are going to be actually hiking in the river for much of the day, there is some equipment you will want to bring that probably isn't part of your usual kit.
1)  Buy a Dry Bag.  A dry-bag will cost you less than $20 on Amazon and it will prevent your camera, wallet and (electronic) car keys from getting wet.  The rocks in the river are rounded, smooth and often not visible.  Even if you are sure-footed, there is a strong probability that you will trip at least once.
Yes, this means that you will have to pull the dry bag out of your backpack for every shot, but once you've done it a few times you will get it down to a science.
2)  Take hiking poles.  Even if you don't normally use them, make an exception on this trek.  I would have fallen at least three times if I hadn't had these with me.  A single hiking stick is better than nothing but a pair of hiking poles is really the way to go on this excursion.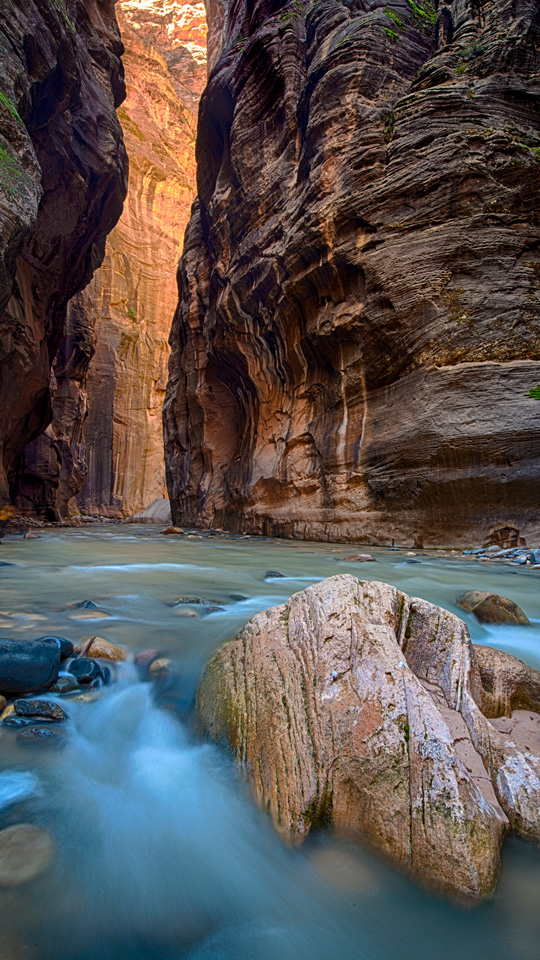 3) Footwear.  Since you will be in the water a good part of the day, you need footwear that can handle it….and this doesn't mean sandals or water shoes!  You will be jamming your feet against rocks (I still have two bruised toes!)  Wear shoes that give your toes some real protection, have a tread pattern that can grip slippery rocks…and if they provide ankle protection, so much the better.  Also, buy some 3mm neoprene socks (about $15).  These will help keep sand from getting between you and your shoes and rubbing you raw…they will also keep your tootsies a bit warmer.
4) Tripod.  This isn't an option.  The canyon is definitely a low light photo op.
5)  Clothing.  Quick dry (non-cotton).  Even when water is at its lowest during the summer, there are spots that are chest high in the river. You will get wet.
6)  Food/Water.  You are going to be out for a good part of the day and you will burn some serious calories.  There are some epic spots for picnics.  Climb atop one of the big sunny rocks in the middle of the river and enjoy a nice lunch that includes something more elegant than  granola bars.  You can also develop quite a thirst over 6 hours and you won't want to drink the river water.  A single bottle of Aquafina isn't going to cut it.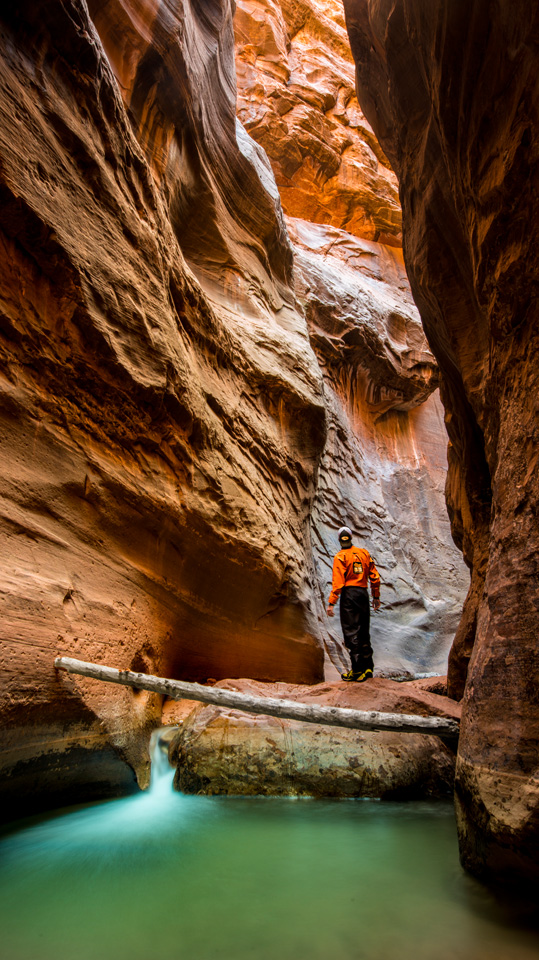 7)  Hat/Sunscreen.  Really? In a slot canyon?  By mid-day, the sun will be hitting you right on top of the head and during the summer it will be hot.
8)  Camera.  You will be hard-pressed to get high quality shots with anything less than a DSLR.  The dynamic range in the canyon is incredible.  My full-frame Nikon 800E has excellent dynamic range, but even it was incapable of handling the Narrows with a single exposure. If you also have small waterproof point-n-shoot, stick it in a pocket to capture shots of your fellow hikers and those spontaneous events that you will otherwise miss because of the time it takes to unpack your big camera!
9)  Lens.  You really need a wide lens otherwise you won't be able to capture the full scene from river to cliff top.  Nearly all of of my shots were taken at 16mm or wider (10mm on APS-C cameras).  Your lens does not have to be particularly fast since you will be photographing from a tripod
10)  Polarizer.  A polarizer will help tame reflections and saturate colors.  It will also result in a longer exposure, which helps to produce that 'silky' water effect.
Technique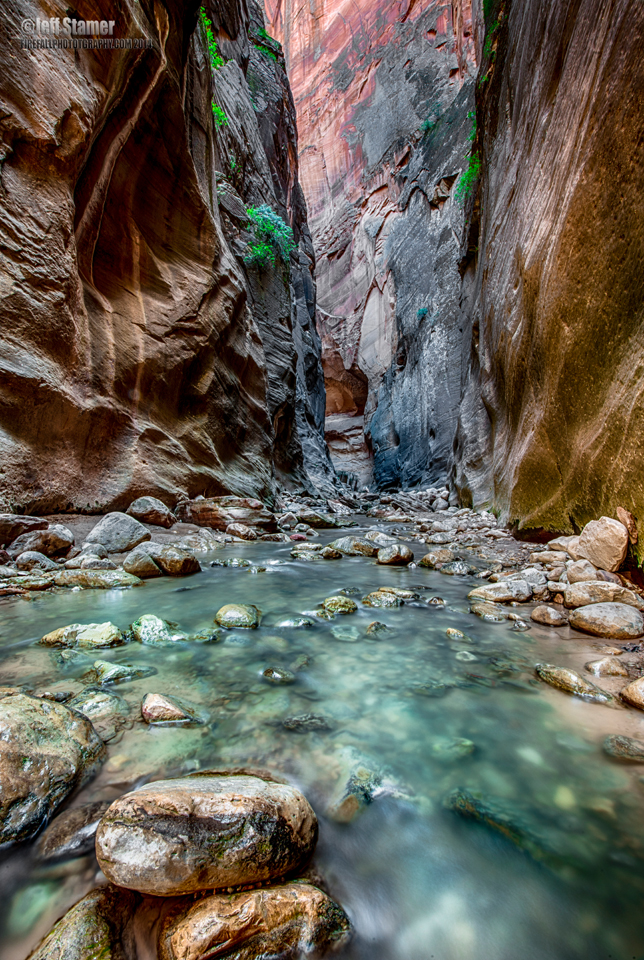 1)  Use HDR.  As mentioned earlier, the dynamic range in the Narrows is dramatic.  Sometimes I had to take 9 separate exposures a full stop apart to successfully capture the full range of light in HDR.
2)  Only show a sliver of sky (or none at all) in your shots.  If you include large portions of the sky, it will be difficult to prevent it from overpowering the rest of your image…even with HDR.  In addition, the direct sunlight tends to lessen the beautiful effect of reflected light…which is why you are photographing the Narrows in the first place.
3)  Get Low.  Set your tripod as low as you can…and try some shots set up in the river.  This makes for a more unusual perspective and tends to emphasize the water's movement.
4)   ISO  Since you are shooting on a tripod, use your lowest ISO setting.  This will result in some long exposure times, but it will maximize the quality of your images and also soften the appearance of the rushing water.
5)  Don't forget people!  It's not all about scenery (at least my wife keeps telling me so).  Capture some memories of the folks you spend time with in the river.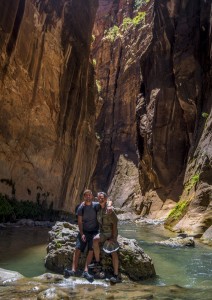 So there you have it, tips and suggestions to help make the most of your adventure on the Virgin River.  If you get the chance to photograph this iconic location, I'm sure you will have as incredible a time as Ryan and I did!
Take care,
Jeff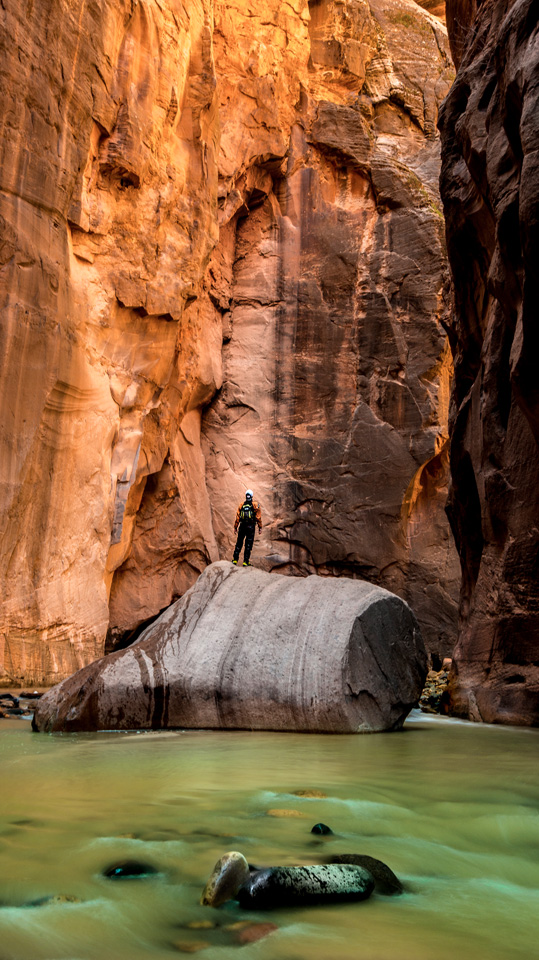 Zion Virgin Narrows Photo Tips and Guide
Related Images: