The annual blog recapping my Top 12 Shots is one of the most popular of the year.  It is certainly one of the most difficult to write.  Looking at your own work objectively without being influenced by the emotions and memories you have of the moment you took the shot …well, it is darn near impossible.  On the other hand, it IS fun to reminisce about the past year and appreciate how blessed I was to have enjoyed some truly amazing vistas.
So I've finally winnowed down the year's 100,000 photos to a final 12. These shots aren't ranked yet (but YOU will have a chance to pick the winner…see details at the end of the blog)!  For now I've simply listed them in chronological order:
Shark's Eye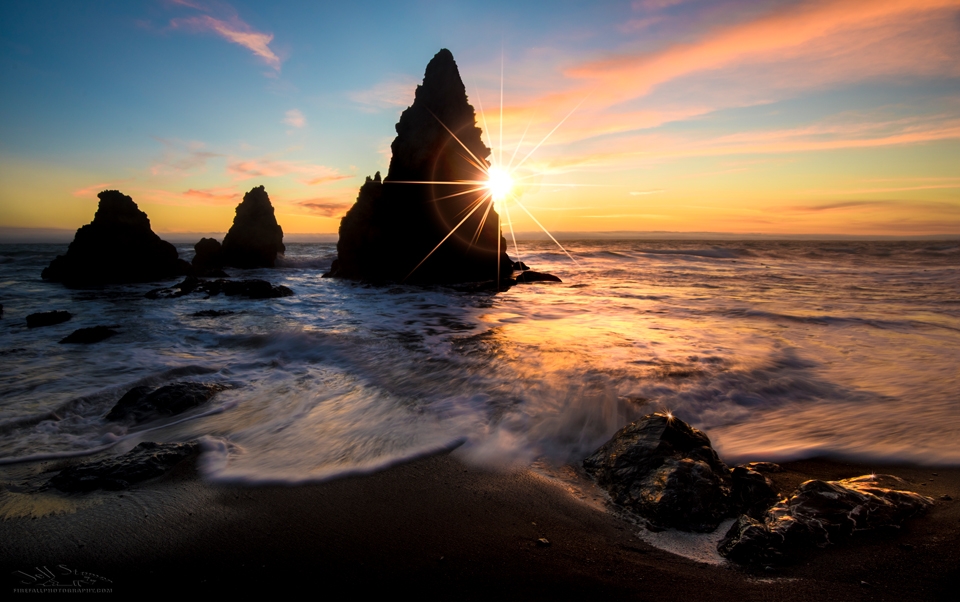 I've admired shots of Rodeo Beach for years and finally got a chance to photograph there during a road trip with my son Ryan.  When we arrived, an Aperture Academy workshop was already set up with a couple dozen students filling the tight area behind the sea stacks.  It was crowded, but I did my best contortionist's imitation and managed to squeeze off some decent shots thru the forest of tripod legs.
So, what's up with the name of the shot?  I think that center sea stack looks like the head of a shark rising straight out of the ocean with the sun glinting off of its eye.  Can you see it?
2) Artist's Point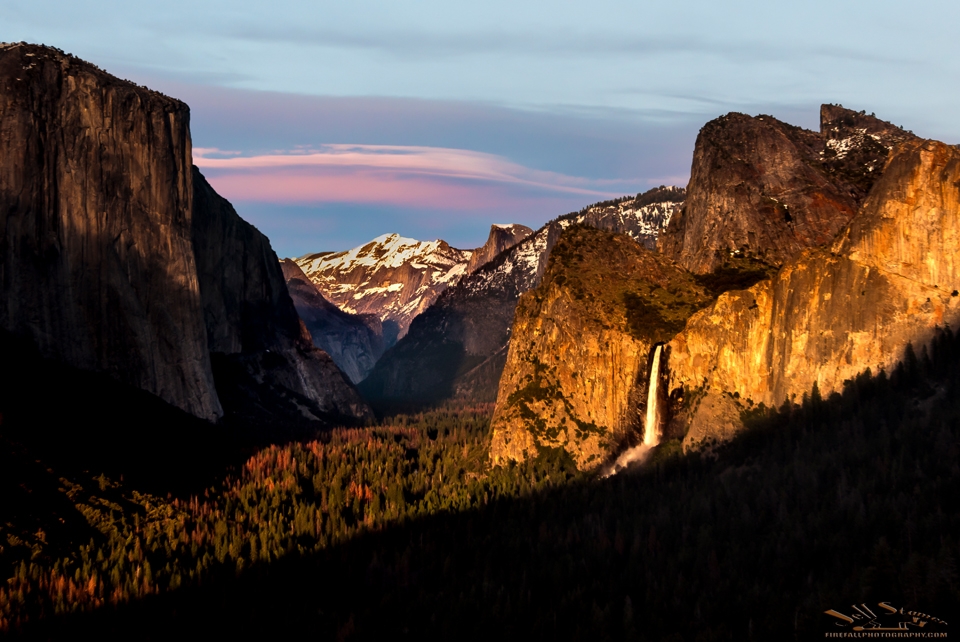 This view should be familiar…the vista of  Yosemite Valley from Tunnel View is iconic…possibly the best known and most photographed icon of the American west.
But this image wasn't taken from Tunnel View.  This is an obscure location known as Artist's Point.  It's on the edge of a cliff on an old stagecoach road which was the premier location to see the valley before 1933 (when the tunnel that gives Tunnel View was completed).
I can't honestly say that the view is dramatically different.  But it is isolated, quiet and peaceful…not the three-ring circus that Tunnel View can be.  Check out my blog article for more history, photos and details about Artist's Point as well as a dramatic time-lapse.
3) "Heavenly Hanalei"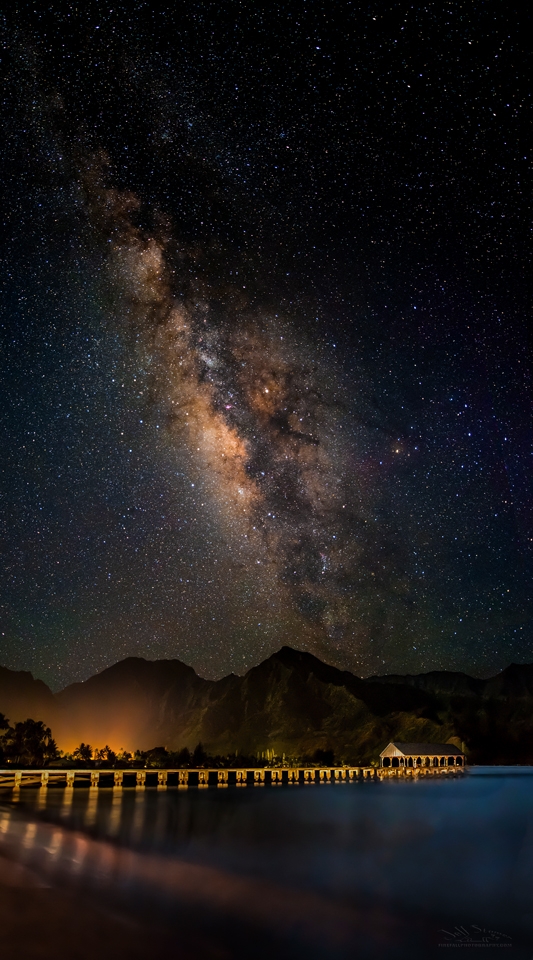 Hanalei Bay is one of the most beautiful spots on Kauai…which is truly saying a lot since I think Kauai may be the most photogenic place on earth.  My last trip there coincided with a new moon and I took advantage of the dark skies to capture the iconic Hanalei Pier stretched out under the Milky Way.
4) "Fit for a Queen"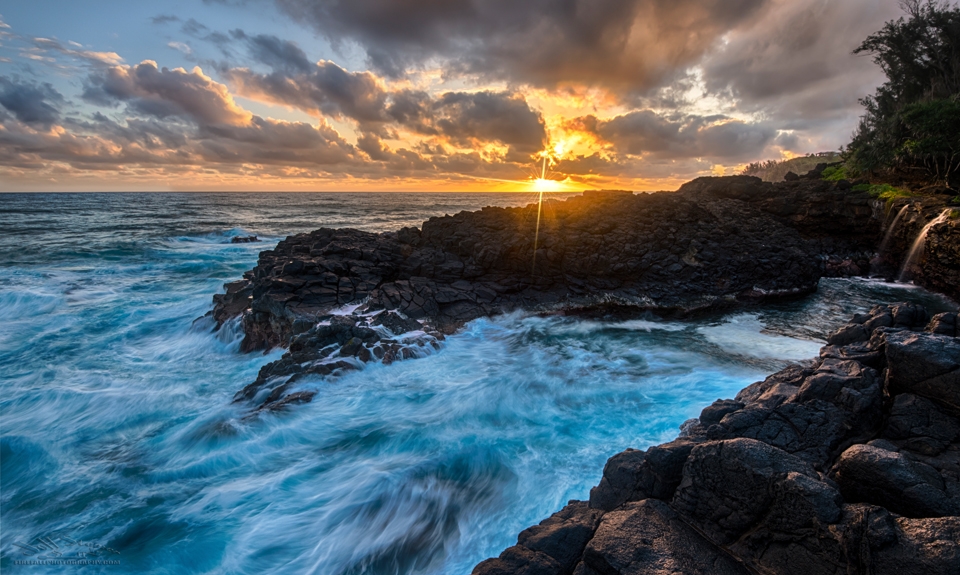 Queen's Bath is a well-known location on the north shore of Kauai near Princeville.  Legend would have it that Hawaiian royalty used it as, get ready for it…a bath.
The spot is a bit notorious because of the multiple drownings that have taken place there but it is certainly a delight for photographers.
This dawn image was taken a few hundred yards east of the bath where a small double waterfall drops into the Pacific. Quite the magical spot.
5)  "Vulcan's Cauldron"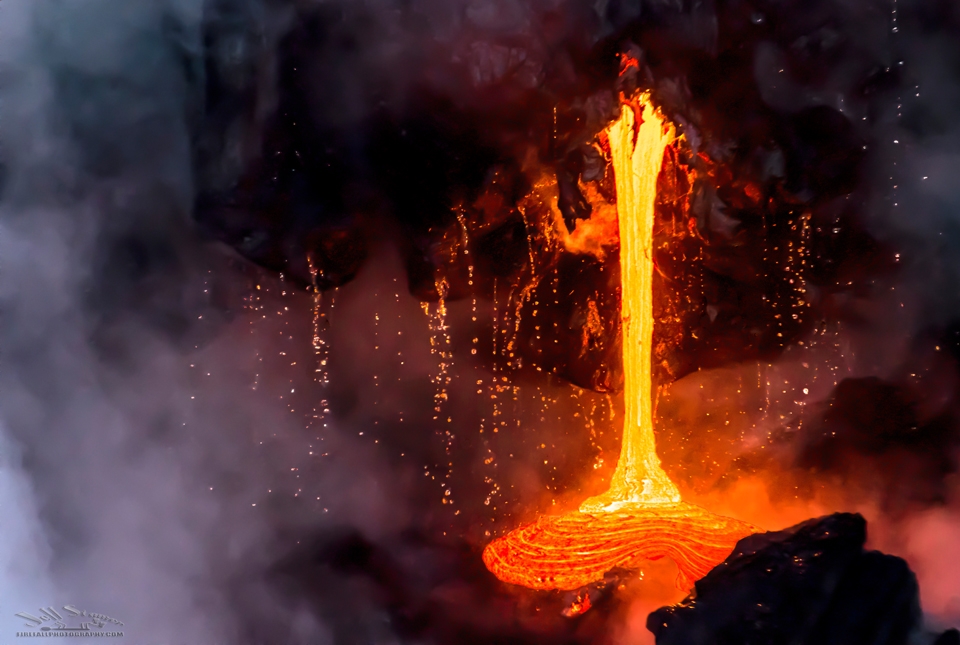 Witnessing the birth of new land as lava pours into the ocean is dramatic, unforgettable and profoundly moving.  This pre-dawn shot was taken from a rocking boat so close to the lava that my face tingled from the heat and my ears rang from the sound of the molten rock exploding as it poured into the chilly Pacific.  Read more about this experience on this blog.
6)  "Midwife"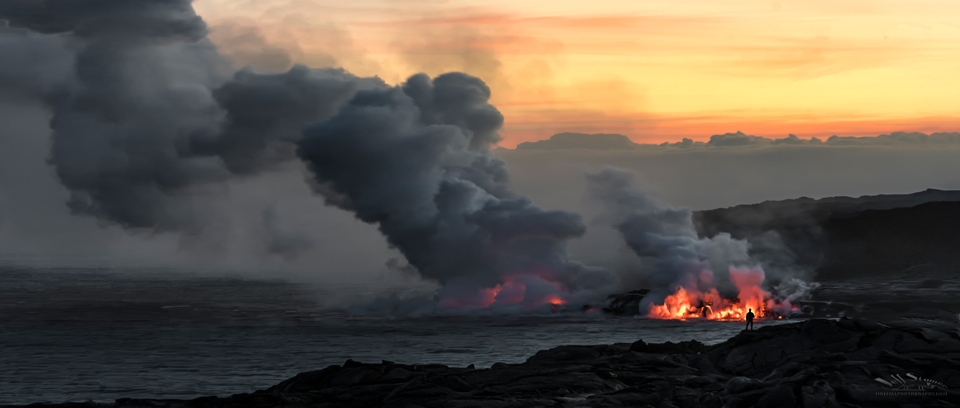 My son and I went back to see the lava again a couple of days later at sunset.  This time we rented bikes and peddled out to an observation area the National Park Service had set up.  A group of 50 or so of us silently stood and watched with what can only be described as a sense of reverence.  As I was taking some shots I spotted a hiker that had snuck under the barrier and climbed up to a ridgeline between us and the lava.  His (her?) silhouette made for a dramatic image.
7) "Lunar Limelight"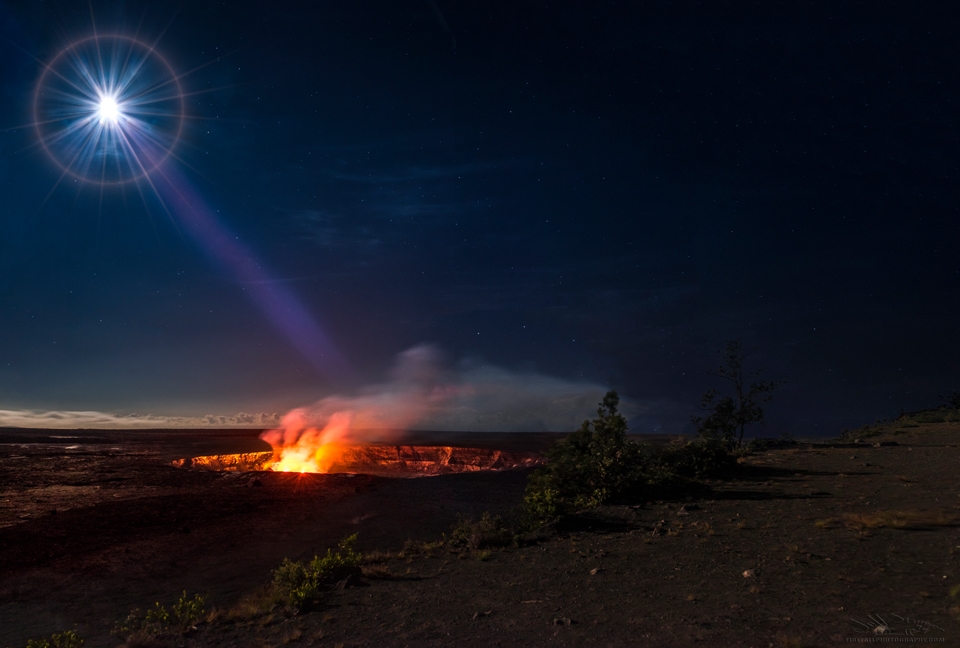 Taking this image of the Kilauea Caldera at night was the highlight of my Hawaiian tour.  I spent 3 evenings doing my best to capture its magic under a full moon.  Of the thousands of images I took, this is the only one with the wild purple lens flare that seemed to spotlight the lava.  Don't really understand how it happened, but I enjoy the result all the same.
8)  "Dive! Dive! Dive!"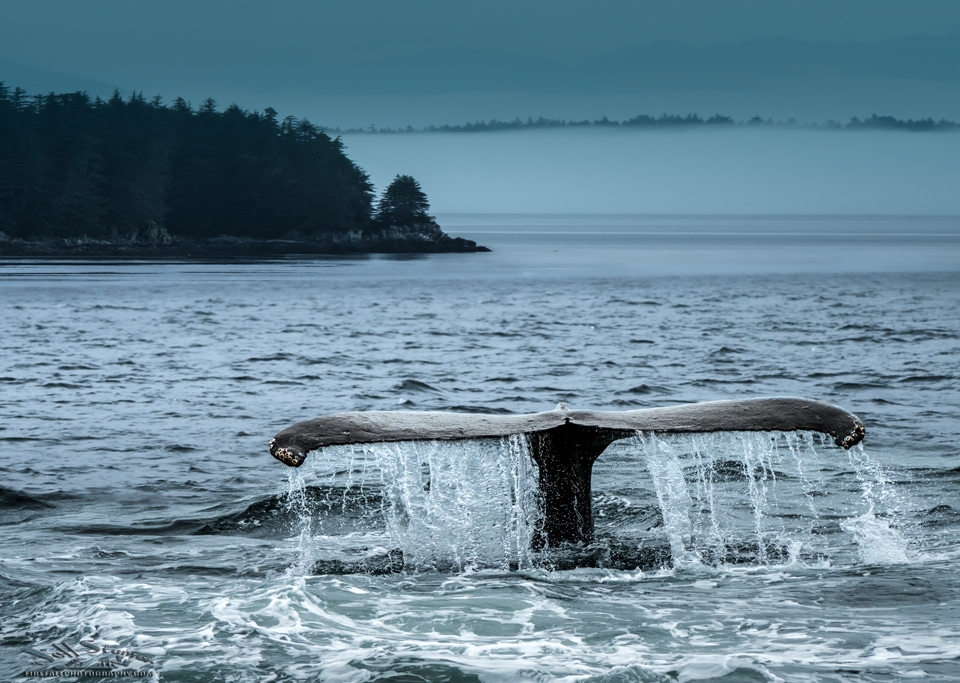 I couldn't tell you how many whale tours I've been on over the years and I'd thought I'd pretty much seen it all.  But last fall my wife Anita and I were on boat out of Sitka Alaska and I learned how wrong I was!  We spotted this Humpback who was slamming its tail onto the surface of the water.  Now we'd seen this before, but usually it doesn't last long and I'm lucky just to get off a handful of shots before the whale dives deep and disappears.  But This humpback kept it up for over ten minutes.  The captain said he hadn't seen anything like it in the dozen years he had been conducting tours.  I got literally thousands of shots: this one is one of my favorites from that memorable day.
9) "Morning Prayer"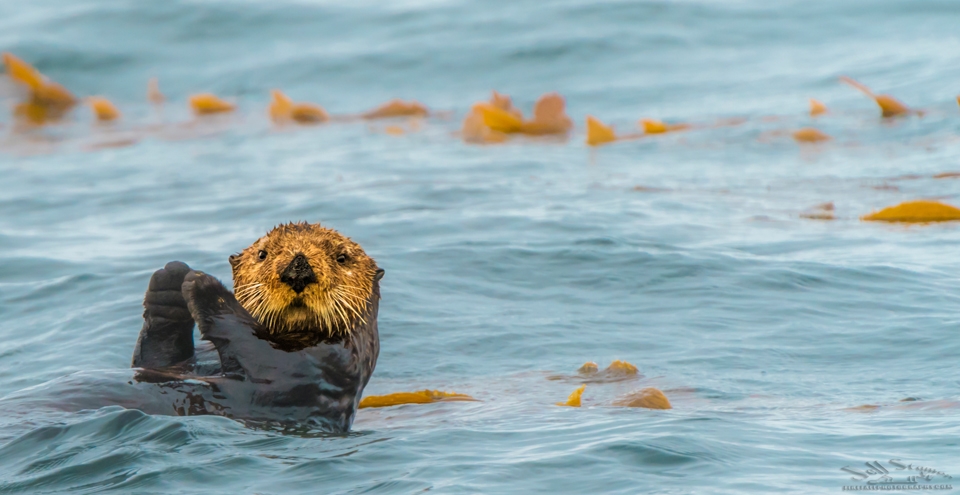 I don't know if this is truly a great shot from a purely technical perspective, but my family adored it, so here it is.  This otter was riding the gentle swells in a kelp field in Alaska's Inner Passage seemingly without a care in the world.  Gotta love that fuzzy face.
10) "Strafing Run!"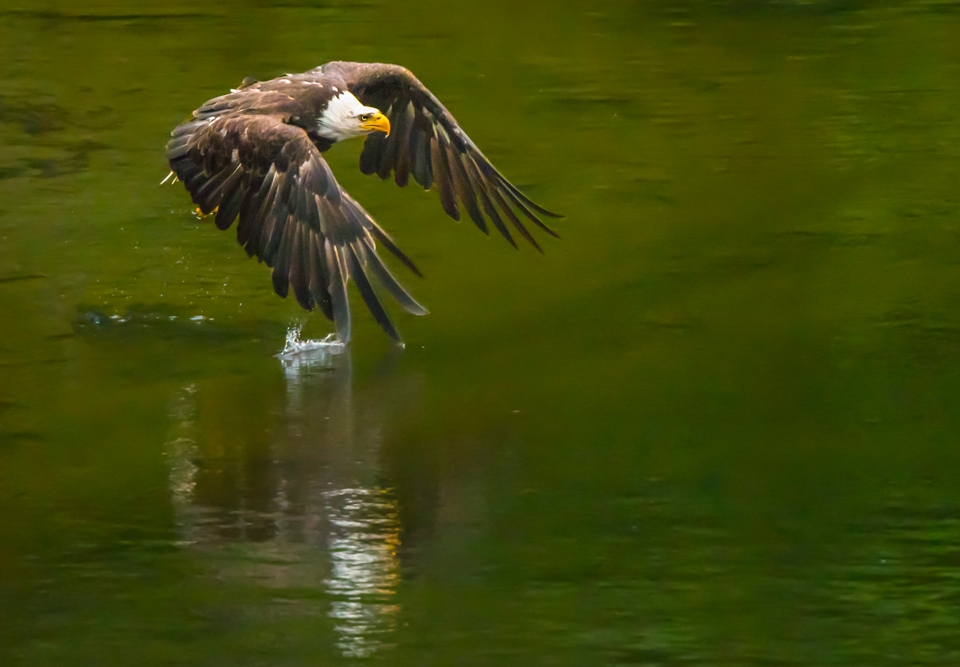 I  had watched this eagle for fifteen minutes or so before he finally left his perch and skimmed over a little stream near Ketchikan Alaska.  I ripped off a series of shots and this one caught the moment when one of his wing feathers glanced the water.
11) "Frustration's Child"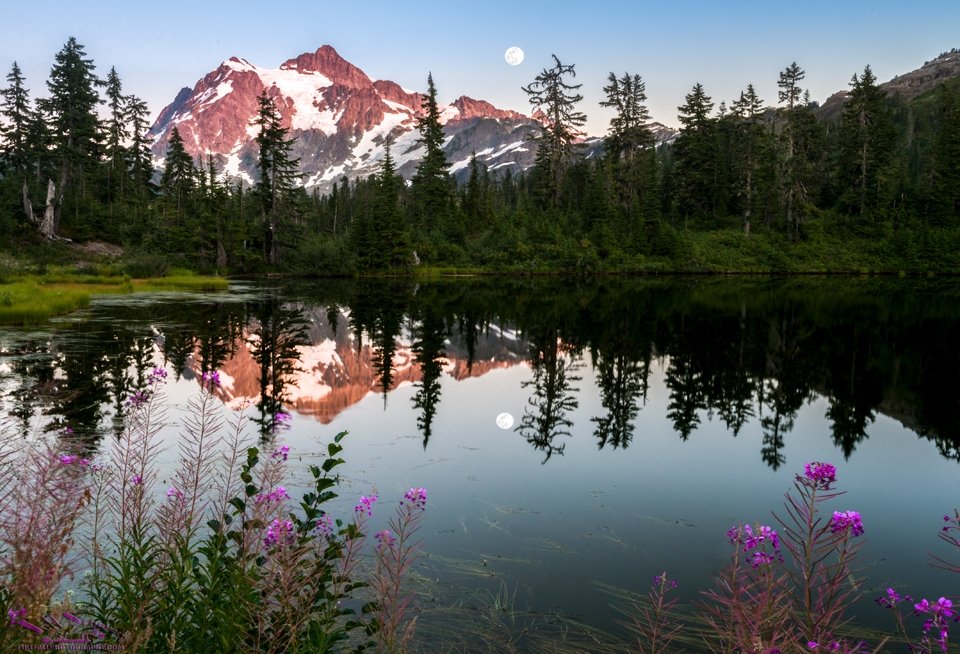 This image invokes a sense of tranquility and calm when I look at it now.  That's kind of funny, because the overpowering emotion that I had when I took the shot was pure frustration.
I had spent a good part of a day scouting for locations near Mt. Shuksan in Washington state's Cascade Range.  Wildflowers were few and far between but I found a handful by this small lake.   You could only see Shuksan's reflection from a tiny part of the lakeside, but it was perfect. I marked the spot on my GPS and decided to return for sunset.
Unfortunately, when I rolled up a few hours late another photographer and a group of her friends were already set up in 'my' spot. With the light fading, I shuffled back and forth along the bank taking photos from their left and right with a growing sense of frustration. I was ticked off at myself for not getting their earlier and prayed that they would move….but they stayed firmly rooted until the last of the sun's red glow faded from the snow atop Shuksan.
In retrospect, being forced to shoot from a non-ideal location may have actually been a good thing.  It forced me to concentrate and really think about my framing, focus and composition…but I sure didn't feel that way then!
12) "Here Comes the Sun!"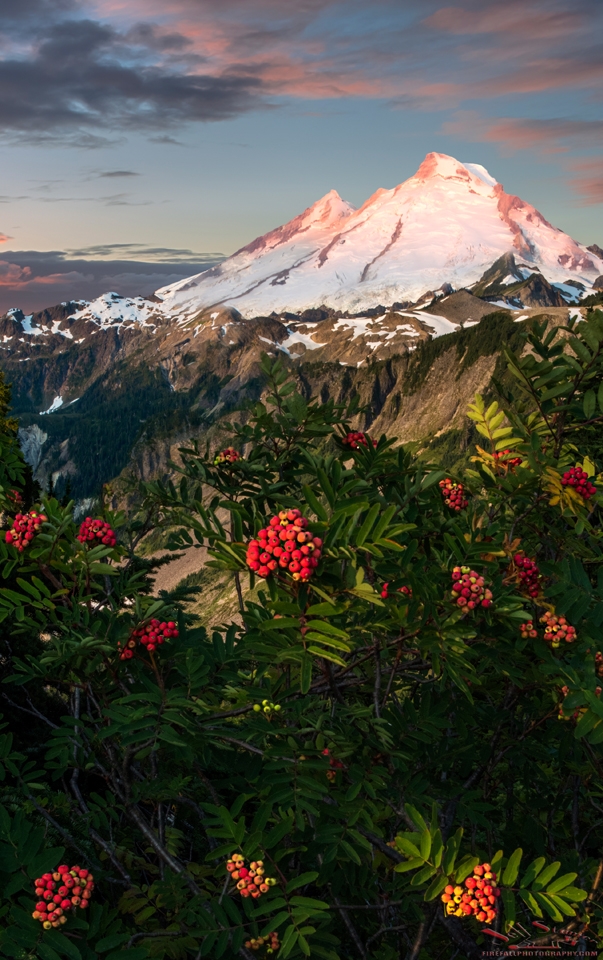 I was lucky to find a batch of these vibrant red berries on a Mountain Ash tree while scouting on the Artist's Point Trail near Mt Baker. The next morning I was set up and was well rewarded when the sunrise hit Baker's summit and illuminated the low-lying clouds
So twelve shots…call it an average of one a month, but which is the best?  That's where I need your help.  For the first time, I'm going to let my readers rank the shots.  Just pop me an email at Jeffstamer@aol.com and list the shots from best to worst.  I'll compile the results and publish the final results next month.
Have fun!
Jeff
PS:   I'd like to thank my family for helping me review my library from 2017 and narrow it down to the 12 shots in this blog.   Without their help it would have taken me until 2019 to write this blog.