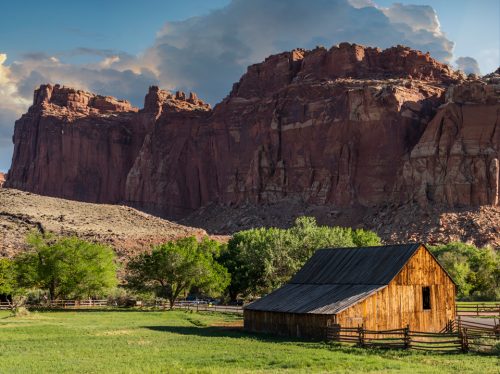 My last morning in Capitol Reef had forecasted partly cloudy skies, so I decided to skip a Milky Way shot and hope for a colorful sunrise. But sunrise was a bust so I just did a bit of sightseeing and set off for my primary goal of the day: Kanarra Creek Falls.
Kanarra Creek Falls
Reminiscent of the legendary Virgin Narrows hike in nearby Zion, Kanarra shares many of the same features on a somewhat smaller and less intense scale.
For photographers, the highlight of Kanarra is a wild-looking ladder scaling the falls nestled in the red sandstone slot canyon. It had been on my "list" of must-photograph locations for years, so I had prepared with hours of internet research. I had the right equipment (GPS, neoprene socks, drybag, etc) and a list of the shots I wanted to get. I was probably over-prepared, but I wanted to leave nothing to chance.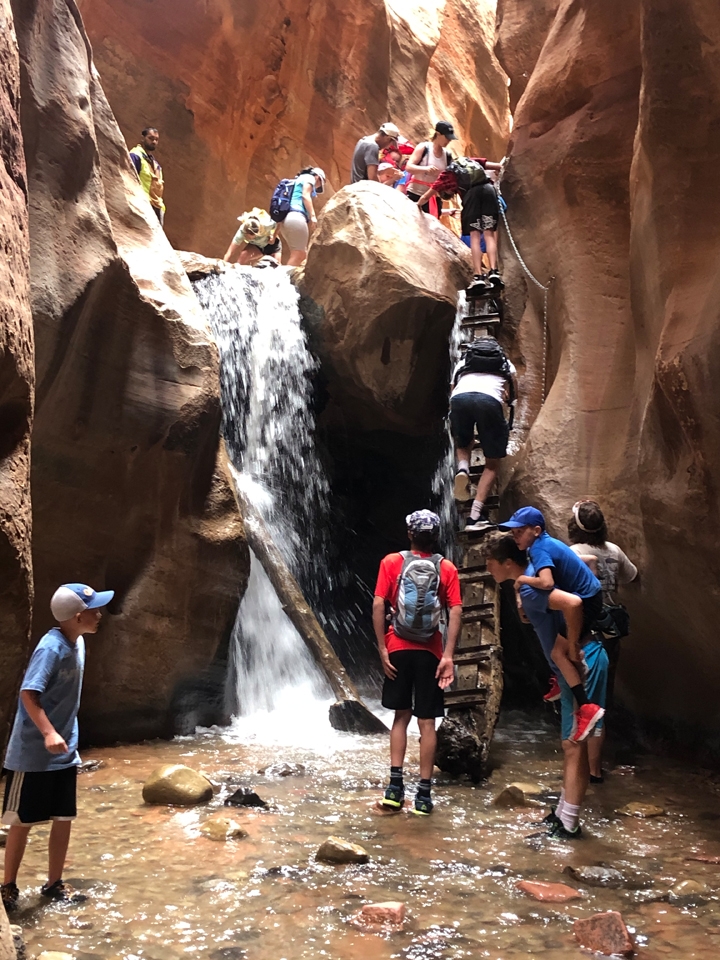 It was a 3-hour drive to the trailhead. I made one last check of the weather on a phone app, then grabbed my gear and set off down the trail.
I got to the falls without a hitch in the early afternoon, just before the best light of the day. But I had to bide my time because there was another photographer already set up at the ladder. Plus there was a constant flow of hikers I had to workaround.
Hurry up and Wait
I wasn't in a rush since I had all afternoon: I figured the other photographer would finish up soon and the stream of hikers couldn't last forever. I made the best of it by spending some time shooting the short slot section just before the falls.

I headed back to the ladder and snuck some shots over and around the other photographer. Finally, he turned around and asked if I wanted to take the prime spot. He didn't have to ask me twice! I grabbed my tripod and started snapping away to my heart's content.
After five minutes of bliss, I noticed the spray from the waterfall was getting more intense and my lens started spotting up with drops. Frustrated, I started to back away from my viewfinder and at the same moment, there was a deafening thunderclap. THAT certainly got my attention!
Riding the Storm Out
I knew that over a dozen folks have died in recent years after being caught in flash floods that rush through local slot canyons during rainstorms. I looked over at the other photographer as the rain started to fall and made a nervous joke about how my wife would be really pissed if I drowned because of a silly photograph. He gamely laughed but the smile died on our lips as another crash of thunder reverberated between the canyon walls. In a microsecond, we had both grabbed our tripods and were dashing for the exit.

Fortunately, it took only a few minutes to slosh out of the slot and reach the safety of higher ground, but my heart rate was well-elevated for most of the slog back down the rainy trail as I muttered nasty comments about weather forecasts. It was a hell of a reminder that you can plan all you want but life will mischievously toss unexpected twists at you just the same.
Fire and Rain
With my day at Kanarra cut short, I decided to head out early to my last stop: Nevada's Valley of Fire State Park.
An hour later I pulled into the Visitors Center. Right in the parking lot was one feature I'd missed on my last trip. Carved into the sandstone over the eons is a feature most folks call "the Scream." It's certainly well-named!
Edvard Munch's version on left and Mother Nature's on the right….
It was insanely hot, which nixed my plan to do the White Dome hike. Instead I decided to try the park's most popular feature (for photographers anyway): The Fire Wave.
I'd photographed this spot with my son a few years before and had been crazy lucky to be there for a superb sunset (see below).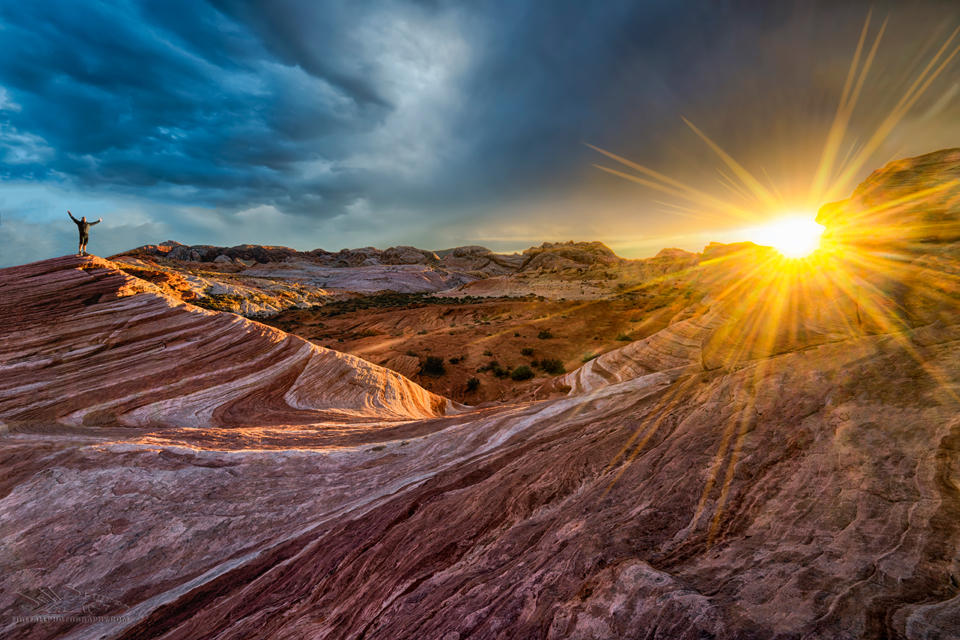 But luck wasn't striking twice: the sunset was pretty anemic. But there was another spot about a fifteen minute hike away I wanted to check out.
Pastel Canyon
The name Pastel Canyon might honestly be a bit overly grandoise for a spot about the size of a city bus. It's not exactly the Grand Canyon.
But, it does deliver on the pastels. In my years of landscape photography, I've never seen these colors anywhere. The colors are unique…amazing pale yellows, mauves, and pinks. The hues are washed out in direct sunlight. But after a rain or in the minutes after sunset or before sunrise, the effect is pretty amazing.
Racing with the Devil
The park closes at sunset, so I had to rush. Even though I hadn't ever been there, my Alltrails app allowed me to walk right to it. The best section is less than 100′ long (30 meters) and there were only a few perspectives that really 'worked.' It didn't take long to photograph.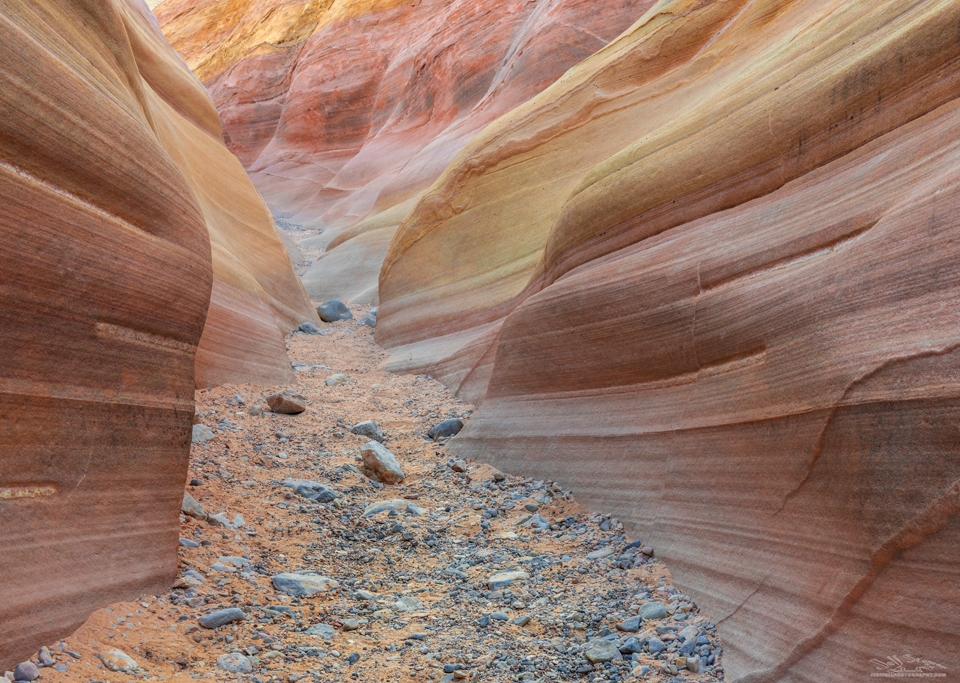 I got out of the park ahead of any curfew-enforcing Park Police. My hotel was in nearby Moaba Valley so I had enough time the next morning to hit the park before my flight.
Crazy for You
Crazy Hill is another location at Valley of Fire unlike any other on earth. Looking like a huge dollop of rainbow sherbert melting on a Slickrock pan, you have to see it to appreciate it. Like Pastel Canyon, the colors are best under indirect sunlight, so I made the short hike just before sunrise to set up.
I make an effort to find unique angles for my shots, but after fruitlessly looking high and low, I ended up in the same spot that everyone does. I probably could have found tripod skidmarks on the Slickrock if I had looked closely.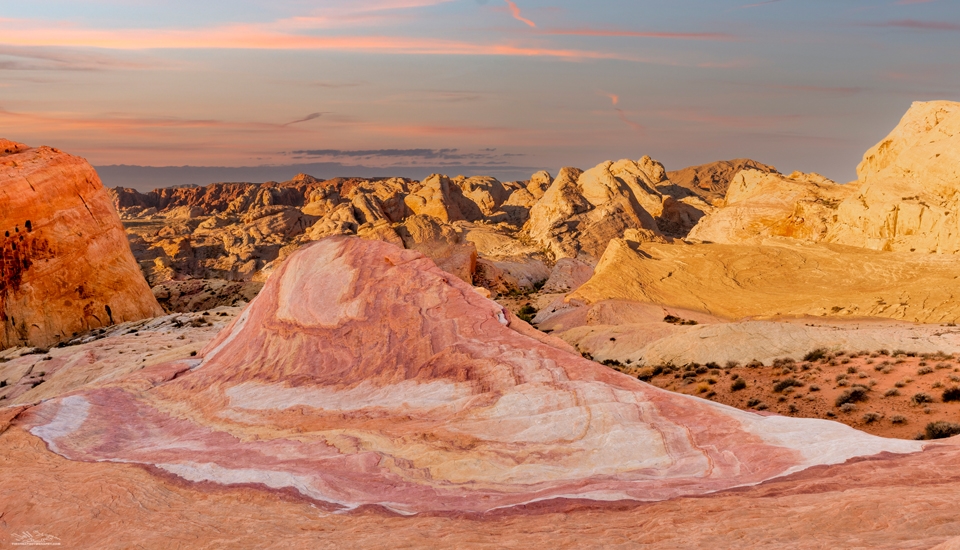 I shot until the sun rose, then drove to the trailhead for the White Dome trail. I made the quick hike (less than a mile) down to its little slot canyon. There is a small crevasse at the entrance of the canyon which is often filled with colorful rocks. I had seen this spot during my internet research and it resonated with the photographer in me.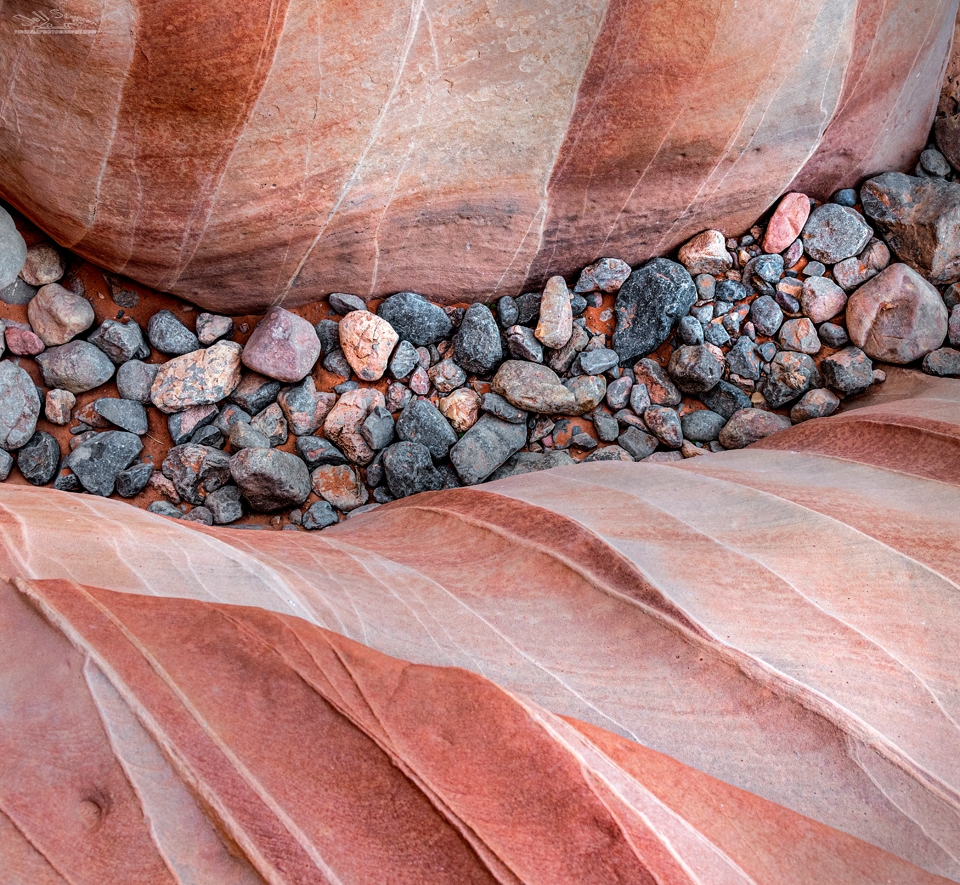 Modern Art
As I headed back to the car, I noticed an attractive section on a sandstone wall. It was near the old movie set for the 1966 flick "The Professionals". Something about the shapes and curves fascinated me.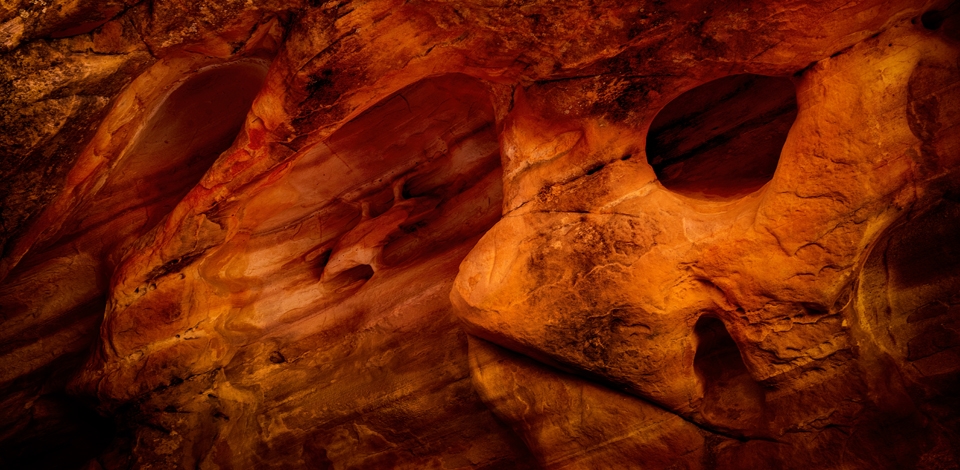 On my way out of the park, I grabbed one last shot that gives you an inkling of how misshapen, colorful and bizarre this gem of a park is.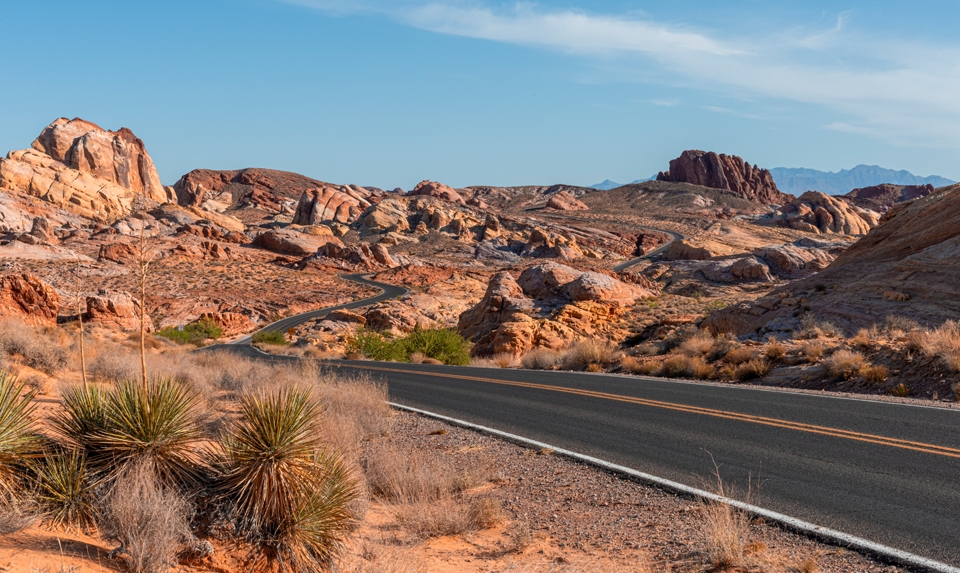 Valley of Fire is, I think, criminally underrated by landscape photographers. Some locations, like the Fire Wave, were only 'discovered' a short time ago. I'm convinced there is far more to be found.
Two hours later, I was on my plane flying out of Vegas. It had been a trip packed with lots of miles and very little sleep. I was exhausted, but even so, my blood was quickened by the awesome vistas that would warm my heart and tickle my memory for years.
Cheers,
Jeff
Previous blog posts about this trip: